Creamy Cottage Cheese Pasta is quick, easy, and secretly healthy. Made with 5 simple ingredients and ready in 15 minutes, it makes the perfect weeknight meal!
We also love this 15 minute caprese pasta!
Dinner couldn't get any easier than cottage cheese pasta. All you need is 5 ingredients, and this new comfort dish is on your table in 15 minutes.
Cottage cheese is at the top of everyone's ingredient list right now. After much success with cottage cheese egg bites and cottage cheese ice cream, I decided why not add extra protein to a pasta dinner?!
The cottage cheese pasta sauce is rich and creamy without using heavy cream, and it's packed with protein! Add it to your favorite pasta and treat yourself to a big bowl tonight.
Ingredients for Cottage Cheese Pasta
This cottage cheese pasta recipe makes a delicious, homemade sauce. It will definitely become a staple in our house. You need only 5 simple ingredients to make this pasta recipe!
Uncooked pasta: I used bow tie pasta but any pasta with crevices that can hold the sauce will work.
Marinara sauce: You can use my homemade marinara sauce or store bought marinara sauce. I recommend to buy one with less sodium, since cottage cheese contains sodium too.
Cottage cheese: Makes this pasta with cottage cheese extra rich and creamy. Sodium content varies, be sure to choose one with less sodium. Whole milk cottage cheese will make a creamy, smooth sauce where lower-fat cottage cheese won't be as rich.
Parmesan cheese: Garnish cottage cheese marinara pasta with freshly grated Parmesan cheese for a salty, nutty taste.
Fresh basil: Tomatoes and herbs go together, and freshly chopped basil is my favorite for tomato sauce. Oregano or Italian seasoning work well too.
How to Make Cottage Cheese Pasta
Cottage cheese pasta is deliciously cozy and super easy to make. Here is a quick photo overview, there is a full recipe card below.
Cook pasta: Add water and a bit of salt to a large pot and bring to a boil. Then add pasta and cook al dente, stirring occasionally. Follow package instructions, it should take 8-10 minutes.
Make cottage cheese sauce: While the pasta cooks, add marinara sauce and cottage cheese to a food processor or high speed blender, and blend until smooth. Set aside.
Combine: Drain noodles and add them to a large bowl, then pour sauce on top and gently stir.
Garnish and serve: Garnish pasta with cottage cheese sauce with lots of cheese, sprinkle with fresh basil and serve warm.
Tips for Best Results
Here are 4 things to remember when making cottage cheese pasta.
Don't overcook the pasta: Your pasta should be al dente with a slightly firm texture, not mushy. I recommend checking it after 8 minutes.
Use short pasta with cavities: Small, textured pasta will hold onto the creamy sauce. Fusilli, penne, rigatoni, and farfalle would work well.
For super smooth sauce: Without white speckles, aka to hide it, blend the cottage cheese mixture in high speed blender or with an immersion blender.
Have sauce ready to go: This pasta dish relies on hot pasta warming up the sauce, be ready and mix it up immediately.
Variations
There are several ways to vary this easy cottage cheese pasta recipe.
Add veggies: Quickly sauteed and chopped broccoli, mushrooms, bell peppers, zucchini or onions add color and flavor. You can also stir in frozen corn or peas for a quick solution.
Add protein: Make it a high-protein meat sauce with ground beef, ground chicken, or ground turkey. Quickly sauté meat, just plain, in a skillet and combine. Add sliced baked chicken breast, or keep it vegetarian with fried tofu, Instant Pot chickpeas, or canned white beans.
Use different tomato sauce: Mix it up with spaghetti sauce, meat sauce, pasta sauce, vodka sauce, or bolognese.
Add heat: Red pepper flakes or hot sauce add a spicy kick.
Add baby spinach: Chop and stir it into the hot pasta.
Use different cheese: Experiment with gruyere cheese, asiago cheese instead of parmesan cheese. Or use ricotta cheese instead of cottage cheese, it has more fat though.
How to Serve Pasta with Cottage Cheese Sauce?
Pasta is the ultimate comfort food. Perfectly cooked noodles in a rich, creamy sauce is all you need at the end of a hard day.
Serve cottage cheese pasta warm or cold! Cold is great in summer, like a pasta salad. Enjoy it as the main course paired with a delicious spring mix salad for a full summer meal.
I served it hot as a side dish alongside bruschetta chicken, but caprese chicken with a piece of garlic bread would also be tasty.
How to Store
Store: Once the pasta has cooled, transfer leftovers to an airtight container and refrigerate for up to 3 days.
Freeze: I do not freeze pasta, I find it does not freeze well and is watery and grainy once thawed.
FAQs
What is cottage cheese pasta sauce made of?
Cottage cheese pasta sauce itself is made of tomato sauce and cottage cheese, blended together until smooth. I used marinara sauce, but any tomato sauce will work. You can even try it with healthy alfredo sauce.
Can you put cottage cheese in pasta?
Yes. The cottage cheese makes a creamy sauce that's a healthier alternative to traditional pasta sauces.
Does cottage cheese melt when cooked?
Cottage cheese does not melt as well as other cheeses when cooked. The high water content and curd-like texture prevents it from being as smooth as other cheese sauces. This recipe blends the cottage cheese with the tomato sauce to create a smooth, cheesy consistency.
Can I make it ahead?
Yes, make and refrigerate the cottage cheese pasta sauce. Then cook pasta, toss, garnish and serve.
More Cottage Cheese Recipes to Try
More Pasta Recipes to Try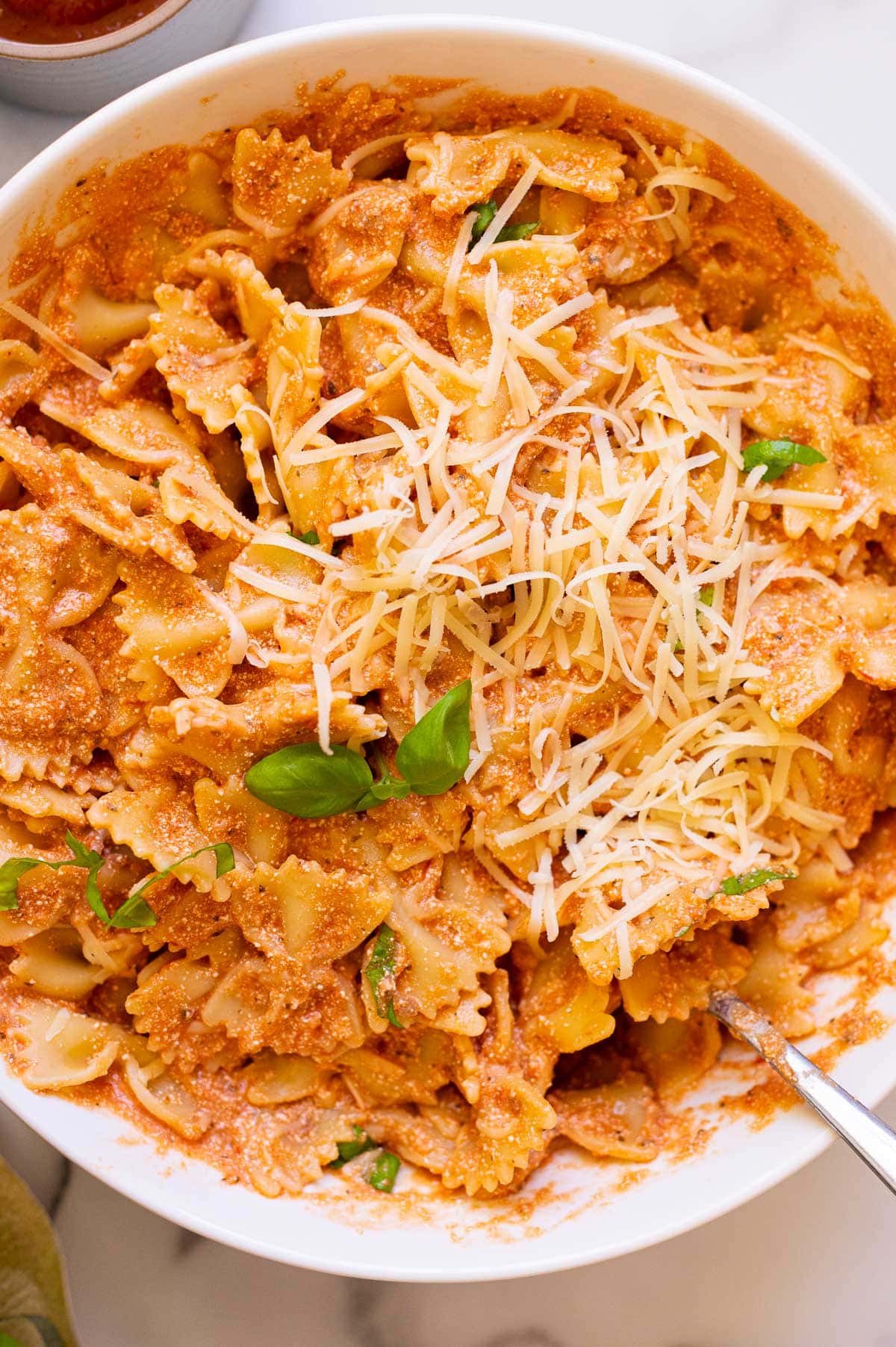 Cottage Cheese Pasta
Creamy Cottage Cheese Pasta is quick, easy, and secretly healthy. Made with 5 simple ingredients and ready in 15 minutes.
Instructions
Bring large pot with salted water to a boil. Add pasta and cook al dente, stirring occasionally. Should take about 8-10 minutes.

Meanwhile, in a food processor or high speed blender, combine marinara sauce and cottage cheese. Process until smooth. Set aside.

Drain pasta and add to a large bowl. Pour cottage cheese sauce on top and gently stir.

Garnish with cheese and basil. Serve pasta right away or warm.
Notes
Store: Refrigerate pasta covered for up to 2-3 days.
Freeze: Do not freeze pasta as pasta generally does not freeze well.
Nutrition
Calories:
184
kcal
|
Carbohydrates:
28
g
|
Protein:
10
g
|
Fat:
3
g
|
Saturated Fat:
1
g
|
Cholesterol:
9
mg
|
Sodium:
574
mg
|
Fiber:
2
g
|
Sugar:
5
g