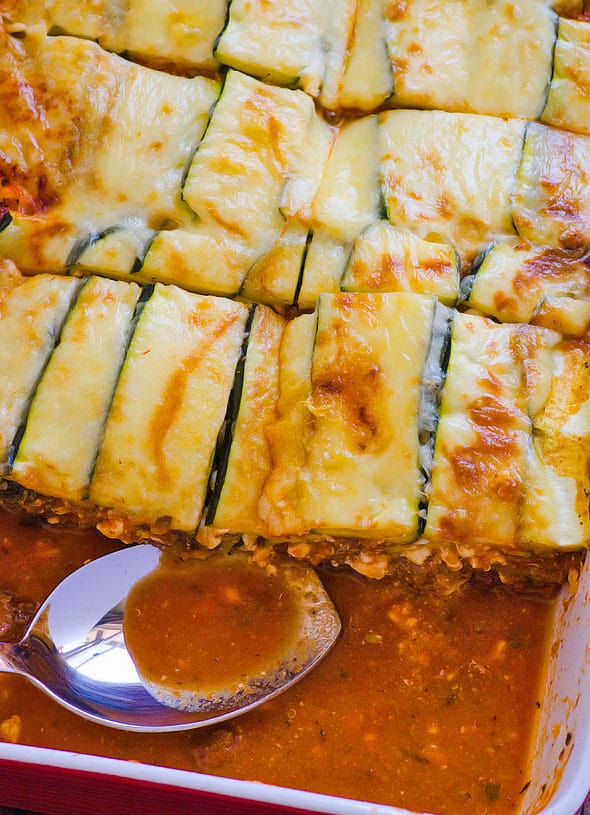 Comfort food lightened up with zucchini pasta "sheets" and made with 7 simple ingredients. I know there are many zucchini lasagna recipes out there but I thought I would share my healthy version simplified with store bought organic tomato sauce and without any extra steps to remove moisture from zucchini.
Everything cooks in one pan and this recipe is quick enough to prepare even on a weeknight, just like my chicken zucchini with corn and zucchini bake with tomatoes and Parmesan recipes.
My kids do not like zucchini, especially cooked (I assume most kids feel this way), but they loved this zucchini lasagna with ground turkey meat. I guess tomato sauce and cheese did their job. It was so delicious! I also doubled the recipe and made another lasagna with brown rice pasta. I didn't bake it but rather froze assembled (just add 2 cups of chicken or veggie stock to tomato meat sauce).
How to Make Zucchini Lasagna
Cook ground turkey and jarred sauce to make meat sauce. Afterwards, using the same skillet, wilt spinach.
Slice zucchini lengthwise into "sheets".
Spread a bit of sauce on the bottom of baking dish and sprinkle with quinoa. Layer zucchini lasagna. That's it!
This zucchini lasagna was super satisfying without sending me into a carb coma. Enjoy and I have another chicken zucchini casserole you will go bananas for. 
Print
Zucchini Lasagna
Zucchini Lasagna Recipe with ground turkey meat, sliced zucchini, cottage cheese and made low carb without pasta noodles.
Author:
Prep Time:

12 minutes

Cook Time:

90 minutes

Total Time:

1 hour 42 minutes

Yield:

8 servings
Ingredients
1 – 1.5 lbs ground turkey (I used venison)
25 oz jar tomato sauce with basil
11 oz fresh spinach
5 medium zucchinis, cut lengthwise into 1/8″ thick slices
17 oz tub cottage cheese (I used 2%)
7 oz part skim mozzarella cheese, shredded
3 tbsp quinoa, uncooked & divided*
Instructions
Preheat large skillet on medium heat, add turkey and cook for 10 minutes, breaking into small pieces and stirring occasionally. Drain any juices or fat if necessary. In the meanwhile, slice zucchini. Add tomato sauce to the pan, stir and let simmer for another 5 minutes. Transfer to a medium bowl and set aside.
Using the same skillet, add spinach, cover and cook until wilted, for a few minutes. Squeeze out all liquid. Set aside.
Preheat oven to 350 degrees F. In a large 9″ x 13″ baking dish add a few tablespoons of tomato meat sauce, spread to coat and sprinkle with 1 tbsp of quinoa. Place sliced zucchini lengthwise (I cut some slices in halves to fit into the end of the dish) overlapping a bit to create a single layer. Spread half of tomato meat mixture, then half of cottage cheese, top with half of spinach and sprinkle with 1 tbsp quinoa. Repeat another layer, finishing with a layer of zucchini and sprinkling cheese on top.
Bake covered tightly for 45 minutes, then uncovered for another 20 minutes and broil on High for 5 minutes or until cheese has browned. Let stand for 10 minutes before slicing. Cut into 8 slices and serve hot.
Store: Refrigerate in an airtight glass container for up to 5 days or freeze for 3 months.
Notes
*Double quinoa amount if you don't want any/barely any liquid at the bottom of the pan.
★ Did you make this recipe? Please give it a star rating in the comments.