Instant Pot Bolognese is Italian meat sauce made in 40 minutes instead of simmering for 3 hours. Same hearty and flavorful sauce that will knock your nonna's socks off.
For a healthy dinner, serve over some spaghetti squash noodles.
Instant Pot Bolognese Sauce
This Instant Pot bolognese is one of those stick-to-your-ribs, rich and comforting healthy pasta recipes. Serve over your favorite noodles, sprinkle with freshly grated Parmesan cheese, pour a glass of red wine and experience affordable Italian dinner night in. Sometimes I'll even place a large bowl of Italian chopped salad on the table too.
I do love the slow simmer process when I have time and other times I whip up this easy spaghetti recipe. Otherwise, pressure cooker is perfect to make this large batch of meat sauce in 40 minutes and even freeze for later.
In fact, I now turn to my Instant Pot for all kinds of meaty classics like Instant Pot pork carnitas and Instant Pot chicken breast!
Ingredients for Instant Pot Bolognese
Full recipe card is located below.
Ground meat: I like a combination of ground turkey and beef for more lean and yet rich traditional meat sauce. Forgot to thaw? Use Instant Pot frozen ground beef method to defrost.
Veggies: Onion, garlic, carrots and celery – a mirepoix basically. All diced.
Tomato sauce or diced tomatoes: I prefer to use tomato sauce for more saucy sauce. I also tried diced tomatoes and sauce comes out more watery and chunky.
Tomato paste and balsamic vinegar: Add that extra 3 hour simmer depth of flavor.
Spices: Oregano, basil, salt and pepper.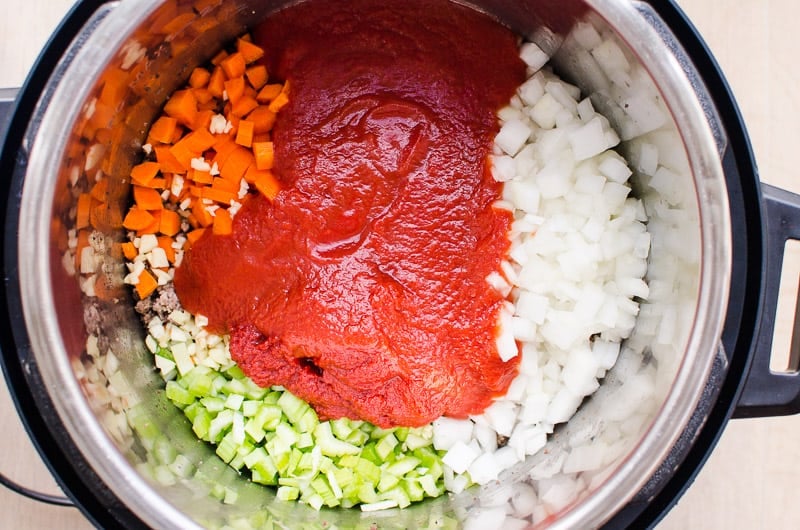 How to Make Instant Pot Bolognese
Saute meat: After you press Saute, wait 5 minutes until display says Hot. Cook turkey and beef for about 10 minutes, constantly breaking into small pieces. Good sauce has small pieces of meat.
Add remaining ingredients and do not stir: Veggies, spices and tomato products go last, on top to avoid Burn. Do not stir, again to avoid Burn.
Cook on high pressure for 15 minutes: Close the lid and turn vent to Sealing. Beware that Instant Pot will take about 10 minutes to come to pressure. No water is necessary.
Release pressure right away with Quick Release. When you open the lid, sauce might appear watery. Give it a few stirs, and it will become this beautiful and thick meat sauce.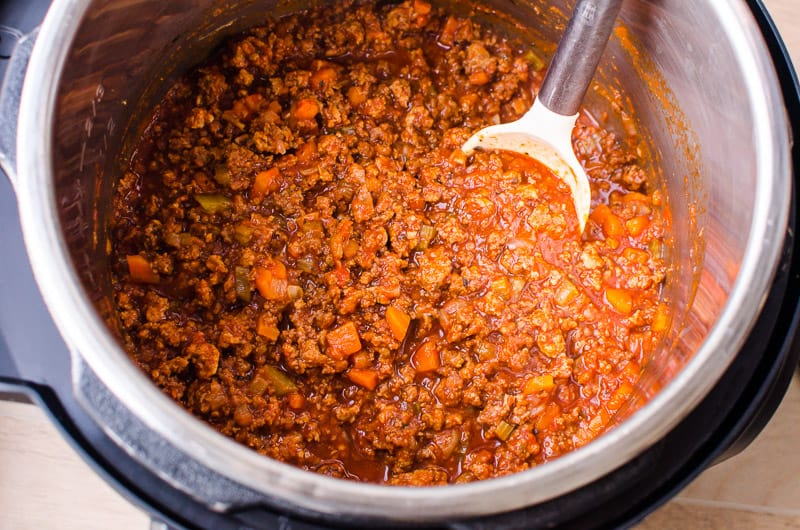 Tips and Variations
I kept my bolognese more simple because we find it flavorful with my addition of tomato paste and balsamic vinegar. Plus I like to keep ingredients list shorter. But below are a few traditional suggestions.
Deglazing? If you notice a lot of burnt meat pieces on the bottom, add 1/4 cup water and deglaze. I didn't have to.
Cream: If you are used to a touch of creaminess, add 1/4 cup heavy cream or half and half after sauce is cooked.
Wine: Use 1/2 cup dry red wine, reduce tomato paste to 2 tbsp and omit balsamic vinegar. You can also deglaze bottom of the pot with it.
Pancetta: Fry 4 oz of diced pancetta, before adding the meat. It will give it chance to caramelize.
No need to saute: I find with Instant Pot, veggies release their maximum flavors cooked under pressure. No need to saute them. We saute meat mainly to break it up into pieces.
You can also make a similar sauce to serve with Instant Pot meatballs, instead of ground meat.
Serving Suggestions
Pasta: Serve hot over whole wheat or gluten free pasta. Tubular pasta or the one with grooves that can "catch" the sauce is considered the best. Like rigatoni, penne, rotini or macaroni. I personally like to eat sauce with strand or ribbon pasta like fettuccine or spaghetti. It all works.
Whole grains: I often substitute pasta with whole grain like Instant Pot quinoa. Just to change things up.
Low carb: Serve over a bed of pressure cooker spaghetti squash.
Parmesan cheese: Freshly grated parmesan cheese is the best. I was out of a sprinkle of parsley or basil though. But you should. 🙂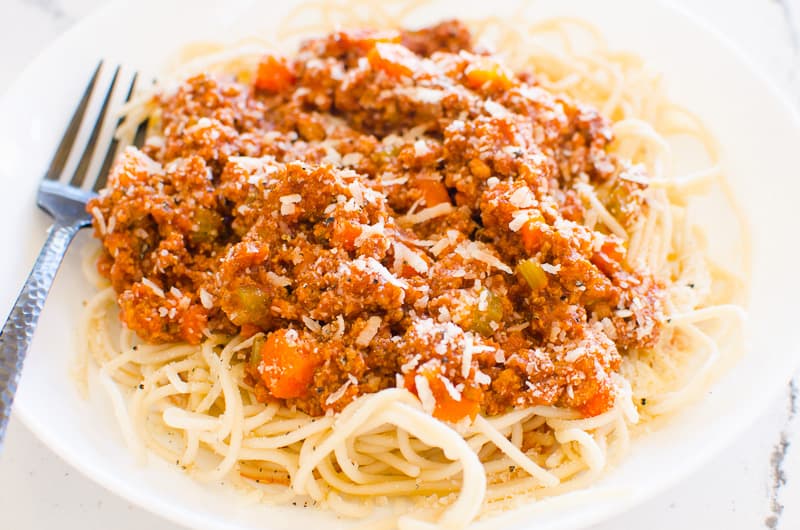 How to Store and Reheat Bolognese Sauce
Storing: Refrigerate leftovers for up to 5 days in an airtight container.
Freezing: Sauces like Instant Pot bolognese freeze beautifully as they do not contain tender vegetables. Cook, cool completely and freeze in glass container for up to 3 months. To thaw, defrost on a counter or in the fridge overnight. Forgot to thaw ahead? Place container in a bowl with warm water. Just make sure to let glass warm up a bit on a counter to prevent it from cracking.
Reheating: Then in either scenario, simmer on the stove covered on low, stirring occasionally and until warmed through.
More Instant Pot Recipes
Did you know we have entire Youtube channel dedicated to healthy Instant Pot recipes and tips? Make sure to subscribe and hit the Bell icon not to miss new videos.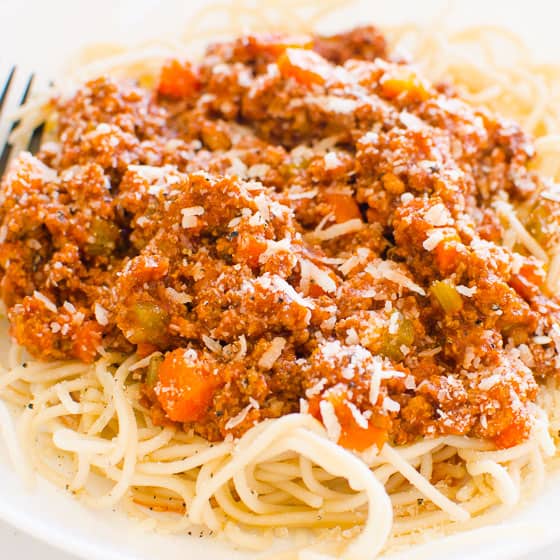 Instant Pot Bolognese
Instant Pot Bolognese is Italian meat sauce made in 40 minutes instead of simmering for 3 hours. Same hearty and flavorful sauce that will knock your nonna's socks off.
Instructions
On

Instant Pot

, press Sauté and preheat until display says Hot.

Add ground meat and cook for 10 minutes, breaking into small pieces with spatula and stirring often.

Press Cancel and add other ingredients in this order: onion, celery, carrots, garlic, oregano, basil, salt, pepper, balsamic vinegar, tomato sauce and paste. Do not stir.

Close the lid, turn valve to Sealing and press Pressure Cook on High or Manual for 15 minutes.

After, turn valve to Venting (

Quick Release

) and release the pressure.

Sauce might appear watery. Give it a few stirs and it will be awesome.

Serve hot over pasta, rice or quinoa. Or any greens like arugula, spring mix or kale.
Notes
Store: Refrigerate in an airtight container for up to 3-4 days.
Freeze: Freezer in an airtight container for up to 3 months.
I like to use a combo of ground beef and more lean turkey for balanced flavor and health. You can do either or.
If you use beef only, I recommend to drain the fat.
Diced tomatoes will work but sauce will be more chunky and more watery.
Crushed or strained tomatoes will work as well.
Nutrition
Serving:
1
cup
|
Calories:
357
kcal
|
Carbohydrates:
14
g
|
Protein:
22
g
|
Fat:
23
g
|
Saturated Fat:
9
g
|
Cholesterol:
81
mg
|
Sodium:
575
mg
|
Fiber:
4
g
|
Sugar:
7
g