Healthy Almond Flour Muffins with a light hint of lemon are tender and moist with a fluffy interior. With only 8 ingredients, these healthy muffins are gluten free, refined sugar free, oil free, and delicious!
Prefer your almond flour muffin recipes with extra add-ins? Why not try these almond flour banana muffins, almond flour zucchini muffins, or almond flour blueberry muffins!
My love for baking with almond flour officially has no end in sight. Some favorites include almond flour carrot cake, almond flour chocolate cake, and now this almond flour muffin recipe.
I love how nutrient dense almond flour baked goods can be, but this moist muffin recipe is not low carb. Try erythritol to make this almond flour banana bread instead!
These muffins are so simple to make! Made in one bowl and ready in just over 30 minutes, they are light and fluffy plus you can jazz them up for a new snack or breakfast muffin on a weekly basis.
Ingredients in Almond Flour Muffins
Almond flour: Use superfine blanched almond flour for the best light muffin texture results. Almond meal could be used but almond flour gluten free muffins will be more dense and rise less.
Eggs: You'll need 3 large eggs, since this recipe does not have gluten they help bind the almond flour muffins.
Sweetener: Maple syrup or honey will work. Other liquid sweeteners may also work, but the flavor will vary. For a sugar free option, feel free to experiment using a sweetener like erythritol.
Greek Yogurt: Will yield a wonderfully moist muffin recipe since it contains no oil. You could also try the recipe with plain Instant Pot yogurt, but you may need to add up to ¼ cup more flour to achieve the correct thick batter consistency. Alternatively, you could drain your plain yogurt. Flavored yogurt could be used for a sweeter almond flour muffin.
Baking powder and baking soda: To provide lift and fluffy texture to the almond flour muffins.
Salt: Just a pinch to enhance the overall flavor.
Vanilla extract: Or vanilla paste will work.
Citrus zest: You can use the zest of one lemon, lime, or orange. Don't omit it, as the difference it makes in flavor is definitely noticeable! Love lemon? Make healthy lemon poppy seed muffins or healthy lemon cookies, next!
You'll also need a little cooking spray (I use Misto) for spraying the muffin tin/liners.
Why Use Almond Flour in Baking?
While almond flour is denser than wheat flour, it has the magical ability to create fluffy, moist, slightly nutty baked treats that taste great.
For gluten free baked goods, it doesn't get much easier than using one ingredient almond flour! It's grain free, lower in carbs than traditional white flour, and full of healthy fats and various nutrients including Vitamin E and magnesium.
I love to use almond flour for healthy treats including almond flour thumbprint cookies, almond flour zucchini bread, and almond flour chocolate chip cookies!
How to Make Almond Flour Muffins
Mix wet ingredients and baking staples – In a large bowl, add the eggs, maple syrup, yogurt, vanilla extract, lemon zest, baking soda and powder, and salt. Whisk well to thoroughly combine until there are no lumps.
Fold in almond flour gently – Use a spatula to stir to combine ingredients until well incorporated.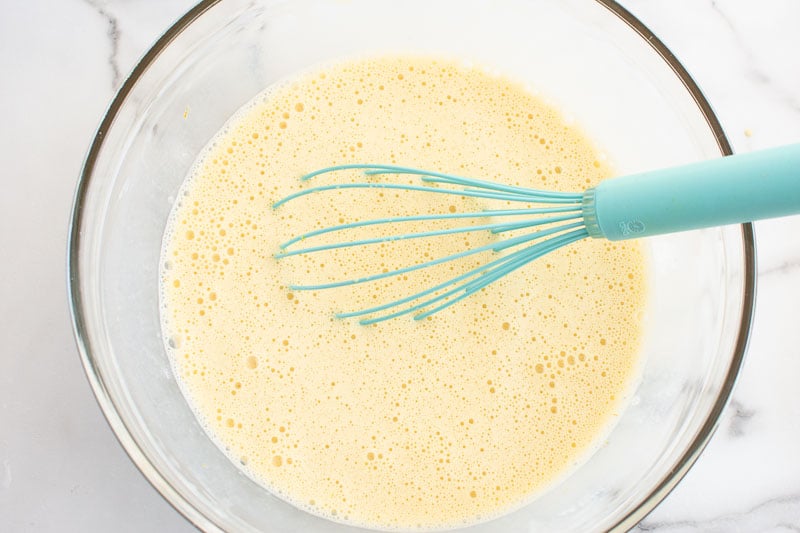 Bake the muffins – Use an ice cream scoop to divide the muffin batter between the 12 muffin liners, then bake in the oven on the middle rack at 350 F degrees for around 22 minutes or until a toothpick inserted in the center comes out mostly clean (with a few crumbs is fine).
Cool and enjoy – Once they're ready, allow them to cool for around 15 minutes before enjoying!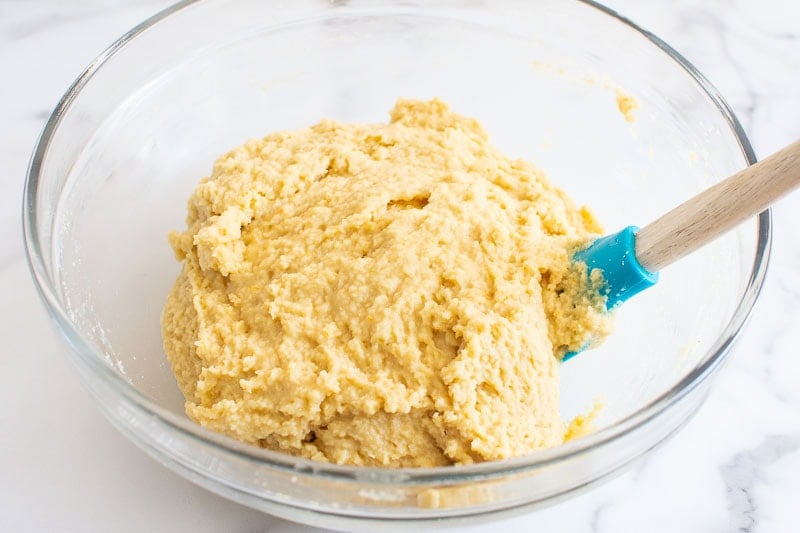 Quick Tips For Best Results
I highly recommend using parchment paper muffin liners because almond flour is delicate. The almond flour muffins tend to stick even to the most well sprayed and even silicone cavities, especially when freshly baked.
Use a good quality almond flour that is not gritty. If you are having trouble finding almond flour, you can make homemade almond flour easily! Blend blanched almonds into a floury consistency in 10-second bursts. Sieve the flour, re-blending any chunkier bits.
Do not substitute the almond flour for another flour. The recipe has not been tested as such and I cannot vouch for results. Browse my list of healthy muffin recipes for other flour options.
Do not skip the zest, it adds a depth of light flavor that really makes these almond flour muffins light and delicious!
If you've got a sweet tooth and aren't used to more subtle baked goods, feel free to sprinkle a tiny amount of granulated sugar (or a granulated sugar alternative) to the tops of the almond flour muffins before baking.
Flavor Variations
Since this is an excellent 'base almond flour muffin recipe' that also means it's perfect to experiment with your add-ins of choice. Blueberries, chocolate, crushed nuts you name it, there are tons of ways to adapt this moist almond flour muffin for breakfast!
Chocolate chips: You can use milk, dark, or even sugar free chocolate chips. Try these banana protein muffins with almond flour and chocolate chips!
Chopped nuts: Walnuts, pecans, or almonds. Add about a handful of crushed nuts.
Berries: Use 1/2 cup fresh or frozen (don't thaw before baking) blueberries or raspberries. You might also love this healthy blueberry breakfast cake with almond flour.
Lemon poppyseed: Add 1 tbsp of poppy seeds with lemon zest will make these the best lemon almond flour muffins with poppy seeds! You may also love healthy lemon poppy seed bread.
How to Store
Let the muffins cool completely before storing them loosely covered at room temperature for 2-3 days or store within a refrigerator 5-7 days. Store in the freezer up to 3 months.
FAQs
Can I make these vegan?
With several almond flour bakes that I've made, it's easy to swap out eggs with chia egg or how to make a flax egg, however, this recipe also has yogurt in it, I haven't had a chance to experiment with a dairy free alternative, so I can't guarantee results.

How long will almond flour muffins last? 
Since these muffins are very moist you will want to store them loosely covered either at room temperature for a few days or store them up to 5 days in the refrigerator. Freeze in an airtight container up to 3 months.

Can I make these into mini muffins?
You'll just need to reduce the baking time. I suggest checking on them after 10 minutes until an inserted toothpick comes out almost clean.
Can I substitute sour cream for Greek yogurt?
Since both are naturally acidic this should work fine, nutritional information will change.
More Almond Flour Recipes to Try
You might also enjoy this list of 20 almond flour recipes, which are all naturally gluten free!
Healthy Almond Flour Muffins with Greek Yogurt
Healthy Almond Flour Muffins with a light hint of lemon are tender and moist with a fluffy interior. With only 8 ingredients, these breakfast muffins are gluten free, refined sugar free, oil free, and delicious!
Instructions
Preheat oven to 350 degrees F. Line 12 muffin tin with parchment paper muffin liners (highly recommended) and spray with cooking spray. Set aside.

In a large bowl, add eggs, maple syrup, yogurt, vanilla extract, lemon zest, baking powder, baking soda and salt. Whisk very well until combined and no lumps.

Add almond flour (make sure to level the top with knife and do not pack) and stir gently with spatula until well mixed.

Using an ice cream scoop, divide batter (each scoop will be heaping) between 12 openings of previously prepared muffin tin. Bake for 22 minutes on the middle rack or until toothpick inserted in the center comes out clean.

Remove from the oven, let cool for 15 minutes and enjoy.
Notes
Make Ahead: You can prepare the batter, minus the leavening agents, up to a day in advance. Leave it covered in the refrigerator and mix in the baking powder and soda before baking the muffins.
Store: Store muffins at room temperature loosely covered for 2-3 days or within the refrigerator for 5-7 days. 
Freeze:

Freeze in layers with parchment paper between, in a large freezer bag. They will store in the freezer for up to three months.

Regular yogurt: You can use plain regular (not Greek) yogurt, however might have to add 1/4 cup extra almond flour since it contains more liquid (whey). Can also use flavored yogurt. The goal is to bring batter to consistency in the photos – thicker than for pancakes.
Don't use dry sweetener: If you use dry sweetener, batter consistency will be offset. 
Almond meal might work: I am pretty sure it will work, just muffins will be more dense and rise less.
Use liners: Almond flour is delicate and muffins to tend to stick even to the most well sprayed and even silicone cavities. Especially when freshly baked.
Add poppy seeds: 1 tbsp of poppy seeds will make these best lemon poppy seed muffins.
Egg free: Try how to make a flax egg or chia egg.
Please see recipe post for more tips and FAQs.
Nutrition
Serving:
1
muffin
|
Calories:
294
kcal
|
Carbohydrates:
21
g
|
Protein:
12
g
|
Fat:
21
g
|
Saturated Fat:
2
g
|
Trans Fat:
1
g
|
Cholesterol:
42
mg
|
Sodium:
197
mg
|
Fiber:
4
g
|
Sugar:
14
g