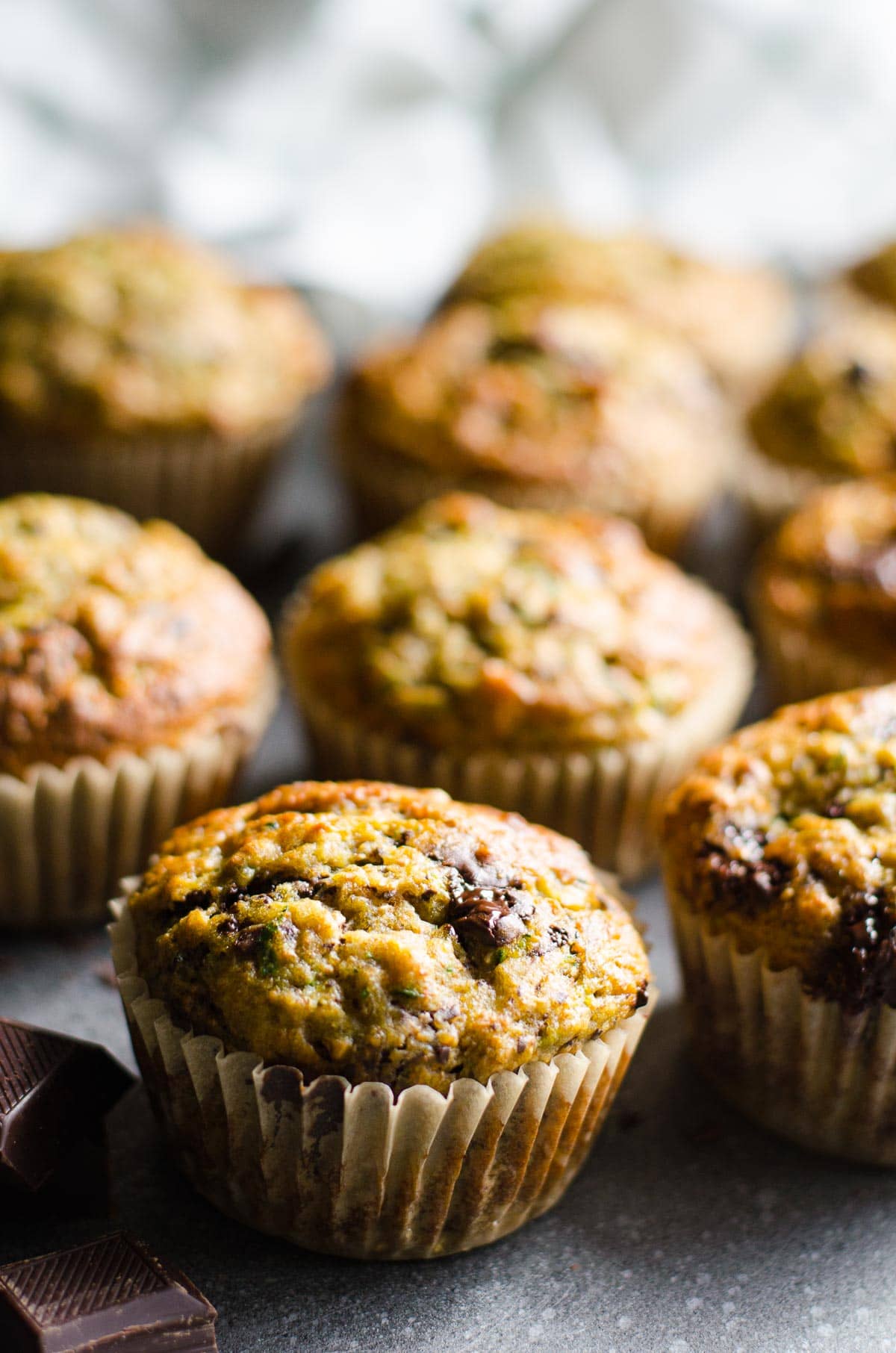 There are 3 good reasons (besides lemon zucchini muffins and healthy zucchini bread) why you would want to sweat in the kitchen in July's blasting heat. First of all, your freckling bananas are probably "dying" to be used (hello, healthy banana bread). You are walking around the fruit basket frantically thinking "What to do with you? What to do?". Secondly, I can guarantee you have a zucchini in your fridge you have no idea what to do with. Thirdly, you need snacks. More snacks. Who doesn't need snacks? It is July. You are frantically running around trying to check off items on your summer bucket list before white stuff sticks to the ground. So, you need snacks.
I know I am darn right. Because I am doing just everything above. I already checked off a few items.
Including making world's fluffiest and most delicious banana zucchini muffins with whole wheat flour, maple syrup and dark chocolate chunks. I know, I know there are many muffins out there but mine are the best! I swear. They turned out so fluffy and moist. The ratio of everything was spot on. I promise, if you only turn on the oven.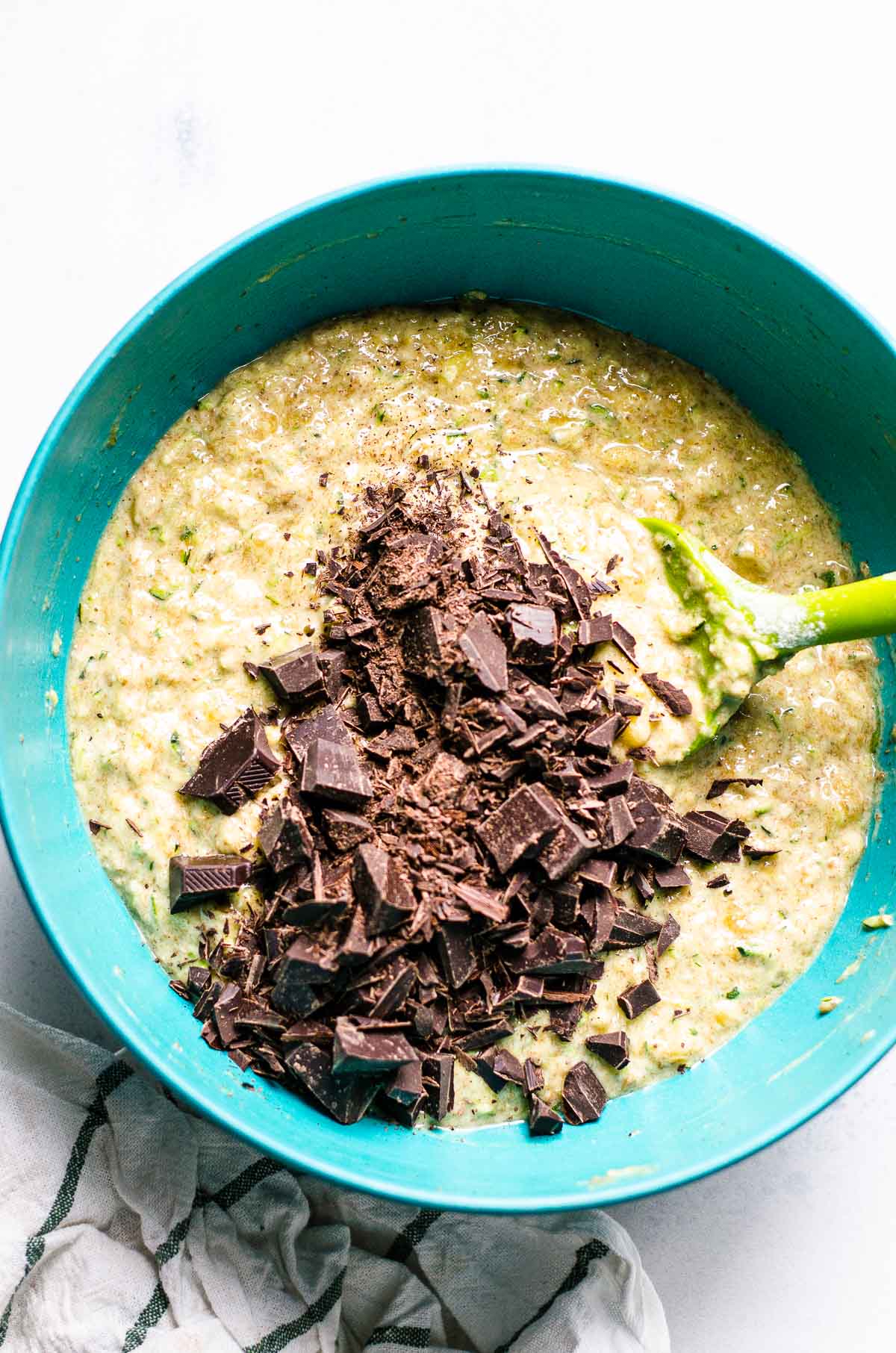 Ever since I saw Angela's chocolate chunk cookies a few weeks ago, I  got obsessed. With chocolate chunks. I have never ever chopped an expensive organic dark chocolate bar and baked it. That hasn't come to my mind yet. I usually eat chocolate. Makes sense, right?! So, I was intrigued.
I was also intrigued that Angela made chewy cookies without using any sugar. That, my friends, isn't easy. While I am yet to try her cookie recipe out, I couldn't stop thinking about the chunks of dark chocolate inside a tender fluffy muffin.
So, I set on a journey to the nearest grocery store.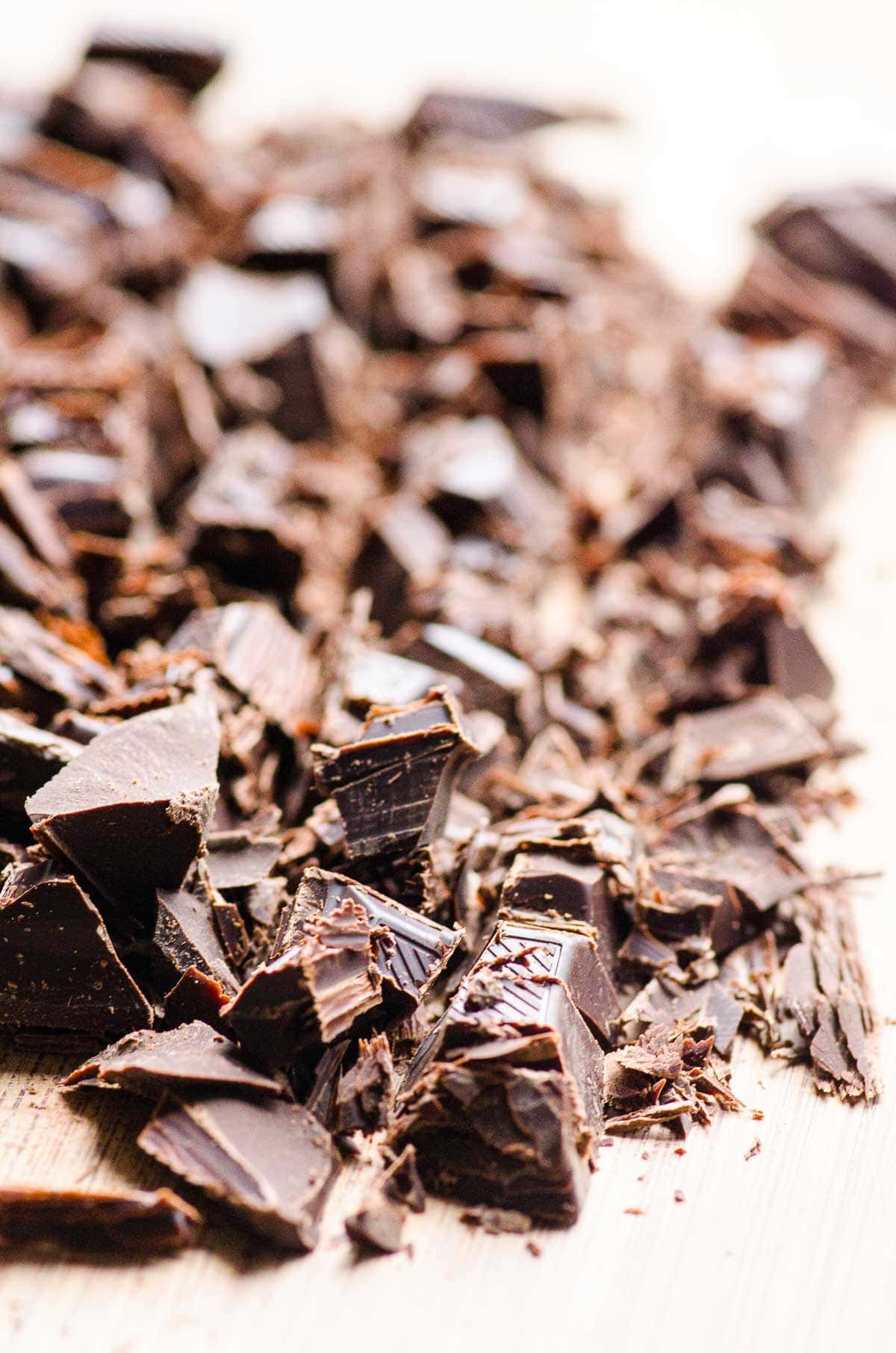 We live 2 kms away from this medium priced store. Not the cheapest but I can handle to buy some stuff. Not all. First time I made these banana zucchini muffins I had organic 70% dark chocolate bar I paid $2.99 for. All good. Kids loved the muffins so so much! For me, they were a tad bit too sweet. Very delicious butI have a feeling my butt-butt needs less added sugar.
Second time around, I had to buy a chocolate bar. Approaching the natural section in baking aisle I held my breath…$5.29. OK, friends, that is not happening. Next to it, was baker's chocolate – 200g for $6.99. The same one Alex texted me picture of when I sent him to buy chocolate chips. You can tell my man doesn't shop or cook often.
So, baker's chocolate – 56% and 100%. Ouch, 25 g of sugar…I really debated. Trust me. Between kids, price and my fat deposits. It is not damn easy to cook healthy for a family.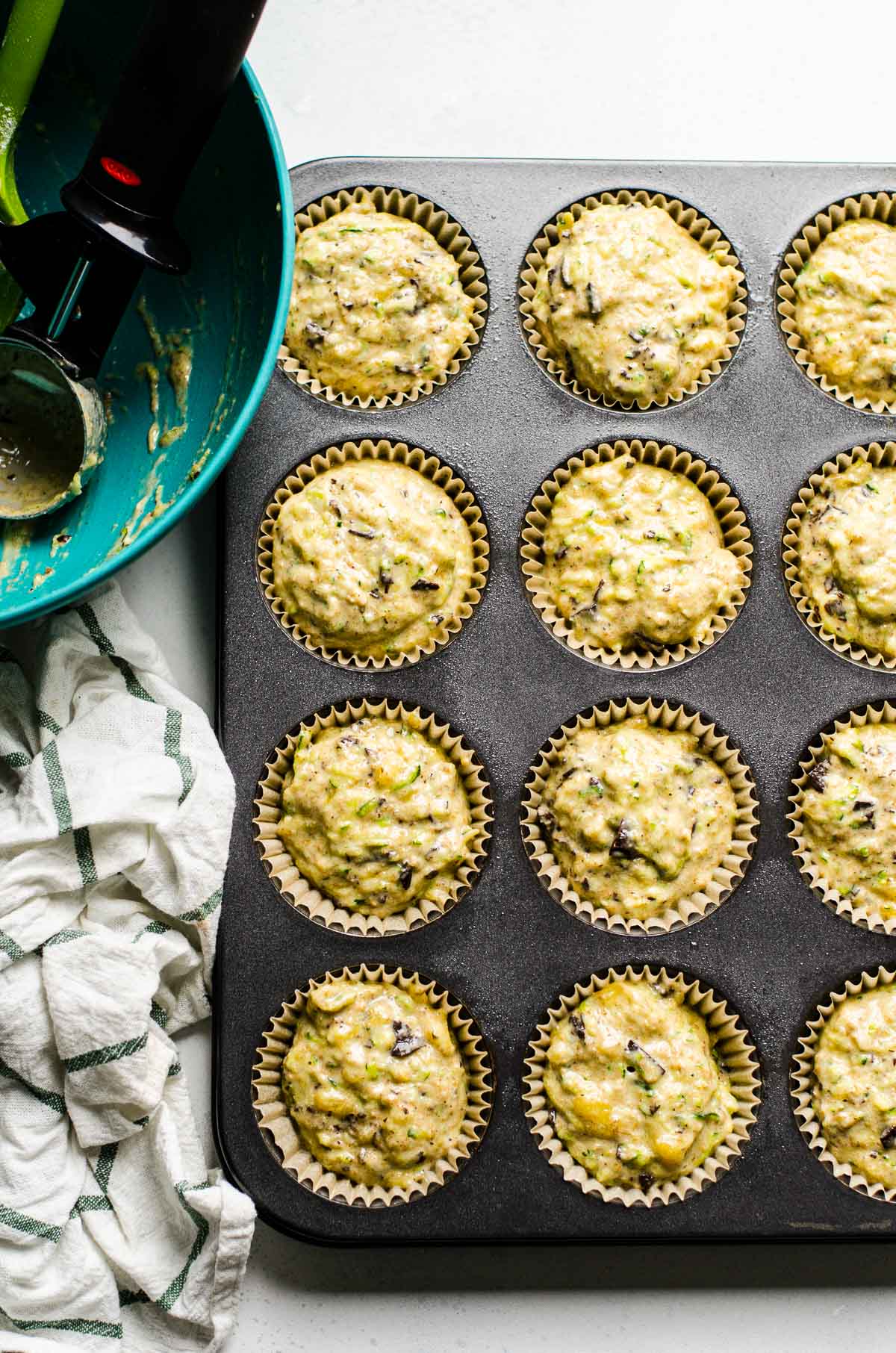 Ukrainian in me has won – dark chocolate it is. Muffins came out not sweet at all which sent my 9 year old in total denial but funny thing is the 5 year old ate them. Go figure these kids. They are so, so, so weird. And yet you love them so, so, so much. It is the weirdest relationship ever. You either know or soon will find out. If you need a shoulder to cry – I am here. Trust me, you will cry a lot after having kids. But love, laugh and smile way more.
I loved these muffins cold the best. Why? Because to me that is when chocolate chunks taste the best. Even when they are 100% cacao. With every soft and moist bite of bread you get a slight crunch of creamy rich chocolate. I specifically ate one muffin right now to make sure I describe my experience precisely.
And grabbed another piece of baker's dark chocolate. That might be my new treat because wine suddenly doesn't taste sweet enough after a bite of chocolate.
These banana zucchini muffins would be great for a snack on-the-go (among clean eating banana muffins and whole wheat chocolate muffins). I always have a big grin on my face when I read or hear "I am a huge snacker" or "Our family is obsessed with snacks". Man, who isn't? I am yet to meet a person who doesn't love snacking. Like anyone doesn't like chips? Or sugar? That is just a side note from my dirty sarcastic mindset.
And last but not least, I try to eat my flour and bready carbs before late afternoon. That is if I eat them that day at all. That way I still have time to convert them into energy vs. fat deposits. However, lately I have learnt to enjoy life in moderation hence a bit of fat deposits and a happy soul. Whatever works for you. And may I suggest clean eating blueberry muffins because blueberry season is upon us?!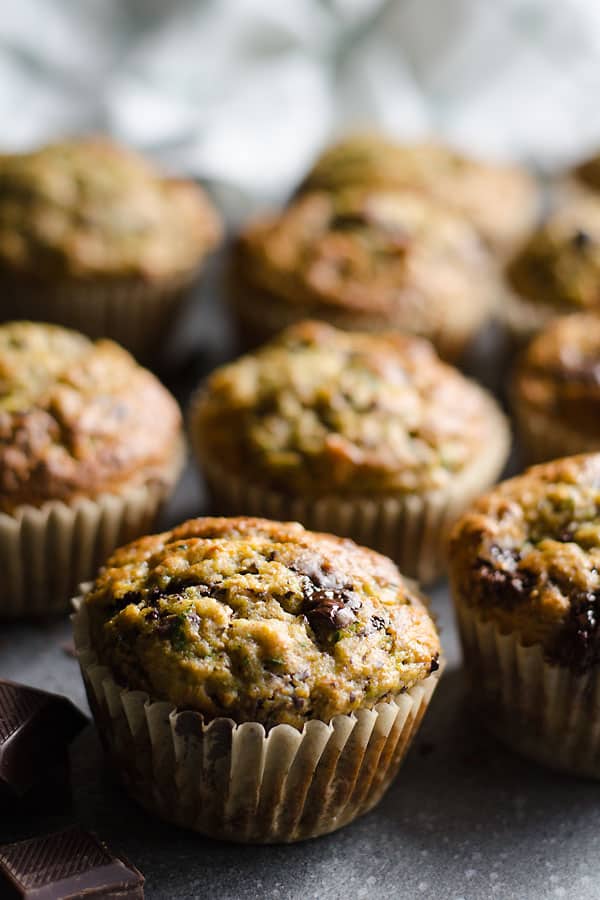 Print
Banana Zucchini Muffins
Chocolate Chunk Banana Zucchini Muffins with whole wheat flour, maple syrup and organic dark chocolate bar. Healthy snack on the go recipe.
Author:
Prep Time:

10 minutes

Cook Time:

22 minutes

Total Time:

32 minutes

Yield:

12

muffins

1

x
Instructions
Preheat oven to 375 degrees F and spray non-stick 12 muffin tin with cooking spray. Set aside.
In a large mixing bowl, lightly beat the egg. Add bananas and mash well. Add remaining ingredients, except flour and chocolate, and whisk to combine. Now add flour and gently stir until well incorporated. Do not over mix otherwise muffins will be tough. Add chocolate chunks and give a few more gentle stirs.
Fill each tin almost full with batter (I used trigger ice cream scoop) and bake for 22 minutes or until a toothpick inserted in the centre comes out clean. Let muffins cool for about 5 minutes and transfer to a cooling rack to cool off completely.
Store: Store in a cold dry place for a few days or freeze for up to 3 months.
★ Did you make this recipe? Please give it a star rating in the comments.