This Easy Black Bean Burger Recipe is perfect for meat-free Mondays and vegetarian guests. It is a genuinely wholesome, hearty, filling veggie burger that combines black beans with leftover rice and several veggies – no sauteing required!
Bake, fry, or grill the black bean burgers and serve in a bun, using lettuce leaves (for a low-carb option), or 'naked' alongside various sides like a leafy salad or as part of a burrito bowl!
Along with my family-favorite turkey burgers, chicken burgers, and salmon burgers – I think it's essential to have a good 'go-to' veggie burger – that's what this easy black bean burger is for me. After years of making and tweaking the recipe, this is the best black bean burger recipe I've ever made!
In fact, this recipe was first introduced on my blog back in 2015!! But then, in some mad moment, I decided to delete it – boy was that a mistake! I got tons of messages asking for it back, and now it's a readers' favorite!
Hearty, High-Protein, Meat-Free Black Bean Burgers
The combination of black beans and leftover rice makes for a hearty, nutrient-packed burger. Adding in zucchini adds some moisture and tons of extra nutrients without affecting the flavor. A few additional elements like onion, garlic, and chipotle peppers in adobo make for a savory, smoky, slightly spicy black bean burger.
Plus, it does everything I want from a veggie bean burger; it holds its shape wonderfully, is easy to make, and gets a wonderful crispy sear when pan-fried! Not only are they far healthier than traditional hamburgers, with only a fraction of the fat- but they don't lack in the texture or flavor department!
I love black beans. Honestly, they're an ingredient I use year-round, from this mango black bean salad in summer to this one pot chili mac in winter and black bean nachos – well, all the time because yum! I even chuck them into sweet treats like black bean brownies (and a no bake version!). This black bean burger recipe happily joins the ranks of a year-round crowd-pleasing meat-free recipe for all!
Once the burger is in a bun with all the usual fixing's, it is 'meaty' enough that even meat-lovers will be impressed. Or at least that's the case for my boys, who practically lick the plate clean! Best of all, you only need a few simple ingredients!
Ingredients and Substitutions
For the Black Bean Burger Patties:
Black beans: You can either use low sodium canned black beans or cook your own in an Instant Pot. If you use canned beans, make sure to rinse and pat them dry first.
Zucchini: Squeezed grated zucchini adds unbelievable moisture to the patty. Don't skip it!
Rice: Any cooked or leftover rice will work; white, brown, long-grain, short-grain, etc. I often use brown rice leftovers from the night before. You could also use quinoa or another grain like farro.
Oat flour or breadcrumbs: I prefer a patty with breadcrumbs but often use oat flour. You can make your own by grinding oats in a food processor or blender into a floury consistency.
Eggs: Used to bind zucchini burgers – so very important!
Aromatics: I use a simple combination of onion and garlic – no sautéing necessary!
Seasonings: Chipotle in adobo sauce is my favorite addition to these black bean patties. You can substitute it with 1 tsp smoked paprika, though, if you'd prefer. I also use cumin and salt. Feel free to increase the spice if preferred with extra chili/cayenne powder. For more Mexican black bean vibes, feel free to add in some cilantro too.
Oil: I recommend either coconut or avocado oil.
Note: You could also add some sweet corn and finely diced red bell pepper to the burger mix. But I haven't measured exact amounts, it's more about feeling if the patties still bind.
What to Put on a Black Bean Burger?
There are several ways that you can serve up these black bean burgers. For this recipe, I usually use:
Burger buns: I like to use either whole wheat burger buns or ditch the bread entirely and use lettuce leaves for a low-carb option or serve it 'naked' over a salad. If you're using bread, feel free to also include some lettuce leaves within your burgers.
Salad veg: I use a combination of lettuce, tomato slices, red onion slices, pickles, and avocado or easy guacamole. You could also add jalapeño slices of pickled jalapeño in place of the regular pickles.
Cheese: Since this black bean patty has no saturated fat like beef patties, I feel happy to add a slice of mozzarella, Havarti (with jalapeno even!), pepper jack, or white cheddar – yum!
Sauce: Feel free to use the classic ketchup, mustard, and mayo or experiment with the sauce, like making a spicy chipotle mayo (or a lighter version using Greek yogurt and some more of the chipotle peppers in adobo sauce) or using a chili sauce or this avocado cilantro sauce (not thinned).
Read the how-to serve section for ideas on what to serve with these homemade black bean burgers!
How to Make Black Bean Burgers
Cook the rice: If you're not using leftover rice, you'll first need to cook it – according to the package instructions. I prefer using leftover rice from the night before, though.
Mash the black beans: I prefer to have chunky pieces of black beans in my black bean patties, so I mash them by hand into a chunky texture. Feel free to mash them slightly more, if preferred. You can also lightly mash (or pulse in a food processor) the rice, helping the burgers bind together better.
Prepare the zucchini: Grate the zucchini on the medium part of your grater (or using a grating disk in your food processor). Then squeeze out all the excess liquid from the zucchini. I find it easiest to do this after placing it in a few layers of cheesecloth or a nut milk bag and squeezing. Measure the zucchini only after this to make sure you use the correct amount.
Prepare the remaining ingredients: You need to mince or puree the onion. This can be done in one of several methods. You could use a food processor or a chopper. Alternatively, for the onion, you could use a grater (but get ready to cry!). The garlic could also be prepared using a garlic grater or garlic press.
Mix and shape the black bean patties: First, preheat a large skillet with around 1 tbsp of oil. In a large bowl, combine all the burger ingredients and mix well (I use my hands). Use around ½ cup for smaller burgers or 3/4 cup for larger patties. I like to transfer the shaped patties directly to the heated skillet – however, you can also chill them, covered, in the refrigerator to help further 'bind' them for 30-40 minutes (or until you're ready to cook them).
Cook the black bean patties: Add as many patties as possible to your heated skillet and cook, undisturbed, for between 5-7 minutes per side (try to flip it too early, and it will fall apart). You'll have to cook the burgers in batches, adding a new tablespoon of oil to the pan as needed. Optionally, if you plan on having the burgers with cheese, you can place the cheese slice over the black bean patties in the last 2 minutes, cover with a lid, and allow it to melt while the patties cook.
Assemble the burgers: If you plan on eating these homemade black bean burgers as 'assembled burgers,' then assemble them now either in a burger bun or on lettuce leaves. Alternatively, serve the burgers' naked' with sides (read below for recommendations).
What to Serve with Black Bean Burgers?
These homemade black bean burgers are perfect for serving in a bun with all the regular fixins', with a salad bun, or even 'naked' as part of a larger meal. Here are some potential sides and serving suggestions:
You can also serve the black bean burgers alongside veggie side dishes like roasted cauliflower, roasted Brussel sprouts, grilled zucchini, corn on the cob, and Mexican cauliflower rice (among many options!)
How to Store and Reheat
Store: Store the baked and cooled black bean burgers in an airtight container in the refrigerator for up to five days.
Freeze: Allow the patties to cool entirely, then lay them on a parchment-lined baking sheet to freeze. Once solid, transfer the ban burgers to a Ziplock bag or a container with parchment paper between the layers. You can reheat the burgers from frozen or allow them to thaw in the refrigerator overnight or on the counter for a few hours.
Reheat: To reheat the black bean burgers from frozen, then place them back in a skillet and cook as usual but with an extra 5-or so minutes added. It works best if you add a little water to the pan and cook them, covered until you flip them over. To reheat the chilled patties, you can either cook them in a pan or even microwave them for a minute or so.
FAQs
Can I make these black bean burgers ahead of time?

You sure can. Prepare the shaped black bean patties up to a day in advance and store them on a parchment-lined tray in the refrigerator, covered.

You may also be able to freeze the uncooked burgers, though this isn't something I've tried.
Can I omit the egg for vegan black bean burgers?

The egg is an important element in this black bean burger recipe; to bind the patties together, and I haven't tried the recipe without it. However, there may be several ways to substitute this (I just can't guarantee results).

First, you could simply use an egg replacer or a chia/flax egg (combine 1 tbsp ground seed with 3 tbsp water, mix well, and allow to thicken for 15 minutes).

Several other 'sticky' types of ingredients could help the burgers stay together. However, they are also more likely to change the recipe and flavor. For example, using mashed sweet potato (just the plain potato-no butter, etc.) or various sauces.

You could try to blend the rice somewhat into more of a sticky mixture and/or mash the beans more to use as a binder.
What is the best pan to use?
When making veggie burgers, my preference is to use a good non-stick ceramic skillet. You could also use a well-seasoned cast-iron skillet, but it will need more oil to stop them from sticking (thus falling apart!).
Can you bake/ grill black bean burgers?

Grilling isn't something I've attempted but should be possible. With this black bean burger recipe, it's best to use either a grilling silicone mat or a layer of tin foil (sprayed with cooking spray) for cooking the burgers on. If you attempt to cook them directly on the grill, they'll likely fall apart.

You can make this easier by par-cooking them in the oven first. Place the black bean burgers on a parchment-lined tray and bake in the oven at 350F/180C for 10-15 minutes at then transfer to the grill (or frying pan) to finish the job.

Alternatively, you can just bake the black bean patties at 400F/200C for 25-30 minutes, flipping halfway.
More Recipe Tips
What to do with the leftover chipotle in adobo: After opening the can, I mash and freeze the leftovers since you only need a small amount per recipe. You can even portion it out into a small ice-cube tray. Once frozen, transfer the cubes to a freezer-safe bag and then remove as many as needed, as needed.
Use leftover rice: This black bean burger recipe is perfect for using leftovers or the rice and beans (or using canned) – plus, it massively reduces the prep time and I prefer the texture of day-old rice.
Use a hot pan: If it's not hot enough when you first add the burgers, they won't sear and crisp up nicely. Make sure the pan is preheated, and the oil is shimmering before adding the black bean patties.
Don't crowd the pan: Just like mushrooms, if you add too many burgers to your pan, they'll just end up 'steaming' one another and not forming that crispy seared crust that we want. Instead, leave space between each patty and cook them in batches.
Using a ring mold: If you're used to making uneven patties, then using a ring mold or burger press can be a great idea for even burger size every single time!
Other Black Bean Recipes
Alternatively, have a browse through my entire collection of bean/legume recipes!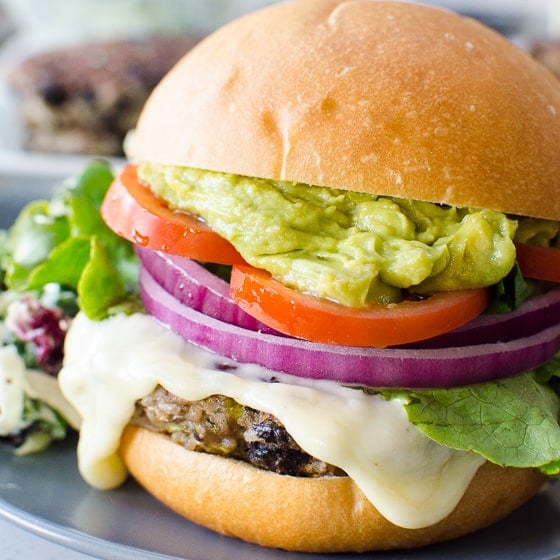 Quick and Easy Black Bean Burger Recipe
This Easy Black Bean Burger Recipe is perfect for meat-free Mondays and vegetarian guests. It is a genuinely wholesome, hearty, filling veggie burger that combines black beans with leftover rice and several veggies – no sauteing required!
Print
Rate
Ingredients
Black Bean Patty:
1

cup

white or brown rice

cooked (measured after)

2

x 14 oz cans low sodium black beans

drained & rinsed

2

eggs

large

3/4

cup

1 small grated zucchini, liquid squeezed out (measured after)

1

medium onion

minced or pureed

2

large garlic cloves

minced or grated

1

cup

oat flour

for GF version or whole grain breadcrumbs (I prefer latter)

1 1/4

tsp

salt

1

tsp

cumin

1

tsp

chili pepper in adobo sauce

minced (more to taste)

2 – 3

tbsp

oil

for frying
Burger (use your imagination):
7

burger buns

Cheese

mozzarella, white cheddar or (jalapeno havarti go well))

Lettuce

use in place of a bun for low carb version

Tomato slices

Red onion slices

Pickles

Avocado

sliced/mashed or guacamole

Ketchup and mustard
Instructions
Cook rice as per package instructions.

In the meanwhile, in a large bowl, add beans and mash with a masher until coarse puree with some bean chunks forms. It doesn't have to be smooth, in fact coarser texture means "meatier" burger.

Add eggs, zucchini, onion, garlic, oat flour,  salt, cumin, pepper in adobo, and mix with spatula very well.

Preheat large non-stick ceramic or well-seasoned cast iron skillet on low – medium heat and swirl 1-2 tbsp of oil to coat it generously.

Scoop 1/2 cup for smaller or 3/4 cup mixture for larger burgers and form into a patty. Place on a skillet and proceed doing the same with remaining mixture until skillet is full.

Cook patties undisturbed for 5-7 minutes per side. Flip with flat spatula carefully with a quick single flip. Other side will cook faster as skillet gets hotter.

Optional: Top desired amount of patties with a bit of melted cheese, cover and cook on low until cheese is melted.

Assemble burger on a bun with your favorite toppings. Serve immediately.
Store: Refrigerate cooked patties in an airtight container for up to 5 days or freeze leftovers for up to 3 months.
Freeze: Lay patties on a baking sheet lined with parchment paper, freeze completely and transfer to a large Ziploc bag. Cook from frozen following recipe's instructions + 5 minutes.
Notes
I chop onions using this chopper or puree in a food processor. Best non-crying methods.
I used my own cooked Instant Pot black beans so you might need to use less salt if using canned.
Do not skip eggs and zucchini.
Sub chipotle in adobo sauce with 1 tsp smoked paprika
See Recipe Post for more Tips and FAQs.
Nutrition
Serving:
1
patty
|
Calories:
395
kcal
|
Carbohydrates:
40
g
|
Protein:
9
g
|
Fat:
14
g
|
Saturated Fat:
2
g
|
Cholesterol:
47
mg
|
Sodium:
589
mg
|
Potassium:
216
mg
|
Fiber:
5
g
|
Sugar:
1
g
|
Vitamin A:
130
IU
|
Vitamin C:
4
mg
|
Calcium:
35
mg
|
Iron:
2
mg
Join today and start saving your favorite recipes
Recipes and images are a copyright of ifoodreal.com. It is against the law to republish recipes anywhere including social media, print and all world wide web. Nutritional info is provided for informational purposes only and to the best knowledge.