Your guide for how to cook Instant Pot Butternut Squash Whole! After cut cooked squash easily, scoop out the flesh and use in your favorite recipes. Plus it's ready in 25 minutes!
This step by step tutorial is part of my butternut squash series including cutting and peeling butternut squash, roasting butternut squash whole and baking cubed butternut squash!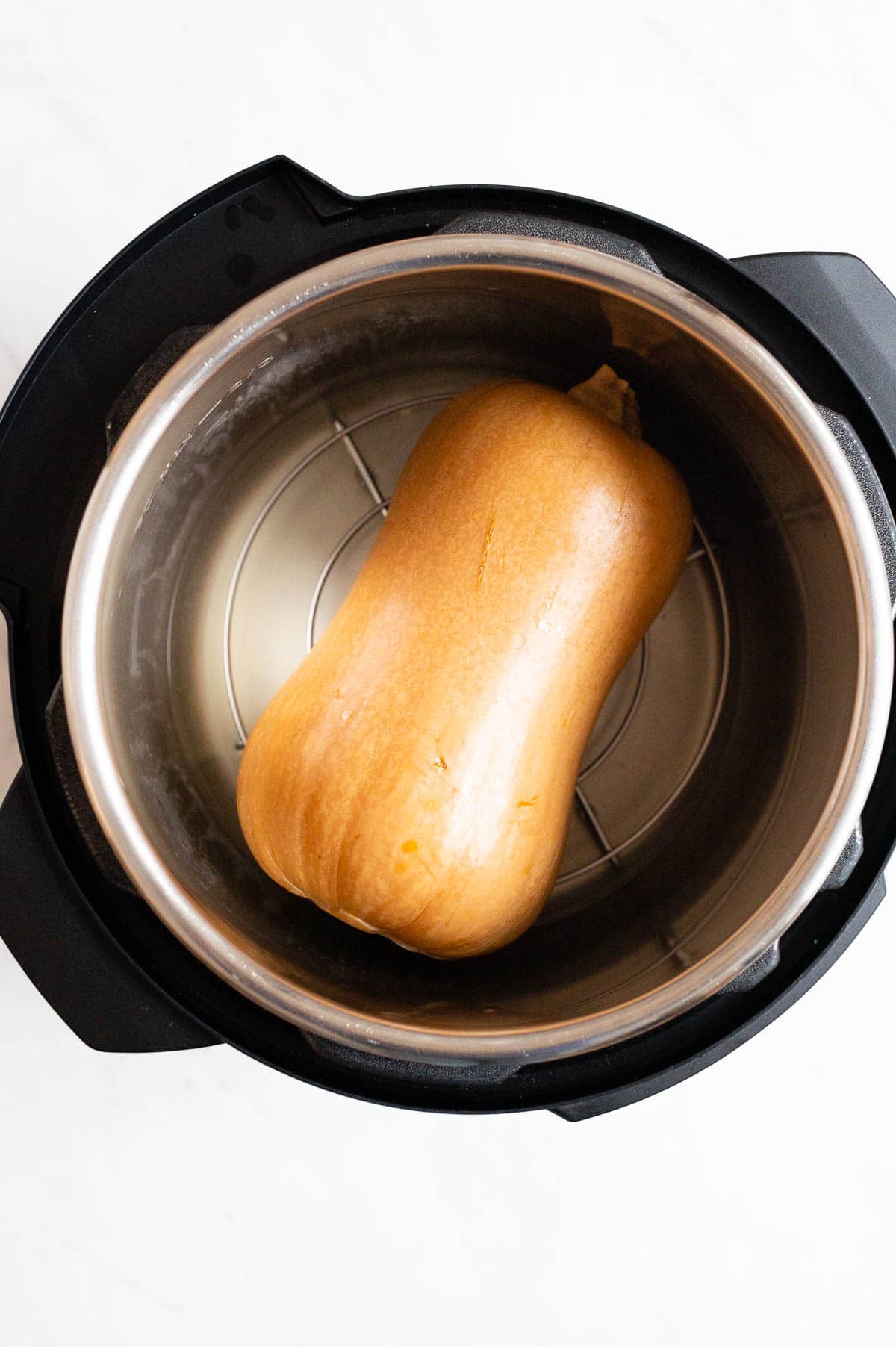 Let me be honest. I love butternut squash, and it's fairly easy to peel and cut it. But words can't explain how magical it is to skip these steps, drop squash in a pot and walk away!
Join me, friends! This recipe for Instant Pot butternut squash cooks whole in your pressure cooker and there is no need to peel, cut, or chop it raw.
The result is tender butternut squash that is so soft you could cut it with a butter knife, it's true!
It's perfect for purees, soups, or try it mashed. And cooking butternut squash in Instant Pot is the easiest way to do it.
Let me show you this easy method!
Why You Will Love This Recipe
Safety first: Good news for squash lovers, there is no need to peel or cut through the thick skin! Cooking squash whole in the pressure cooker eliminates the need for almost any prep work or sharp tools.
Nutritious: Butternut squash is high in beta carotene vitamin A, a good source of fiber and full of antioxidants!
Naturally sweet: Butternut squash is a delicious vegetable with sweet and nutty flavor, nature's candy! Instant Pot butternut squash recipe is perfect for any type of sugar free cooking or low sugar baked goods.
Versatile: Use your Instant Pot squash for delicious butternut squash soup, serve it plain, or make butternut squash puree with a pat of butter plus salt and pepper.
Ingredients
Whole Instant Pot butternut squash is such an easy recipe! Here is what you need:
Butternut squash: Up to 8 inches in size will fit into 6 quart Instant Pot (the most common size), and 10 inches in an 8 quart. I used a 3 pound squash and it fit tightly into my 6 quart Instant Pot.
Water: A cup of water helps the Instant Pot come to pressure. Use cold water so your squash doesn't start cooking early.
Recipe Tip
Make sure your squash fits! Since the point is to cook the butternut squash whole without cutting it first, ensure your squash in Instant Pot fits first before attempting this recipe.
How to Pick the Best Squash
Fall and winter is a great time to stock up on butternut squash! Here are some tips on what to look for at the grocery store.
Color: Butternut squash is light tan with an orange colored skin. Avoid one with green lines.
Weight: When you pick up the squash, it should feel heavy in size.
Skin: The skin should be hard vs. soft, blemish-free, and no visible cuts.
How to Cook Butternut Squash in Instant Pot
Pressure cooking butternut squash really couldn't be any easier! Prep time is literally 0 minutes.
Start by giving your squash a quick wash to remove any dirt and pat it dry.
Pressure cook: Into the inner pot of the Instant Pot, pour cold water, place trivet and whole butternut squash on top. There is no need to poke your squash at all. Close the lid, set pressure valve to Sealing position and press Pressure Cook button on High or Manual button for 25 minutes.
Release pressure: After, let pressure come down naturally for 10 minutes and then quick release remaining pressure by turning valve to Venting position. Whole squash will be hot, so remove by holding onto the trivet handles or use oven mitts, and let cool on cutting board until safe to handle.
Cut: Cut your squash crosswise and using a large spoon, scoop out and discard the squash seeds. Or use my air fryer pumpkin seeds recipe to roast them!
Serve: Scoop out the flesh with a tablespoon into the bowl and use in favorite recipes such as Instant Pot butternut squash soup.
How to Peel and Cut Cooked Squash
Depending on how you use your cooked whole butternut squash, it's easy to cut, peel it, or even just scoop out the bright orange flesh for an easy recipe.
To cut it, slice it crosswise, this is right where the neck of the squash meets the rounded bottom.
Scrape out the seeds and either scoop out the tender flesh, or peel it easily with a knife or vegetable peeler.
Chop it into tender cubes, mash it, or puree it.
How Long to Pressure Cook Butternut Squash?
The cook time is dependent on if you are cooking butternut squash whole like in this recipe, or if you need to par-cook it, cube it, or even halve it! Here are a few time suggestions:
Whole butternut squash: A medium sized butternut squash will take around 25 minutes with 10 minutes natural release. If you have a small butternut squash that weighs 2 lbs. try 20 minutes.
Halved butternut squash: This is a great option if your squash is too large to fit inside the pot. High pressure 8 minutes and use 10 minutes natural pressure release.
Cubed butternut squash: Cubing solves the issue of how to steam butternut squash in a hurry! I recommend to use a steamer basket with this method. Pressure cook for 8 minutes, then vent pressure right away.
Par-cooked butternut squash: This is a great idea if you are planning to cook it the remaining way in a recipe. Try cooking it whole for 5-8 minutes at high pressure with quick pressure release and then it should be softened enough to cut, cube and add to the recipe.
How to Store and Freeze It
Cooked: You can store your cooked squash in an airtight container for up to 1 week.
Raw: If you plan to cook your butternut squash later, it's so easy to store! Store in a cool, cry place for 2-3 months. Do not store in the refrigerator.
You can freeze cooked butternut squash in a few different ways for meal prep. Can you freeze squash whole, though? No, it needs to be cooked then mashed or cubed first.
Freeze mashed: If you have mashed or pureed it, transfer it to an airtight container or freezer safe bag and keep frozen for a few months. Defrost before using.
Freeze cubed: Line a sheet pan with parchment paper or a Silpat liner. Evenly scatter cooked cubes of squash on pan and place in freezer. Once frozen, transfer to a freezer safe bag. Thaw in the fridge.
Serving Suggestions
Instapot butternut squash can be used in a variety of ways while staying naturally gluten-free, healthy and quite often vegan!
Healthy side dish: Mash with a few tablespoons of melted butter along with salt and pepper. A popular holiday flavor pairing includes fresh herbs like sage, thyme or rosemary.
Sweet side dish: Or sprinkle with cinnamon and drizzle with a little maple syrup (or brown sugar) for a sweet easy side dish.
Soup: Use an immersion blender to blend it with broth or coconut milk for a simple creamy soup.
Smoothies: Freeze it in cubes, then add to your morning smoothie!
Stuffed: Cut in half lengthwise, scoop out the seeds, stuff with a grain and serve with peel intact.
Roasted: Cut into cubes, drizzle with olive oil and melted butter and place under the broiler for a few minutes to create that extra flavor.
FAQs
Do I need to poke holes in my squash to avoid it exploding?
No, there is no need to poke holes when making pressure cooker butternut squash recipe. It will not explode.
Can I cook more than one butternut squash at the same time?
You might be able to, it would need to smaller squash, though. You might have better luck if the squash is halved or quartered.
Can I cook other squashes using this method?
Yes, I have this Instant Pot spaghetti squash recipe. You can also use your electric pressure cooker for any type of winter squash. Pressure cook acorn squash for 10 minutes or kabocha squash for 20 minutes. Cooking time may increase or decrease depending on if it's a small or larger squash size.
More Butternut Squash Recipes
More Easy Instant Pot Recipes
How to Cook Whole Butternut Squash in the Instant Pot
How to cook Instant Pot Whole Butternut Squash without cutting through the hard outer skin! The easiest and safest way to achieve tender squash.
Ingredients
3

lbs

butternut squash

8 inches or less

1

cup

cold water
Instructions
Into the Instant Pot, add water, place trivet and whole spaghetti squash on top. Close the lid, set valve to Sealing and press Pressure Cook on High or Manual for 25 minutes.

After, wait 10 minutes and then release remaining pressure. Squash will be hot, so remove by holding onto a trivet handles or with oven mitts, and let cool until safe to handle.

Cut squash crosswise and using a tablespoon, scoop out and discard the seeds.

Scoop out the flesh with a tablespoon into the bowl and use in favorite recipes.
Notes
Store: Refrigerate in a bowl covered with plastic or in an airtight container up to 1 week.
Freeze: Freeze in an airtight container for up to 3 months. Thaw on the counter for a few hours or in the fridge overnight.
Size of squash: Up to 8 inches will fit into 6 quart Instant Pot, and 10 inches – in 8 quart. I used 3 lbs squash and it fit tightly in my 6 quart Instant Pot.
Serving: Mash squash with a bit of butter, salt and pepper and serve as a side dish. Or use to make a soup.
Smaller squash: For 2 lbs squash cut cook time to 20 minutes.
Nutrition
Calories:
153
kcal
|
Carbohydrates:
40
g
|
Protein:
3
g
|
Fat:
0.3
g
|
Saturated Fat:
0.1
g
|
Sodium:
17
mg
|
Fiber:
7
g
|
Sugar:
7
g