Skip the oven and learn how to make a Whole Instant Pot Spaghetti Squash with zero prep. It's the easiest way to cook a squash that can be used in a variety of recipes or as a pasta alternative!
You can also make Instant Pot whole butternut squash!
Cooking spaghetti squash whole in the Instant Pot is the best way to cook this nutrient dense vegetable! It cooks in only 15 minutes plus the time it takes to come to pressure, which is only an extra 10-15 minutes of hands off time.
Of course, there is always oven roasted spaghetti squash and baked whole spaghetti squash but it takes around 45 minutes for either.
Out of all different ways, I prefer to cook spaghetti squash in pressure cooker. This easy method is my favorite!
You will love how simple it is to make this Instant Pot spaghetti squash recipe!
Why You'll Love This Recipe
Known for its noodle like veggie strands, spaghetti squash can be found at grocery stores during the fall and winter months in North America.
Nutritious: It's low carb, with only 11 grams of carbs per serving, yet dietary fiber rich, and high in vitamin C. Also low calorie.
Fast: With a cook time of only 15 minutes, it can be ready to eat fast, compared to baking in the oven which can take upwards of 60 minutes or 4 hours in a slow cooker.
No cutting: There is no need to cut squash open, poke it with a knife or prick with a fork. Saves on prep time, eliminates anxiety about cutting it and your squash will not explode.
Ingredients Needed
You only need a spaghetti squash, one cup water plus a trivet or steamer basket for this pressure cooker spaghetti squash!
Whole spaghetti squash: Not more than 3 lbs in weight for 6 quart Instant Pot. Plan max 8 inches in length to fit in standard 6 quart Instant Pot. Larger squash should fit into 8 quart Instant Pot.
Water: Cold water ensures your squash does not start cooking until it's time to pressure cook.
How to Cook Spaghetti Squash Whole in Instant Pot
Pressure cooking whole spaghetti squash in Instant Pot is a great way to save time. It's ready in only 15 minutes cooking time with no cutting, poking or pricking it. This really is the best method!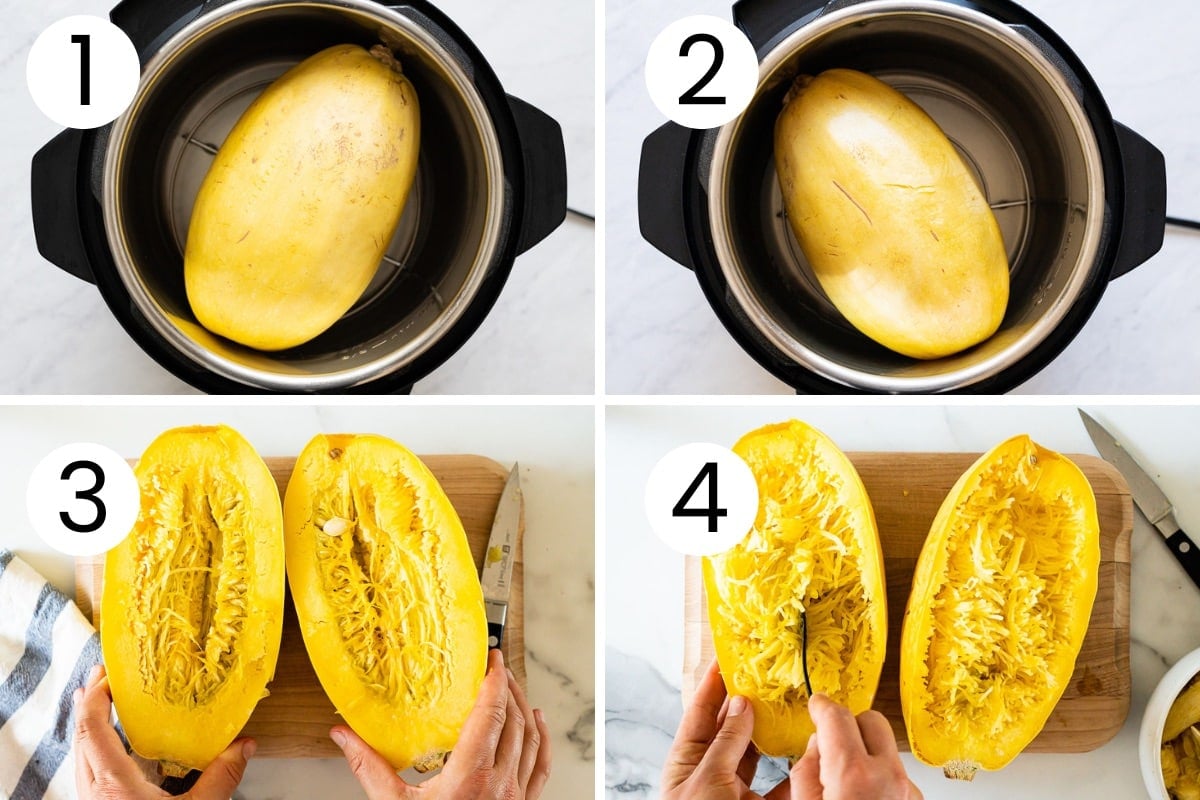 Prep: Add 1 cup of water to bottom of the Instant Pot, place trivet inside, and place whole squash on top of the trivet. No need to poke. This is where it is important to make sure you buy squash that will fit in your pot.
Cook: Close the lid, set valve to Sealing, and press Pressure Cook button for 15 minutes on high pressure. You can use the Manual button as well.
Release and cool: Once done, wait 10 minutes and release the remaining pressure by turning valve to Venting, Quick Release. This will help the squash from overcooking and becoming mushy. Squash will be very hot. Remove carefully by holding onto trivet handles and using oven mitts, and set aside squash to cool until safe to handle.
Cut and shred: How do you cut a spaghetti squash? Once cooled, cut lengthwise for shorter strands and crosswise for spaghetti-like strands. Use a fork to shred the perfectly cooked strands of spaghetti squash into a bowl. Gently scraping the inside of the squash halves, the spaghetti squash noodles should fall apart easily.
How Long to Cook Spaghetti Squash in Instant Pot?
You may ask "How long to cook spaghetti squash in Instant Pot?". And it's a valid question with various electric pressure cooker sizes, models and brands.
The amount of cook time depends on the size of your Instant Pot rather than the size of your squash. It's the case with all pressure cooker recipes, in most cases. And it is because food begins to cook during pressure build up already.
Good news is that you can cook squash no matter what size is your pot. As long as it fits in it. I cooked my squash in 6 quart Instant Pot for 15 minutes with 10 minutes natural release.
Below I am sharing cook times for 8 quart Instant Pot and 10 quart Instant Pot as well.
6 quart – 15 minutes
8 quart – 13 minutes
10 quart – 12 minutes
These are good starting guidelines and next time adjust accordingly. Instant Pot recipes may need some trial and error sometimes.
Can You Cook Cut in Half Spaghetti Squash in the Instant Pot?
Yes. It is twice faster than pressure cooking whole spaghetti squash but you spend time cutting it.
Cut squash crosswise for the signature long strands and cut lengthwise for shorter "spaghetti" strands. I do have a full guide on how to cut spaghetti squash in half various ways.
Scoop out the seeds with a spoon, discard or roast them just like these air fried pumpkin seeds. Pressure cook on High pressure for 7 minutes and release pressure right away.
Recipe Tips
Size matters: Pick a small to medium sized squash to make sure the squash you choose fits into your pressure cooker. I used 3 lbs and it fit tightly into my 6-quart Instant Pot.
Say no to mushy squash: Do not let pressure come down naturally longer than 10 minutes. It will overcook the squash and it will become squishy and hard to shred.
Cook longer: If you find that the middle of the squash is not done to your liking, ensure there is still water in the bottom of the pot, place the lid back on and pressure cook spaghetti squash a few minutes longer. It will come to pressure right away.
Drain to remove excess moisture: If you find that your strands are too moist after cooking, place spaghetti squash strands in a colander and drain. This allows remaining steam to be released.
FAQs
How do you know when it's ready?
Spaghetti squash is cooked through when you can easily pierce its outer skin with a paring knife. It it goes in easily and without resistance, you can cut your spaghetti squash and shred.
What does spaghetti squash taste like?
Spaghetti squash strands on their own have a very mild flavor. Some may detect a slightly sweet or nutty flavor. It has a moist flesh due to its high water content and is not as starchy as other winter squash varieties like butternut squash or acorn squash.
What are some serving suggestions?
Fry cooked squash in a skillet with olive oil, bacon, and salt or just sprinkle with some parmesan cheese and black pepper. Sprinkle it with some red pepper flakes, for some heat! Serve as a delicious side.

Top it with marinara sauce, meat sauce, or healthy alfredo sauce. Make Instant Pot bolognese, and serve it as your healthy spaghetti pasta alternative.
How long does spaghetti squash last?
After cooking, leftover spaghetti squash will keep in the fridge for up to a week in an airtight container. It's perfect for meal prep!

Although technically you can freeze spaghetti squash, the texture does change when it thaws due to its watery flesh. I do not recommend to do that.

Uncooked spaghetti squash can be stored in a cool dry place for 1-3 months. Do not store it in the refrigerator as that can cause it to change taste or spoil.
More Spaghetti Squash Recipes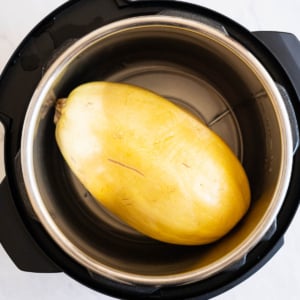 Instant Pot Whole Spaghetti Squash
Skip the oven and learn how to cook a whole Instant Pot Spaghetti Squash with zero prep. It's the easiest way to cook it out of all methods!
Ingredients
3

lbs

spaghetti squash

1

cup

cold water
Instructions
Into the Instant Pot, add water, place trivet and whole spaghetti squash on top. Close the lid, set valve to Sealing and press Pressure Cook on High or Manual for 15 minutes.

After, wait 10 minutes and then release remaining pressure. Squash will be hot, so remove by holding onto a trivet handles or with oven mitts, and let cool until safe to handle.

Cut squash crosswise for longer noodles and lengthwise for shorter strands. Using a tablespoon, scoop out seeds. Then using a fork, remove strands of squash into a bowl.

Serve as a low carb replacement for spaghetti or in any of your favorite recipes.
Notes
Store: Refrigerate cooked leftovers in an airtight container up to 1 week.
Freeze: You can, but texture does change upon thawing.
Size of squash: I used 3 lb squash and it fit tightly in my 6 quart Instant Pot.
Nutrition
Calories:
75
kcal
|
Carbohydrates:
17
g
|
Protein:
2
g
|
Fat:
1
g
|
Saturated Fat:
0.3
g
|
Sodium:
44
mg
|
Fiber:
4
g
|
Sugar:
7
g