Healthy Potato Salad with all traditional ingredients but not drowning in cups of mayo. Creamy, flavorful and a must at any summer gathering.
Let me show you my healthified Ukrainian version of this North American classic side dish. 🙂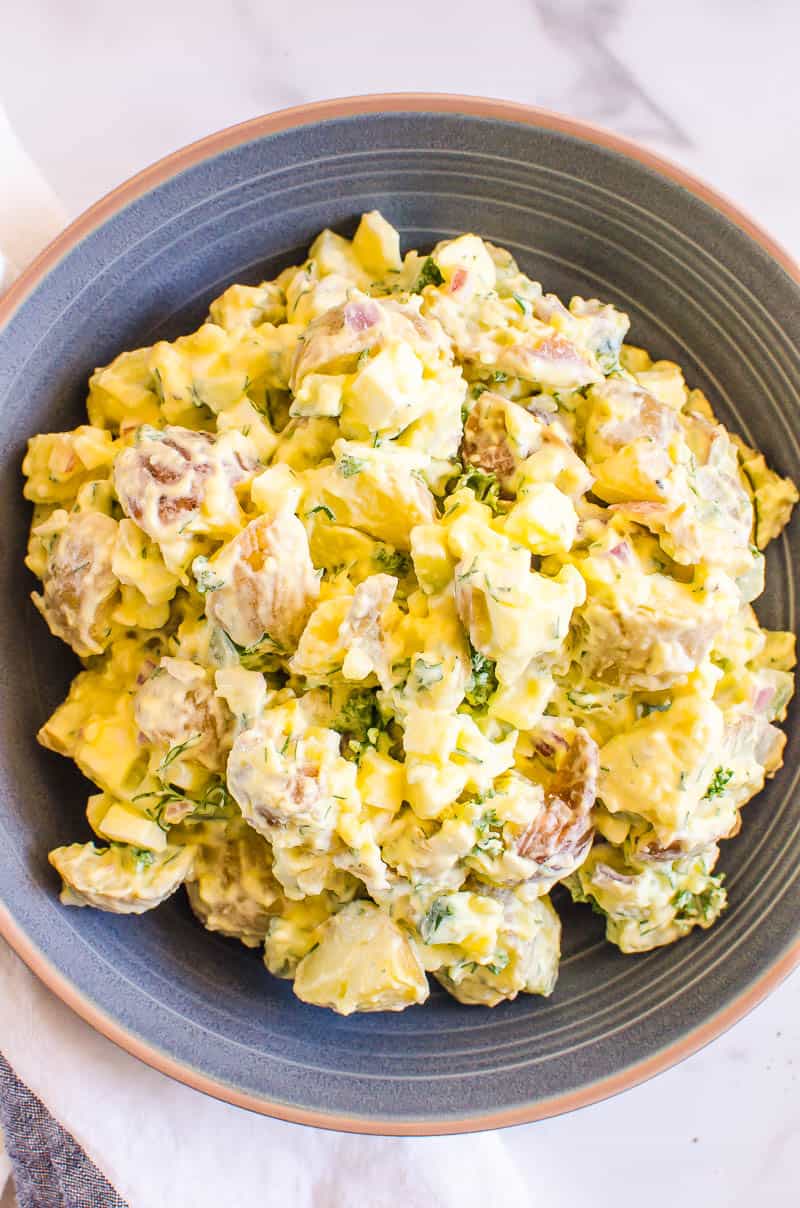 Potato Salad
Healthy potato salad. Growing up in Ukraine, our version of potato salad was called "Olivi'e" – potato salad as many of you know with a lot of mayo plus diced kielbasa and canned peas.
It is very good but after living in Canada for 20 years, I rarely cook it. It is just part of assimilation that happened naturally for us.
These days I stick to a healthy potato salad with diced pickles, red onion, fresh dill (of course!) and a creamy dressing consisting of yogurt, a bit of mayo, mustard and vinegar. SO GOOD cold!
When I am feeling "really healthy" I make cauliflower potato salad. Listen up – it is low carb "potato salad" made with cooked cauliflower instead of potatoes. No one will notice or even if they do, they will be asking for the recipe!
Ingredients You Will Need
These are default potato salad ingredients but they can vary on your taste and ingredients you have on hand. See below for variations and substitutions.
Potatoes: Best potatoes for potato salad are Yukon gold potatoes, red potatoes or baby potatoes. Leave russet potatoes for mashed potatoes.
Eggs: I use 3 eggs but occasionally I add 5 eggs because I love eggs and egg salad!
Pickles: Dill pickles vs. sweet pickles are my fave. You can also use chopped sauerkraut ot seeded fresh cucumber.
Yogurt: Plain or Greek yogurt with fat content of at least 2% is the best. 0% or non-fat yogurt tastes chalky.
Mayo: I am using mayo made with avocado oil. There are many healthier mayonnaise available on the market today like made with olive oil, Vegenaise, any organic and natural brand.
Red onion: Red onion is more mild and sweeter than yellow onion.
Vinegar, mustard, salt and pepper.
Substitutions and Variations of Potato Salad
If you do not have anything pickled, add fresh cucumber or radishes. Just like pickled veggies add a crunch and flavor, so do fresh – just different one. Make sure to seed the cuke with a teaspoon to prevent watery salad.
Celery is truly a personal taste – I add it if in the mood but mostly I save it for tuna salad.
Green onion or white onion will work great in place of red.
Mustard – Potato salad is like a hot dog – classic American food made with yellow mustard. If you are absolutely out, Dijon mustard works and makes it a fancy salad.
Vinegar – I would highly recommend to stick to traditional white vinegar. Next best contender is white wine vinegar. Apple cider – if you have to. 🙂
Add crumbled bacon for an earthy bite. This is when I would be also adding sour cream, chives and cheddar cheese.
Tips for Best Potatoes
Cook potatoes whole and unpeeled – This makes potatoes less watery.
Do not salt cooking water – As soon as salt touches food, it starts leaking moisture.
Add potatoes to cold water to cook – That's just the rule from grandma. 🙂
On the stove, cook potatoes and eggs together – All you have to do is remove eggs after 5 minutes and cool off in cold water. Keep cooking potatoes for another 10-20 minutes depending on their size.
Add vinegar while potatoes are cooling and toss them around. Acid penetrates into the flesh of potatoes adding that punch of flavour we all crave with a potato salad. I do so if I remember. 🙂
Peel potatoes after cooking or leave skin on – It is a personal preference. I leave skin on for less mushy salad with more nutrients contained in the skin.
Let potatoes cool almost completely before mixing with mayo and yogurt to get rid of moisture completely. My grandma always cooled her cooked potatoes outside.
How to Serve and Store Potato Salad
Let it rest! It is super important to refrigerate potato salad for 3 hours or overnight to allow flavor to build on. All ingredients penetrate each other and as Buddy Valastro says "marry each other".
This is what makes potato salad a superb make ahead and leftover salad. Either way it is good for 3-4 days before or after making it. Like borscht, it tastes even better next day.
Serve potato salad cold. The following recipes go so well for a summer BBQ:
Is Potato Salad Healthy?
According to Organic Facts, potatoes  contain a lot of potassium (especially skin and right underneath), vitamins C and B, and fiber. Potatoes help reduce inflammation, treat kidney stones and diarrhea, and prevent heart disease.
Everything else is a sprinkle of love and flavour. 🙂
More Healthy Salad Recipes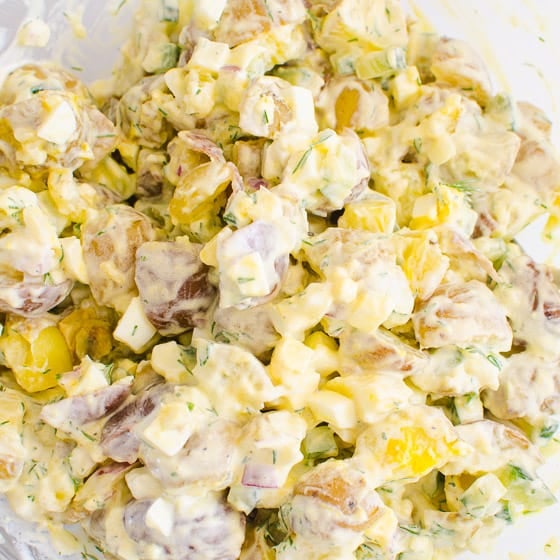 Healthy Potato Salad
Healthy Potato Salad with all traditional ingredients but not drowning in cups of mayo. Creamy, flavorful and a must at any summer gathering.
Print
Save
Rate
Ingredients
2

lbs

baby potatoes

Yukon gold or red potatoes

3

eggs

large

3/4

cup

pickles

sauerkraut or fresh cucumber, diced

5

tbsp

red onion

finely chopped

4

tbsp

dill

finely chopped

1

tbsp

yellow mustard

1

tbsp

any light colour vinegar

1/2

cup

plain yogurt

2%+ fat

1/4

cup

mayo

1

tsp

salt

1/2

tsp

ground black pepper
Instructions
To cook potatoes and eggs on the stove: In a medium pot, add potatoes, eggs and enough cold water to cover. Place lid on top and bring to a boil on high heat. Reduce heat to low and cook for 7 minutes. Remove eggs with a slotted spoon into a bowl with cold water. Keep cooking potatoes more depending on size: baby - extra 10 mins, medium - 20 mins, large - 25 mins. Or until fork tender.

To cook potatoes in Instant Pot: 

To 6 or 8 quart

Instant Pot

, add 1 cup cold water, basket or trivet and place potatoes on top. Cook on High Pressure with

Quick Release

: baby potatoes - 10 mins, medium 12 mins, large - 15 mins. Then you will have to make

Instant Pot eggs

separately or boil them on the stove for 7 minutes.

Drain potatoes and let cool for 20 minutes uncovered.

In the meanwhile, prep and add to a large salad bowl: pickles, red onion, dill, mustard, vinegar, yogurt, mayo, salt and pepper.

Chop the eggs and add to the bowl.

Cut potatoes into desired size pieces - some like chunky potato salad (cut into 2 inch cubes) and some more mushy (diced potatoes). Add to the bowl and gently stir salad with large spoon.

Chill for at least 3 hours or overnight before serving.
Store: Refrigerate in an airtight container for up to 3 days. Do not freeze.
Notes
To avoid watery potatoes, do not salt cooking water, peel or dice potatoes before cooking.
I used avocado oil mayo. 0% yogurt will lack flavor, so use at least 2%.
If using fresh cucumber, remove seeds with a teaspoon.
If using sauerkraut, chop it coarsely.
Dijon mustard will work and any mustard I use is wet - from a bottle.
You can also add diced celery or crumbled bacon.
Nutrition
Serving:
0.75
cup
|
Calories:
232
kcal
|
Carbohydrates:
29
g
|
Protein:
7
g
|
Fat:
10
g
|
Saturated Fat:
2
g
|
Cholesterol:
88
mg
|
Sodium:
526
mg
|
Potassium:
727
mg
|
Fiber:
4
g
|
Sugar:
3
g
|
Vitamin A:
192
IU
|
Vitamin C:
31
mg
|
Calcium:
65
mg
|
Iron:
2
mg
Join today and start saving your favorite recipes
Recipes and images are a copyright of ifoodreal.com. It is against the law to republish recipes anywhere including social media, print and all world wide web. Nutritional info is provided for informational purposes only and to the best knowledge.