How to grill shrimp skewers to juicy, flavorful perfection! These Grilled Shrimp Skewers are slightly charred with a delicious lemon garlic flavor; no marinating needed. Best of all, you can enjoy the shrimp kabobs in just 16 minutes from now, as part of your healthy grill recipes, broiled, or using a grill-pan!
Love summery seafood dishes? Check out grilled salmon and healthy salmon burgers!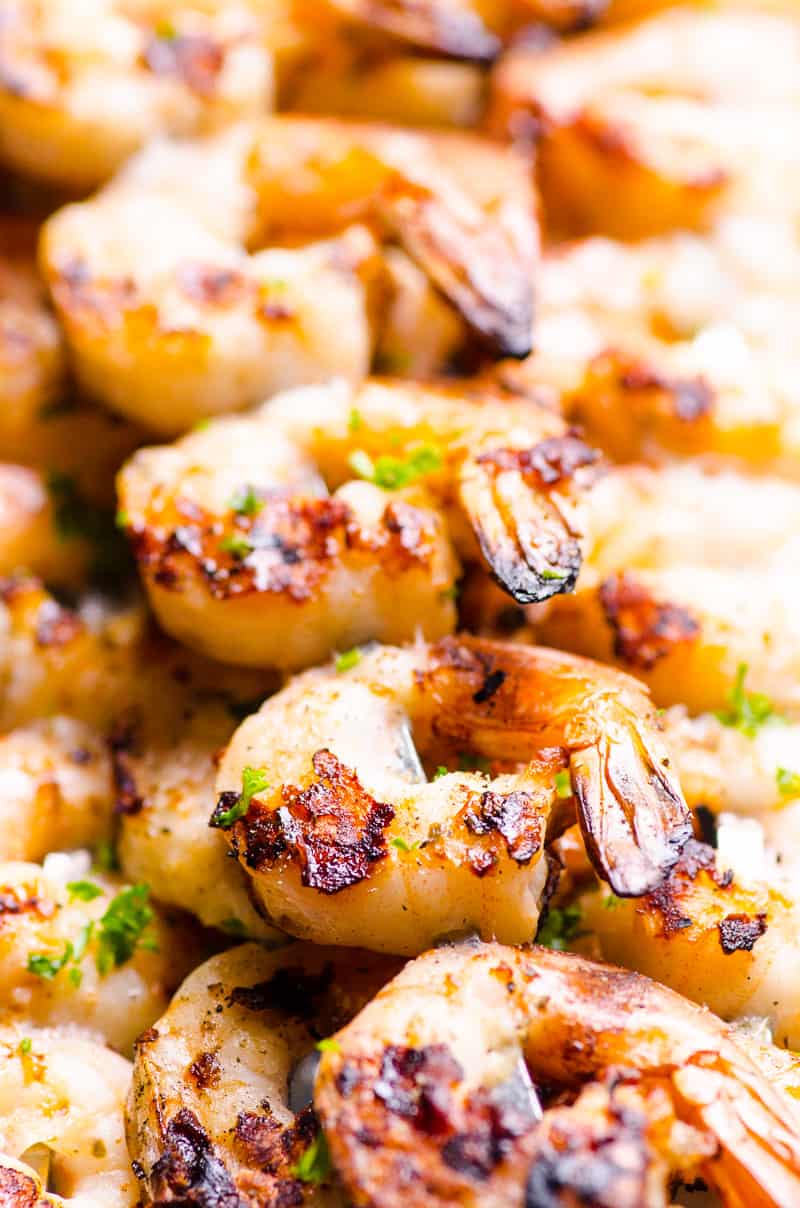 Juicy, Perfectly Grilled Shrimp Skewers
Shrimp is a bit of a treat for my family, so when it is grilling season and these grilled shrimp skewers appear on the table, they disappear in what seems like seconds. As much as I love healthy shrimp recipes made with other cooking methods like shrimp ceviche, air fryer shrimp, and shrimp and vegetable stir fry, the simplicity of this easy shrimp skewer recipes is one of my absolute favorites.
We've probably all had grilled shrimp before that's less than perfect; tough, rubbery, dry, chewy … no, thank you! This makes it seem like grilled bbq shrimp is hard when it's so easy- and quick! In fact, I'm going to take you through all my tips and tricks for how to get perfect results every single time.
The slightly charred flavor and delicious lemon garlic glaze make these shrimp kabobs the perfect side to tons of meals – and I mean tons! This simple shrimp skewers recipe is one I pull out every single summer for family and guests alongside healthy grilled chicken recipe and grilled salmon. Recently, I've become obsessed with cedar plank salmon too!
The resulting skewer of shrimp are so flavorful, even without marinating the shrimp. Brushing the shrimp before and during grilling makes these lemon garlic shrimp skewers delicious! However, I also love marinating proteins – like this carne asada steak, lime ginger salmon, and cilantro lime chicken.
Why This Shrimp Skewers Recipe Works?
There is 0 marinating time needed for this flavorful lemon garlic shrimp kabobs recipe!
The garlic, lemon, and oregano dressing pairs wonderfully with the subtle shrimp flavor but is also super versatile!
They take just 5-6 minutes to grill to perfection and 15 minutes total from start to table!
The shrimp kabobs can also be cooked on the stovetop or broiled in the oven – for year-round shrimp!
Use affordable medium shrimp for a dinner that doesn't break the bank!
They are super easy to make; just thread the shrimp, brush with marinade, do the quick flip-flop in the grill, and voila, the best bbq shrimp!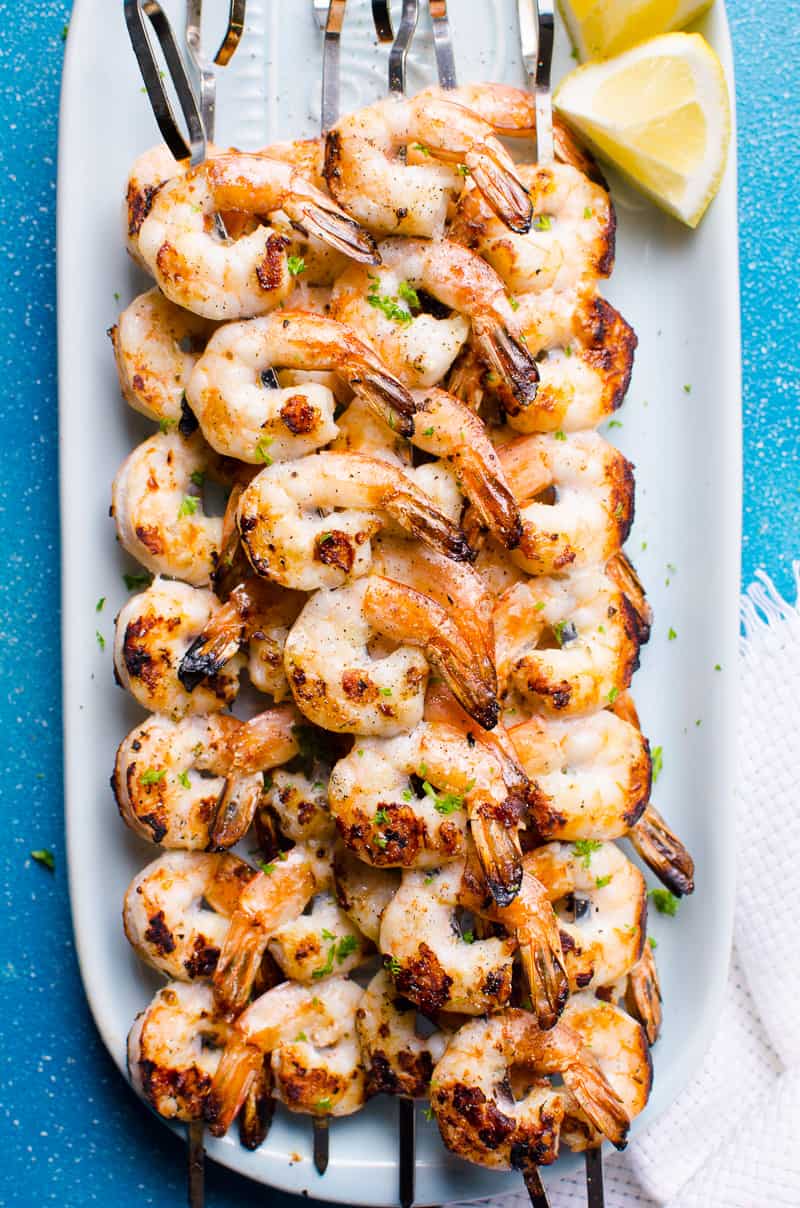 Ingredients and Substitutions
Shrimp: Use medium shrimp (around 21-25/count) – it's best to buy them de-veined, tail on or off. I like them on, for presentation, but it's not necessary. I also prefer to use frozen and thawed wild shrimp as they tend to be fresher than those at the fish counter!
Quick note: The larger the shrimp, the easier to grill without overcooking. However, they also go up in price.
The sauce: I use a simple combination of olive oil, garlic, lemon juice (lime would also work), oregano, and salt and pepper to flavor the grilled shrimp kabobs.
Keep reading below (after the recipe how-to) for more information on recipe add-ins and sauce variations!
How to Cook Shrimp on the Grill
Prepare the skewers: First, pre-soak your wooden skewers in cold water for 30 minutes. Otherwise, you can use reusable metal skewers (no soaking necessary). I prefer flat metal skewers, which keep the shrimp from rotating, too.
If you don't plan on using skewers, you can cook them in a well-oiled grilling basket or use a silicone grill mat.
Prepare the grill: Preheat your grill to medium heat (around 375-400F) and lightly oil the surface.
Thread the shrimp: Thread around 5-7 shrimp per skewer. I like to do this right through the center twice – this keeps them securely in place.
How to grill shrimp skewers: Place the skewers on your BBQ and quickly brush them with half the lemon garlic glaze (optionally save about ¼ of the sauce to drizzle on them when serving). Cover and grill for 2-3 minutes. Then flip the skewers, brush with the remaining glaze, cover, and grill for 2 more minutes – until they are no longer transparent. Then they're ready to enjoy!
If you want the charred skewer marks, then you can press on them with a spatula. Do this at the end of the cooking process but be careful not to overcook the shrimp. As soon as the grey color is gone, the shrimp are ready!
To broil shrimp kabobs
Preheat the broiler and place the shrimp skewers on an oiled pre-heated baking tray.
Broil for 2-3 minutes per side, or until the shrimp are no longer grey – instead pink and opaque. They're ready to flip when the top of the shrimp has turned pink.
The power of your broiler may mean you have to adjust the cooking times. Since this process is so quick, though, I recommend watching them the first time – that way, you'll know for next time.
Using a grill pan on stovetop:
Preheat a pan over medium heat with a bit of oil. Then add as many skewers as you can.
Brush the skewers with the glaze, then cook until the bottom of the shrimp is just starting to turn pink, then carefully flip them.
Cook until the skewers have completely turned pink and opaque – this entire process should only take a few minutes.
Press the shrimp kabobs lightly with a spatula to get grill-pan marks on the shrimp.
Recipe Notes and Tips
Be careful not to overcook the shrimp: Depending on the shrimp's size, the cooking time of the shrimp kabobs will vary. For these medium shrimp, 2-3 minutes per side is more than enough. They're ready once they are pink and opaque (no longer grey).
Marinating the shrimp: You can alternatively add 1/2 of the lemon and garlic sauce ingredients and the shrimp skewers to a large airtight bag and shake to thoroughly coat. Allow them to sit in the marinade while the grill preheats. Then brush the leftover marinade when flipping the skewers over. You can also marinate the shrimp for 30-60 minutes, but I find it unnecessary when brushing them with the flavor twice while grilling.
Deveining shrimp: If you haven't bought the shrimp de-veined, you may want to do this before cooking them. This vein is the shrimp's intestinal tract and, when dark in color, is full of grit (and poo…). While it's generally thought of as safe to eat when fully cooked – I'd prefer not to (and my kids won't touch them!). To remove the vein, use a sharp knife to make a shallow cut down the center of the prawn where the vein is and use the tip of the knife to gently pull it up and remove it from the shrimp.
Optional Add-ins and Variations
Italian seasoning: Swap out the oregano for a mixed-herb seasoning like Italian seasoning.
Other herbs: There is a selection of herbs that pair well with shrimp, including cilantro, basil, parsley, thyme, oregano, etc.
Paprika: Smoked paprika is a delicious addition to the lemon garlic sauce and helps add extra smoky depth to the charred grilled shrimp flavor.
Lemon: Lemon zest is a simple and delicious addition to the lemon garlic glaze. You could also throw some lemon slices onto the grill to serve up alongside the shrimp.
Honey: This might sound a little odd, but a little honey added to the glaze will caramelize on the grill and add a subtle sweetness to the shrimp that's delicious. Like it does on this baked honey garlic chicken breast.
For heat: A pinch of cayenne pepper or red pepper flakes is a great way to add a pop of heat to the shrimp kabobs. You could also use something like a Cajun seasoning.
Sweet chili: Swap out the lemon garlic glaze entirely for a Thai sweet chili sauce (like I did for this Thai salmon).
Coconut lime glaze: Like I used for these coconut lime grilled chicken thighs.
Vegetables: It's possible to add extra veggies to your grilled shrimp skewers, but choose carefully. Due to their short cooking time, you need to choose veggies that cook as quickly or are tasty when par-cooked, like tomatoes, bell peppers, or zucchini.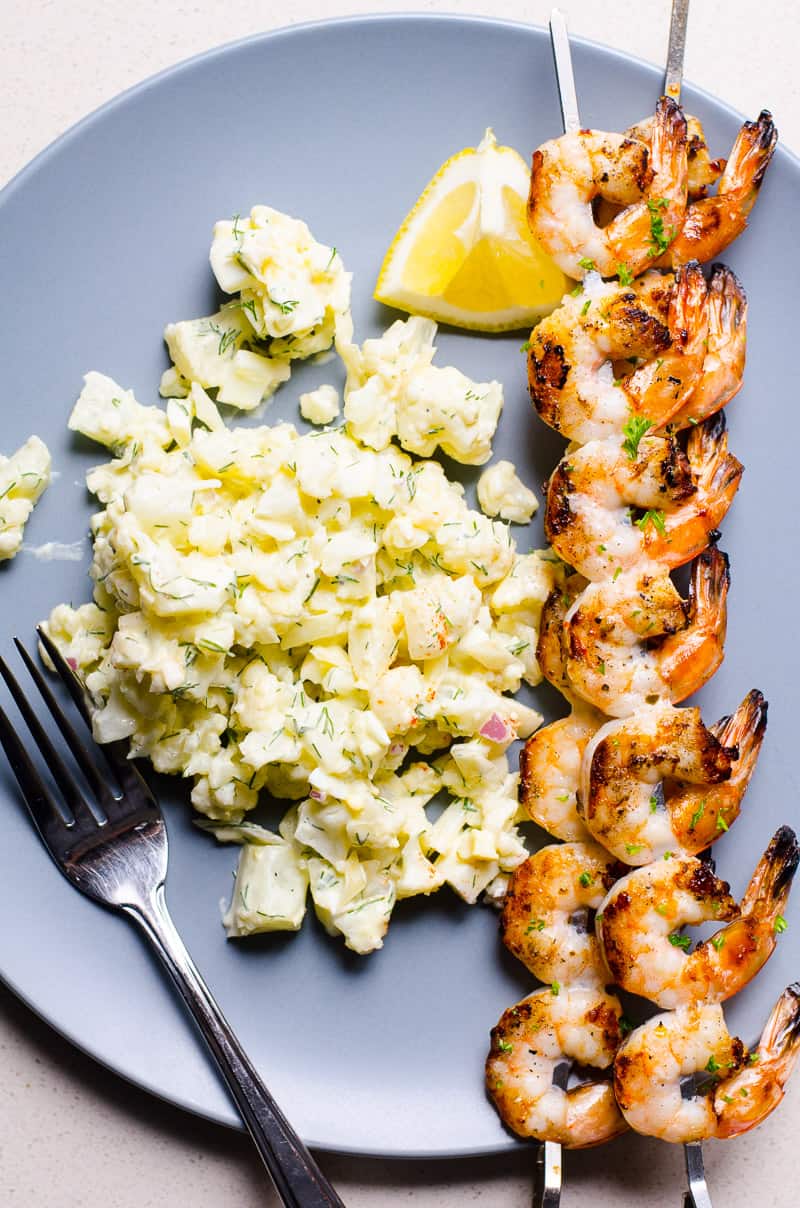 FAQs
How long do you grill shrimp skewers?

This will depend on the size of the shrimp. However, for these jumbo shrimp, 2-3 minutes per side is more than enough!
How do you know grilled shrimp skewers are done?

The key to avoiding overdone grilled shrimp is learning to recognize when they're ready. As soon as the shrimp flesh is pink with no brown or grey spots, that is a sign they're ready.

The shape of the shrimp also helps. When cooked to perfection, prawns form a loose 'C' curved shape. However, overcooked shrimp will often curl up into a tighter 'C'- If you see this, they're probably tough.
Can I use frozen shrimp?

You sure can. Not only is it super quick to thaw shrimp, but it's possible to cook prawns from frozen.

Night before thaw: Place in the fridge overnight, and they'll be thawed in time.
Quick thaw: Place them in a Ziplock bag and place the bag in a bowl of cold water, weighted down for 10-20 minutes. You can place them directly in the water, but I prefer not to as it can make them mealy sometimes.
Cook from frozen: I usually only do this when broiling them, but it's possible and great for those days when you're in a rush and forgot to thaw them. Simply rinse them gently to remove the outer ice crystals, then place them on a preheated tray under a preheated broiler for 2-3 minutes per side – or until they are pink and opaque throughout.
Can I use cooked shrimp?

Yes – but it's harder to make sure they don't overcook. The key is to grill just enough to heat them up and no more. This will usually take between 2-3 minutes in total.

The shrimp should have a curved but not completely rounded shape. The latter usually means overcooked shrimp!
Do I have to peel shrimp before grilling?

No – in fact, some argue that you should keep the shells on as it will lock in for moisture and flavor than when cooking them directly on the grill.

However, for this flavor-brushed grilled shrimp skewers recipe, you end up losing all that flavor when you remove the shell post-cooking. Not to mention it adds time to the recipe. I also love the added flavor on the slightly charred sections of the shrimp.  
Recommended Serving Ideas
You can enjoy these shrimp kabobs warm or cold as part of tons of meals. Honestly, I could write an entire post filled with suggestions. Here are just a few of my favorite suggestions:
Making Shrimp Skewers in Advance
Make ahead: You can leave the shrimp to marinate for up to a couple of hours before cooking or prepare the sauce up to a day in advance to cut down further on prep time.
Storing: Allow the skewers to cool down, then refrigerate, covered, for between 2-3 days. Shrimp skewers taste fantastic cold!
Freeze: Cool the shrimp before transferring to a freezer-safe container for up to 2 months. Try to do this within a couple of hours of cooking them to prevent bacteria growth.
More Tasty Shrimp Recipes to Try
You might also enjoy these salmon dishes like canned salmon cakes, baked teriyaki salmon, and honey garlic glazed salmon. Feel free to also browse through my entire collection of healthy grill recipes!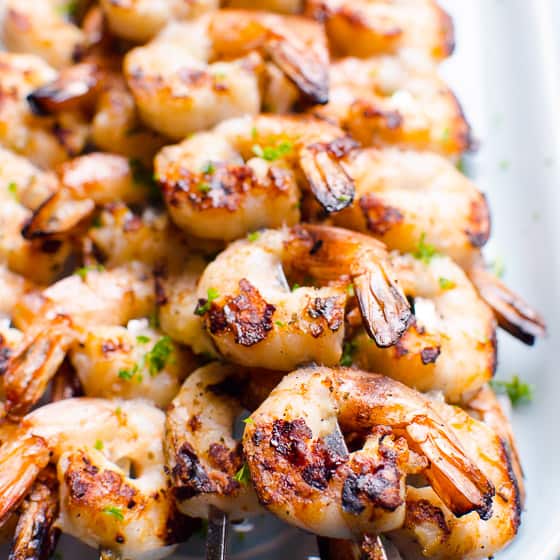 Grilled Shrimp Skewers
How to grill shrimp skewers to juicy, flavorful perfection! These Grilled Shrimp Skewers are slightly charred with a delicious lemon garlic flavor; no marinating needed. Best of all, you can enjoy the shrimp kabobs in just 16 minutes from now, either grilled, broiled, or using a grill-pan!
Instructions
If using wooden skewers, pre-soak for 30 minutes. Thread shrimp onto skewers, about 5-7 per skewer.

In a small bowl, add olive oil, garlic, lemon juice, oregano, salt, pepper and whisk (I use a brush). Brush each shrimp skewer on each side with the glaze and place onto a platter.

Preheat grill on medium heat and lightly oil the surface. Place shrimp skewers on BBQ, quickly brush with half of the glaze, cover and grill for 2-3 minutes. Flip, brush with remaining glaze, cover and grill for 2 more minutes or until no longer transparent and pink.
Notes
Store: Refrigerate covered for up to 2 days. Shrimp skewers taste amazing cold!
Freeze

: Cool the shrimp before transferring to a freezer-safe container for up to 2 months.

Make ahead: 

Marinate for up to a couple of hours before cooking or prepare the sauce up to a day in advance.
Nutrition
Serving:
1
skewer
|
Calories:
116
kcal
|
Carbohydrates:
1
g
|
Protein:
19
g
|
Fat:
4
g
|
Saturated Fat:
1
g
|
Cholesterol:
229
mg
|
Sodium:
705
mg
|
Sugar:
1
g