This Peanut Butter Salmon with Miso is tender and moist with a creamy peanut butter miso dressing. A delicious and nutritious mid-week meal ready in under an hour and perfect for serving alongside grains and veggies!
Love marinated salmon? You might enjoy this honey garlic salmon, lime ginger salmon, or Thai salmon!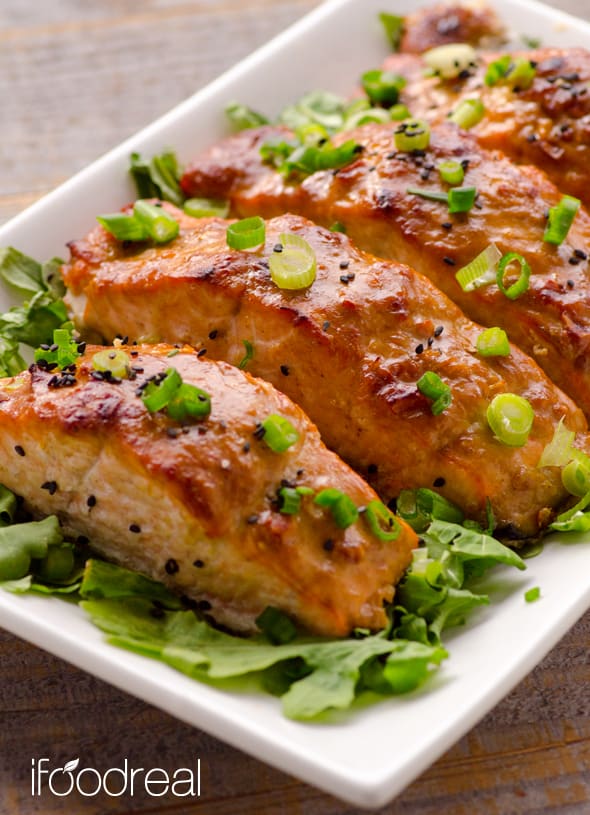 I have a nice problem to have – I'm buried in frozen salmon up to my ears. (Very!) Hypothetically speaking, if me and Alex ever would get divorced, it would be over his fishing or driving. Love him to bits.:)
Then again, it means that I get to make lots of delicious salmon dishes like cedar plank salmon, grilled salmon and baked teriyaki salmon – lots of omega 3's and healthy fats for the entire family!
This peanut butter salmon was special for a special occasion. Alex caught it during our last trip to Tofino, while Olena was babysitting…again. But I didn't complain much.
1. We don't buy farmed fish.
2. This kind and size of salmon would cost $70 at the fish market, $120 at Costco or $200 at your nearest convenience grocery store.
It's THE salmon!
The salmon with deep red meat colour, organic and has the healthy Russians name written all over it.
My mom was coming over. And by that I mean driving 1,400 kms to catch some salmon. Some people will do a lot for fishing. My mom also hunts.
So, needless to say, I had to impress for real…I mean she "eats" every new recipe here, with her eyes. My mom is not a follow-recipe-person. So, I had to prove that "ditching" accounting and real estate license for an "internet site" was the right choice…
A moment of truth. Smothering peanut butter mixed with Japanese soup base, was the second scariest thing after pouring totally watery filling into the crust, to make healthy pumpkin pie. It was completely weird.
I got over it. I made it. I did it!
THE best oven baked salmon with peanut butter and miso paste in the whole world. Well, maybe only Thai salmon can compete. I wish I didn't have 5 hungry people at the table and would have a shot of the inside.
I'm used to using peanut butter with desserts. My boys can devour no-bake peanut butter pie slices, peanut butter protein balls, and peanut butter bars. But would they like it with salmon?! Yes, they did!
The glaze baked perfectly into a thin layer of caramelized sweet and salty peanut butter goodness. OMG. Covered the fish like a blanket. And it stuck extremely well to the meat.
You know that sweet and salty taste? That's the one! We all loved this peanut butter salmon! Oh, and miso paste? It makes so many wonderful probiotic-rich dishes, just start with easy miso soup with meatballs and come back to tell me how blown away you were.
You can even double up on the peanuts by serving it alongside a healthy peanut slaw!
Once baked, you can serve this peanut butter salmon alongside Instant Pot brown rice, cauliflower fried rice, or even a leafy green salad. This salmon also works excellently with veggies like:
Other Healthy Seafood Dishes
You might also enjoy this list of 15 healthy salmon recipes!
Peanut Butter Salmon with Miso
Peanut Butter Salmon Recipe glazed with peanut butter and miso paste, then oven baked until caramelized and juicy.
Ingredients
28

oz

salmon fillets

4 fillets, skin on (helps fillet to stay together)

Green onions

for garnish (optional)
For Peanut Butter & Miso Glaze:
Instructions
Get fillets ready and place in large Ziploc Bag.

In a small bowl, whisk together glaze ingredients and pour over salmon. Release as much air as possible and seal the bag. Marinate refrigerated for at least 30 minutes or maximum overnight.

Preheat oven to 400 degrees F and line baking sheet with aluminum foil (easy to clean up). Place salmon fillets on baking sheet, leaving 1.5″ – 2″ space in between them. Spoon remaining marinade on top of the fillets. Cook for 20-25 minutes and then broil on Low until brown crust forms on top. Serve immediately garnished with chopped green onions and sesame seeds.
Nutrition
Serving:
1
fillet
|
Calories:
343
kcal
|
Carbohydrates:
4
g
|
Protein:
42
g
|
Fat:
17
g
|
Saturated Fat:
3
g
|
Cholesterol:
109
mg
|
Sodium:
381
mg
|
Fiber:
1
g
|
Sugar:
1
g