You don't fold laundry with a glass of wine? No? Well, it was just so natural to me in November.
I drank a lot of wine. I had to survive. Some time this year I switched to white wine because red one gives me a headache. Much better.
And thank goodness it's all clean laundry. So no my dirty laundry for you.
So, November. The way it truly was…
Studio Update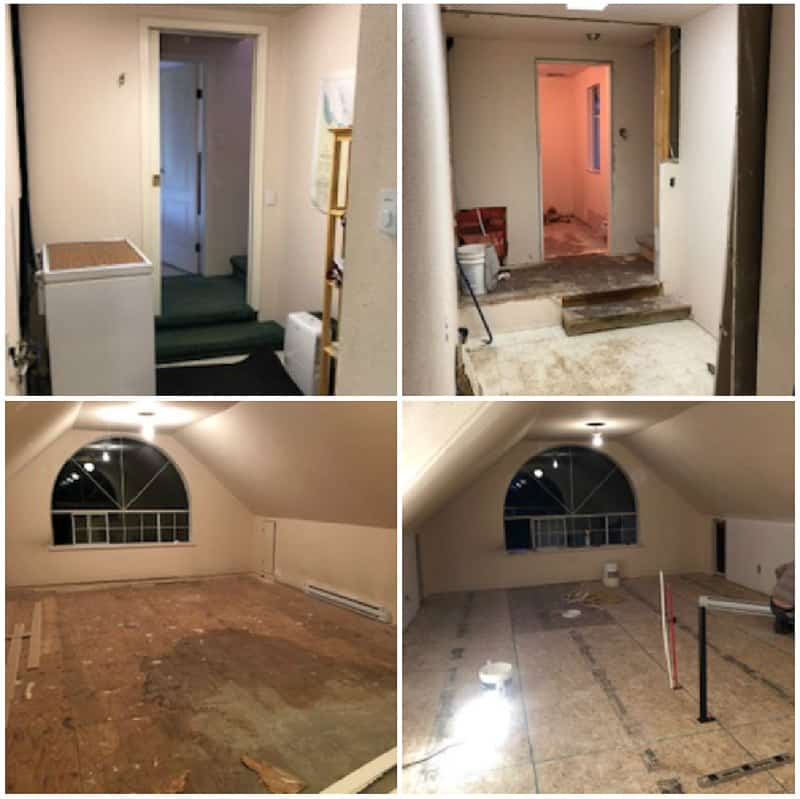 Bye-Bye Wall with Pocket Door
That wall with a pocket door was separating a hallway as soon as you come in into the studio from the main living area which consists of bathroom and huge room above the garage upstairs. I personally did not need that separation. I also hate pocket doors. And I also didn't want to pain extra walls and doors. But main thing is I HATE pocket doors.
So, good-bye wall and door. It looks so much better now! Plus we re-used that drywall in other areas. Because nothing is easy in this house. Nothing, my friends. Just buy a new house. Read on the drywall story below.
And all that linoleum covered rotten plywood floor is gone now too. New subfloor in. It smelled so-so bad.
New Sub Floor
The bottom 2 photos of the studio might look the same to you but they are not. See how plywood on the left is orange with stains. And on the right fresh with communications sticking out of it?! That is new sub floor that took us 1 month to come to life. And that's water, drain and electrical for my new island. Hallelujah!
First of all, old plywood smelled so bad. We don't wanna know with what. Secondly, when we lifted just a tiny bit of it we saw that rats and mice have infested everything right to the studs. Can you imagine what was going on under that floor? Better not. You don't want to know. So we cut plywood in pieces and ripped it out. Then disposed ALL insulation. Put new insulation in and new plywood on top.
Since studio is under the roof, the attic is located on the sides of the room. Behind those short long walls on both sides. We had to clean infestation there as well. For that reason we had to remove drywall to access it properly. And there are 2 "minor" things about our studio drywall: a) it's textured b) it's thicker than average thus more expensive of course. That's why we were saving cut pieces of drywall to reattach back.
Now we installed all drywall. Taped, mudded and sanded it. Fixed the texture where needed. And fingers crossed are ready to paint. Hopefully because you just never know with an old house. Why did I get myself into this? And how?! A ton of work, my friends!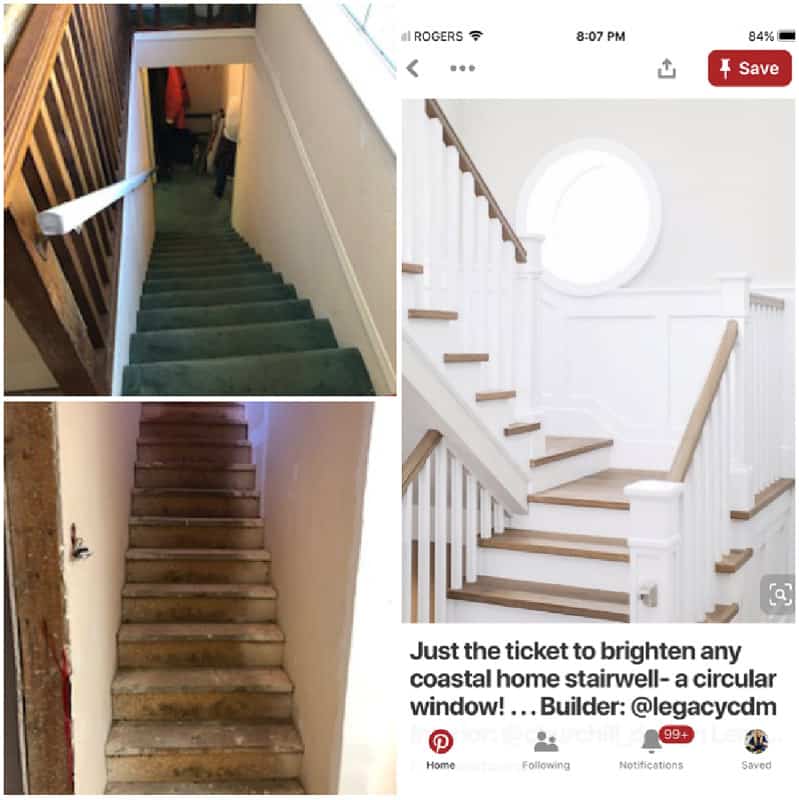 Pinterest Staircase
Once we ripped out that more than gross green carpet I was puzzled what I'm gonna do with the staircase. I don't like laminate floor stairs as they are slippery. Carpet is an option but 2 things made me hesitate about it: a) laminate floors everywhere else b) we don't know how to install carpet. So the more I looked on Pinterest the more I came across this Pinterest staircase as I call it. And the more I researched, the more I saw people bring to life 80 years old stairs. And my stairs are beautiful cedar. Hopefully they are all cedar.
So I have armed myself with an electric sander, coarse (60) sanding paper and I will report back. I have never made anything from Pinterest, so this will be either good or bad. Hopefully it works. You just never know with this house.
House Update
Kid's Bathroom Update
Thankfully we have transitioned from pink insulation walls, non draining sewage and poly B pipes to a tiled bathroom. It might seem fast to you but to me it's 80 years long. The 2 months process I had to deal with plumbing issues of all sorts. And waiting. And it's far from over. We are talking legal matters. So far due to a legal nature of the whole situation I can't say more. One day I will share it all. For now, lots of white wine. Probably more than recommended even by health ministry of Italy itself. Just kidding. Just a glass or two every night.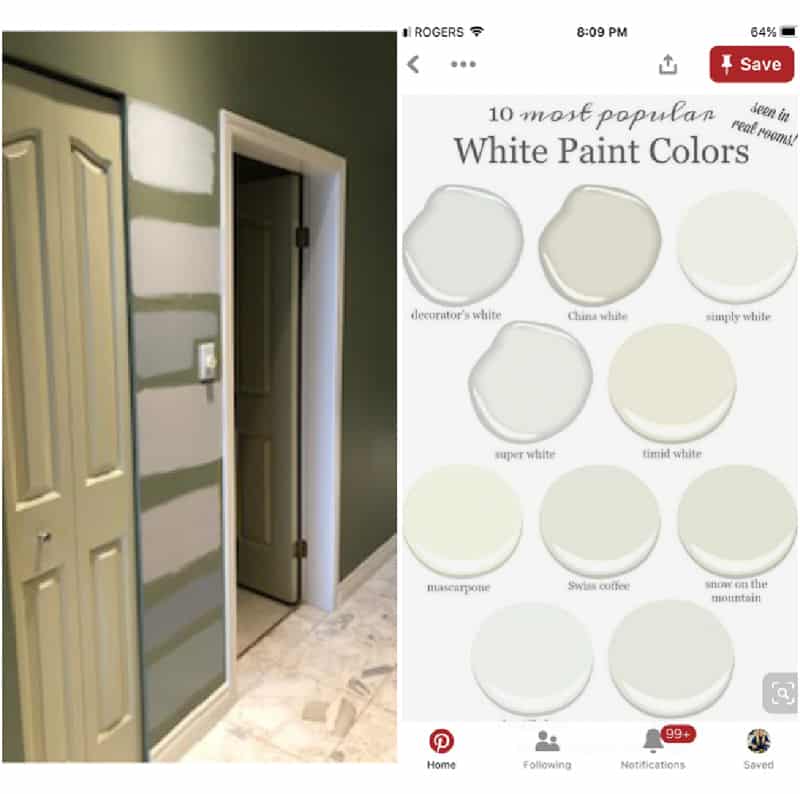 Choosing Paint Colours
OK, may I just say HOW hard it is to pick paint!!!!!!!!!!!!!!!!!!!!!!!!!!!!!!
Worse than any tile or floor! It's a nightmare. There are even shades of white. What??? Like when did this world gone crazy? I bought my last house painted yellow green by the builder and refreshed the paint every few years even without a thought something is not OK in my house. And for the trim and doors don't you just buy a can of white paint at Home Depot and paint? And the ceiling, isn't it all just white?!
According to Pinterest life has to be more complicated than it is. Why did I even look?! I started painting 50 shades of gray on my ugly green walls and I don't think I'm nearly done. I even painted walls white and now trying other 50 shades of gray on top of it. In the morning I think I'm done and then I'm not. It's insanity! And I'm the one who makes decisions fast usually. And by the way none of those "blues" I like. Everything turns blue or purple on me.
I'm even scared to start testing whites. Like it's super scary even to open that can of worms (paint).
Food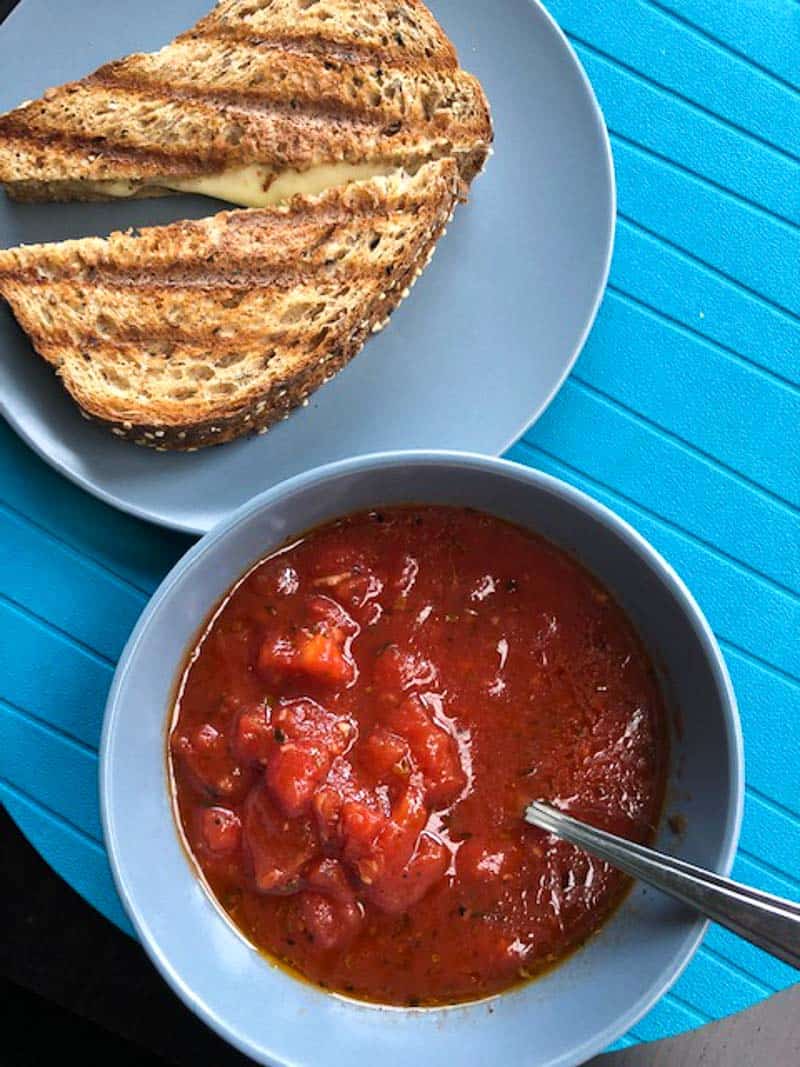 Food situation has been very simple. You are looking at a very glorified can of diced tomatoes which probably was the best I ever had! I should share the recipe for my tomato soup after a day of renovating. Anyone can make it.
It has been hard for me to cook in this kitchen. I have so many ideas and I could do it but I step in there and a blanket of "blah" crawls all over me. I'm at the point where I don't even want to open the fridge and see what's inside. But I have so many ideas and when I force myself to cook, I feel so happy. So please know anything you see posted this month is extra special. Super good tasty and only for you!
There have been a lot of Costco perogies and grilled cheese in my life lately. Good thing is I will never gain weight again as long as I live in this house – I work that hard LOL.
We Decorated for Christmas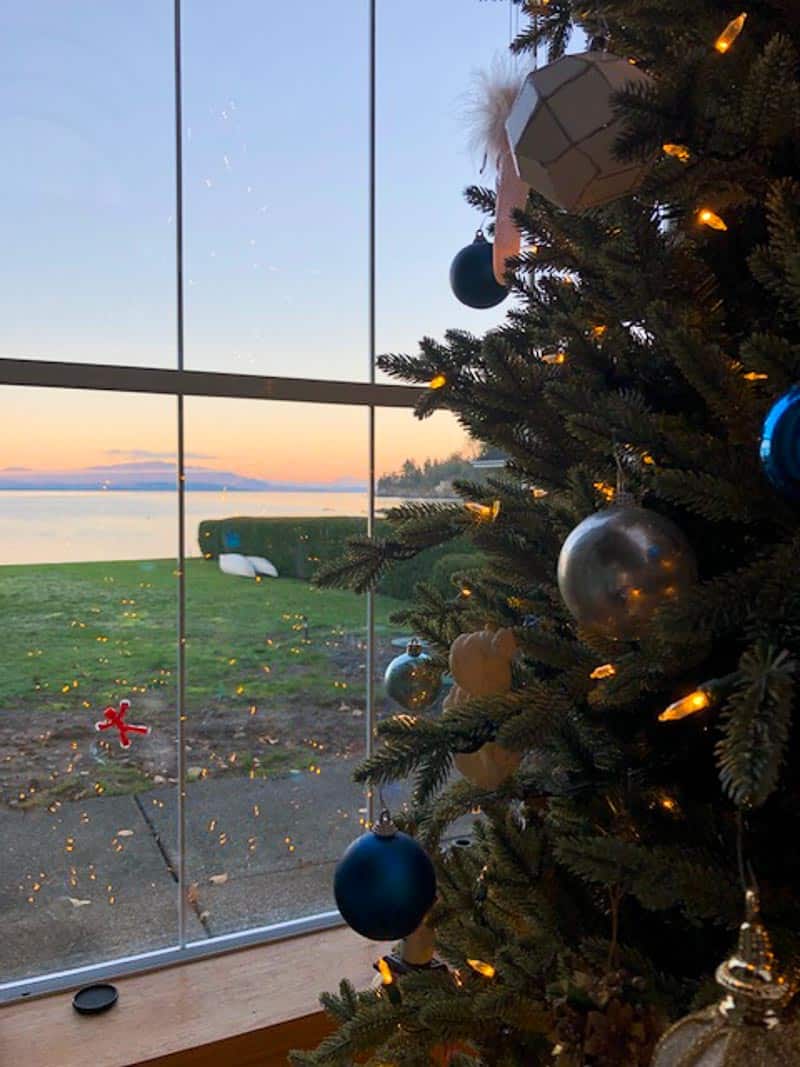 My beautiful Christmas tree and decorations made it into this orange green house. I think Gringe used to live here. How can this green be not depressing?! Ugh. I hung my beautiful silver wreath on the peeling brown door and almost cried it looks so ugly LOL. Like what morons lived here? After Christmas is over I will borrow my kids' Christmas counters and count days until summer when I can sand that beautiful underneath wood door with my 60 sander and repaint.
That red stickbot is me stuck to the view and trying not to look behind haha.
A little bit tilted right bended by life just like me my beautiful Christmas tree at 5AM among 50 shades of white and gray. Probably wondering "what the heck?".
Hopefully I can paint the studio this week. I see myself not sleeping and painting once I get a hold of gallons of paint. I have had enough of pink outside and green inside, can't you tell?!
But Then My Kids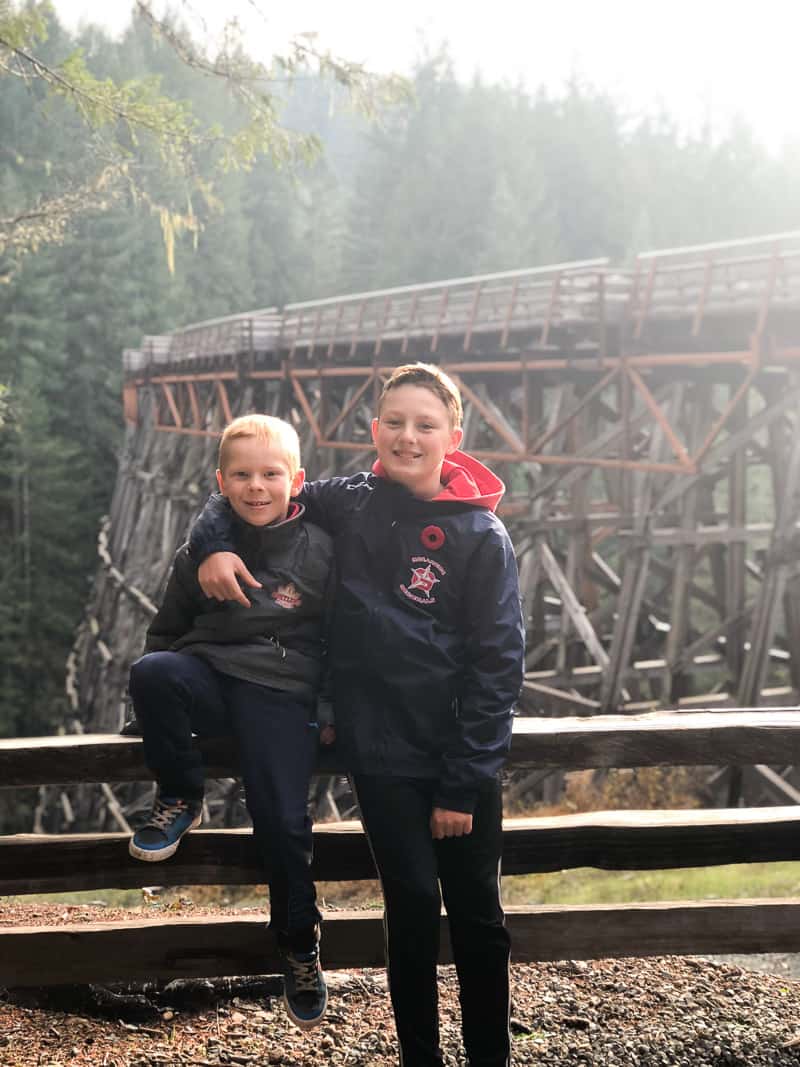 My beautiful kids! I'm sorry but I will be very self centered right now and talk about my kids. I don't usually like to do that because let's be honest every parent thinks their kids are beautiful, amazing and the best. And let's be honest nobody cares about my kids except me but I just can't get over how handsome these 2 boys are. And kind, and nice, and polite. And they are all mine. Like 100% nobody else wants them full-time. No line up of people to feed them all the time. And they make me happy like right now after a glass of white wine looking at them. And I'm sure I was screaming at them just this morning during the witching hour before school. But often when things get really tough I think how good they really are as everyone is healthy, and with me, and happy. And one day I will wish for these times. I KNOW that! I've been a parent for a while now.
But still that home inspector who let's assume "had a bad day". That cost me thousands and thousands of $$$s. That literally stole 2 years of our family all-inclusive vacations. From my kids. And the same one that is offering to refund my $500 home inspection fee and bring a bottle of the bubbly in exchange for signing his "freedom paper". Isn't he nice and smart? Who still thinks I have good pipes in my house, awww. That guy makes me want to punch him in the face! Along with my ex-plumber.
I don't like people. I like simple and no BS people. But there are a few of them left. BS people I don't like. And I feel like November stripped any last bits of threshold I had left for BS people. I don't think I even pause for 10 seconds now until I say "good bye" or "f.o".
But then I have these 2 kids…And that's all that matters. Because once you are a grown up in Canada, nothing is about you anymore. So it is what it is, my friends. Thanks goodness for white wine and healthy kids! And for myself. And me. One day I will wish I was 37 again. So screw everything else.
Cheers! And this was Kinsol trestle where Amazing Race Canada was filmed this year.
I hope your December is filled with joy, gratitude and happiness! I don't think forgiveness is in store for me this season but soon. After I get my money back LOL. But you try. And if you can't. Well, it is what it is, my friends. Don't feel too bad.
xoxo