Easy Christmas Monster Cookies made with peanut butter, oats, oat flour, holiday M&M's and white chocolate chips. These no chill holiday cookies are fun, chewy, and kids adore them!
Peanut butter cookies and cranberry oatmeal cookies are other favorite festive treats around here.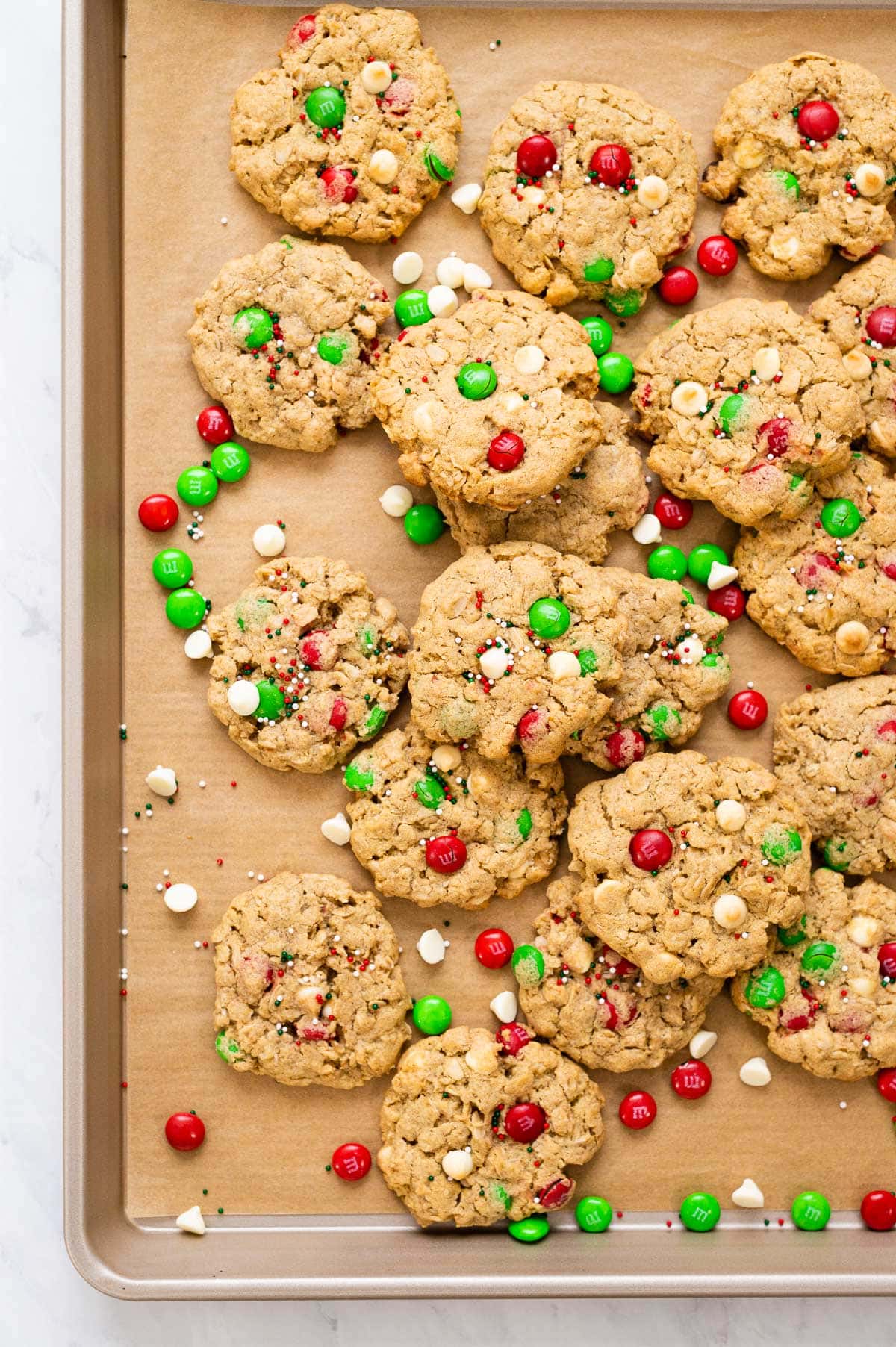 These Christmas monster cookies are my kid's newest obsession and will quickly become part of your holiday baking tradition.
They are a bit naughty made with all the good stuff like butter, sugar, chocolate chips and red and green M&M's. But it's Christmas!
I recently came up with the best oat flour chocolate chip cookie recipe, so I just had to use an oat flour in this batch of cookies as well. Just because I think it goes so well with oats.
And maybe it makes them a bit better for you?! Which is an illusion, but at least they become gluten-free and kind of flourless. However, I sure do have a note below how you can use all-purpose flour. Have thought of everyone. Because it's Christmas and everyone needs to enjoy a good cookie!
And these Christmas monster cookies are chewy and moist inside, with crispy edges outside, and just so festive and delicious!
It's a great recipe for cookie exchange, perfect gift for your neighbors or just to enjoy on a snowy day.
Ingredients and Notes
To make holiday monster cookies, you will need 11 simple ingredients.
Smooth peanut butter: For baking, I prefer to use smooth, creamy and unsalted peanut butter without additives, emulsifiers or sweeteners. Natural peanut butter or organic peanut butter is the best. Make sure ingredients list says only "peanuts".
Softened butter: Unsalted butter is the key not to make your Christmas monster cookies overly salted. If all you have is salted butter, skip salt then. I do not recommend to use coconut oil but if you do, possibly bake them for shorter amount of time and be ready for more crispy cookies. To soften the butter, leave it at room temperature for 3-4 hours.
Sugar: I used cane sugar. Also brown sugar that has a hint of molasses would go well in this recipe and produce chewy cookies. Regular sugar works as well. Coconut sugar will result in a crispier cookie.
Oats: You can use either quick oats or old-fashioned rolled oats. Both will have a very subtle texture in the cookies.
Oat flour: My go-to brand is Quaker oat flour but any store-bought oat flour works. If you don't have any on hand, you can quickly make it with oats by following my easy oat flour recipe. Or just substitute with 2/3 cup of all-purpose flour.
Holiday M&M's mix: Traditionally sold in grocery stores during holidays, it's a mix of red and green M&M's in a bag. If you can find it different color, use that one. Or just use regular M&M's but of course it will look more like traditional monster cookie. Still delicious!
White chocolate chips: White chocolate has a beautiful contrast with red and green chocolate candies. They also add creaminess and sweetness that goes so well with these christmas oatmeal cookies.
Baking staples: Egg, pure vanilla extract, baking soda, salt.
Recipe Tip
Feel free to reduce amount of candies and chocolate for lower sugar cookies. My kids love them as they are but I would be OK with less sweet cookies.
How to Make Christmas Monster Cookies
Here is a quick overview in 6 simple steps how to make Christmas monster cookies with your kids. No chilling of dough is necessary and you dirty just one bowl. Amazing!
There is also full recipe card below. Let's make them!
Prep: First thing, let your butter soften at room temperature for about 3-4 hours. Don't use melted butter or cold butter. Peanut butter can be straight from the fridge. Then preheat the oven to 350 degrees F.
Cream butter, sugar and peanut butter: In a large bowl, add softened butter, peanut butter and sugar. Using an electric hand mixer, process until creamy. You can also use a stand mixer with a paddle attachment.
Add egg, vanilla & dry ingredients: Add egg and vanilla extract, and cream for another 30 seconds. Note that egg can be cold. Then add oat flour, oats, baking powder and salt and beat with mixer until cookie dough forms.
Add candies and chocolate chips: Now we can stir in with spatula chocolate chips and candies. Remember, these holiday monster cookies require no chilling of the dough, so we can get straight to baking.
Make dough balls: I used medium size 1 oz cookie scoop and scooped a heaping amount. Each cookie dough ball weighed 1.5 ounces. You can make them bigger or smaller, up to you. After you place cookie dough balls on baking tray about 2 inches apart from each other, flatten them a bit.
Bake: Bake cookies for 10 minutes and remove them while they appear underbaked. If you over bake, they will be too crispy once cooled. Unless you like nice crunch. Remove from the oven and let cool for 15 minutes, then transfer on a cooling rack to cool a bit more.
Tips for Best Results
This is a very easy and perfect christmas cookie recipe for novice bakers and baking with kids. Here are few tips for success because it is still baking. It needs precision.
Quick softened butter: It's best to use softened butter on a counter at room temperature for 3-4 hours. Cut cold butter into cubes to speed up softening. You can also quickly soften it in a microwave if you have a Soften mode. Or heat up in small time increments, just make sure not to melt it!
Do not overbake: If you like soft and chewy cookies, remove from the oven while they still look pale. At first, cookies will be fragile but as they cool down, they will harden.
All-purpose flour: Replace 1 cup of oat flour with 2/3 cup of regular flour or just weight 88 grams of wheat flour on kitchen scale for the most accurate measurements.
Add more candies: To make sure chocolate chips and candies are protruding at the top and M&M cookies look pretty, stick extras on top of each cookie before baking. You can also add holiday sprinkles to the cookie dough.
How to Store and Make Ahead
Store: Store cookies in a cookie jar or in a container with a lid. They are a bit fragile, so lay them gently in a single layer on top of each other. You do not want to leave them in the open to dry out.
Do not refrigerate. Christmas monster cookies will last on a counter for up to 5 days but I can guarantee you they will be gone by then.
Freeze: You can freeze baked and cooled cookies an airtight container for up to three months.
Make ahead: You can also freeze cookie dough balls by placing them on a parchment lined cookie sheet, then freeze until solid and transfer frozen cookie dough balls into a freezer bag.
When ready to bake, let frozen cookie dough balls thaw on a baking sheet at room temperature, then flatten and bake. Do not bake frozen cookie dough, it will not flatten.
FAQs
Can I use honey or maple syrup?
Unfortunately not. Cookie dough consistency will be off and recipe will not work.
Can I use gluten-free flour?
You may try to use 2/3 cup all-purpose gluten-free flour but I haven't tested. You might need less than that amount too. As is, this recipe is gluten free with oat flour if you buy certified gluten free one.
More Christmas Cookie Recipes
Oat Flour Christmas Monster Cookies
Easy Christmas Monster Cookies made with peanut butter, oats, oat flour, holiday M&M's and white chocolate chips. These no chill holiday cookies are fun, chewy, and kids adore them!
Instructions
Preheat oven to 350 degrees F and line 2 cookie sheets with unbleached parchment paper. In a large bowl, add butter, peanut butter and sugar, then beat with an electric mixer until creamy. Add egg and vanilla extract, beat until combined.

Add baking soda, salt, oat flour, oats and beat until cookie dough forms. Add candies and chocolate chips, and stir with a spatula.

Scoop a heaping amount of dough with medium cookie scoop (my cookie dough balls weigh 1.5 oz) or a heaping tablespoon, and roll into balls. Place on prepared baking sheets 2-3 inches apart and flatten a bit. Cookies spread but not like regular ones.

Bake for 10 minutes and remove while cookies appear underbaked, puffy and light in color. Let cookies cool on a baking sheet for 15 minutes before transferring onto a cooling rack to cool more.
Notes
Store: Store in a container for up to 5 days.
Freeze: Bake, cool cookies completely, place in a resealable plastic bag or container and freeze for up to 3 months. Thaw on a counter for a few hours.
Butter: Softened butter means a dent appears when you touch it with a finger. To soften butter, just leave it at room temperature for 3-4 hours. To speed up softening, cut up in cubes. If you use salted butter, omit salt. I also do not recommend coconut oil because cookies will be cake-y.
Sugar: I recommend white sugar. I tested coconut sugar and cookies were a bit more cakey but you can.
All-purpose flour: Replace 1 cup of oat flour with 2/3 cup of regular flour or just weight 88 grams of wheat flour on kitchen scales for the most accurate measurements.
Nutrition
Serving:
1
cookie
|
Calories:
212
kcal
|
Carbohydrates:
22
g
|
Protein:
4
g
|
Fat:
12
g
|
Saturated Fat:
6
g
|
Trans Fat:
0.2
g
|
Cholesterol:
24
mg
|
Sodium:
72
mg
|
Fiber:
1
g
|
Sugar:
14
g