The best Almond Flour Thumbprint Cookies that are grain-free, refined sugar-free, and absolutely delicious! A slightly crispy, buttery cookie base with your choice of jam filling.
We also love these almond flour shortbread cookies and almond flour sugar cookies.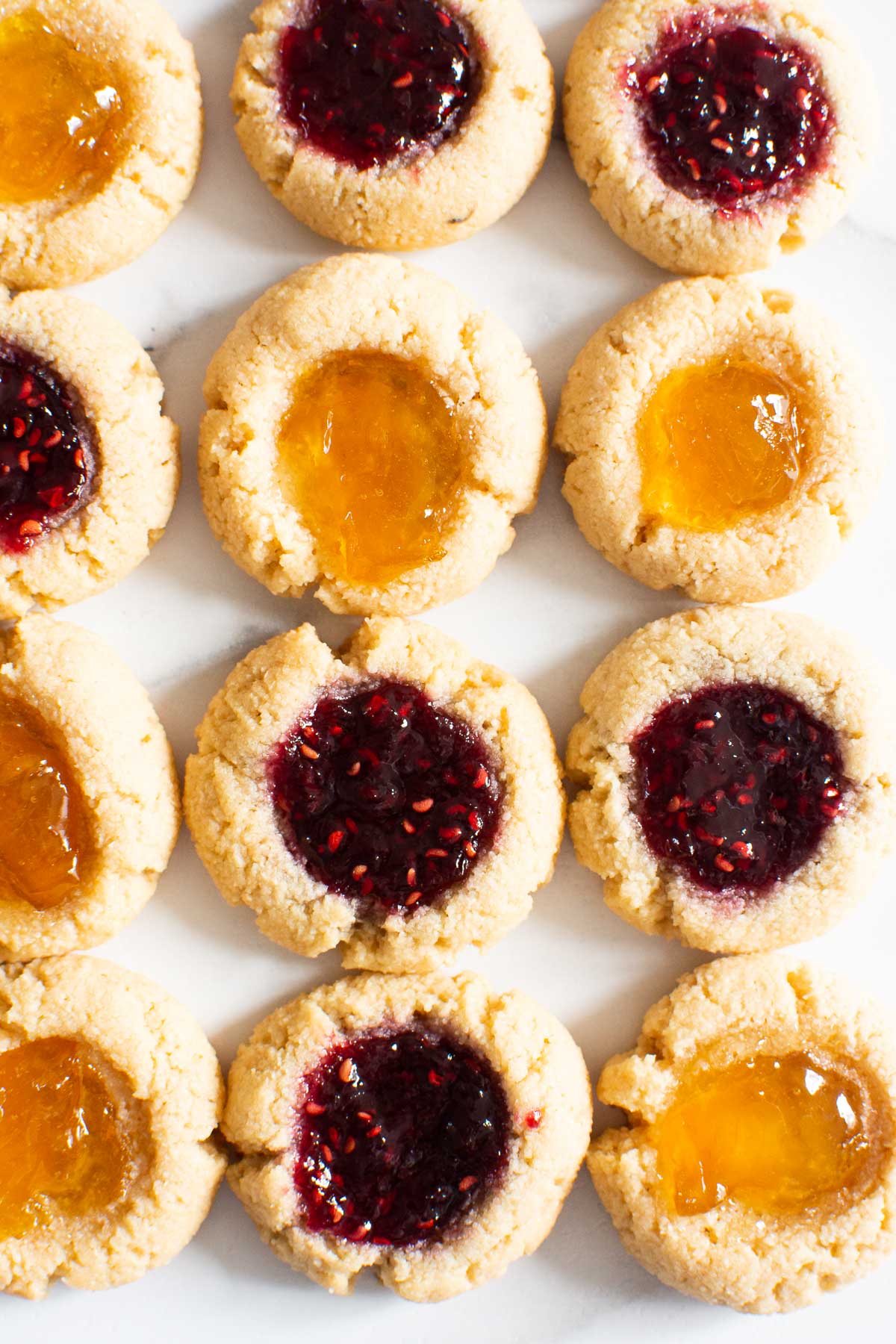 Thumbprint cookies are classic Christmas cookies that you're sure to find on any dessert tray.
Almond flour thumbprint cookies are slightly crispy, naturally sweetened and flavored with hints of vanilla and almond. The jam filling of your choice sits in the little thumbprint groove making this one of the most adorable holiday cookies out there!
They are great for kid friendly baking, last minute company, and satisfying your sweet tooth!
Why You'll Love This Recipe
Classic: A few tweaked ingredients, like no refined sugar and gluten free, doesn't take away anything from these cookies.
Easy: Only 6 ingredients, 1 bowl, and a few simple steps make these healthy cookies super easy, with loads of taste and texture.
Fast: Cookies in under half an hour mean you can make a couple of batches in no time.
Freezer friendly: Keep frozen for months and give them as gifts to brighten someone's day.
Flexible: The filling on top is part of what makes them so special, so use lots of different flavors!
Ingredients for Almond Flour Thumbprint Cookies
Almond flour: Almond flour is a gluten-free flour made from blanched almonds that have been finely ground. I use it to replace wheat flours in many cookie recipes such as almond flour snowball cookies and almond flour chocolate chip cookies. Do not confuse it with almond meal.
Unsalted butter: Softened butter is needed to cream the butter nicely and keep the cookies from spreading too thin. See tip below on how to soften your butter quickly!
Maple syrup: A natural sweetener that happens to have its own health benefits. You could use honey or liquid sugar-free sweetener instead, if preferred.
Pure vanilla extract: A warming flavor addition that brings out the flavors of the other ingredients and adds an element of taste we all love.
Baking soda: This adds a light and airy texture to the cookie and prevents them from becoming too dense.
Jam: I used peach and raspberry jam. You can use store-bought or homemade jam.
How to To Soften Butter Quickly
Before you begin, you want to make sure your butter is nice and soft. We don't always remember to bring it out of the fridge ahead of time, so having this trick up your sleeve can be helpful.
Unwrap a stick of butter and place it upright (vertical) on a small plate.
Fill a tall glass (one that fits over the tall stick of butter) with water and microwave the water until it's hot.
Carefully dump the hot water from the glass into the sink and then turn the now warm glass over and have it sit over top of the butter.
Place the plate with the glass covered butter into the microwave, close the door, but don't turn it on. Allow it to sit for 10 minutes.
Your butter will then be nice and soft.
How to Make Almond Flour Thumbprint Cookies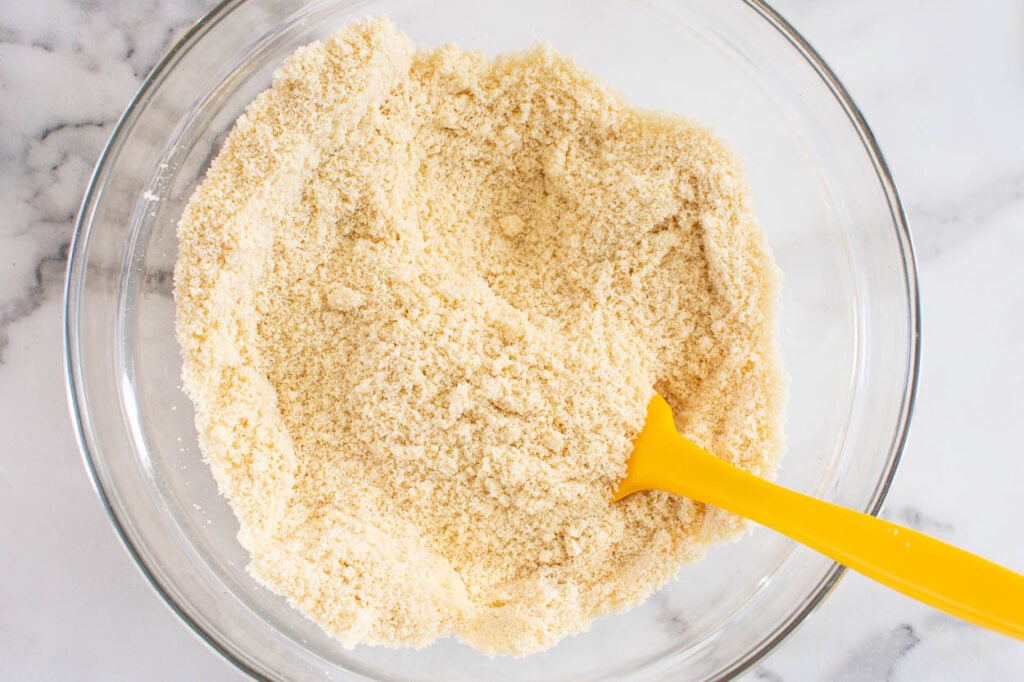 Combine dry ingredients: In a large bowl, whisk together almond flour and baking soda until there are no lumps.
Add wet ingredients: Add in the butter, maple syrup, and vanilla extract, using a fork to combine. Switch to a spatula to continue to mix. Finally, you'll want to use your hand to really combine your cookie dough.
Scoop the dough: Using 1/2 tablespoon of dough, roll it into a ball. Place it on the lined baking sheet and make a little indent on top with your thumb in the center of each cookie. Repeat with remaining dough.
Add filling: Add a dollop of your filling of choice to the grooves of each cookie. It'll be about a teaspoon of jam. Use the same for all or switch it up for variation.
Bake: Transfer baking sheets to the oven and bake for 10-12 minutes. Remove and allow cooling for 30 minutes. You can choose to leave them on the sheet or move them to a wire rack. Then, enjoy!
Recipe Tip
You want to take thumbprint cookies out before they start browning, so keep a close eye on them.
More Tips for Best Results
Line your baking sheet: Be sure to use a nonstick surface on your baking sheet.
Don't substitute the flour: Almond flour is pretty unique in its traits and the ability to replace any type of wheat flour is almost unmatched. Don't try and use anything different.
Measure flour correctly: Do not reach into the pack of flour with the measuring cup itself. Once you've filled the measuring cup with flour by the spoonful, use the back of a butter knife and scrape off excess flour from the top.
Smooth appearance: When pressing down on the cookie, you may notice there are a few cracks that appear. For a smoother look, wet your finger and rub down the cracks to smooth them back out.
For uniform indent sizes: Use a teaspoon rather than your thumb, it's foolproof.
Variations
Extract: Swap the vanilla extract for an almond extract for additional almond flavor.
Get creative with your filling: Think about flavors like strawberry, apricot, cherry, blueberry and chia jam. Chocolate spread, peanut butter, or lemon curd would also be great. You can use whatever you like!
Nuts: For additional texture, sprinkle the tops with crumbled pecans or almonds.
Zest: Finish the jam filling with a bit of lemon zest to add a little tart to the sweet.
Vegan: Make these cookies dairy free by using vegan butter. It may differ in taste or texture, but still worth making.
Oil: Coconut oil will also work, it may just make your cookies a little crispier.
Glaze: Make a delicious glaze to drizzle on top using powdered erythritol or monk fruit extract.
How to Store and Freeze
Store: Keep cookies stored in a cookie jar for 5 days. If you notice they start to dry out, transfer them to an airtight container. Don't do this, to begin with, otherwise your cookies will quickly become soggy.
Storage Tip
The bread trick! Placing a slice of bread in your cookie jar will help absorb any excess moisture.
Freeze: Place cookies in a freezer friendly bag. Separate layers with parchment paper and keep frozen for up to 3 months. Thaw on the counter for a few hours.
How to Ship Cookies
Once completely cooled and set, place two cookies back to back and wrap both together in plastic wrap. Do this with the remaining cookies, wrapping each pair as you go.
Grab a cute box, fill it with cellophane or tissue paper and pack the box with enough cookies that they are not tumbling around. Ship to any destination that is no more than 5 days away.
FAQs
How do I prevent cookies from spreading?
Your butter should be soft but not melted. Starting with soft butter means your butter will take a longer time to melt as they bake. If you use butter that's already melted, it won't be able to stop the cookies from spreading to catch up to it.
Why did my almond flour cookies fall apart?
Almond flour cookies will have more moisture overall than cookies that use regular flour. This means that they may still be quite soft when taken out of the oven. It's important to allow them to cool for a minimum of 30 minutes before moving them to a wire rack or moving them at all. They need time to set.
Why did my thumbprint cookies go flat?
Did you forget the baking soda? How about your butter, was it soft and not too warm or melted? These are usually the reasons why thumbprint cookies lose the pep in their step.
Should I fill my thumbprint cookies before or after baking?
It's up to you. When you add the filling before baking, it settles into the cookie nicely, and doesn't tend to fall out, and it just becomes part of a whole. However, you could add it in once the cookie has cooled, too.

If you add it in just after taking the cookies out of the oven, it will thin out the jam and possibly make it a little runny. I really only recommend adding your filling after you bake them when opting to pop a chocolate kiss on them as their center.
More Raspberry Recipes
More Recipes to Try
Also be sure to browse 45 almond flour recipes!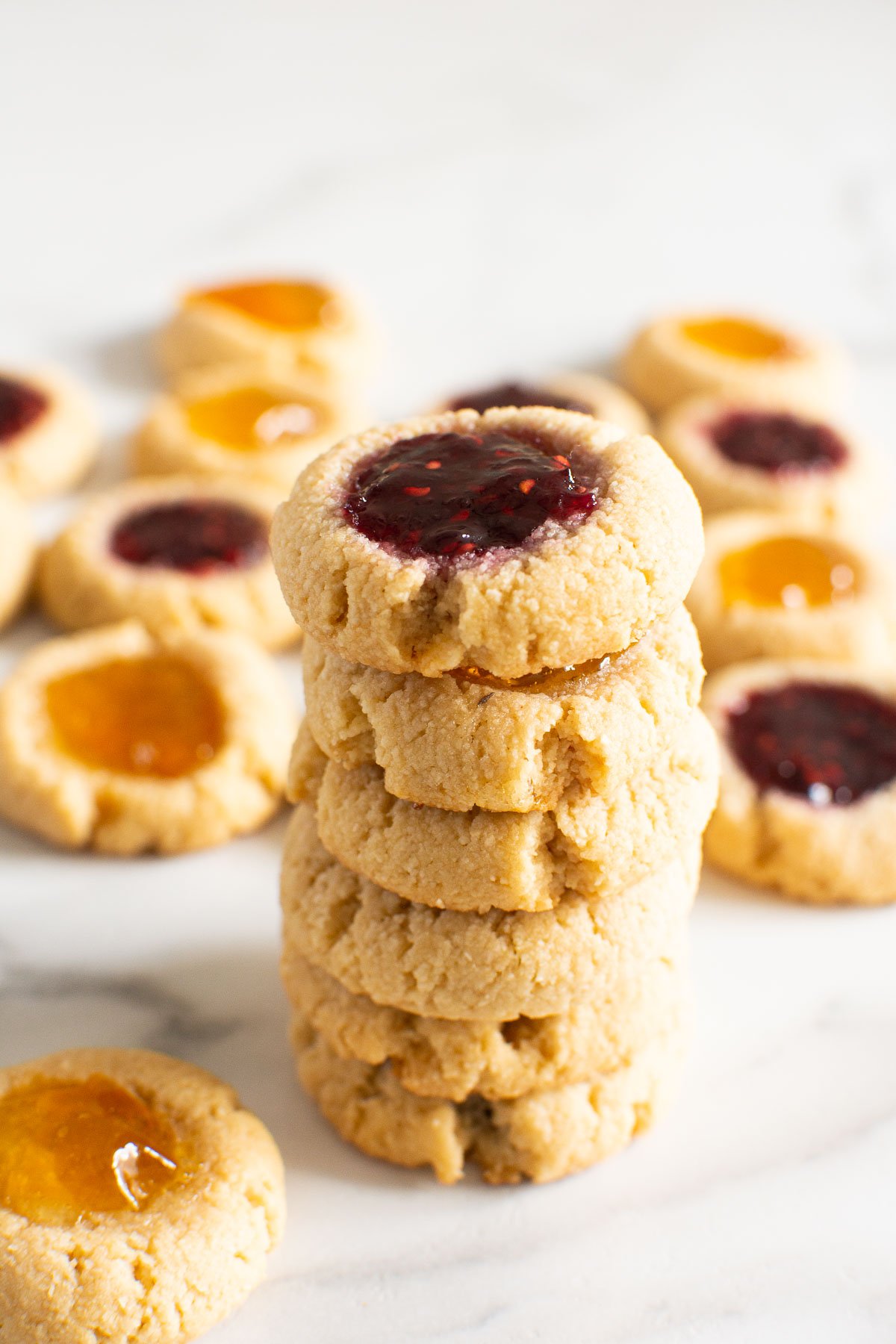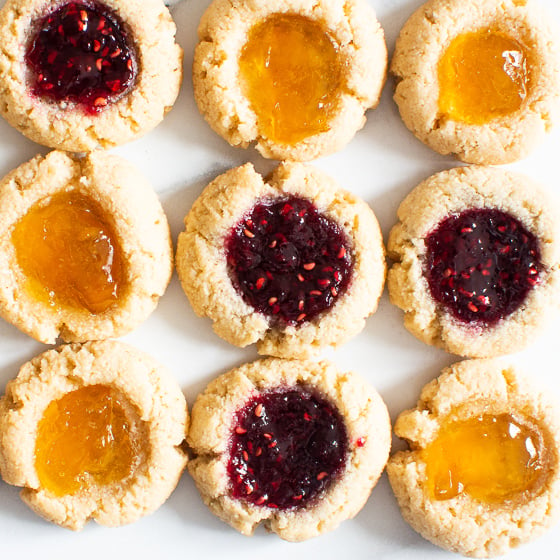 Almond Flour Thumbprint Cookies
Almond Flour Thumbprint Cookies are grain-free, refined sugar-free with a buttery cookie base and choice of jam filling.
Instructions
Preheat oven to 350 degrees F and line 2 large baking sheets with unbleached parchment paper or silicone baking mats.

In a large bowl, add almond flour and baking soda; whisk until no lumps. Add butter, maple syrup and vanilla extract. First mix with a fork, then with a spatula and finish mixing by hand, until cohesive dough forms.

Scoop 1/2 tbsp of dough, roll into a ball, place on previously prepared baking sheet and gently make an indent with a thumb. Repeat with remaining dough.

Bake for 10-12 minutes (before cookies start browning). Remove from the oven and let cool for 30 minutes before enjoying.
Notes
Store: In a cookie jar for up to 5 days. You can add a slice of bread to help absorb moisture from the air. If you find your cookies start to dry out, place them in an airtight container. I would not recommend doing so at the start because you don't want cookies to get soggy and floppy.
Freeze: In an airtight container for up to 3 months. Thaw on the counter for a few hours.
Coconut oil: I have not tried using it to make thumbprint cookies but in my experience, it results in more crunchy cookies. It will work though.
Any other flour: Gluten free flours are very finicky, all flours are. I have not tested this recipe with any other flour and do not recommend to do so. Almond flour is very unique and can't be easily replaced.
Sugar free cookies: You can use sugar free natural maple syrup.
Vegan: Make this dairy free by using vegan butter, texture and taste may be different.
Nutrition
Serving:
1
cookie
|
Calories:
71
kcal
|
Carbohydrates:
6
g
|
Protein:
2
g
|
Fat:
5
g
|
Saturated Fat:
1
g
|
Trans Fat:
1
g
|
Cholesterol:
4
mg
|
Sodium:
23
mg
|
Fiber:
1
g
|
Sugar:
4
g