Healthy Gingersnap Cookies are made with a handful of pantry staples, warming spices, and no chilling time! Easy swaps for healthier ingredients only enhance the classic flavours and holiday spirit of these cookies!
If you love the flavour of ginger and are looking for more healthy desserts to use it in, check out my healthy gingerbread loaf as well as these healthy gingerbread cookies!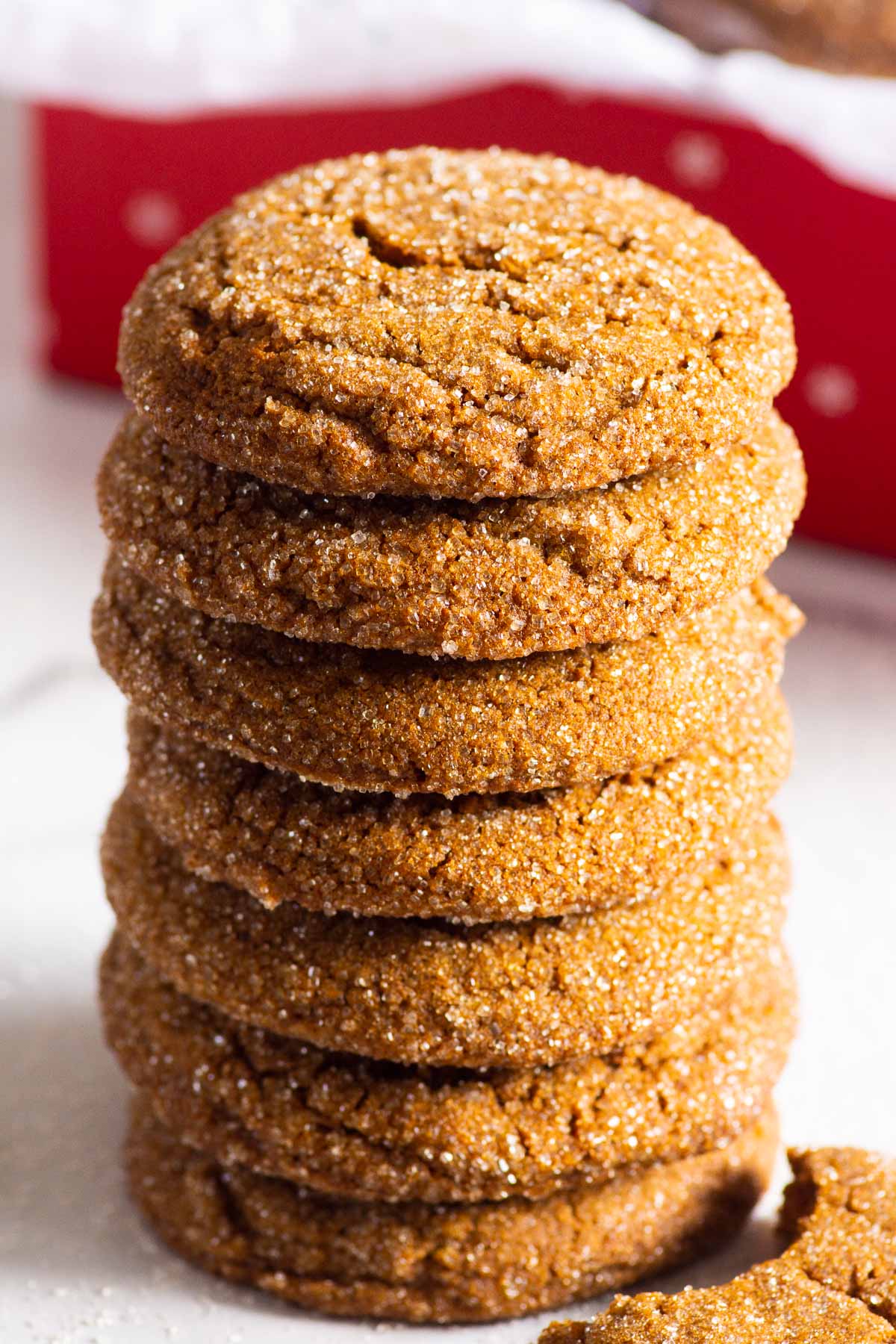 This recipe for healthy gingersnap cookies is made with coconut oil instead of butter, whole wheat flour, and loads of warming spices that taste just like Christmas. They're slightly chewy on the outside, soft on the inside, so essentially, we've taken the snap right out of the gingersnap!
These healthy Christmas cookies are a cross between molasses ginger cookies and gingersnaps but whatever you want to call these spice cookies, they're amazing!
These cookies comes together in a total of 30 minutes which makes these the perfect holiday cookie to make over and over again!
Why You'll Love This Recipe
Delicious: Sweet and spiced, soft and chewy, is everything we love about a holiday ginger cookie.
Easy: Around one of the busiest times of the year, an easy dessert recipe is always worth having!
Dairy free: Coconut oil used in moderation in place of traditional butter is said to have antioxidant and antimicrobial effects as well as perfect for dairy free guests!
Unsulphured molasses: Made from matured sugar cane so it doesn't need any added sulphur for flavor, which can alter the taste and is an unnecessary additive.
A holiday treat: Great for dessert tables, cookie trays, cookie exchanges, and for shipping to friends!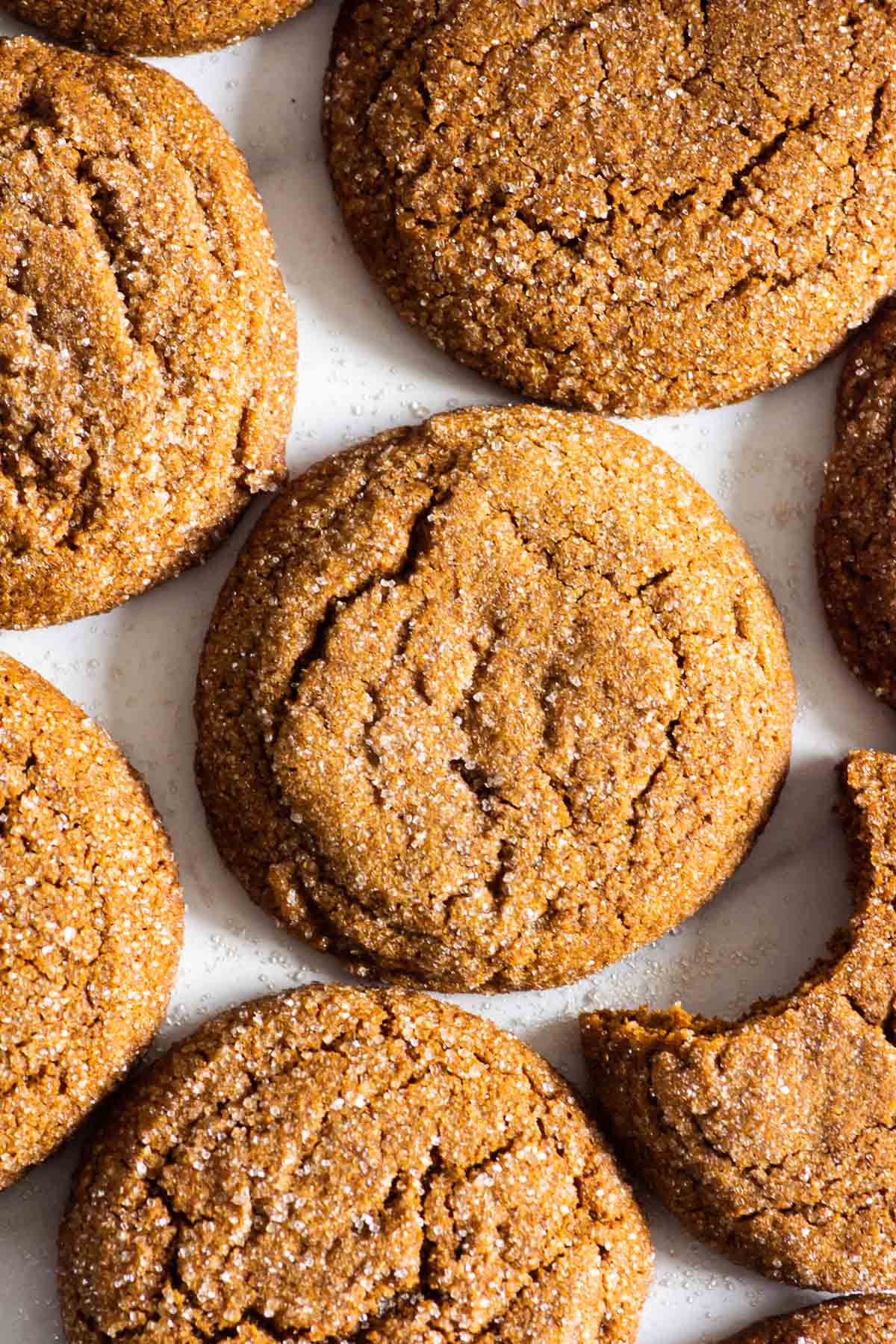 Ingredients for Healthy Gingersnap Cookies
Coconut oil: Softened or at room temperature. It works the same way that butter does in that if you use melted it will cause the cookies to spread a little too much.
If you find your coconut oil is runny and melted, place it in the fridge to solidify for a few minutes.
Sugar: If using refined sugar is not an issue you can use cane sugar. Otherwise, coconut sugar is a great alternate sweetener.
Molasses: I use unsulphured, organic molasses just to use as few additives as possible. Adds moisture, colour, and a distinct flavour to the spice cookies dough.
Pure vanilla extract: A warming flavour that brings delicate balance to the ginger and cinnamon.
Flour: Use whole wheat or spelt flour as they are less refined than regular all-purpose flour.
Spices: Ground ginger & cinnamon are signature flavours in any ginger cookie. If Christmas had a flavour, cinnamon and ginger would be it!
Baking soda: A leavening agent that gives rise to these thick soft cookies.
Salt: Enhances the ingredients around it bringing out maximum taste potential of the entire cookie.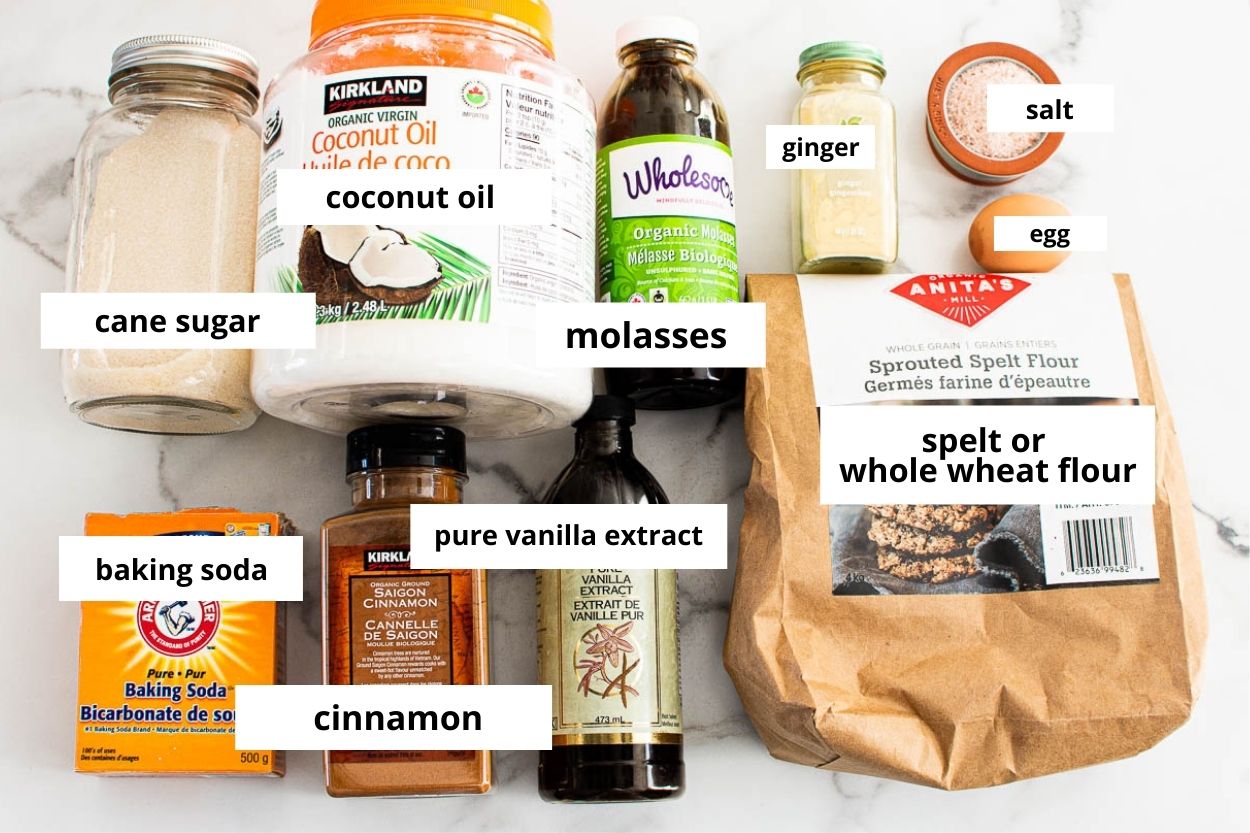 Coconut Oil vs. Butter in Cookies
Using coconut oil in place of butter will typically result in a crispier cookie. Butter contains water, whereas coconut oil is just fat, which makes it less moist. However, the coconut oil in this recipe isn't used on its own, therefore it's able to act as a butter, making these cookies nice and soft. The molasses and baking soda both work to add a softer texture.
How to Make Healthy Gingersnap Cookies
Prep: Preheat the oven to 350 degrees F and line 2 large baking sheets with unbleached parchment paper. Silicone baking mats can be used instead.
Create the creamy base: Grab a large bowl and beat coconut oil and sugar together until creamy. Add molasses and vanilla and continue beating until combined.
If dairy free cookies aren't a goal for you, by all means, use regular butter. If using salted butter, skip adding any more salt.
Combine dry ingredients: In a separate bowl, add the flour, ginger, cinnamon, baking soda, and salt. Whisk until there are no lumps.
Mix wet and dry: Pour dry ingredients into the creamed coconut oil and sugar and stir with a spatula at first. Then, switch to an electric mixer.
Scoop the dough and coat with sugar: Use a small cookie scoop and roll 1" cookie dough balls. Roll around in a bowl of sugar to coat each one.
Bake and cool: Place on baking sheets, leaving about 2" in between each ball. Bake for 10 minutes and allow 15 minutes to cool before diving in.
Optional Add-Ins and Variations
Switch up the sweeteners: If you'd like, but make sure to use dry sweeteners. Not liquid. Brown sugar would further the deep molasses taste.
Sugar free soft gingersnap cookies: Will actually be less sugar because I do not recommended leaving out molasses. Substitute your favorite granulated sugar free sweetener for the cane or coconut sugar.
More cinnamon flavor: Add a pinch to the sugar when you are rolling them.
White chocolate gingersnaps: After they have cooled down, dip half the cookie in white chocolate – similar to how I do that in my almond flour shortbread cookies.
Crystalized ginger: Add in up to 1/3 cup finely chopped crystalized ginger when making your batter.
For a little deeper spice flavour: You could also add nutmeg and cloves to the cinnamon and ginger combination.
Iced ginger snaps: Are a possibility, although, I think a drizzle would be best. Skip rolling in sugar and after cookies are cooled, ice with icing sugar mixed with water or orange juice.
Ginger walnut cookies: If you love a crunch in your cookies, add up to 1/2 cup finely chopped walnuts to the dough.
Orange zest: I love orange zest in Christmas treats like cranberry orange muffins and you could add 1/2 – 1 t to these healthy spiced cookies, too.
Tips for Best Results
Mixing: There is a lot of mixing in this recipe, so get out your electric mixer and save your arms. You could also use a stand mixer if you have one.
No chilling: You don't need to chill the dough at all beforehand. These cookies are already quite thick and soft.
Sugar: The sugar coating and wrinkles are the signature appearance of a traditional gingersnap cookie, so I love it. Feel free to skip the extra sugar if preferred.
Fewer chemicals: Using unsulphured molasses is one way to reduce any unnecessary additives, but using unbleached parchment paper is another. Regular white parchment paper uses chlorine to treat the paper, which is why it is white. I love to use brown parchment paper that is unbleached.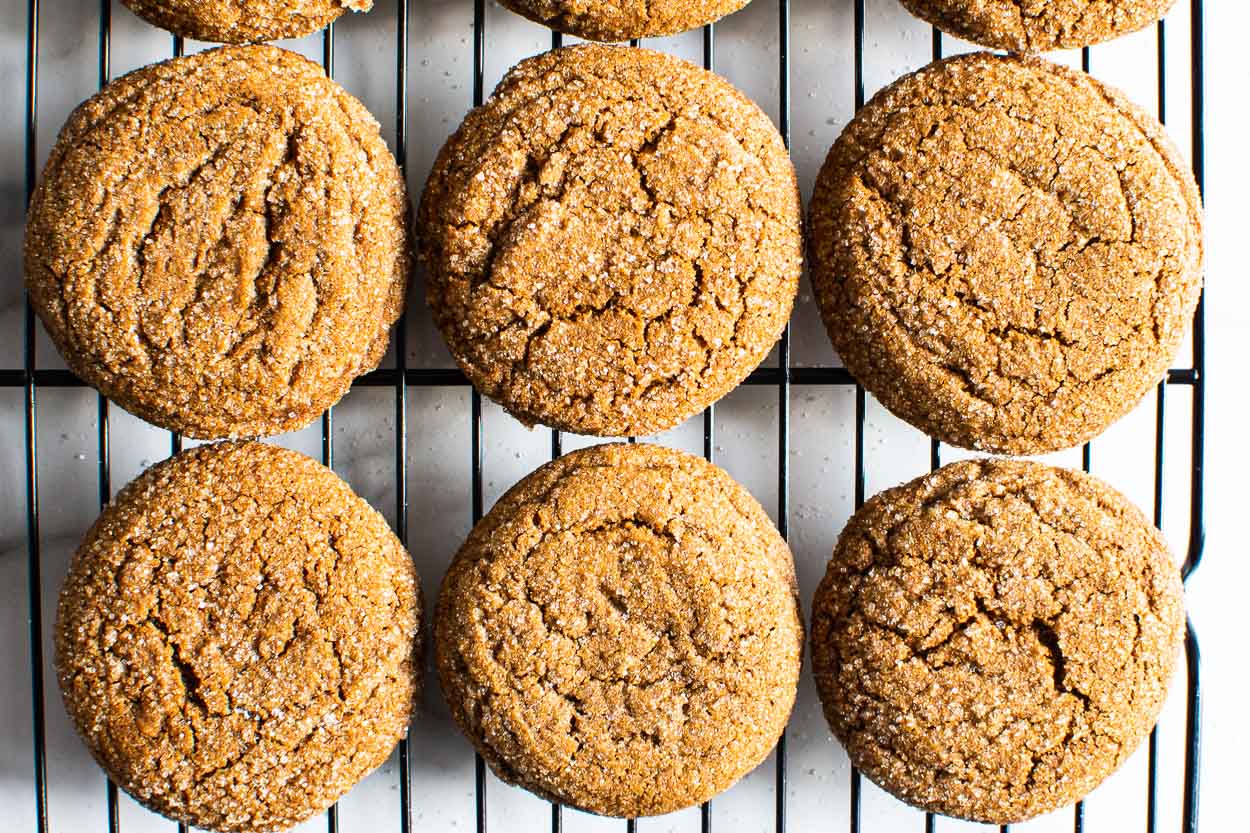 How to Ship Cookies
Gift a few to friends and family wrapped in a plastic bag with ties. To ship, I would let cookies sit for a day to dry out a bit and to hold their shape a little better.
Then wrap 2 cookies back to back with plastic wrap. Place in an airtight container where they won't tumble around much and throw in a slice of bread to absorb moisture. Ship to anywhere that has a maximum 5-day travel distance. Any longer and you run the risk of losing freshness.
How to Store
Store: These are perfect cookies to have on display in a cookie jar for up to 5 days. You know, the way your grandma used to do! If you find they're losing a bit of moisture, place them in an airtight container.
Freeze: If you've made more than enough to go around and have some left that you want to freeze, transfer them to an airtight, freezer-friendly bag and store them in the freezer for up to 3 months. Thaw on the counter.
FAQs
What is the difference between gingerbread and gingersnap?
As I said, this particular recipe is a cross between them both. A classic gingersnap cookie is baked a little longer to get the "snap" of a crispy cookie. Gingerbread is a little softer and chewier. These soft gingersnap cookies have the appearance and flavour of a gingersnap, but the texture of a gingerbread or molasses ginger cookie (whatever you want to call them!).
Can I use fresh ginger in gingersnap cookie recipe?
You can. You'll just find you need more because powdered ginger is concentrated.
Can I use brown sugar?
Definitely. Brown sugar is essentially a combination of white sugar and molasses, so you'll only be added a bit more moisture to the cookie dough. The flavours will remain delicious.
Can I replace the molasses?
I think the question is, should you? You can replace it with maple syrup and brown sugar, but you really do lose some of the essences of a typical holiday ginger cookie. If you're ok with that, then by all means!
More Healthy Christmas Cookies to Try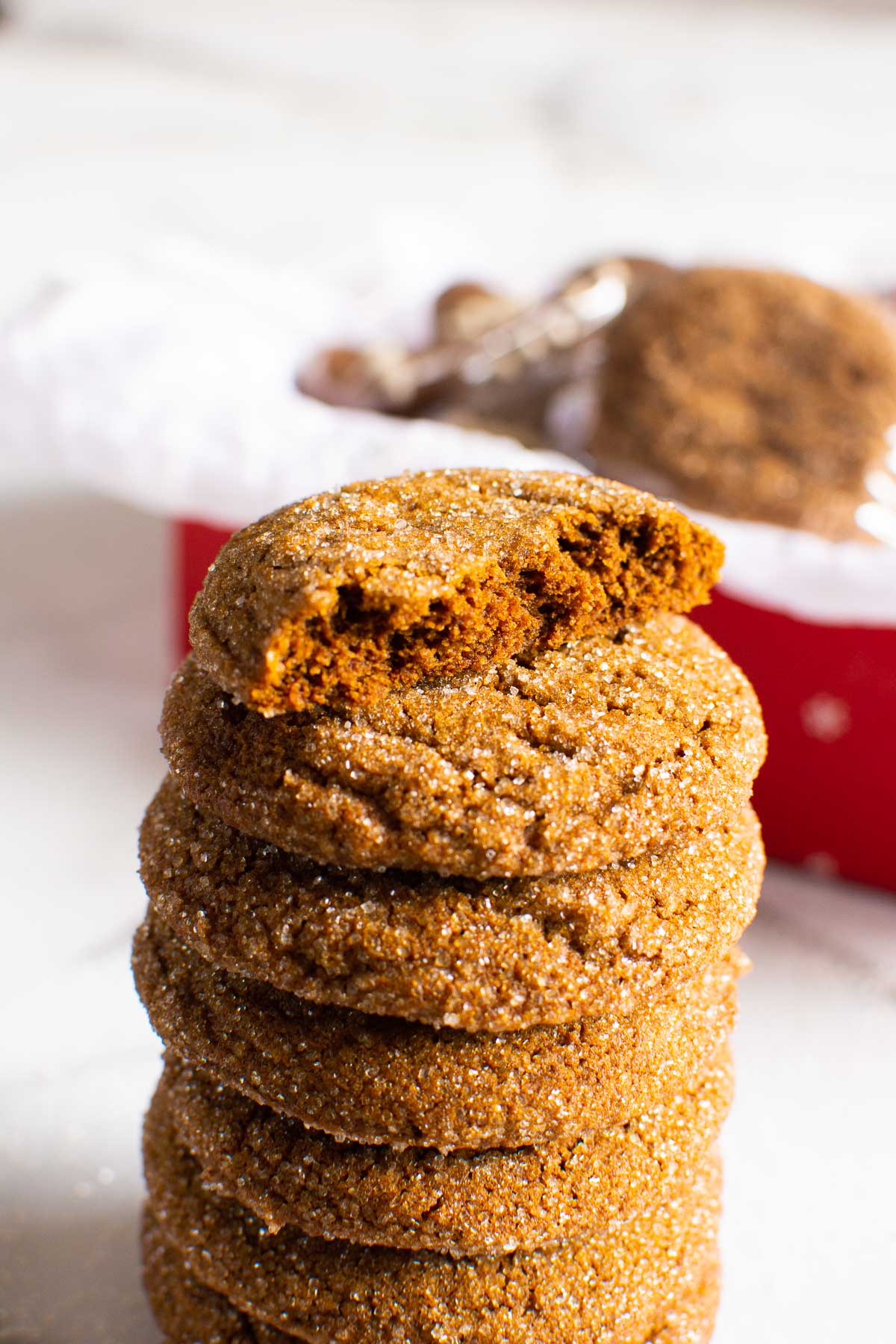 Healthy Gingersnap Cookies
Healthy Gingersnap Cookies are made with a handful of pantry staples, warming spices, and no chilling time! Easy swaps for healthier ingredients only enhance the classic flavors and holiday spirit of these cookies!
Instructions
Preheat oven to 350 degrees F and line 2 large baking sheets with unbleached parchment paper or silicone baking mats.

In a large bowl, add coconut oil and sugar; beat with an electric mixer until creamy. Add molasses and vanilla extract; beat until well combined. Add molasses and vanilla extract; beat until well combined.

In another medium bowl, add flour, ground ginger, cinnamon, baking soda and salt; whisk until no lumps. Add to the bowl with creamed coconut oil and sugar, first stir with spatula and finish combining with electric mixer.

In a small bowl, add sugar for coating. Using small cookie scoop, roll 1 inch balls and roll in sugar. Place on baking sheet 2 inches apart from each other.

Bake for 10 minutes, remove from the oven and let cool for 15 minutes before enjoying.
Notes
Store: In a cookie jar for up to 5 days. You can add a slice of bread to help absorb moisture from air. If you find your cookies start to dry out, place them in an airtight container.
Freeze: In an airtight container for up to 3 months. Thaw on the counter for a few hours.
Butter: You can use softened butter instead of coconut oil, if using salted butter – skip salt. I like to use coconut oil in gingersnaps as it results in slightly crispier cookies and saves time not to soften butter.
Any other flour: Gluten free flours are very finicky, all flours are. I have not tested this recipe with any other flour but you are welcome to try.
Nutrition
Serving:
1
cookie
|
Calories:
108
kcal
|
Carbohydrates:
15
g
|
Protein:
1
g
|
Fat:
5
g
|
Saturated Fat:
4
g
|
Sodium:
135
mg
|
Fiber:
1
g
|
Sugar:
6
g