These 4-ingredient Almond Flour Shortbread Cookies are not only rich and buttery, but also gluten free, grain free, Paleo, and optionally sugar-free and/or vegan. Dipped in chocolate or not, these Christmas cookies are delicious.
Want to enjoy more healthy holiday bakes? You might enjoy this healthy gingerbread loaf, delicious cranberry orange muffins and healthy rum balls.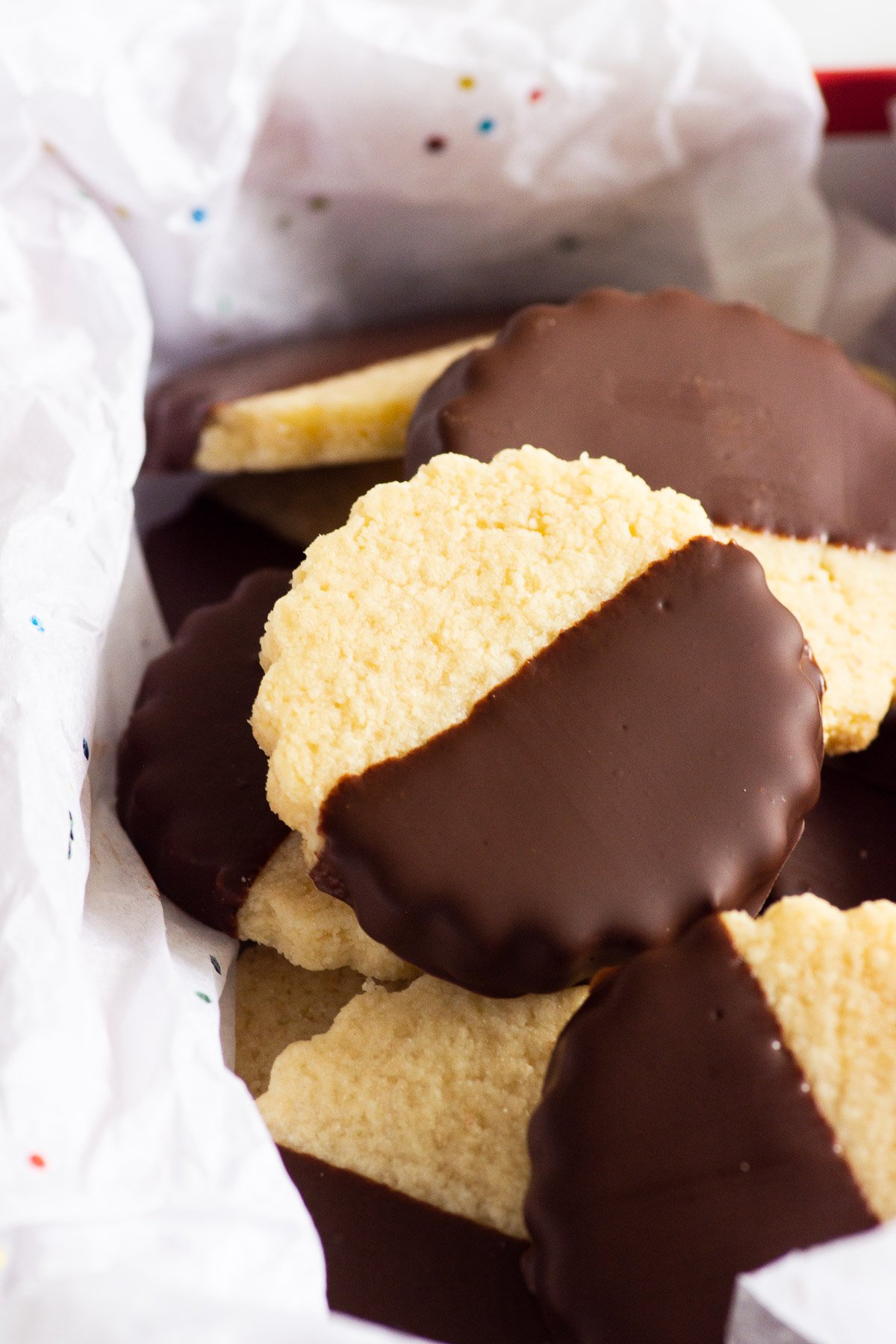 I have a restaurant quality giant healthy skillet cookie!
Now it's time for healthy Christmas cookies, too, like these almond flour shortbread cookies!
Gluten free shortbread cookies have all the flavor and texture of regular shortbread but are healthier. With just 4 base ingredients (or 6 for chocolate dipped shortbread cookies) and flavor profile adaptability, they make the perfect edible holiday gift!
Why Make Gluten Free Shortbread Cookies?
Diet friendly: Grain free, gluten free, low carb, paleo, and optionally vegan!
Low carb: Just 1g Net carb per cookie compared to 5g (average) in regular shortbread cookies.
Less 'empty calories': Replace bleached, processed flours for high protein, heart healthy, nutrient dense almond flour. It's not a super low calorie cookie, but the calories are packed with healthy nutrients!
Sugar free: All the flavor and yet none of the sugar (and with no odd aftertaste!)
Buttery, crumbly, and crisp: Just the way Christmas shortbread cookies should be, but with a fraction of the sugar and calories.
Super adaptable: Use this one dough for tons of different flavored holiday cookies.
Perfect for posting: Wrap and mail them for a delicious homemade Christmas gift!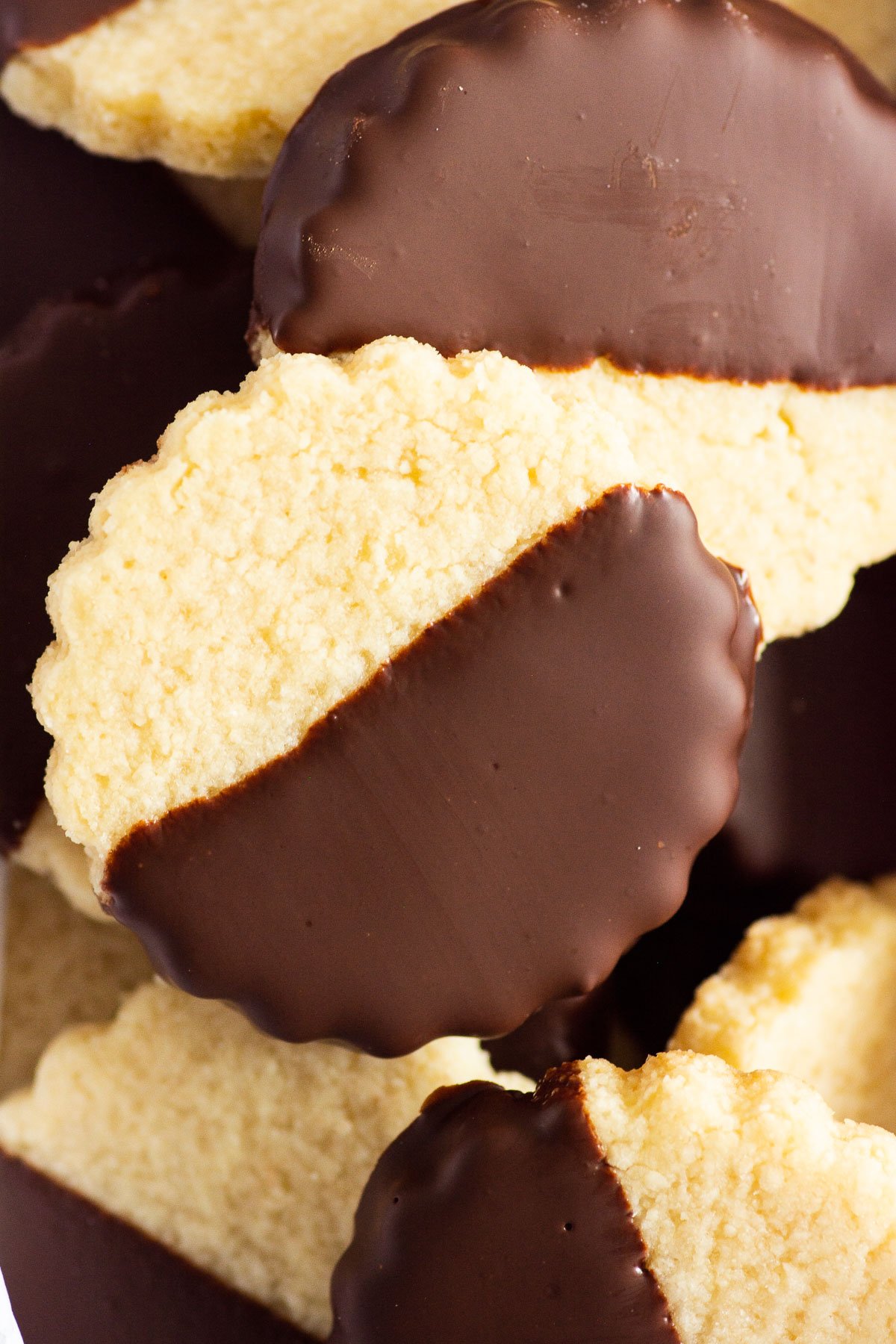 Ingredients for Almond Flour Shortbread Cookies
Butter Shortbread Cookies
Almond Flour: Use superfine/ fine blanched almond flour and NOT almond meal for these chocolate dipped shortbread cookies (I use Kirkland brand from Costco). The first creates almond flour shortbread cookies that are melt-in-the-mouth; the second will be mealy, crumbly, and potentially fall apart.
Flour: Use regular all-purpose flour or coconut flour to dust and roll the cookie dough. Use white flour that won't affect the color of the shortbread cookie dough. I don't recommend using additional almond flour, as it doesn't work well for dusting.
Butter: Use unsalted softened but not melted butter. Use dairy free if preferred. I don't recommend using firm coconut oil as the flavor won't be the same.
Baking soda: To help the almond flour shortbread cookies achieve the correct consistency.
Sugar: Use either cane sugar or, for a sugar free alternative, use erythritol/monk fruit granulated sugar or another dry sweetener.
Chocolate Dipped Shortbread Cookies (Optional)
Chocolate: Use either high quality chocolate chips or chopped semi-sweet/bitter chocolate.
Coconut oil: Needed to create the correct dipping consistency.
Instead of chocolate, you could make an icing drizzle for these holiday cookies with powdered erythritol (or sugar) and milk mixed into a drizzle consistency.
Keep reading below (after the recipe how-to) for more information on any add-ins and recipe variations!
Keto Shortbread Cookies
To make keto shortbread cookies, ensure you use keto friendly sweeteners and chocolate if making chocolate dipped shortbread cookies (or omit that). I've used granulated monk fruit extract, which is my favorite sweetener for its flavor and lack of aftertaste, making for very 'natural' tasting cookies. 
How to Make Shortbread Cookies
Cream the butter and sugar: In a large mixing bowl, combine the butter and sugar and beat with an electric mixer (or a stand mixer with the paddle attachment) until it's a pale yellow, well combined, and light and fluffy.
Begin at a low speed (so the sugar doesn't fly everywhere), then increase. Creaming the butter/sugar is important for creating a delicate, 'short' crumbly cookie crumb. However, be careful not to over beat the butter and lose the extra air.
Mix into a dough: Next, add the baking soda and almond flour, and stir with a spatula until it becomes easier to knead by hand. Then knead by hand until a ball of dough forms.
Chill the dough: Divide the dough into two balls, flatten them into disks, wrap tightly with cling film, and chill for 2 hours in the fridge or 1 hour in the freezer.
Should Butter Be Soft or Hard for Shortbread?
Use softened butter. It needs to be soft enough to leave an indent when pressed, but not so soft that it's melted/the finger can press all the way through. Melted butter can lead to spreading cookies.
How to soften butter? You can leave the butter at room temperature for 4 hours (or overnight). If you forget, 'quickly' soften butter by either grating it (to soften quicker naturally). Alternatively, heat a bowl or wide faced glass with water until very hot. Then, discard the water and place the bowl/glass over the butter on your counter. The residual heat will 'steam' and soften it. Both methods should have the butter softened in less than 10 minutes.
Roll out the dough: First, preheat the oven to 325F/165C, line two large baking sheets with unbleached parchment paper or silicone baking mats, and then set aside. Then, unwrap one of the dough disks and place it on a lightly floured surface. Use a floured rolling pin to roll the dough out until around 1/3-inch thick (or even slightly taller. The thinner, the crispier).
If the dough is very hard at first, allow it to warm up on the counter for 5-10 minutes. Note that the dough is fairly sticky, so you'll need to dust the surface/rolling pin with quite a bit of flour. Alternatively, roll the dough between two layers of parchment paper.
Cut the cookies: Using your favorite cookie cutter, cut out as many cookies as you can from the dough. Transfer them to the prepared baking sheet with 1-inch between (they don't spread much). Re-roll the remaining dough scraps for more cookies and then repeat with the second dough sheet in the refrigerator.
Bake the cookies: Transfer both baking trays to your preheated oven and bake for 7 minutes, then remove from the oven and allow them to cool for 30 minutes on the tray before transferring to a cooling rack to completely cool.
How do you know they're ready? The key to shortbread cookies is that they shouldn't gain color. If the edges begin to brown, you've gone too far. Instead, they require very little time in the oven, and the residual heat helps them finish cooking outside of the oven.
Prepare the chocolate coating: In a small saucepan, using a double boiler, or in a bowl in the microwave (in 20-second increments), gently melt the chocolate and coconut oil, whisking until smooth and fully melted.
Dip the cookies: Dip each of the cooled almond flour cookies halfway into the melted chocolate mixture, then transfer them to a wax paper or parchment lined baking sheet. Place that in the refrigerator until set and hardened, then enjoy your chocolate dipped shortbread cookies!
Optional Add-In's and Variations
This cookie dough is perfect for adapting into tons of flavors and shapes! Here are some of my favorite options:
Citrus zest: My favorite way to easily add flavor to many baked goods is with some citrus zest (either lime/lemon zest or orange zest)—around ½-1 tsp. Dip the lemon shortbread cookies with white chocolate (optional).
Dried fruit: Finely chop 2-3Tbsp of dried cranberries/apricot/other dry fruit, and mix into the almond flour cookie dough.
Cocoa powder: Replace some almond flour with cocoa powder (around 2 tbsp), plus a pinch of instant coffee/espresso powder (or more for mocha).
Spices: You can easily add warm flavor with spices like cinnamon, gingerbread spice, nutmeg, cardamom, ginger, etc.
Coconut flakes/ shredded coconut: Use raw or lightly toasted coconut (2-3 tbsp).
Extracts: Add a few drops of natural extract to easily scent these chocolate dipped shortbread cookies. My favorite options include vanilla extract, orange, lemon, coconut, peppermint, coffee, almond, rosewater, etc.
Nuts: Feel free to add a few Tbsp of chopped nuts (like pistachios, pecans, or walnuts) or sprinkle them over the melted chocolate.
Crystallized ginger/stem ginger: A tablespoon or two of finely chopped candied ginger will add extra heat and ginger flavor but also contain lots of sugar.
Herbs: You can enjoy these almond flour shortbread cookies sweet or savory, and adding some herbs works for either: rosemary, thyme, sage, etc. Finely chopped and added to the dough (vary the amount to taste, starting with 2 Tbsp). Fresh, edible lavender would also work (only add 1Tbsp to begin).
Flaky salt: A sprinkle of flaky salt over the melted chocolate topping not only looks great but adds crunch and enhances the flavors in the sugar free cookies.
Earl grey: Use around 2 Tbsp Earl Grey tea leaves (then lightly crush them).
Potential flavor combinations for shortbread holiday cookies:
Lemon and white chocolate
Rosemary and lemon

Lemon Earl Grey

with white chocolate
Cranberry orange (optionally add a pinch of cardamom too, crushed pistachios, and dip in dark chocolate)
Pistachio rosewater (optionally with 1tbsp dried rose petals) dipped in white or dark chocolate
Mocha (with cacao powder and espresso powder) and dipped in dark chocolate
Coconut and white chocolate (optionally with either cranberries or orange zest)
Tips for Best Results
Don't skip the dough chilling step: Otherwise, the gluten free shortbread cookies will spread a lot!
Allow the cookies to cool for 30 minutes before touching them: These cookies will be very fragile when first out of the oven. If you attempt to transfer them/touch them before they cool adequately, they'll fall apart/deform.
Be careful not to over bake the cookies: Cookies should remain pale when removed from the oven (not golden).
Adjust the baking time: Based on the size and thickness of your cookies. Thinner cookies will be the crispiest and bake faster.
Make your own almond flour: By grinding blanched almonds in a high speed blender or coffee/spice grinder until floury.
Use the spoon and level method: When measuring the flour, it's important to spoon it into your measuring cup, then level that with the back of a knife. Don't press down on the flour, or you'll end up with the wrong amount and affect the cookie dough.
FAQs
Are shortbread cookies the same as butter cookies?
While similar, the two aren't exactly the same as butter cookies usually contain more sugar and bake at higher temperatures. This makes them crisper, holding their shape better than shortbread.
Why is a cookie called shortbread?
Shortbread cookies were named that way due to the high fat content and lack of gluten (as a liquid is needed to activate gluten even when using regular flour), making for 'short' pastry (as in the opposite of long/stretchy), aka 'crumbly' cookies, with a buttery, rich flavor.
Why are my shortbread cookies too soft?
If you made the cookies very thick, they will be softer in the middle. Alternatively, they may be underbaked and require an extra minute or two in the oven. However, also remember that they will take AT LEAST 30 minutes to cool after cooking before they begin to harden and set.
What is the difference between Scottish cookie shortbread and regular shortbread?
Not much, though the 'fat' used can vary as Scottish shortbread may contain vegetable shortening (or a blend of shortening/butter) instead of just butter found in regular shortbread. The shortening helps provide an even firmer, crisp texture.
What are the 3 most common shapes for classic shortbread cookies?
Traditional shortbread cookies come in three shapes. These include thick rectangle 'slabs' (called fingers), round biscuits (shortbread rounds), and pizza slice pieces made by rolling out a large circle and then dividing it into segments (called 'petticoat tails'). However, you can use any cookie cutter you'd like with this almond flour gluten free shortbread cookie recipe.
What is the secret to amazing shortbread cookies?
There are a few. My top tips for the best shortbread cookies are to make sure to use good quality soft but not melted butter and don't skip the chilling step!
How to Serve Christmas Shortbread Cookies?
You can enjoy the cookies alone as a treat or alongside your favorite warm drink like coffee, tea, or a big mug of healthy hot chocolate!
You could also enjoy these Christmas cookies as part of a cookie platter with with healthy chocolate chip cookies, healthy gingerbread cookies, and almond flour thumbprint cookies.
Can I Ship Almond Flour Shortbread Cookies?
These almond flour shortbread cookies are a perfect option for mailing with a few top tips:
Ensure they're 100% cooled to avoid steam and bacteria growth in the packaging.
Skip the chocolate coating as it could melt somewhere along the way and become very messy.
Make sure the cookies are in airtight packaging (Tupperware, plastic wrap, cellophane bags, Ziplock bags, etc.).
Line the box with bubble wrap/padding to nest your cookies within (so they don't shake about and break on the way). You could use bubble wrap, packing peanuts, shredded paper/newspaper, etc.
If you've placed the cookies within a decorative box, pad the outer cardboard mailing box, too.
Write FRAGILE on the top of the box!
I also recommend shipping the day after they are baked and sending the package via a fast shipping method, so the recipient has a few days to enjoy the 'fresh' cookies! You can optionally send them as a mixed cookie parcel with healthy sugar cookies and gingerbread cookies, too!
How to Store Cookies?
Make Ahead: This cookie recipe is incredibly baking prep friendly. You can store the prepared dough either in a log (for slice and bake cookies) or as a dough ball and store tightly wrapped in plastic wrap. Store for up to a week in the fridge or several months in the freezer. Then, simply shape/slice and bake when ready, adding an extra minute or two if needed.
Store: Once baked, you can store the chocolate dipped shortbread cookies in an airtight container at room temperature for up to a week or slightly longer in the refrigerator.
Freeze: Flash freeze baked cookies on a tray, transfer them to a freezer safe container/bag, and store them for up to 6 months. When you want one, it will only take a few minutes to thaw on the kitchen counter.
More Almond Flour Bakes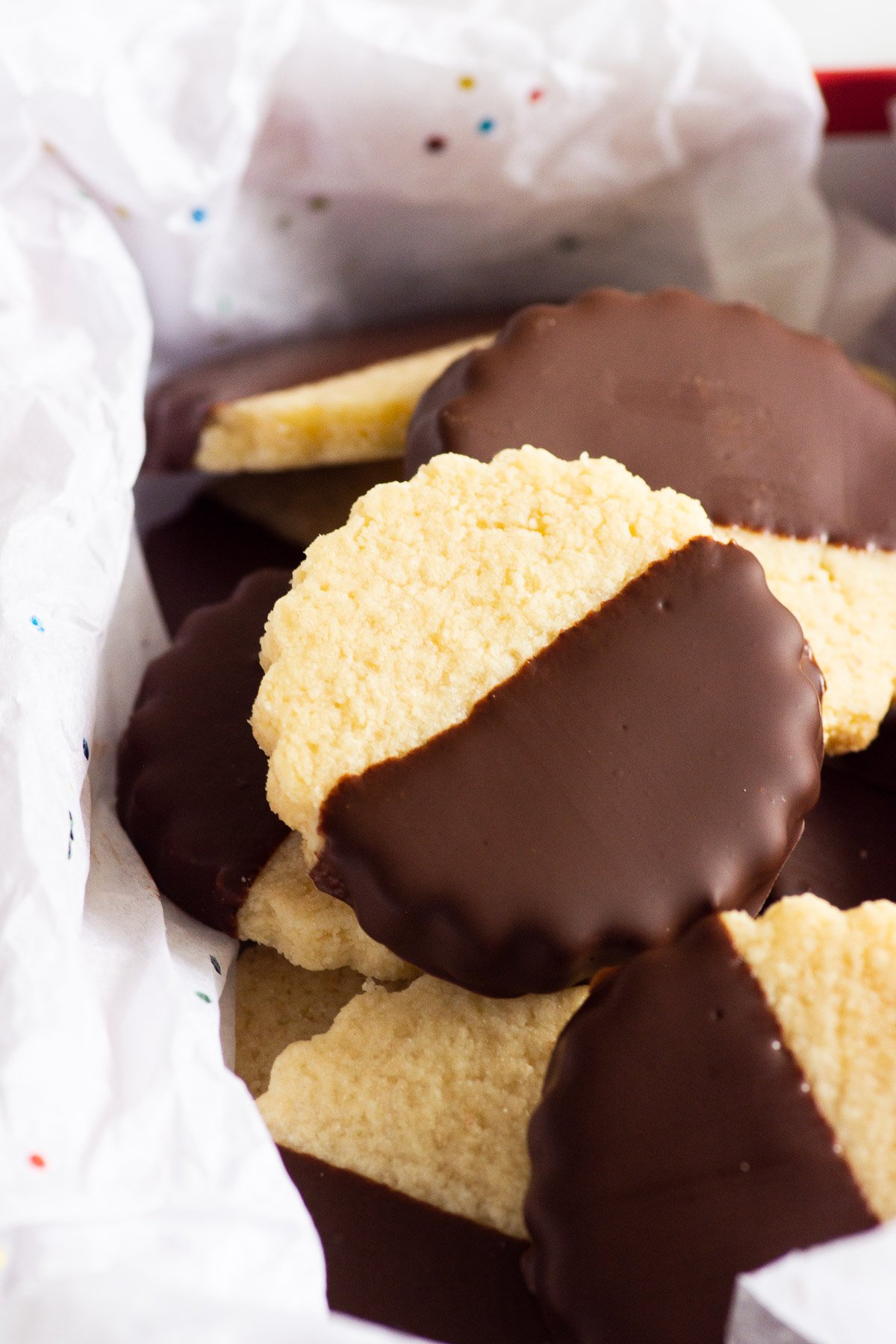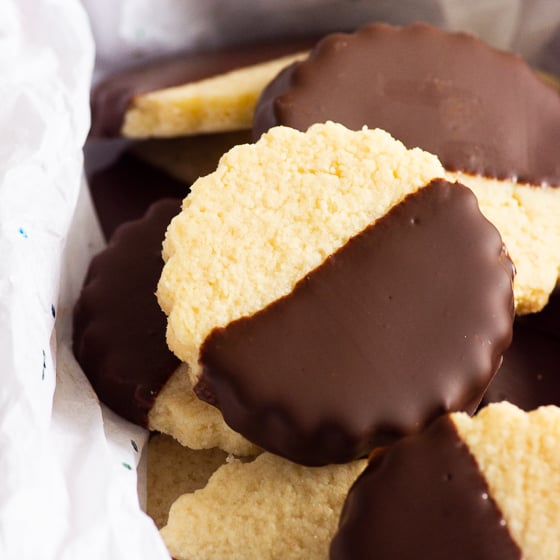 Almond Flour Shortbread Cookies
These 4-ingredient Almond Flour Shortbread Cookies are not only rich and buttery, but also gluten free, grain free, Paleo, and optionally sugar free and/or vegan. Dipped in chocolate or not, these Christmas cookies are delicious.
Ingredients
Dipping chocolate (optional)
Instructions
In a large bowl, add butter and sugar. Beat with an electric mixer until combined and creamy.

Add baking soda and almond flour; stir with spatula and knead with hands towards the end until a ball of dough forms.

Divide dough into two balls, place on two separate sheets of plastic wrap, flatten into discs, wrap and place in the refrigerator for 2 hours or in the freezer for 1 hour.

Preheat oven to 325 degrees F and line two large baking sheets with unbleached parchment paper or silicone baking mats. Set aside.

Remove chilled dough from the fridge (or freezer) and unwrap. If very hard, let it warm up on the counter for 5-10 minutes. Dust the surface and rolling pin with all-purpose flour or coconut flour (see notes). You will need quite a bit as this dough is wet. Roll the dough 1/3 inch thick or even thicker (I love tall shortbread).

Using your favorite cookie cutters, cut out cookies and transfer to previously prepared baking sheet (loosening with small spatula if necessary), leaving 1 inch in between. These cookies do not spread a lot. Combine the dough scraps into a ball, roll it out, cut out cookies and repeat until you run out of dough. Repeat the same step with the second disc of dough.

Bake for 7 minutes. Remove cookies from the oven before any visible browning occurs. You do not want that with shortbread – they should be of light color. Remove from the oven and let them cool off first on a baking tray for 30 minutes, then transfer onto a cooling rack to cool off completely.
To make chocolate dipped shortbread (optional)
In a small pot or bowl, add chocolate chips and oil. Melt on the stovetop or in a microwave in 20 second intervals, whisking until smooth and melted.

Dip each cookie (it should be completely cooled off) in melted chocolate half way, place on a baking sheet lined with parchment or wax paper, and refrigerate until chocolate has hardened.
Notes
Store: Store in an airtight container for up to 1 week or freeze for up to 6 months.
Flour or oil substitutions? Unfortunately not with this recipe. You have to use only fine or super fine blanched almond flour. I use Kirkland brand from Costco. Coconut oil cannot be used in place of butter.
How do sugar-free cookies taste? Personally to me, these shortbread cookies made with erythritol (monk fruit extract) taste very "normal". No weird aftertaste like with stevia etc. You can also make them with cane sugar.
What is softened butter? Do not confuse softened butter with melted butter. To soften butter, leave it on a counter at room temperature for at least 4 hours or better overnight. It should be soft to the touch of your finger, then it creams better. Melted butter will not work in this recipe – baking is a science.
Don't skip these two things: Chilling the dough as cookies will spread a lot and don't skip cooling down the cookies. Do not move or touch freshly baked cookies for first 30 minutes. They will fall apart and deform. Let them cool and solidify, even better overnight. 
Making 100% gluten free cookies: Use coconut flour for dusting the rolling pin and surface as it absorbs moisture well. Do not use almond flour as it generally doesn't work well for dusting.
Do not overbake cookies: Remove them from the oven while pale and looking "uncooked". They will finish cooking with residual heat and harden with time.
See recipe post for more tips and FAQs.
Nutrition
Serving:
1
cookie (with erythritol)
|
Calories:
69
kcal
|
Carbohydrates:
2
g
|
Protein:
2
g
|
Fat:
7
g
|
Saturated Fat:
2
g
|
Trans Fat:
1
g
|
Cholesterol:
8
mg
|
Sodium:
32
mg
|
Fiber:
1
g
|
Sugar:
1
g