Apple Sausage Stuffed Butternut Squash is a fall-inspired flavorful dinner packed with sausage, spinach, apples, pecans, and cranberries. It is simple enough for a weeknight dinner and festive for a holiday main meal or side dish!
Fall isn't the same without this seasonal vegetable! Try my butternut squash soup or make honey garlic butternut squash.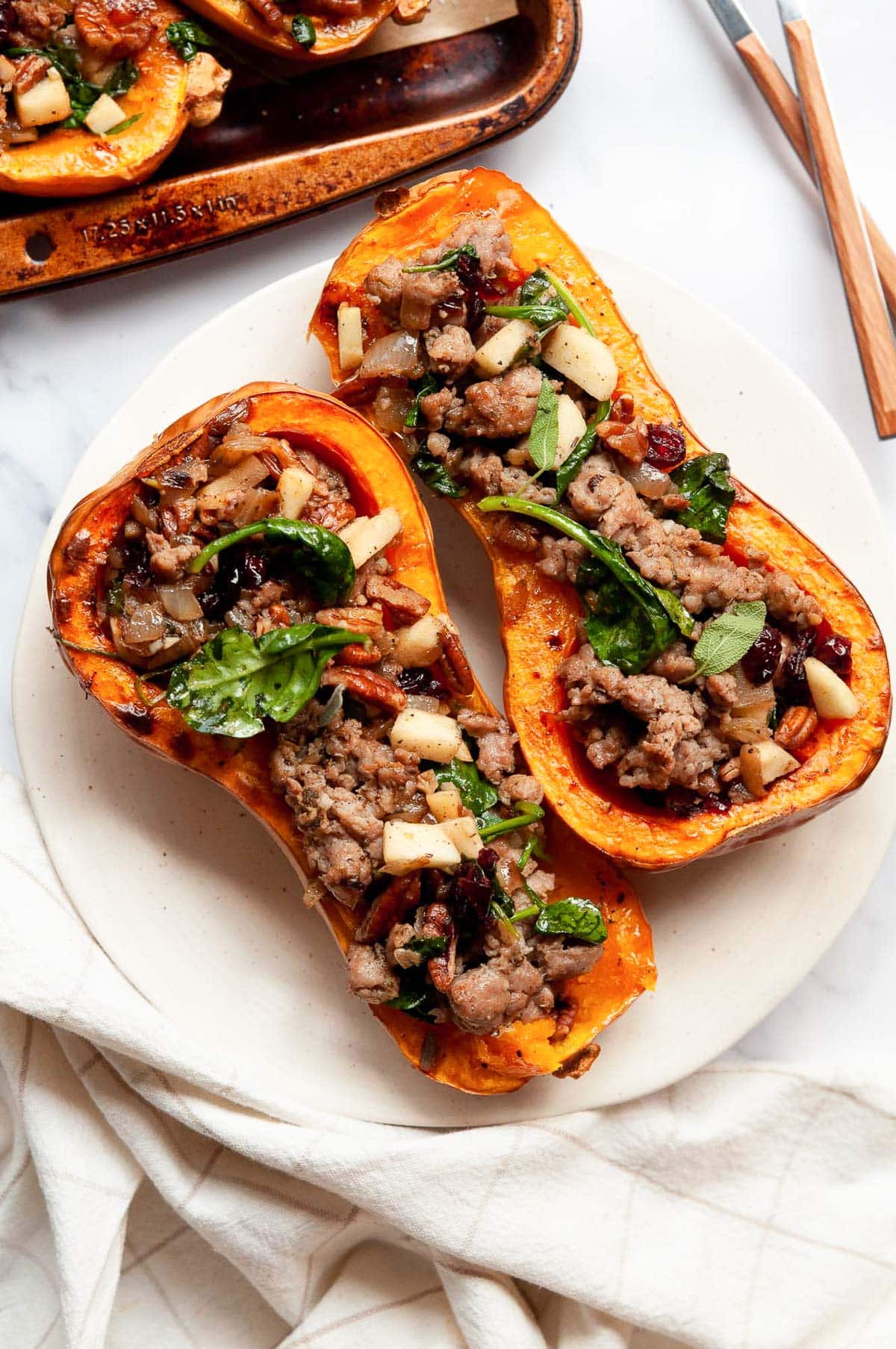 When the temperatures start to drop and there is a chill in the air, it's time to whip up all the warm and cozy recipes. And this sausage stuffed butternut squash is not only delicious but perfect for fall and winter! It was inspired by my stuffed acorn squash.
Butternut squash halves are filled with Italian sausage, apple, cranberries, herbs and then oven baked! It's hearty, filling and an all-in-one type of meal.
It's full of so many fall comfort food vibes, plus while you are roasting butternut squash, your house will smell amazing!
Why You Will Love This Recipe
Hearty: Butternut squash stuffed with sausage is a complete meal that has 4 generous sized portions but it could easily feed 8 as a holiday side dish.
Flavorful: Buttery squash, savory herbs, sweet apples, it's a flavor explosion!
Healthy: Packed with color and nutrition, butternut squash is fiber rich and contains vitamins A, B6, C, and E, as well as several minerals, including magnesium and potassium.
Beautiful presentation: Perfect for the holidays or entertaining guests.
Ingredients Needed
This butternut squash and sausage recipe needs just a handful of simple ingredients! Here is what you need to make it:
Butternut squash: You will need two medium sized butternut squashes, about 2 pounds each.
Sausage: I used Italian sausage that was mild and sweet.
Onion: White onion, sweet onion or yellow onion works.
Spinach: Fresh spinach adds additional nutrition plus wilts easily. You could use frozen spinach, but it will need to be thawed and drained. Kale would be great too.
Apple: Any variety works, although a tart granny smith would balance flavors really well.
Nuts: Pecans are a favorite in stuffed winter squash, walnuts would also be great.
Dried cranberries: Add some sweetness. I prefer unsweetened.
Sage: A must-add with Italian sausage and apple but you could also use dried thyme.
How to Make Sausage Stuffed Butternut Squash
Before we can make this roasted stuffed butternut squash recipe, we need to prep our squash, which might be the hardest part of the dish. But follow these simple steps and your squash will be roasted in no time!
How to Prep and Roast Butternut Squash
Before you stuff your squash, you must cut and roast it first.
I have a detailed tutorial on how to cut butternut squash and how to cook butternut squash whole but here is a quick recap.
Slice butternut squash in half vertically using a very sharp knife. Scoop out the seeds and stringy parts from the bottom half with a spoon and discard.
You don't need to peel the skin since we are roasting, then stuffing the squash.
Place long halves face up on a large baking sheet. Brush olive oil on squash halves, then sprinkle with salt and pepper.
Roast butternut squash in the oven at 425 degrees F for 50 minutes until it is fork tender and golden brown.
How to Stuff It
Now it is time to make the good stuff and by that I mean the stuffing! Grab a large cast iron skillet or nonstick skillet and preheat it on medium-high heat.
Cook sausage: Using a spatula cook and crumble sausage into smaller pieces for about 5 minutes. Add your chopped onion, garlic and sage, and saute for another 3 minutes.
Soften apple: Add apple, spinach and saute until spinach has wilted. Turn off the heat and stir in your pecans, cranberries, and black pepper. Add salt to your sausage mixture and adjust to taste.
Start filling squash boats: After butternut squash halves are cooked and cooled enough to handle, scoop flesh to make room for the apple filling. You can save it to make butternut squash mash later. Now spoon some of butternut squash spinach filling into the gap.
Broil: Broil sausage stuffed butternut squash for a couple of minutes or until golden brown. Serve immediately and enjoy!
Variations
Cheese: Add some freshly shredded Parmesan cheese, Asiago, or even cheddar cheese to the top of the stuffing. It's the perfect addition!
Seasonings: Go sweeter and warmer with nutmeg, cinnamon or cloves added to the filling. Or in addition to sage, add some savory rosemary or thyme. Herbs de provence is a great blend that tastes amazing in this recipe!
Other winter squash: Mix it up and try other winter squash such as honeynut squash, kabocha squash, or acorn squash instead.
Protein: Swap the sausage for ground chicken, ground turkey, ground beef or even try going meatless.
Expert Tips
Efficient kitchen timing: Prep and make the sausage stuffing while butternut squash roasts in the oven.
Shorter stout squash: This size of a squash usually has a larger base vs. a longer neck which is great for stuffing.
Fresh herbs: Additional fresh herbs like fresh sage or fresh parsley would make a great garnish and add a pop of flavor.
Line your pan: For easier clean up, line your baking sheet with parchment paper or aluminum foil.
How to use extra squash filling: Don't discard the butternut squash you removed to stuff your squash. Add some butter and seasoning then mash it, save it for a savory breakfast with a fried egg, or even mix it in with the squash stuffing to make it even heartier!
What to Serve with Stuffed Butternut Squash
While this makes a great side dish to classic Thanksgiving recipes, for a weeknight meal here are some of my favorites:
Green salad: This winter squash dish is great with fresh leafy greens! This simple spinach salad or arugula feta salad would both be great options!
Bread: A crusty loaf of bread, warm garlic bread or soft Italian bread would all be great choices.
Vegetable salads: Autumn salad such as arugula beet salad.
How to Store and Reheat
Refrigerate: Leftovers of your sausage butternut squash can be stored in the refrigerator in an airtight container for up to 4 days.
Reheat: Reheat in the microwave or oven until warmed through.
Freeze: Wrap halves tightly and store in a freezer safe bag for up to 3 months. Texture may change upon thawing.
FAQs
What kind of sausage should I use?
To make this butternut squash with stuffing, I used mild sweet Italian sausage. If you like some heat, try spicy Italian sausage. I don't think breakfast sausage would work although you could try chicken sausage or even turkey sausage. If your sausage has casing, just remove and crumble it as you cook it.
Can I eat the skin on stuffed butternut squash?
While technically you can eat its thick shells, honestly squash skin doesn't taste very good! I would stick to the sweet, buttery squash flesh.
How many servings does stuffed squash make?
This recipe makes 4 butternut squash halves, enough for each person to have their own half of stuffed squash.
How long does it take to soften butternut squash in the oven?
It will take around 50 minutes to soften squash and make it tender in the oven. You will know your squash is ready when it pierces easily with a fork.
More Butternut Squash Recipes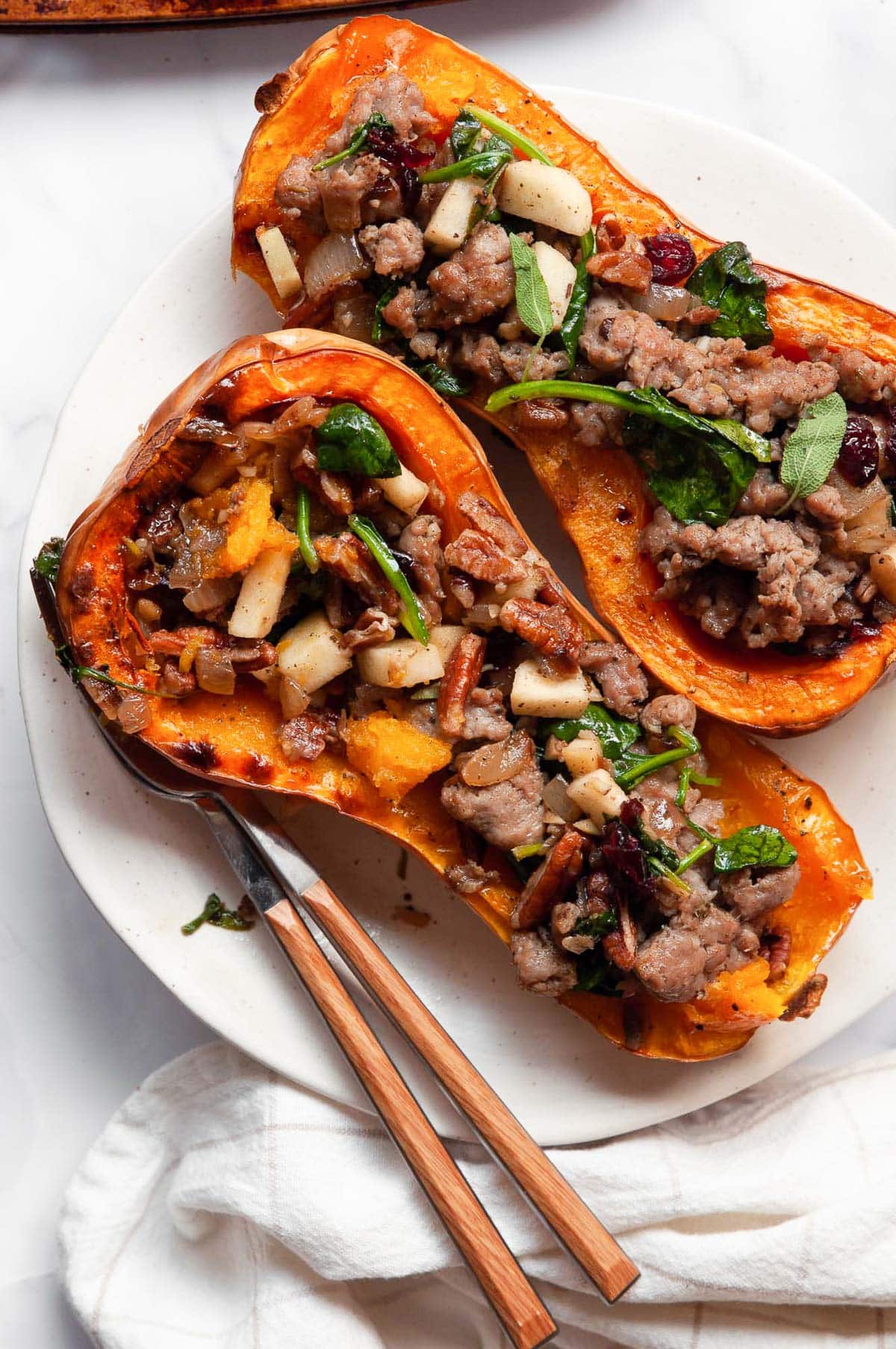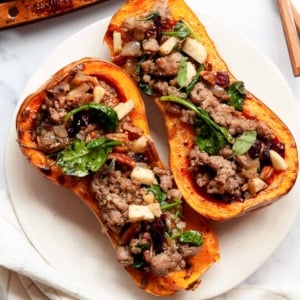 Apple Sausage Stuffed Butternut Squash
Apple Sausage Stuffed Butternut Squash is a fall-inspired flavorful dinner packed with sausage, spinach, apples, pecans, and cranberries. It is also a festive side dish!
Ingredients
For Apple Sausage Stuffing:
Instructions
Preheat oven to 425 degrees F. Cut squashes in half lengthwise, scoop out the seeds and place cut side up on lined with parchment paper baking sheet.

Then brush with olive oil, and sprinkle with salt and pepper. Bake for 50 minutes.

Meanwhile, prepare the stuffing. Preheat large skillet on medium-high heat, add olive oil and sausage meat. Cook for 5 minutes, stirring constantly and breaking into small pieces. Add onion, garlic and sage, and saute for another 3 minutes.

Now add apple, spinach and saute until spinach has wilted, stirring often. Turn off heat and add pecans, cranberries, black pepper; stir and adjust salt to taste. Set aside.

When butternut squash halves are cooked and cooled a bit, remove some of the flesh in the middle with a tablespoon. Just enough to fit the stuffing in. Save the flesh and turn into mashed butternut squash later.

Divide the apple sausage stuffing evenly between 4 halves and broil on the second rack from the top for about 5 minutes or until golden brown. Serve immediately.
Notes
Store: Leftovers can be store in an airtight container in the refrigerator for up to 4 days. Freeze: Wrap halves tightly in plastic wrap and store in a freezer safe bag up to 3 months. Reheat: Reheat in microwave or in the oven until heated through.
Nutrition
Serving:
1
half
|
Calories:
803
kcal
|
Carbohydrates:
62
g
|
Protein:
22
g
|
Fat:
56
g
|
Saturated Fat:
15
g
|
Cholesterol:
86
mg
|
Sodium:
992
mg
|
Fiber:
11
g
|
Sugar:
20
g