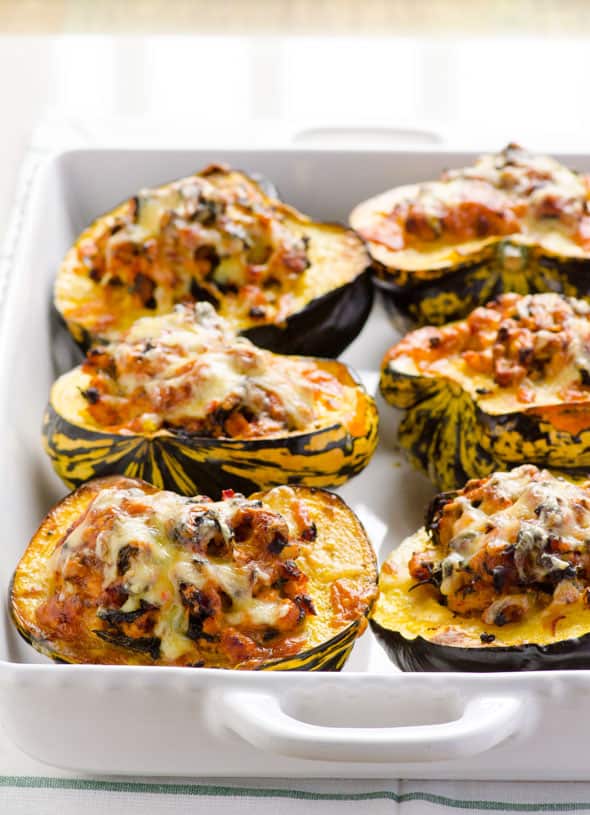 Well, it's really Fall, which is kind of so sad because summer was fun, filled with vacations, pool days and fresh produce (yellow cracking watermelons, I miss you already!). I am honestly so-so-so sad. I love Fall colours and air, but I love summer more. I am excited for my trip to Mexico City (after an earthquake it lost a bit of excitement but I think I will still go), all holidays, and skiing season, but deep down I am waiting for next summer already.
Turkey stuffed acorn squash recipe officially marks Fall cooking in my kitchen. I'm already dreaming of making spaghetti squash chow mein, chicken cauliflower fried rice, and slow cooker chicken and wild rice soup. This meat stuffed acorn squash was surprisingly easy and quick, so if you have this resistance towards thick skin squash or labour intensive stuffed recipes, try mine – I share fairly easy way how to cut acorn squash without losing a finger, and ground turkey stuffing with spinach is very quick and healthy.
Like squash? Try my spaghetti squash casserole.
How to Cut an Acorn Squash in Half
Place rubber mat under the cutting board and a towel on top to reduce sliding and slipping.
Get long serrated knife aka bread knife.
Cut through squash's skin all around.

Use a meat tenderizer to dig knife into the squash's flesh, if necessary.
Split open.

How to Make Turkey Stuffed Acorn Squash
Now that you have seeded acorn squash halves and 10 fingers attached, brush squash with avocado oil, sprinkle with salt and pepper, and bake for half an hour. 
While squash is baking, prepare stuffing: lean ground turkey meat, superfood spinach and/or kale, spices and fresh herbs. Sweet tender squash flesh gets roasted in the oven while you quickly prep stuffing on a stove top – I promise this recipe is easier than it looks, I'm looking at it now and thinking it looks so fancy but I was frankly surprised how fast it went. You can tell I'm new to cooking acorn squash – my mom and grandma were not fans of cauliflower, brussels sprouts or squash.
Then stuff pre-baked squash and stick it in the oven for another 25 minutes. We all loved this turkey stuffed acorn squash, even the kids and we usually have a problem with Fall type of vegetables. Enjoy!
Print
Turkey Stuffed Acorn Squash
Turkey Stuffed Acorn Squash Recipe with ground turkey meat and spinach, plus how to cut an acorn squash in half without losing a finger.
Author:
Prep Time:

7 minutes

Cook Time:

67 minutes

Total Time:

1 hour 14 minutes

Yield:

6

servings

1

x
Scale
Ingredients
Squash:
Stuffing:
1

medium onion, finely chopped

3

garlic cloves, minced

1 tbsp

avocado oil

1

lb ground turkey, extra lean

3 cup

s spinach and/or kale, packed and coarsely shopped

2 tbsp

tomato paste

2 tsp

dried rosemary

3 tbsp

parsley, finely chopped

1/2 tsp

salt

3/4 cup

any hard cheese, shredded & divided
Instructions
Preheat oven to 450 degrees F.
To cut squash open, place a rubber mat under the cutting board and a towel on top. Place squash on the towel and cut through using long serrated knife, cut all around. You might get some help from a meat tenderizer but I found it wasn't necessary. Now scoop out the seeds.
Place squash cut side up on a large baking sheet. Brush with 1 tbsp of oil and sprinkle with salt and pepper. Bake for 30 minutes.
In the meanwhile, prepare the stuffing by first placing large skillet on a low-medium heat. Add remaining avocado oil and tilt the skillet to coat. Add onion and garlic; cook until translucent, stirring occasionally. Now add turkey and cook for another 7 minutes, stirring and breaking into pieces. Add remaining ingredients (except cheese) and cook for a few more minutes. Remove from heat and stir in 1/2 cup cheese.
Stuff opening of each pre-roasted and cooled until safe to handle squash half with stuffing, dividing evenly. Sprinkle with remaining cheese. Return to the oven and bake for another 25 minutes or until tops start to turn golden brown. Serve hot.
Store: Refrigerate in an airtight container for up to 4 days.
★ Did you make this recipe? Please give it a star rating in the comments.