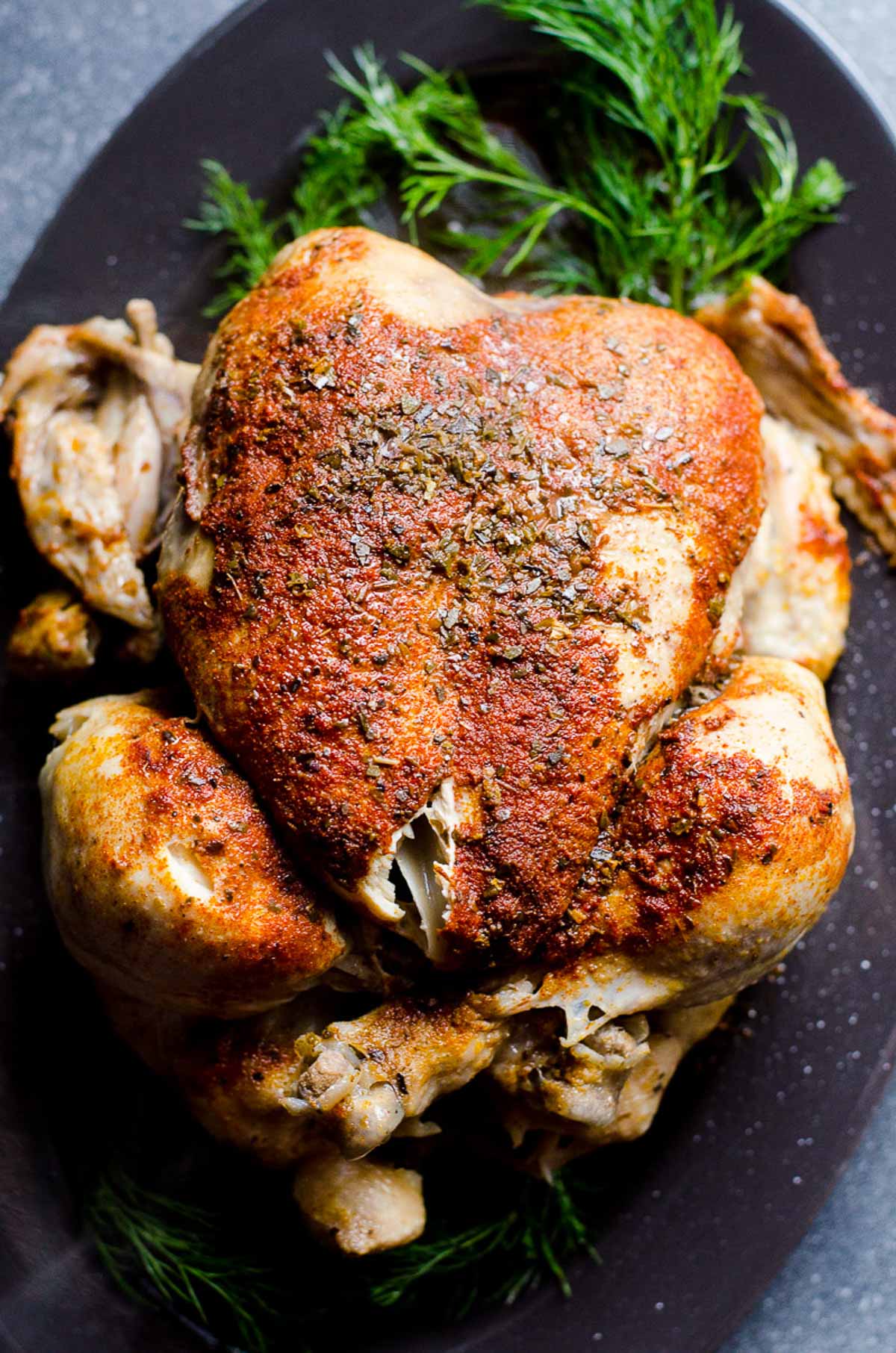 Imagine putting whole frozen chicken in a magic pot and having the most flavourful and juiciest (even breast) chicken in 35 minutes. That magic pot is called Instant Pot and this miracle is totally possible in 2018 thanks to it! I think being able to cook meat from frozen is THE BEST feature of an electric pressure cooker. It is true, you can do it! No more "Crap, forgot to thaw the chicken" or "Shit, what's for dinner" nonsense. You should stock your freezer with a few bulk bags of frozen whole chickens from Costco because that's the cheapest piece of chicken – the whole chicken.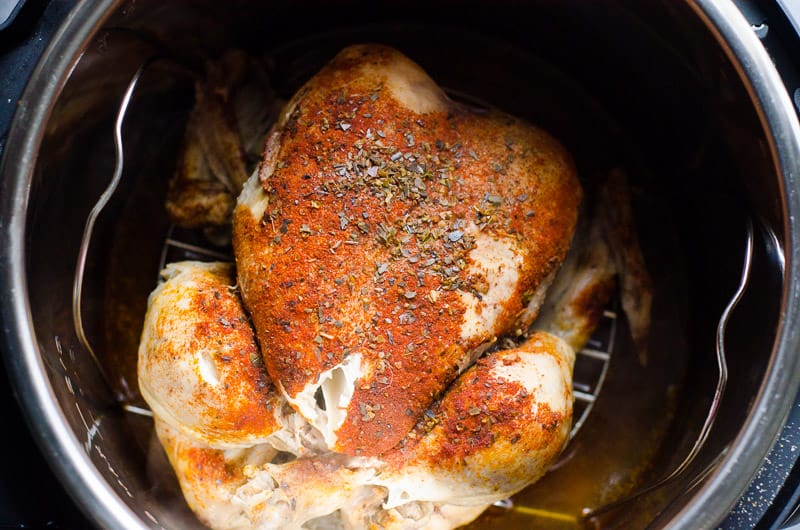 Possibilities with Instant Pot Frozen Chicken Are Endless!
Serve however you would serve a rotisserie chicken (just so much less sodium and it can be organic).
Shred and use throughout the week or freeze for later. Batch cook 2-3 chicken at a time.
Freeze bones from a few whole chickens to make Instant Pot bone broth.
Make soup – Keep that flavourful broth at the bottom of the pot, throw back the bones and add desired amount of water. Pressure cook on High for 1-2 hours. Then add frozen vegetables (mixed, corn, peas, broccoli etc.) and "sprinkle" pasta (to prevent sticking), close the lid, don't press anything and let soup "cook" for 5 minutes or so. Season to taste with spices and fresh herbs. Do it at your pace throughout the day.
Instant Pot frozen chicken takes 5 minutes of prep. I tested this recipe 3 times for the absolutely best outcome because guess what?! Spices do not really stick well to frozen meat, duh?! And amount of spices you need might be deceiving. I also tried to pre-brown chicken and then broil in the oven for that rotisserie look. Save your time and skip the extra steps. While you won't end up with exactly a roasted chicken, this will be the best homemade whole chicken you ever tried. And the best part is it took you 5 minutes to cook it FROM FROZEN. Not too shabby, huh?!
Now, relax and watch me make it. I've got my "secret sauce" to this whole frozen chicken in Instant Pot in the video below.
How to Make Instant Pot Frozen Chicken
More Instant Pot Chicken Recipes
Print
Instant Pot Frozen Chicken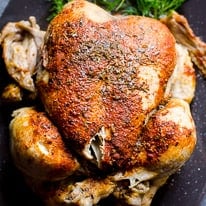 Instant Pot Frozen Chicken Recipe or how to cook juicy and flavourful whole frozen chicken in any electric pressure cooker in 35 minutes.
Author:
Prep Time:

5 minutes

Cook Time:

35 minutes

Total Time:

40 minutes

Yield:

6 servings
Instructions
Rinse frozen whole chicken with cold water and pat dry with paper towels. Drizzle with a bit of oil and using your hands rub it all over chicken. This step will ensure proper "sticking" of spices to frozen chicken.
Place chicken in Instant Pot breasts side down. Sprinkle half of each spice evenly on one side of chicken in the following order: salt, pepper, garlic powder, smoked paprika and oregano. Holding onto the wings, carefully flip the chicken (we don't want to disturb the spices) and season the other half with remaining spices (might seem like a lot but trust me). Holding onto the sides transfer chicken onto a large plate.
Inside the Instant Pot, add water, then place the steam rack with handles and chicken breast side up on top of it (holding onto the sides, you know the drill by now). Close the lid, set pressure vent to Sealing and press Pressure Cooking on High for 35 minutes. Display will say ON, Instant Pot will take about 15 minutes to come to pressure, you will see a bit of steam coming out from a valve, then float valve will rise and countdown will begin.
After 35 minutes your chicken is ready, Instant Pot will beep, display will say OFF and now it needs to bring pressure down before you can open it, which will be indicated by a dropped down float valve. It is called Natural Release and DO NOT do Quick Release (turning sealing valve to Venting position). It should take about 15-20 minutes.
Open the lid and you will have the juiciest and most flavourful chicken ever. Serve however you like, shred for meal rep, freeze for later, save bones for bone broth. Oh, and that flavourful broth at the bottom makes amazing soup the next day (don't throw away!). So many options it's crazy!
Store: Refrigerate in an airtight container for up to 5 days.
Freeze: Fully cook, cool completely and freeze in an airtight container or resealable freezer bags for up to 3 months. Thaw in a fridge or on a counter.
Notes
If you have smaller or larger frozen chicken, adjust cooking time to 7 mins per lb. Fresh chicken takes less cooking time.
★ Did you make this recipe? Please give it a star rating in the comments.