Ukrainian Dill Coleslaw with cucumber, tomato, bell pepper, dill and vinegar like my mom used to make. This old fashioned no mayo cabbage salad is easy, crowd pleasing, healthy salad recipe.
Mom also made this killer vinegar coleslaw! We love slaw year round – mango slaw, peanut slaw and creamy healthy coleslaw recipes!
Hi, I grew up in Ukraine. We ate a lot of cabbage. Ukrainian borscht, lazy cabbage rolls and my mom loved to make this super easy dill coleslaw. As a kid I didn't like it because it had a lot of white vinegar.
Our cold room floor was covered with vegetables and apples. Vegetables that would keep well in winter like potatoes, carrots, onions, beets and cabbage. So I ate many servings of cabbage salads in my life.
This juicy dill coleslaw recipe is my mom's recipe and it is the best! It can also be named Russian cabbage salad. And let's face it, any coleslaw goes with healthy salmon burgers and shrimp tacos.
Is Cabbage Good for You?
First of all, cabbage is dirt cheap. And it makes a lot of food once shredded. It is hearty cruciferous vegetable with amazing cancer fighting properties. Plus it fills up your belly and is low in calories. Cabbage always tests low on pesticide residue so you don't have to buy it organic. I remove the outer leaves and it is ready to slice.
Secondly, it keeps well in the fridge wrapped in plastic to keep moisture and prevent it from going dark. Like this 2-3 weeks in a fridge no problem. So you don't have to eat an entire head of cabbage in one sitting. And I get it – cabbage heads are mostly large. If you see darkness on a previously cut side just cut it off.
How to Shred Cabbage
You need to buy yourself a good mandoline and then your relationship with cabbage will improve greatly. Many people are scared to chop their fingers off. Well, buy the one with safety thing or simply slow down towards the end and don't slice the cabbage to the last bit. Eat it as you keep shredding next larger piece.
But let me tell you that nothing and no one can shred cabbage better than a mandoline!
Dill Coleslaw Ingredients
Green or red (purple) cabbage
Cucumbers, tomatoes and peppers
Dill
Oil
Vinegar
Salt and pepper
To be perfectly honest, my mom made it just with green cabbage and dill. We didn't have red cabbage and for sure no tomatoes and cucumbers in winter. Although, healthy cucumber salad and variations of that were on repeat during summer!
Now I am thinking dill wasn't in the old fashioned coleslaw during winter either. I loaded it up a bit since we have a luxury of farmers' market in summer and Mexican produce in winter.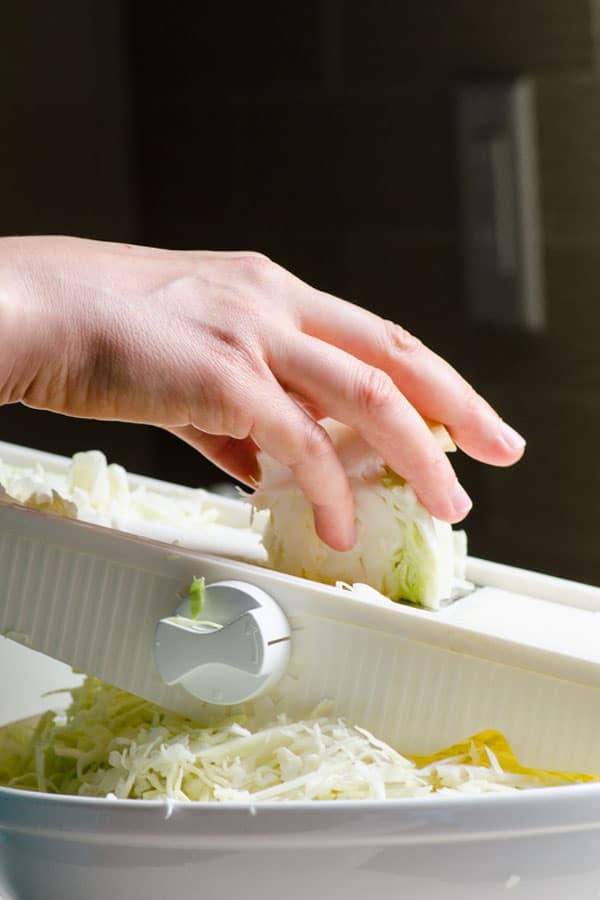 Tips for Best Slaw
Once sliced cabbage is high in volume and might be hard to toss. Just sprinkle it with salt and toss slowly. It will reduce almost in half as salt breaks down the tissues while you keep tossing.
Use any vinegar, even balsamic.
You can also use napa or savoy cabbage. In fact, I have savoy cabbage salad recipe.
To make ahead, refrigerate vegetables for up to 2 days and add seasonings before serving (especially salt).
More Favorite Cabbage Recipes
You may also love to browse over 50 healthy salad recipes!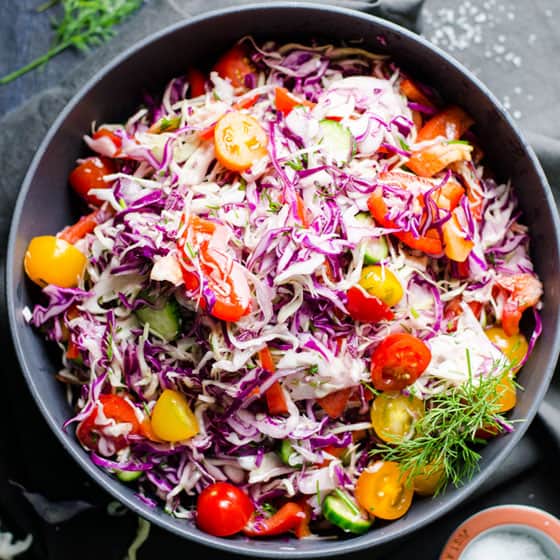 Ukrainian Dill Coleslaw
Ukrainian Dill Coleslaw with cucumber, tomato, bell pepper, dill and vinegar like my mom used to make. This old fashioned no mayo cabbage salad is healthy, easy and crowd pleasing recipe.
Instructions
In a large mixing bowl, add cabbage, dill and salt. Using tongs mix for about 2-3 minutes. Cabbage will shrink about in half as salt starts to break down its tissue.

Add remaining ingredients and gently toss. I recommend to add tomatoes last after all tossing is done. Serve cold.
Notes
Store: Coleslaw is best served within a few hours. It will be OK in a fridge for up to 24 hours.
Make ahead: If you want to make ahead, shred cabbage and chop veggies. Refrigerate separately. Then follow the recipe before serving.
*I highly recommend using a mandoline. Texture of the slaw will be so crispy and tender. Imagine hair angel pasta.
**White wine or red wine vinegar would work too.
***Sesame oil adds that unrefined taste like from roasted sunflower seeds. You can replace it with more olive oil but I highly recommend to buy sesame oil. You will use it a lot in Asian cooking.
Nutrition
Serving:
1
cup
|
Calories:
111
kcal
|
Carbohydrates:
14
g
|
Protein:
3
g
|
Fat:
6
g
|
Saturated Fat:
1
g
|
Sodium:
328
mg
|
Fiber:
5
g
|
Sugar:
8
g