Moving to West Coast 8 years ago made me feel the way I never expected to – I miss snow (just sometimes). A powder that squeaks under heavy footsteps. The one that makes entire world so quiet. I used to have it every winter as a kid. Once a week after dinner my uncle would order me and my cousin to dress warm. We would pull on real fur and leather winter boots, put on rabbit knitted toques and tighten the belts on wool coats. Grab a linen bag and we were ready to go "shopping" in a cold room.
10 of us lived in this large 3 bedroom apartment part of a 10 unit building built in 1920s (by the way I found the picture). With 11 feet tall ceilings, oil heaters and a cold room at the very back of the house for everyone to share. Fridges were small and money scarce. If you had a land to work on in summer you were golden in winter.
We would walk to the cold room. Exchanging a few snowballs on the way, of course. Skies were always clear. Hundred years old trees standing still with snow. Will never forget. Uncle would open heavy wooden door with the heaviest and biggest keys ever. Light goes on. It was creepy. And cold. Just perfect for shelves full of canned jams, tomatoes and baby pickles.
The floor was covered with vegetables and apples. Neatly organized. Vegetables that would keep well in winter like potatoes, carrots, onions, beets and cabbage. The only fruit was apple. We ate apples all winter long. The only fruit until strawberry season in June.
While loading linen bags with whatever cooks, grandma and aunt, have ordered me and my cousin have studied the shelves. What neighbours had what. Be sure on the next visit to my friend on a 2nd floor I would be asking if we could have some apple cider.
But back to our cabbage. So, we ate a lot of cabbage! In Ukrainian borscht, lazy cabbage rolls and my mom loved to make this super simple dill coleslaw. As a kid I didn't like it because it had a lot of white vinegar. Now, it is a different story: peanut slaw, mango slaw, healthy coleslaw and coleslaw macaroni salad.
So, let me share what we do with our coleslaw.
First of all, cabbage is dirt cheap. And it makes a lot of food once shredded. It is hearty cruciferous vegetable with amazing cancer fighting properties. Plus it fills up your belly. My boys always have some. They are slowly warming up to the coleslaw.
Secondly, it keeps well in the fridge wrapped in plastic to keep moisture and prevent it from going dark. Like this 2-3 weeks in a fridge no problem. So you don't have to eat an entire head of cabbage in one sitting. And I get it – cabbage heads are mostly large. If you see darkness on a previously cut side just cut it off.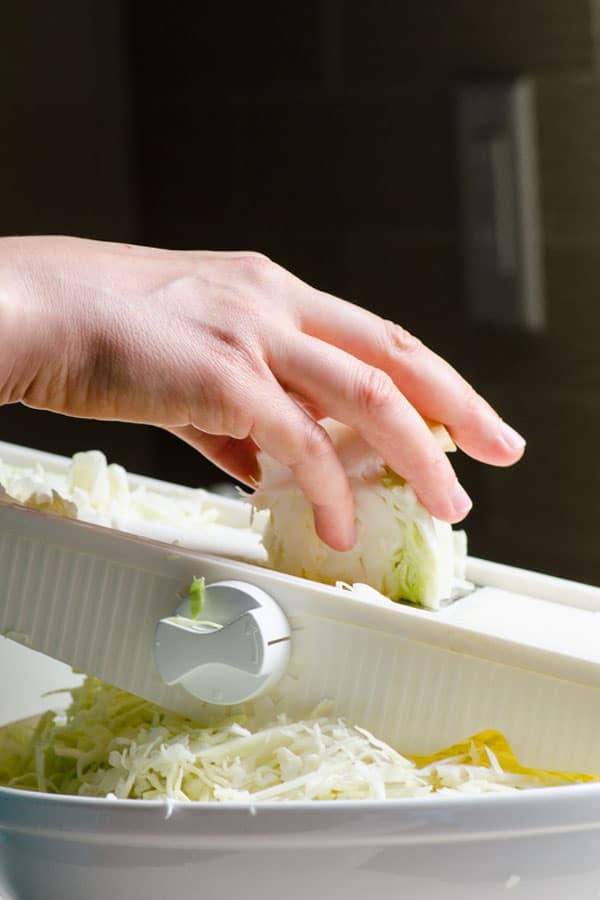 Thirdly, cabbage always tests low on pesticide residue so you don't have to buy it organic. I remove the outer leaves and it is ready to slice.
Fourthly, you need to buy yourself a good mandoline and then your relationship with cabbage will improve greatly. Many people are scared to chop their fingers off. Well, buy the one with safety thing or simply slow down towards the end and don't slice the cabbage to the last bit. Eat it as you keep shredding next larger piece.
I am yet to hurt myself with a mandoline. I have way more cuts from sharp and dull knives. The worst one was from opening a bottle of dry vermouth due to lack of a wine opener. When I was 16, of course. In Ukraine, of course. We mixed it with juice and ice in a stock pot due to lack of a pitcher. And yes we were drinking from age 13 which sounds absolutely horrifying right now. I get it.
Point #5 I learnt from my mom. Once sliced cabbage is high in volume and might be hard to toss. Just sprinkle it with salt and toss slowly. It will reduce almost in half as salt breaks down the tissues while you keep tossing.
That is it. Nothing hard about this dill coleslaw. To be perfectly honest, my mom made it just with green cabbage and dill. We didn't have red cabbage and for sure no tomatoes and cucumbers in winter. Now I am thinking dill wasn't in the coleslaw during winter either. I loaded it up a bit since we have a luxury of farmers' market in summer and Mexican produce in winter.
Aren't we lucky?! Have I made that point across the blog clear yet?! Just wait for my immigration story. I am already working on it. Enjoy and be healthy! Health is wealth, not the green dollars. Although latter do make life much easier, I must say.
Print
Ukrainian Dill Coleslaw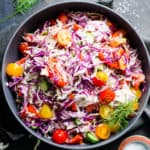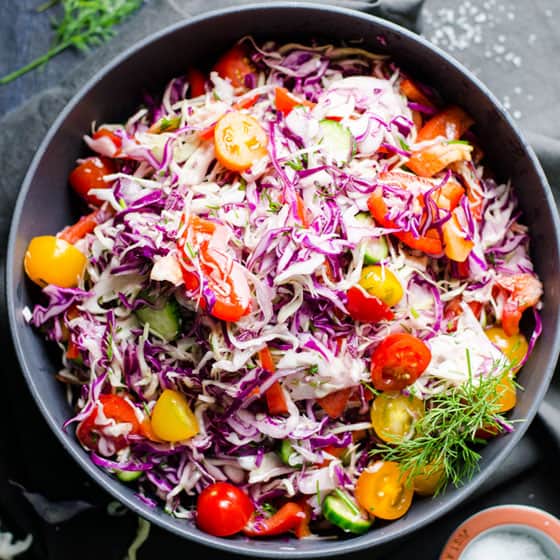 Ukrainian Dill Coleslaw Recipe with cucumbers, tomatoes, bell peppers, dill and vinegar like my mom makes healthy and easy, everyone will love.
Author:
Prep Time:

12 minutes

Total Time:

12 minutes

Yield:

8 servings
Ingredients
1.5 lbs (1/2 small head) green cabbage, thinly sliced*
1 lb red (1/4 small head) cabbage, thinly sliced*
1/2 cup dill, finely chopped
1 tsp himalayan pink salt
3 baby cucumbers, sliced
1 bell pepper, thinly sliced
1/2 lb grape tomatoes, cut in halves
3 tbsp white vinegar**
2 tbsp olive oil, extra virgin
1 tbsp sesame oil***
Instructions
In a large mixing bowl, add cabbage, dill and salt. Using tongs mix for about 2-3 minutes. Cabbage will shrink about in half as salt starts to break down its tissue.
Add remaining ingredients and gently toss. I recommend to add tomatoes last after all tossing is done. Serve cold.
Store: Coleslaw is best served within a few hours. It will be OK in a fridge for up to 24 hours. If you want to make ahead, shred cabbage and chop veggies. Refrigerate separately. Then follow the recipe before serving.
Notes
*I highly recommend to use mandoline. Texture of the slaw will be so crispy and tender. Imagine hair angel pasta. **White wine or red wine vinegar would work too. ***Sesame oil adds that unrefined taste like from roasted sunflower seeds. You can replace it with more olive oil but I highly recommend to buy sesame oil. You will use it a lot in Asian cooking.
★ Did you make this recipe? Please give it a star rating in the comments.