This crunchy Peanut Slaw combines fresh cabbage with creamy peanut sauce, cilantro, and green onions for the ultimate salad. Perfect for picnics, potlucks and mid-week salad side dish.
Serve it alongside grilled chicken breast, grilled shrimp skewers or grilled salmon.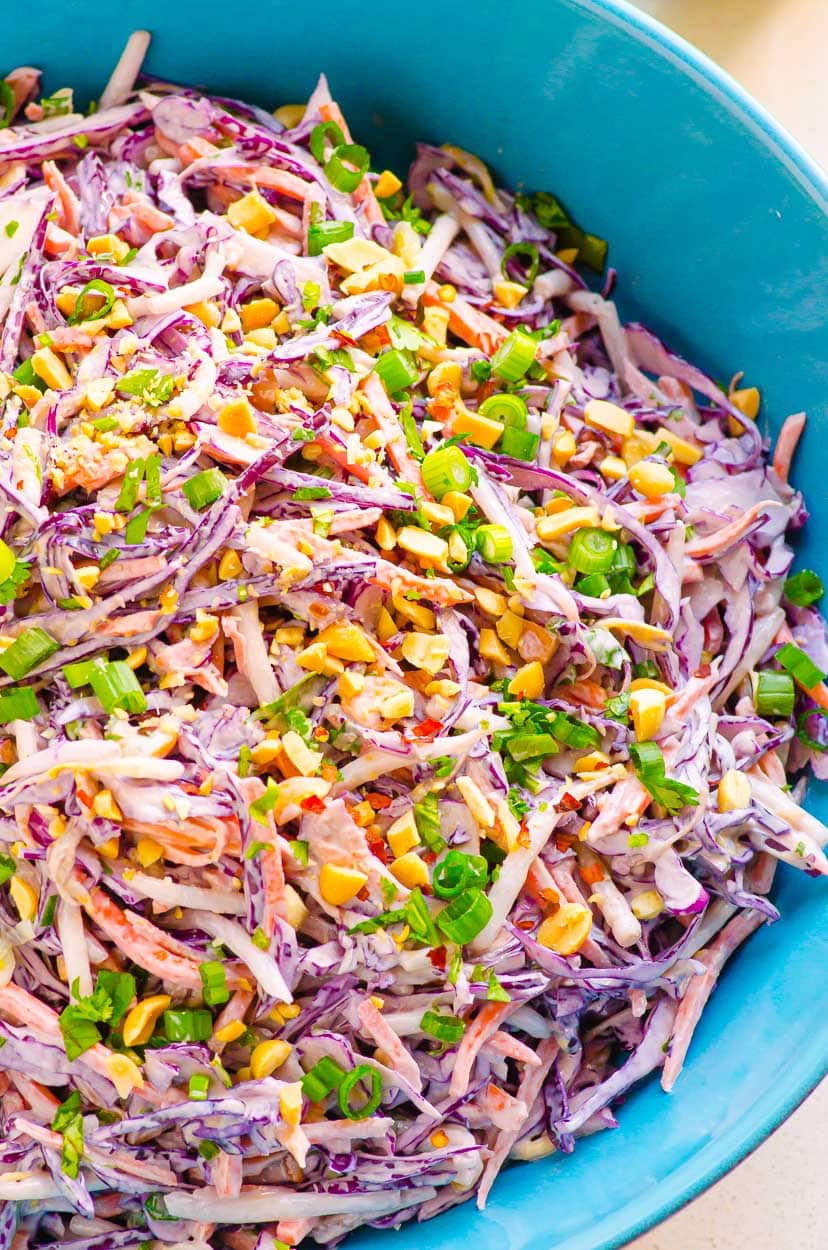 I've already shared recipes for Ukrainian dill coleslaw, a simple healthy coleslaw, fruity mango slaw, and tangy vinegar coleslaw.
Now it's turn for this creamy Asian peanut slaw! There truly is an option for every occasion.
Why You Will Love This Peanut Slaw
This peanut slaw satisfies with flavor and texture with a combination of creamy, crunchy, fresh, tangy, and sweet elements.
You can have this dish from kitchen to table in under 10 minutes for a quick and simple addition to any meal.
The combination of cilantro, red cabbage, green onion, peanuts, and a spice element makes for a delicious peanut slaw recipe!
You can enjoy this as a side dish or healthy light lunch.
It's packed with veggies to encourage even picky kids to eat more healthy ingredients (with no mayo in sight).
Ingredients and Substitutions
All you need for this entire peanut slaw recipe is just a few simple ingredients.
Red cabbage: I used a medium head of red cabbage, shredded. You could alternatively use green cabbage, savoy cabbage, or Napa cabbage. Or even a combination of two varieties.
Carrot: These add a slight natural sweetness to the vegetable combination. Use a bag of pre-shredded carrots, carrot matchsticks or shred them yourself.
Bean sprouts: A bag of bean sprouts is easy to find and super budget-friendly. Plus, they contain several vitamins, minerals, and antioxidants.
Peanuts: Use unsalted raw peanuts for the best results, chopped.
Cilantro: If you aren't a huge cilantro fan, you could substitute the herb with something like fresh parsley. It won't have that signature Thai flavor but will work in a pinch.
Green onions: Scallions add an extra burst of fresh flavor.
Peanut sauce: I use this 5 ingredient homemade peanut sauce.
How to Make Peanut Slaw
Did I mention that this peanut slaw recipe is incredibly simple and quick to prepare?! In fact, it takes just three simple steps.
Prepare the peanut sauce: If you don't already have some in your fridge.
Prepare the salad ingredients: First, shred the cabbage. You can do this with a sharp knife or a mandoline. If you didn't pick up a bag of pre-chopped carrots, then do that now too. You'll also need to chop the green onions.
Combine the ingredients: In a large bowl, combine all the ingredients and gently mix peanut slaw, then serve salad immediately.
Recipe Notes and Tips
Make this into a meal: Toss some of your favorite protein in with the peanut slaw for a quick, simple, healthy lunch. I love to do this when I have leftovers like grilled chicken, baked chicken, or even fried tofu! You could also add noodles.
Use a mandoline or food processor to shred the cabbage: This isn't mandatory, but it makes for quick work and nice, even results. It's a win-win!
Slaw in minutes: Feel free to use pre-shredded veggies or a ready-made coleslaw mix to make this peanut slaw practically effortless!
Add-ins and Variations
For spice: You can add a little spice directly to the peanut slaw with some finely chopped red chili or red pepper flakes.
Other veggies: I love the additional fresh flavor of red bell pepper and the slightly softer crunch for texture variety. Shredded Brussels sprouts, sugar snap peas, edamame, and broccoli also work well.
Noodles: To adapt this into more of a meal, feel free to add some simple stir-fry noodles.
Garnish: Toasted sesame seeds make a lovely garnish to the peanut slaw. I like to lightly toast them with the peanuts in a dry skillet until fragrant. Some slices of lime would also work to add extra flavor to the peanut slaw.
Serving Peanut Slaw
You can enjoy this peanut slaw as a side dish or make it into a main. Here are some of my favorite ways to enjoy it!
Making Peanut Slaw in Advance
Make ahead: You can prepare the vegetables and peanut sauce 1-2 days in advance. Simply combine salad and peanut sauce just before serving
Store: Once prepared, the peanut slaw will keep up to 3 days in an airtight container. Just note that as it sits, the texture will change.
I wouldn't recommend freezing coleslaw, as it will become watery and unpleasant in texture.
FAQs
Can I prevent cabbage from becoming soggy in peanut slaw?
I usually just aim to combine the sauce and veggies just before serving. However, I heard one tip that you can salt the cabbage; add about a tablespoon of salt to the cabbage in a colander and allow it to naturally drain for 2 hours before squeezing out all the excess liquid (it will look limp and wilted while sitting). Once drained, the cabbage tends to stay crisp for longer once dressed!
How do you cut cabbage for coleslaw?
You can either use a mandoline or slice the cabbage by hand. To do so, I cut the cabbage in half, removing any outer leaves that are wilted and the tough inner core. Then hold onto one end and use your knife to cut thin strands. For shorter pieces, cut the cabbage halves into half again.

Did you know you can also shred cabbage in a food processor using a shredding disk? That way, it takes practically seconds!
More Thai Inspired Recipes
More Salad Recipes Recipes to Try
You might also enjoy browsing through my entire collection of healthy salad recipes.
Peanut Slaw
This crunchy Peanut Slaw combines fresh cabbage with creamy peanut sauce, cilantro, and green onions for the ultimate salad.
Ingredients
1/2

medium head red cabbage

shredded

10

oz

bag carrot matchsticks or shredded carrots

8

oz

bag bean sprouts

1/4

cup

peanuts

chopped

1/4

cup

cilantro

chopped

3

green onion sprigs

chopped
Instructions
Prepare peanut sauce.

In a large bowl, add cabbage, carrots, bean sprouts, peanuts, cilantro and green onions. Pour peanut sauce and gently mix for a few minutes. Serve immediately or prepare in advance and combine right before serving.
Notes
Store: Refrigerate in a glass airtight container for up to 3 days.
Nutrition
Serving:
2
cups
|
Calories:
145
kcal
|
Carbohydrates:
17
g
|
Protein:
5
g
|
Fat:
7
g
|
Saturated Fat:
1
g
|
Sodium:
460
mg
|
Fiber:
3
g
|
Sugar:
10
g