These Instant Pot Cabbage Rolls are my lazy unstuffed version where cabbage rolls aren't rolled at all but made into a casserole instead! It's a quick and easy one-pot meal done in a fraction of the time as the traditional recipe. Enjoy the ultimate comfort food from my Ukrainian grandma but with a modern twist and make it in an electric pressure cooker. A time and money saver that will satisfy even the hungriest teenagers!
One-pot meals like Instant Pot chicken and rice (or with potatoes)and Instant Pot rice and beans are in our regular rotation. You can never underestimate the life-changing impact that one-pot, easy clean-up, wholesome, healthy, and hearty meals can have on your lifestyle and your wallet!
Instant Pot Cabbage Rolls
Cabbage rolls have always been a comfort food. Ground meat and saucy rice, blended with herbs and aromatics soaking up all of the acidic tomato flavours balanced with the hearty texture of the cabbage. A true authentic cabbage roll is a labour of love.
But seriously, who has time for that?!
I get that they're cabbage rolls, so the idea is to roll them, but if you ask this Ukrainian (me), there is zero point to it. They're cute for about a minute and then we turn them into deconstructed cabbage rolls as soon as they hit the plate. Topped with sour cream and dill it's a gloriously messy plate of absolute deliciousness, but again, the roll isn't necessary!
Sure, old fashioned cabbage rolls will always be special, and if you have the time and energy to put towards rolling them, have at it. This particular recipe, however, is for those of you who are looking for a short cut and fast and easy way to get all of the signature flavours of a delicious cabbage roll, without all of the extra work!
We LOVE cabbage in our home. I feel like there's cabbage on our table practically weekly, here. With cabbage salad, mango slaw or Ukrainian dill coleslaw, braised cabbage and apple, cabbage and carrot stir fry, and cabbage soup – I'll never run out of ways to use this humble ingredient (and make my kids love it!).
For 2 years straight I have been making this healthy and easy comfort food which is basically a one pot casserole in the Instant Pot! I've even shared a baked unstuffed cabbage roll casserole, too. Either way, my mom might disagree but this is how we enjoy cabbage rolls and there's no turning back. It's perfect for when you want the cabbage roll ingredients, without all the cabbage roll work…which is basically any weeknight!
Keep this recipe handy for when you want to be lazy too 🙂
Why this Recipe for Pressure Cooker Cabbage Rolls Works?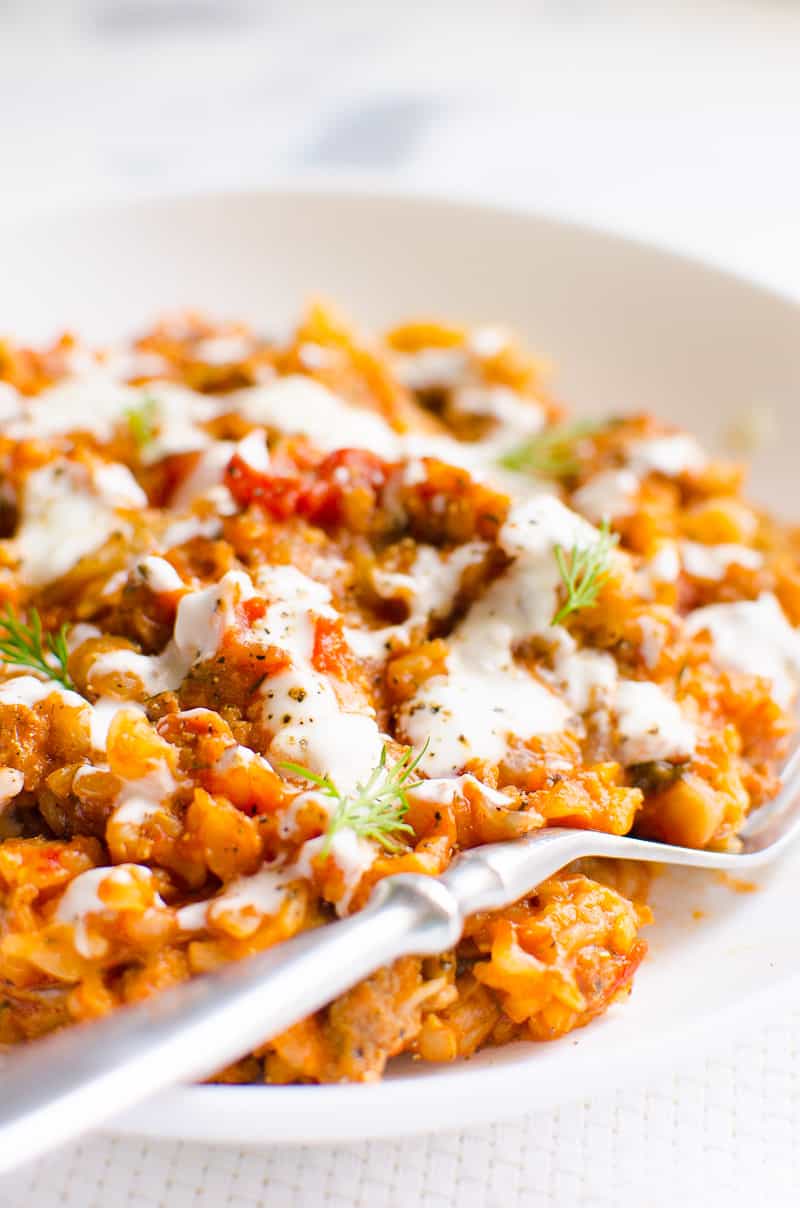 Ingredients for Cabbage Rolls Instant Pot
Tip: Brown rice and white rice will have very different cook times. If you're using brown rice, cook it for 22 minutes. If you're using white rice, you'll only cook it for 10 minutes.
Have you bought an Instant Pot yet? If not, check out which one I recommend to buy based on my experiences from owning a few of them. If you already have one but are still not 100% confident around it, check out my simple Instant Pot guide to get you started.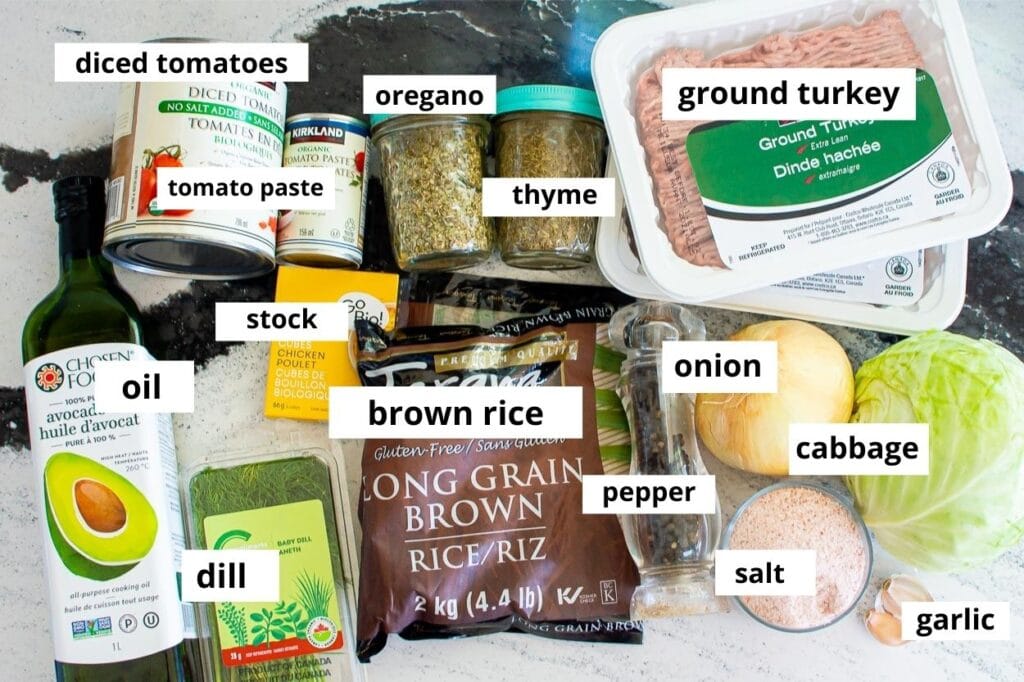 How to Make Instant Pot Cabbage Rolls
I used a 6 quart Instant Pot and the entire batch fit in with no problem. The recipe was tested in 8 quart as well so you can definitely use it if that's the size you have. For 3 quart, cut recipe ingredients in half and keep same cook time.
Tip: See below for my the best most special way to serve this dish!
Tips for Best Cabbage Rolls Made in the Instant Pot
In the past 2 months, I have made Instant Pot lazy cabbage rolls 3 times. That's how much we love it! Hope you do too!
FAQs
Can I use frozen cabbage?

You can! This is a deconstructed cabbage roll with no actual rolling, so there's no need for it to be as flexible. Adding frozen cabbage is just fine!
Why is my rice still not cooked?
Hmmm. Rice can be a bit tricky sometimes and it could really be for a number of reasons. So let's troubleshoot.
1. Do you live at high altitude? Different altitudes will impact the cook time needed for any recipe.
2. Did you see IP come to pressure? Sometimes when we think it's building pressure, it's really not. This is due to the valve not being set properly to sealing or the silicone ring that seals the lid is not in properly or worn out.
3. The type of rice matters. Keep in mind the difference in cook times for brown rice and white rice. Brown rice takes longer but 18-20 min should be plenty.
4. Last, what you could try doing is giving it a stir and allowing it to sit with the lid on. The residual heat will continue to cook the rice and you should be good to go.

Next time you could try adding a few extra minutes of cook time or doing a natural release rather than a quick release.
Can I use buckwheat instead of rice?
Despite the name, buckwheat isn't wheat at all and it is still totally gluten-free. If you would rather use that instead of rice, I would cook it for 10 mins on high with quick release.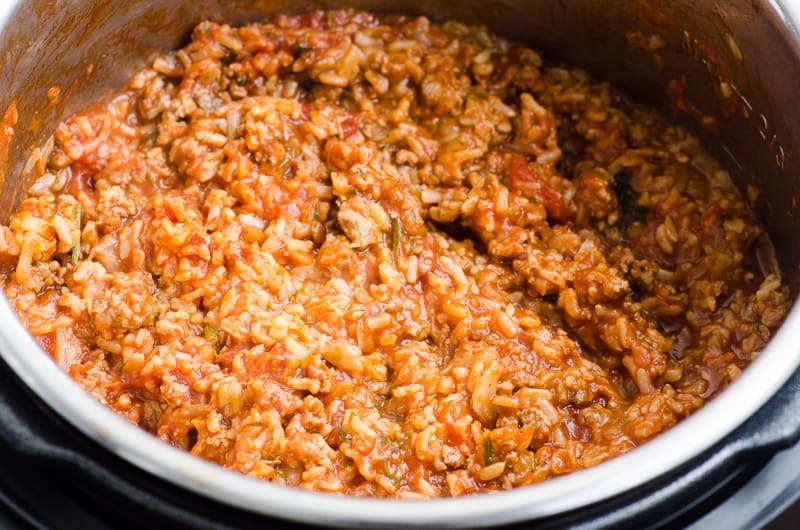 How to Serve Cabbage Rolls
The best I advice I can give you is from my heart. The way we enjoy cabbage rolls is with a generous amount of sour cream or plain yogurt on top and a slice of dark rye bread or the North American version which is toasted whole grain bread. That's it! Literally the best way to eat them, pure and simple.
Don't forget to sop up all that sauce at the bottom of the plate. That sauce is the best! Seriously, YUM!
Making Stuffed Cabbage Instant Pot in Advance
Make ahead freezer meal: Saute the turkey on its own and crumble it up into small pieces. Add all the ingredients, except broth, to a gallon-size freezer-friendly bag (I love these reusable ones) with tomato products going first. The cabbage will be kept separate in a 2nd bag just for the sake of saving space. Freeze for up to 3 months. When you're ready to cook it, cook from frozen with the broth following the directions as listed.
To store: Refrigerate leftover casserole in an airtight container for up to 5 days.
To freeze (cooked casserole): Once completely cooled, transfer to an airtight container for up to 3 months. It freezes beautifully! Thaw on a counter for 6-8 hours or in the fridge overnight. Reheat from thawed.
To reheat: Simmer with a splash of water or stock on low heat. The tomato and spice flavour is so rich, a splash will not dilute the final dish.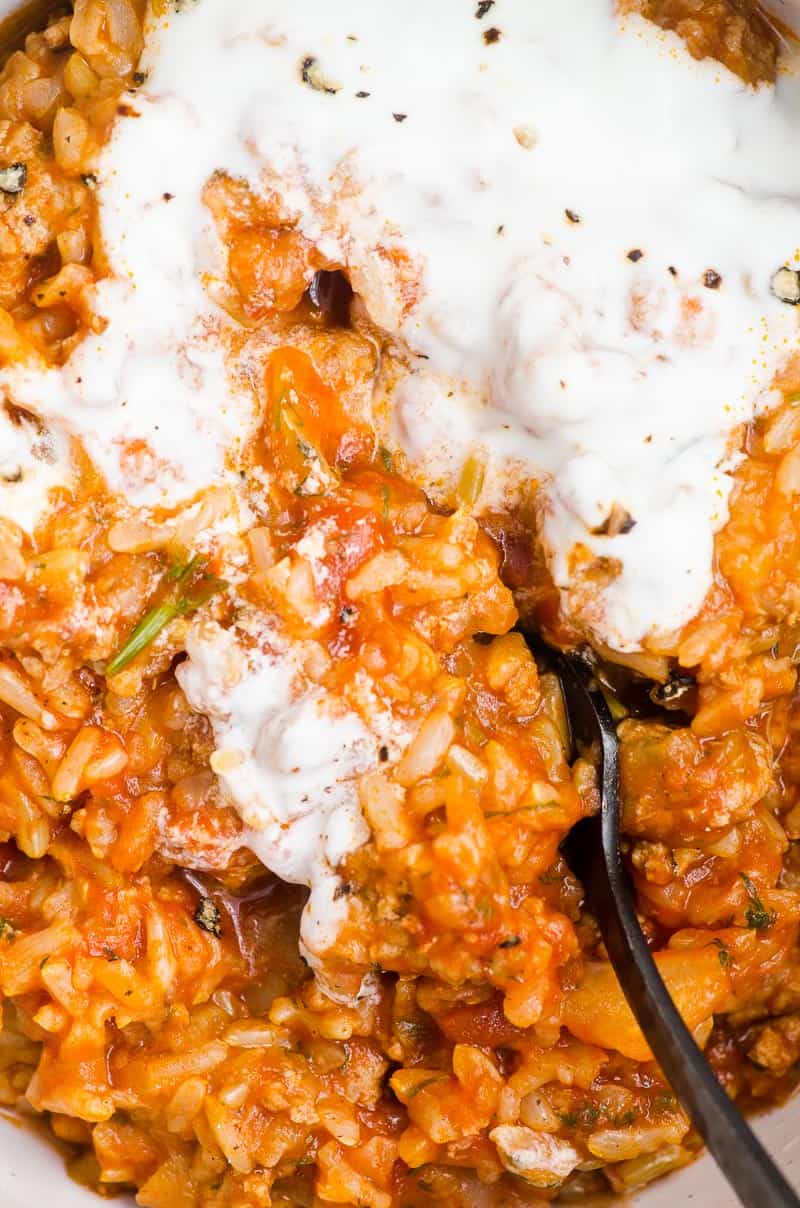 More Instant Pot One Pot Meals
Feel free to check out my collection of other 40 Instant Pot recipes too!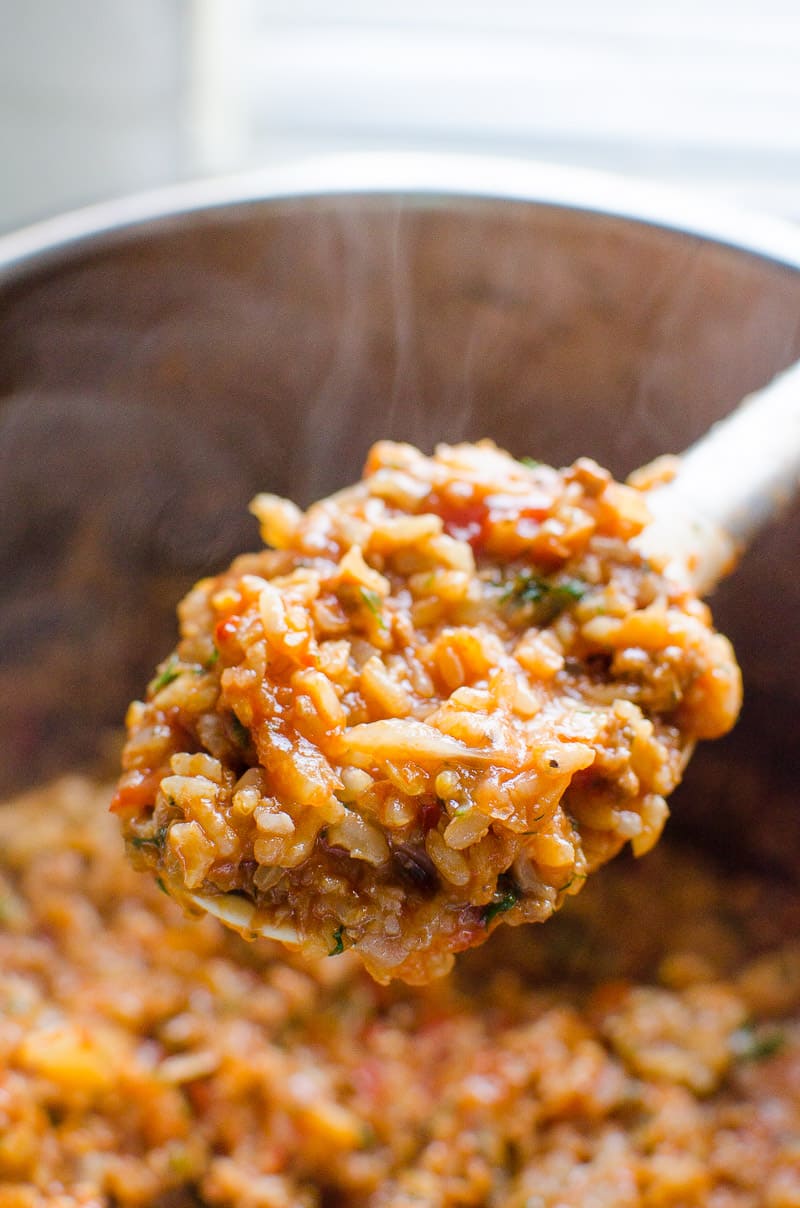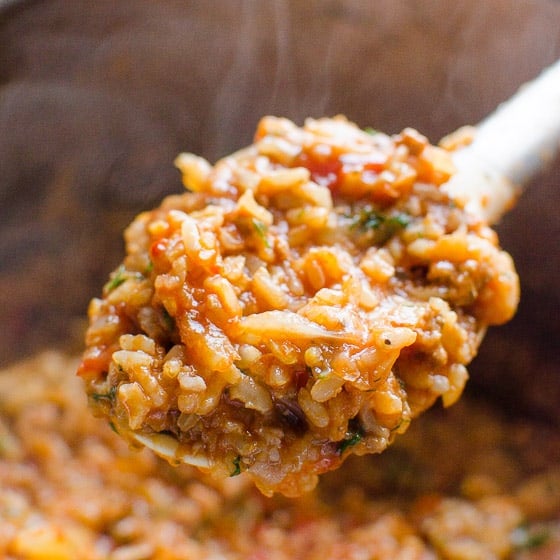 Instant Pot Cabbage Rolls
These Instant Pot Cabbage Rolls are my lazy unstuffed version where cabbage rolls aren't rolled at all but made into a casserole instead! It's a quick and easy one-pot meal done in a fraction of the time as the traditional recipe. Enjoy the ultimate comfort food from my Ukrainian grandma but with a modern twist and make it in an electric pressure cooker. A time and money saver that will satisfy even the hungriest teenagers!
Print
Rate
Ingredients
2

lbs

cabbage

medium-coarsely shredded

1

large onion

chopped

2

large garlic cloves

minced + 1 clove, grated (divided)

2

lbs

ground turkey or other meat

2

tsp

thyme

dried

2

tsp

oregano

dried

1 3/4

tsp

salt
Ground black pepper

to taste

1

tbsp

avocado oil

1 1/2

cups

water + 1 bouillon cube OR any stock

low sodium

2

cups

uncooked brown rice

rinsed & drained

6

oz

can tomato paste

low sodium

28

oz

can diced tomatoes

low sodium

1

small bunch dill

finely chopped

Greek yogurt or sour cream

for serving
Instructions
On Instant Pot, press Sauté and let appliance preheat on high until display says Hot.

Swirl oil to coat, add onion and 2 cloves of garlic; cook for 3 minutes, stirring occasionally.

Add turkey, thyme, oregano, salt and pepper; cook for 4 minutes, constantly breaking meat into small pieces with spatula. Meat won't get browned and some pink pieces are OK.

Add cabbage and stir.

Add water + bouillon cube (stock), rice, tomato paste and diced tomatoes. Do not stir.

Close the lid, set pressure vent to Sealing and press Cancel to turn Sauté off.

Then press Pressure Cooking on High for 22 minutes. Display will say ON, Instant Pot will take about 15 minutes to come to pressure, you will see a bit of steam coming out from a valve, then float valve will rise and countdown will begin.

After 22 minutes, display will say OFF. Turn pressure vent to Venting position and let steam out, which takes 2-3 minutes. I recommend doing so outside to avoid the smell and mess in the house.

When float valve (pin) is down open the lid, add 1 grated garlic clove and dill, then stir gently but well.

Serve hot with Greek yogurt and whole grain toast.
Store: Refrigerate in an airtight container for up to 5 days.
Freeze Leftovers: Fully cook, cool completely and freeze in an airtight container for up to 3 months. Thaw on a stovetop covered on low.
Freezer Meal: Saute just turkey until small pieces. Add all ingredients to gallon size bags with tomato products going first, no broth and cabbage in a 2nd bag (too much to fit into 1). Freeze for up to 3 months. Then cook from frozen with broth for 22 mins (brown rice) or 10 mins (white rice) on High pressure with QPR or NPR.
Notes
Don't pre-cook rice: You add uncooked rice to Instant Pot.
White rice: A few readers have reported success with 10 minutes cooking time on high pressure.
Not low sodium canned tomatoes: Add less salt.
Total recipe time with pressure build up is 40 minutes: And 20 minutes is an idle time to fold the laundry.
Don't stir after you add tomatoes: This way you will not get Burn message.
Shred cabbage not too thin: So it doesn't "dissolve" under pressure. And not too thick so casserole texture is enjoyable.
See recipe post for more tips and FAQs.
Nutrition
Serving:
1.5
cups
|
Calories:
388
kcal
|
Carbohydrates:
52
g
|
Protein:
33
g
|
Fat:
5
g
|
Saturated Fat:
1
g
|
Cholesterol:
62
mg
|
Sodium:
618
mg
|
Fiber:
7
g
|
Sugar:
9
g
Recipes and images are a copyright of ifoodreal.com. It is against the law to republish recipes without permission. Nutritional info is approximate.