Wondering Which Instant Pot to Buy? I will share with you my thoughts after making healthy Instant Pot recipes for 2 years.
If you are new to whole pressure cooker game, you might have heard but not know what Instant Pot is. If so, check out my Instant Pot guide.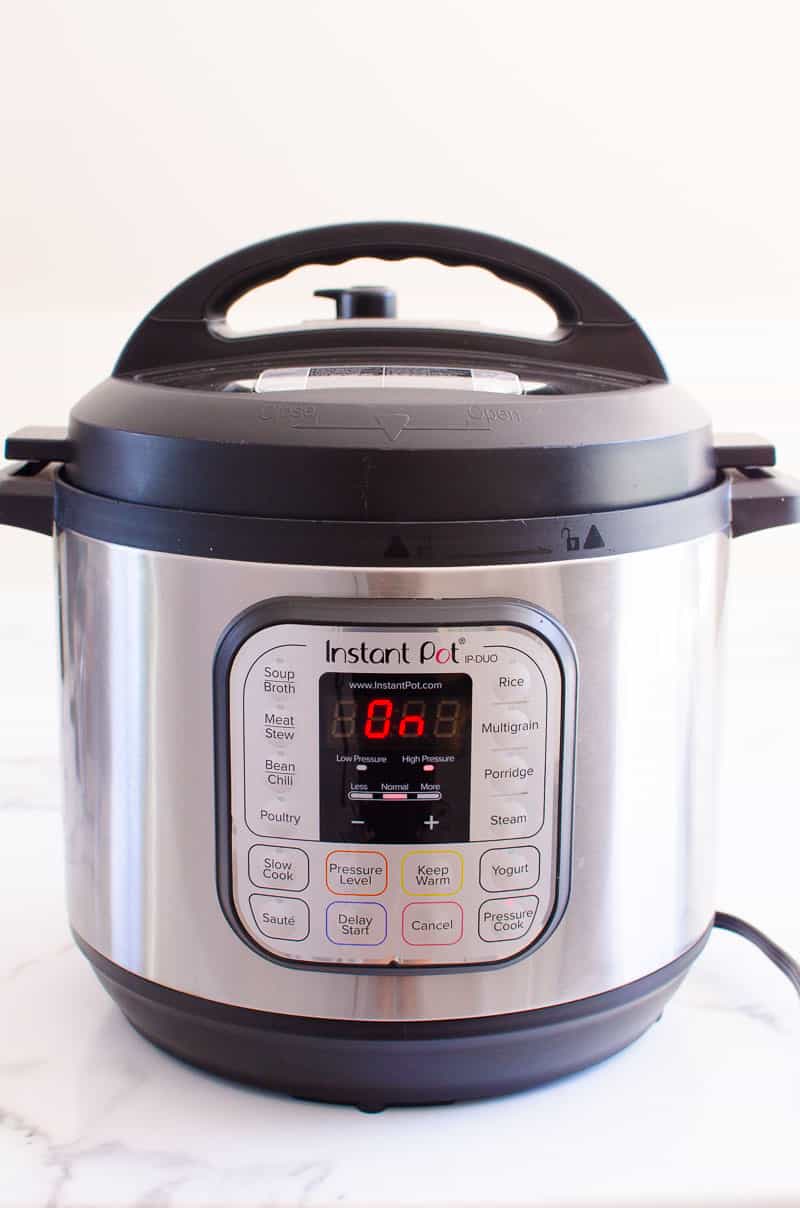 What Is Instant Pot?
Instant Pot is an electric pressure cooker. It is a small kitchen appliance that cooks food fast under pressure. The end result is tasty and tender food in fraction of time and with minimal effort. It is a multi cooker that can be a slow cooker, rice cooker, steamer, yogurt maker and even "bake" cakes. All depends on a model.
But before you blow your mind with a bazillion Instant Pot models out there, let's decide on a size you need.
And by the way, don't worry about 10 different models. It is easier than you think to choose one because I "cracked the code" for you. Just watch this video.
What Size?
Instant Pot comes in 4 sizes: 3, 5, 6 and 8 quart.
It is important to know that when pressure cooking you can fill up Instant Pot only 2/3. The other 1/3 should be left for the pressure to build up. So, basically you will end up with maximum of 2/3 of the pot of final meal. Keep that in mind.
3 quart
For a single person.
For 2 people who do not batch cook or don't like leftovers.
5 quart
It just came out and is pricey. I would just get 6 quart size.
6 quart (most popular + I have)
For 2 people who like to batch cook and enjoy leftovers.
For a small family of up to 4 people.
Family of 4 more likely will not have leftovers.
Anyone who has limited counter and storage space.
8 quart (I have)
For a family of 5 and more people.
For 2-4 people families who like leftovers and batch cook.
For meal prep enthusiasts.
If space is not an issue, this size is for you.
[convertkit form=981664]
Things to Know About the Size
Larger 8 quart Instant Pot takes longer to come to pressure and to bring it down. If making soup with a lot of liquid, larger Instant Pot will take longer to heat the liquid – about 40 minutes. You can always used boiled water to speed up the process. I share about 15 other tips like this one in my Instant Pot guide.
It is really not a big deal in real life. If you make soup, it means you make it beforehand anyways. You throw everything in the pot and walk away. If you need quick soup, you can always make it on the stove in 30 minutes max.
You can also cut recipe in half and use in your 8 quart Instant Pot. Food will cook faster.
Which Model?
This is where most people close Amazon page and give up. There are just so many models and descriptions! I can help you.
Here is what every model of Instant Pot can do:
Pressure cook any food under high pressure.
Make rice, slow cook, saute and steam.
Keep food warm.
Delay cooking.
Then it depends what extra options you need.
Lux
The most basic model.
The cheapest.
Doesn't have Yogurt function.
No low pressure option.
Duo
The most popular model.
A step above Lux.
Yogurt function.
Low and high pressure.
Duo Plus
Ultra
Yogurt function.
Sterilize function.
Extra options like altitude and cooking temperature adjustments by decimal.
LCD display.
Smart
Just like Duo but you can control it with an app from your device. See on Amazon.
So Which Instant Pot to Buy?
I own 8 quart Duo and 6 quart Lux. And I would buy either one again. I love them both!!!
Why? Because:
The only buttons I use are Pressure Cook, Saute and Keep Warm.
I cook on High Pressure all recipes except Instant Pot quinoa. And yet you can cook it on high pressure too.
I never used Slow Cook because there is no point if you can Pressure Cook with Delay Start or Keep Warm.
I use Yogurt occasionally, more in summer. But hey, you can make Instant Pot yogurt without yogurt function.
8 quart is perfect for our family of 4 because we are Ukrainian/Russians. We like stew, soup and leftovers. But 6 quart is often enough too.
99% you will never use Chili, Porridge, Soup, Meat etc. buttons because they are just presets with different timers. Every recipe you will use will call for different time for different cuts of meats etc. Just a neat marketing trick.:)
Maybe if I had a formula fed baby or was a canning enthusiast, Sterilize would matter to me. Or if I was into the latest and coolest gadgets, Smart model would be important. But keep in mind for every extra option you pay extra. Sometimes, twice more.
I personally think if you are on a budget, Lux will do just fine.
So, here is my 2 cents on which Instant Pot I would buy today. Got one? Check out my most popular collection of 30 healthy Instant Pot recipes.
What do you think?
More Instant Pot Resources
Did you know we have entire Youtube channel dedicated to healthy Instant Pot recipes and tips? My goal is to help you become confident with your Instant Pot by demonstrating each delicious foolproof recipe in step-by-step videos.
Make sure to subscribe and hit the Bell icon not to miss new videos.