This real life Instant Pot Guide is for all of you who still have their pressure cookers in the box.
Did you know we have entire Youtube channel dedicated to healthy Instant Pot recipes and tips? My goal is to help you become confident with your Instant Pot by demonstrating each delicious foolproof recipe in step-by-step videos. By doing so, you can learn how to eat healthy using an Instant Pot!
Don't have one yet? Check out my article on which Instant Pot to buy.
This Instant Pot guide for beginners is not about how to open the box and do a water test. That's what manual is for and the company does great job at doing that.
My Instant Pot quick reference guide goes over every possible question and scenario you might come across. After reading this post you will have almost complete understanding of the best small appliance of 21st century.
I am obsessed with my Instant Pot! My healthy Instant Pot recipes are one of the most popular among readers. I obviously want you to become a crazy Instant Pot lady like me. Because it's life changing!
What Is Instant Pot?
Instant Pot is an electric pressure cooker. It is a small kitchen appliance that cooks food fast under pressure. The end result is tasty and tender food in fraction of time and with minimal effort. Foods like beans do not have to be soaked. Tough cuts of meat come ou tender. Food is more flavorful than cooked on a stovetop. It's a magic pot!
If you don't have an Instant Pot yet but are thinking about buying one, I explain which Instant Pot to buy in my humble opinion.
How Instant Pot Works
You add water and ingredients. Close the lid and push a few buttons. 1 – 10 minutes.
Water gets heated and pressure builds up. 10 – 45 minutes.
Food is cooked under pressure faster. 2 – 45 minutes.
Now you have to release the pressure and you have 2 ways for doing so. 1) Natural Release when float pin drops down on its own. 10 – 50 minutes or 2) Quick Release by turning valve to Venting immediately after cooking. 1 – 3 minutes.
Dinner is ready!
Always Add Water
In order for pressure to build up inside the pot, it has to be created. From what? From steam. From water or broth. There is a minimum amount of liquid that has to be added even when "roasting" a whole chicken. Rule of thumb is 1 cup.
Tip: Tomato sauce or juice don't count because their sugars will start caramelize and "burn" warning will go off. On that later.
Don't Fill Up More than 2/3 Full
In order for pressure cooking method to work, the pot of your electric pressure cooker should never be more than 2/3 full when making soup, stew, chili etc., or 1/2 full for expanding foods like rice. Pressure needs room to build up.
If your inner pot doesn't have 2/3 full marking (characteristic of older Instant Pot models and other brands), do your math and calculate your own 2/3 mark. Ignore the cups, L and near the edge Max ticks – they actually are quite inaccurate. Read more.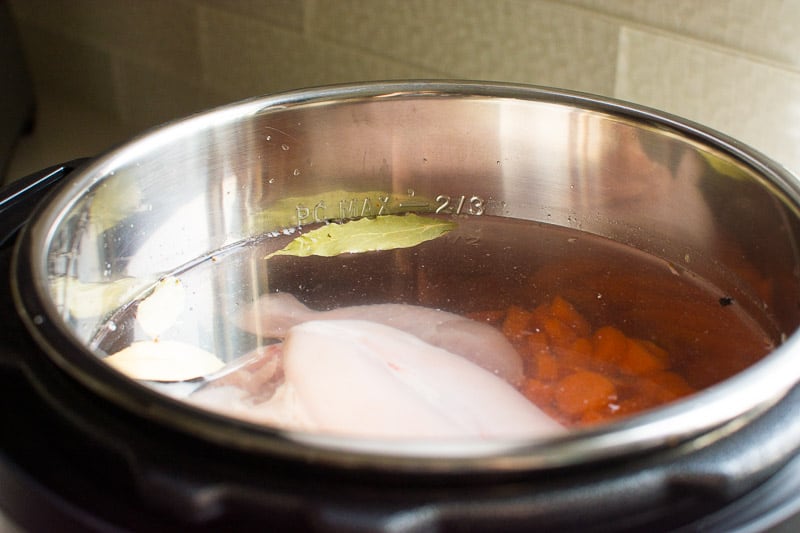 "Manual" Is the Most Used Mode
There are many pre-programmed modes on Instant Pot like porridge, stew, bean, rice etc. but you will find yourself using "pressure cook" with customizable time for the most part. Because ingredients in various recipes differ.
Having said that, there is barely any need to buy 9-in-1 electric pressure cooker.
You Don't Need to Sauté or Pre-Brown Most Foods
Before you rush to convert all your tried and true favourite recipes to electric pressure cooker versions, know many won't turn out the same. The best part with Instant Pot is that you won't need to brown or sauté for most recipes you would have to using a stovetop method. That is because food releases more flavours under pressure.
How to Avoid Dreaded "Burn"
Always add tomatoes on top and do not stir. Because Instant Pot's heating element is located at the bottom and may cause sugars in tomato products caramelize and "burn". Therefore, we add diced tomatoes and tomato paste on top and do not stir.
Read my 10 tips how to avoid Burn forever.
Best Order of Ingredients to Add to Instant Pot
It does matter the order of ingredients you add to Instant Pot to a certain degree. First of all, helps to avoid burn. Secondly, cooks foods like rice properly.
Liquids (except tomato products)
Veggies
Grains (if any)
Meat
Canned tomato products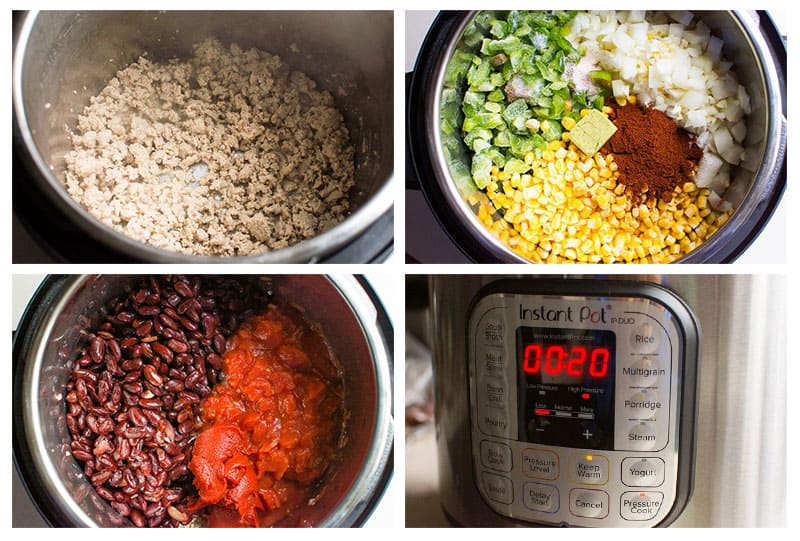 You Don't Have to Stir
With Instant Pot recipes, you don't have to stir. Again, to avoid "burn" but more than that – it's not necessary. The pot is often full already and you will just create extra work for yourself. You stir at the end cooked food. Stirred ingredients will not come out more flavorful than unstirred.
It Takes Time to Build Up & Bring Down the Pressure
If you think you will have brown rice or quinoa cooked in 15 minutes and voila, hold the horses. I thought so too but am glad I didn't know because otherwise I wouldn't have bought this "magic" appliance.
Once you add all ingredients and close the lid, Instant Pot will begin to boil the water, then build up pressure and only after countdown of actual cooking time will start. Usually pressure build up time is 10-45 minutes, depending how much liquid is inside. That is why soup takes the longest.
Afterwards, food is done cooking, Instant Pot needs to bring pressure down. Time again. On that afterwards.
So, why bother then?
Instant Pot Is Convenient for "Walking Away"
Despite its smart name, Instant Pot is not nearly as instant but rather convenient for throwing everything together and walking away. I would say not hovering over food waiting for it to boil, stir or turn off is the best feature of an electric pressure cooker. Completely hands off method is life changing.
It is not recommended by the manufacturer but that's what everyone does. However, when I test recipes without knowing what's gonna happen, I stay near the appliance.
Add Hot Water to Speed Things Up
Turn on kettle at same time you start getting recipe's ingredients ready. Use boiled water when recipe calls for water. This step will cut back time it takes Instant Pot to build up pressure, especially in soup recipes.
Release Pressure Outside
If you are doing Quick Release (letting pressure out) I recommend to unplug Instant Pot and take it outside. This step prevents your house smelling like food for days, dirty countertops and cupboards.
Best Cleaner for Instant Pot
You can start by cleaning inner stainless steel pot with baking soda. Eventually with prolonged use it stopped working for me. The best cleaner to make Instant Pot shiny again is bar keeper's friend. You are welcome.
Keep It Away from Kitchen Cabinets
Steam coming out from release valve during pressure build-up and quick release can (will) damage your kitchen cabinet doors.
Even when cooking and not releasing pressure, keep electric pressure cooker distance away from cabinets because there is enough steam coming out during pressure build-up to do the damage.
Or get Henry or Ruby – steam divirters.
You Can Use Inner Pot on the Stove
To reheat food. Cover inner pot with any 9″ glass lid, refrigerate (cold garage in winter works), then reheat. Saves time transferring food, washing extra containers and pots. Especially, if you don't own a microwave like me.
It Will Not Explode on You 99%
The days of exploding pressure cookers are gone. We all heard horror stories. The difference is that pressure cookers back then were designed for the stovetop. Modern pressure cookers, have many safety features to control the pressure. 99% it will not explode on you.
Instant Pot Replaces Slow Cooker
If you own a slow cooker, 99% you will stop using it once you get the Instant Pot. And if you are thinking about buying a slow cooker, you should buy the Instant Pot because it can slow cook too.
From my own experience, I truly believe slow cookers will become "extinct" in a few years.
Instant Pot Will Grow on You
I have to say I was very sceptical about this appliance back in Fall. I was super against it but it is slowly growing on me. The fact that I can wake up to Instant Pot steel cut oats, cook Instant Pot frozen chicken for dinner in 35 minutes and simply "throw and forget" concept made me fall in love over the heels with an electric pressure cooker.
Would I recommend Instant Pot? ABSOLUTELY.
P.S. Did You Know Instant Pot Is "Canadian"?:)
More Instant Pot Resources
Did you know we have entire Youtube channel dedicated to healthy Instant Pot recipes and tips? My goal is to help you become confident with your Instant Pot by demonstrating each delicious foolproof recipe in step-by-step videos.
Make sure to subscribe and hit the Bell icon not to miss new videos.