Everything you need to know about How to Natural Release Instant Pot. How it's different from Quick Release, when it's safe to open the lid, and how long it takes.
If you plan to use your Instant Pot to make healthy meals for your family, be sure to read my post how to eat healthy using an Instant Pot.
What Is Natural Release? + Video
Instant Pot is a pressure cooker.
How does Instant Pot work? It creates pressure inside the sealed pot from added thin liquid like water. After food is cooked, pressure has to come down before we can open Instant Pot.
Here is how Instant Pot cooking process goes:
Add food and water.
Pressure Cook.
Food is ready.
Release pressure.
Natural Release known as NR or NPR abbreviated means to let pressure inside the pot to come down on its own.
All Instant Pot Resources
How to Natural Release Instant Pot
Do nothing.
I'm darn serious. It's the easiest instruction I have ever wrote on a recipe. Just let Instant Pot sit for some time after set cooking time and open when float valve is down.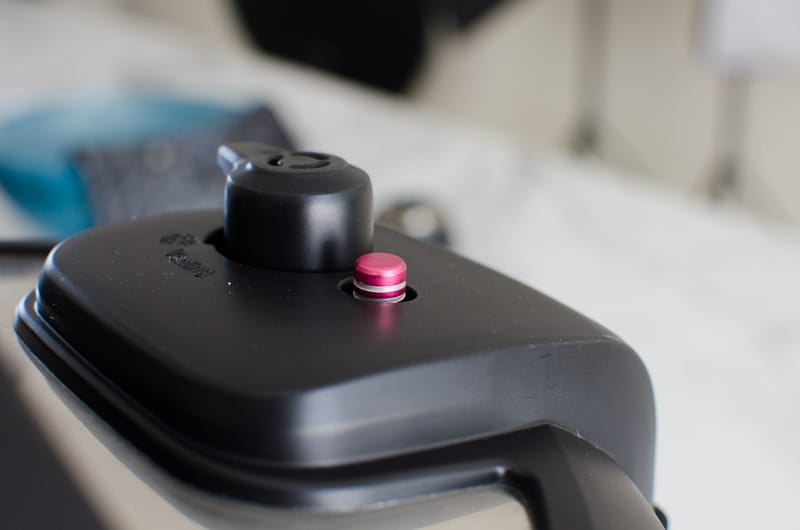 How Do I Know Pressure is Down?
Each model of Instant Pot (I own IP Duo-80) has a float valve – mine is pink.
With Instant Pot Duo:
If float valve is above level of the lid – Instant Pot is still under pressure.
When float valve is at the level of the lid – Instant Pot is not sealed and pressure has been released.
How Do I Know It Is Safe to Open?
Instant Pot manufacturers are smart. This pressure cooker is equipped with a safety feature which doesn't allow lid to open until pressure is down.
So even if you force opening the lid, it will not happen.
What Is Natural Release Time?
Natural Release time depends on:
The size of your Instant Pot – 3 quart, 6 quart or 8 quart.
What's inside – what you are cooking.
8 quart Instant Pot has larger pot (capacity), so larger volume of pressure to build up inside. If it is meal type, barely any liquid in final product recipe like chicken breast or teriyaki chicken, Natural Release takes about 10 minutes. For soup, it could be 40 minutes because all that hot liquid that keeps steam going.
6 quart Instant Pot takes less time to do Natural Release – from 5 to 20 minutes. That's one of the features I like about it but it's a bit too small for us.
Wondering which size works for you? Check out my post on which Instant Pot to buy?!
When to Use Natural Release?
Cooking certain foods like beans is better with NR. It keeps them whole and literally that force doesn't rip beans apart. Also often meat is a bit more juicy even with 10 minutes NR.
But other times, I try to develop healthy Instant Pot recipes with Quick Release. Because time, friends. Time. I need to feed my hungry family asap. Aint' nobody got time for NR.
Difference Between Natural Release and Quick Release
Quick Release or QR or QPR means to turn pressure release valve from Sealing to Venting immediately after cooking is over. All steam will come out full force (pictured above).
Some recipes need to use NR and some QR. Main difference is that food during the Natural Release keeps cooking while pressure is coming down. Which makes sense since it is a hot environment inside the pot.
Ready to try some healthy recipes with Natural Release?
Healthy Instant Pot Recipes using Natural Release
More Instant Pot Resources
Did you know we have entire Youtube channel dedicated to healthy Instant Pot recipes and tips? My goal is to help you become confident with your Instant Pot by demonstrating each delicious foolproof recipe in step-by-step videos.
Make sure to subscribe and hit the Bell icon not to miss new videos.