Everything you need to know How to Quick Release Instant Pot, how it's different from Natural Release, and when to do it.
New to Instant Pot? Check out our beginner Instant Pot recipes and also browse our healthy Instant Pot recipes.
What Is Quick Release on Instant Pot?
So, you got an Instant Pot and would like to make it your kitchen's best friend. Awesome, feel free to check out all Instant Pot tips along with a collection of 32 best Instant Pot recipes for beginners.
As a new pressure cooker owner, you might wonder what do they mean by saying "you have to release the pressure first". What pressure? Instant Pot is an electric pressure cooker which cooks food under pressure that builds up as water heats up inside the pot.
Here is how Instant Pot cooking process goes:
Add food and liquid: After both are in, lid is on with vent on Sealing, Instant Pot will take 10-30 minutes to come to pressure (depending on its contents). It is OK to hear different noises including clicking and hissing.
Food is being pressure cooked: When there is enough pressure inside, the pin pops up and timer countdown begins. However, your food already started cooking while Instant Pot was coming up to pressure.
Food is ready: Instant Pot will beep (depending on a model) and we need to release pressure inside the pot first before we can open the lid and enjoy our dinner.
Release the pressure: There are 2 ways to do so: using Natural Release or Quick Release.
Now, what is Quick Release?
Quick Release (QR or QPR) is a process of moving the "float valve" ("pressure release valve" or "steam release handle") from Sealing to Venting position immediately after cooking has finished.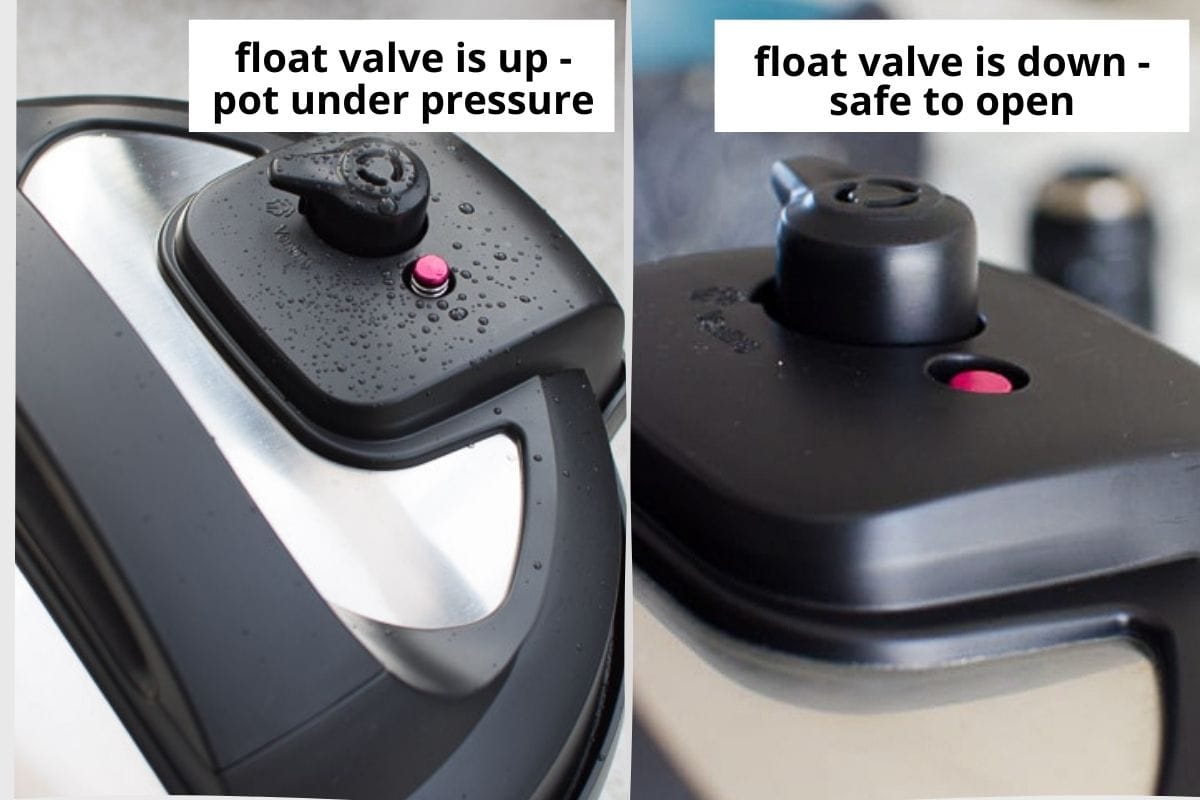 Pictured above is Instant Pot Duo model and its float valve is pink and protruding above the lid. On Instant Pot Lux it is metal and sitting at the level of the lid.
How to Do Quick Pressure Release on Instant Pot
Follow the recipe with Quick Pressure Release.
When cooking cycle is over, display on your Instant Pot will either say OFF or L 00:01 (if you turned on Keep Warm function it will count up to 10 hours while keeping food warm).
To do Quick Release, carefully turn venting knob from Sealing to Venting position, keeping Instant Pot away from kitchen cabinets and your face. If you are a little bit scared, use oven mitts or long wooden spoon.
Quick Release is done when when pressure pin drops down and lid opens. Don't worry, your pressure cooker's safety mechanism will not let the lid open until all pressure is out and it's safe to do so.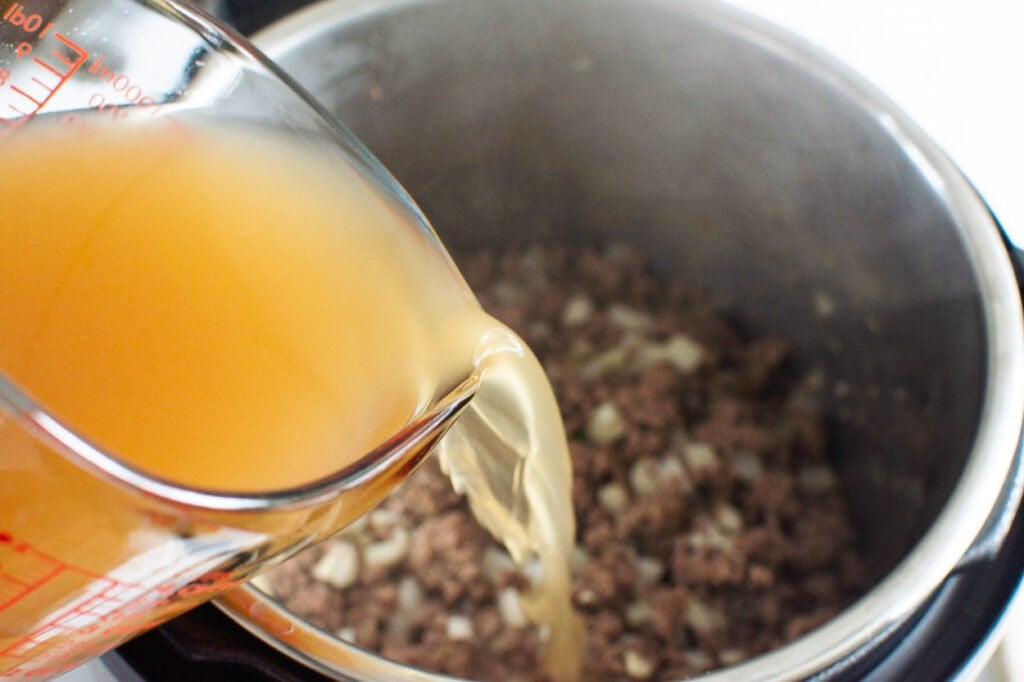 Plan ahead before cooking by not positioning your Instant Pot directly under kitchen cabinets to avoid steam damaging them. However, if you did, just unplug and move it forward a bit by holding onto handles, making sure not to place your face directly above it. I know Instant Pot does have a short cord.
How Long Does Quick Release Take?
Quick Release time depends on what you are cooking. It takes anywhere between 2 – 10 minutes. Large liquid volume recipes create more steam, therefore longer the release.
Here are examples of approximate times for various types of recipes:
More Tips
When you first remove the lid: It is normal to see liquid foods like soups still boiling and bubbling inside. Instant Pot's electric heating element takes time to cool off.
Get a steam diverter: Because we do Quick Pressure Release while things are still really hot and bubbling, there is a lot of steam and possibly splatters (especially with soups). I find a steam diverter like Henry helps tremendously to keep countertops clean and kitchen cabinets undamaged.
To Quick Release high starch content foods: Like pasta in Instant Pot mac and cheese or Instant Pot chicken wild rice soup, it helps to turn the valve on and off multiple times instead of letting steam run continuously in the beginning.
Wait 5 minutes with soups: With Instant Pot soup recipes I recommend to wait about 4-5 minutes. Otherwise, it will splatter a lot around your countertop.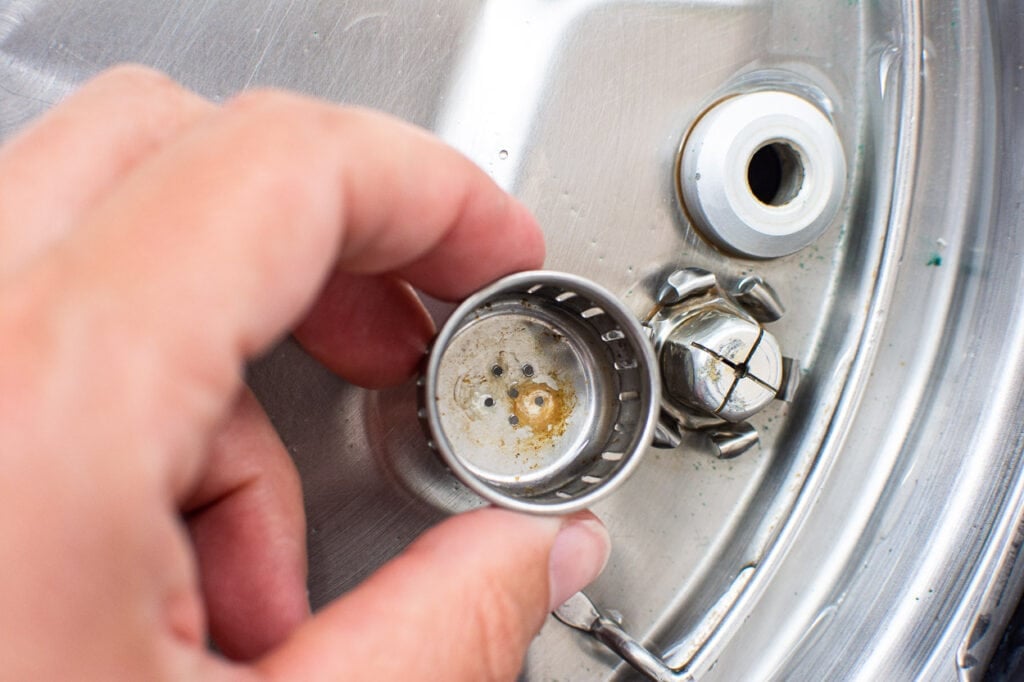 When to Use and Not Use Quick Release?
When to Do Quick Release
First of all, use Quick Release method when the recipe calls for it.
Secondly, Quick Pressure Release is a must with quick ready foods to prevent their overcooking like steamed vegetables, eggs, seafood, salmon and pasta.
When Not to Do Quick Release
First of all, I can vouch for my Instant Pot recipes only. I develop all of my recipes with cook time and pressure release method with the goal of cooking food as quickly as possible without sacrificing the flavor. Otherwise, what is the point of a pressure cooker if it takes longer or requires more steps than a stovetop method, right?! So, if a recipe calls for Natural Pressure Release, don't use Quick Release method.
Foods like beans and whole grains require precise cook time and pressure release because of desirable perfect texture.
Secondly, I also do not recommend to do Quick Release with most (not all) whole pieces of meat, including fresh and frozen. Natural Release helps to lock in juices and improve texture in meats, fresh or frozen, like pressure cooker pulled pork. Also with frozen meat recipes like Instant Pot frozen chicken, for example, chicken is actually finishing to cook while pressure is subsiding. By releasing pressure prematurely, you are at risk of ending up with uncooked meat.
When It Doesn't Matter Which Release You do – Natural or Quick
With soups and stews without delicate ingredients that can be easily overcooked, like Instant Pot beef stew or Instant Pot vegetarian chili, the type of pressure release does not matter. These type of meals are good for set and forget and come back home later to a warm dinner waiting for you scenarios.
What Is the Difference between Quick and Natural Pressure Release Methods?
Natural Pressure Release (NPR or NR) means to let the pressure subside inside Instant Pot on its own until the pressure pin drops down. You do not turn float valve to Venting after Instant Pot is done cooking like with Quick one. You just let it be. Read more about Natural Release. Float valve malfunctioning? Read how to troubleshoot.
More Instant Pot Resources
Did you know we have entire Youtube channel dedicated to healthy Instant Pot recipes and tips? My goal is to help you become confident with your Instant Pot by demonstrating each delicious foolproof recipe in step-by-step videos.
Make sure to subscribe and hit the Bell icon not to miss new videos.