Why Does My Instant Pot Say Burn, or 10 ways to avoid Instant Pot Burn Message. I'm also sharing how to finish cooking food with Burn message without removing it from the pot.
New to pressure cooking? Check out my Instant Pot guide. If you want to make healthier eating choices, be sure to read how to eat healthy using an Instant Pot. You can also get simple and basic healthy Instant Pot recipes.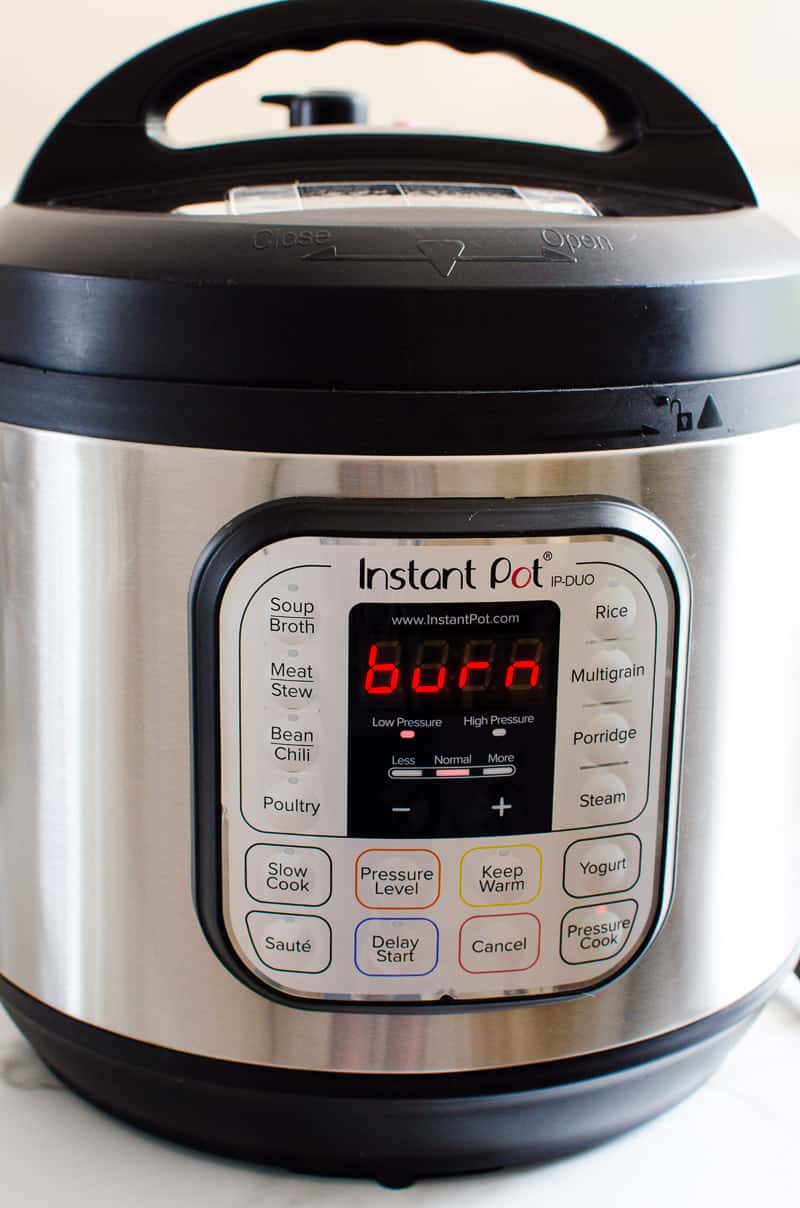 What Is Instant Pot Burn Message?
Instant Pot is a pressure cooker with heating element located at the bottom of the pot. It is an electronic device. A computer, basically. So, don't take it personally which I get is so hard haha.
Burn message means overheat error. It is a safety feature. It doesn't always mean your food is burning literally.
When Instant Pot mechanism detects a high temperature (140°C or 284°F) at the bottom of the inner pot, the "burn-protection" mechanism suspends heating. This often means food at the bottom is getting dry and overcooked.
5 Most Common Reasons & Fixes
Add at least 1 cup of liquid: In order for pressure to build up inside the pot, it has to be created. From what? From steam. From water or broth. There is a minimum amount of thin liquid that has to be added even when "roasting" a whole chicken. Rule of thumb is 1 cup.
Always add tomatoes on top: Because Instant Pot's heating element is located at the bottom and may cause sugars in tomato products caramelize and "burn". Therefore, we add diced tomatoes, tomato sauce and tomato paste on top and do not stir.
After you add tomatoes, do not stir: Again, you don't want to push tomatoes to the bottom. Generally it is completely unnecessary and better not to stir anything in Instant Pot.
If sauteing, make sure to deglaze: Little black bits that are left from sauteing stick to the pot. If they aren't removed, pressure cooker will make them more hot and "think" they are burning. If you deglaze with water and incorporate them into the recipe like I advise, you won't get the "burn" notice, promise.
Always pre-cook ground meat: Adding pieces of meat are fine. But if you add a blob of ground meat without pre-browning it first, it will stick to the bottom and start burning.
Don't have an Instant Pot yet? See which one I recommend to buy based on your lifestyle.
5 Less but Possible Reasons & Fixes
Forgot to turn venting valve to Sealing: If you don't turn venting valve to Sealing position, steam will keep coming out from it. Eventually causing complete loss of water and Burn message. Create a rule to turn valve to Sealing before setting cooking time.
Sealing ring is old, dislocated or missing: Silicone sealing ring wears out. It happened to mine after 1.5 year of 3-4 times a week use. Instant Pot has trouble coming to pressure because steam is leaking through the ring as it's not tight. Just buy new one and replace old one. Easy. It also could have been not placed back properly after a wash, for example. Or even not in place at all. After a wash. All of the above happened to me and I'm pretty organized.
New model: New Instant Pot models seem to be more sensitive to a Burn message. Their heating element is more sensitive. That will explain it all.
Add cream or milk after: You cannot add dairy like milk or cream to Instant Pot for pressure cooking cycle. It will scorch at the bottom and cause burn. Instead, add it after and thicken the sauce on Saute with a bit of cornstarch or flour if necessary.
Sauce is too thick: Not enough thin liquid will cause Burn. We are going back to at least 1 cup water fix.
How to Fix Burn Message if Food Is Already There
OK, Instant Pot is full of uncooked food. It is supposed to make life easier. And now Burn… Been there, trust me.
In my experience, I found that following a traditional suggestion doesn't work. Booklet says to remove everything from the pot, clean it and cook again. Guess what? It will burn again 99% because nothing changed in the ingredients. The problem is still there.
I found a better solution.
Usually Burn shows up when Instant Pot is almost or at pressure. Means the pressure pin is up. Great!
Logically, if it is not a 45 minute pork carnitas of frozen chicken recipe (they are on a trivet anyways so no Burn will pop up), it's an easy fix.
Here is what to do:
Make sure pressure pin is up.
If pressure pin is not up, press on the lid and it will pop up.
Ignore Burn for a few minutes and then press Cancel.
Time cooking time as it says on the recipe and then do Quick Release or Natural Release as per the recipe.
Your food should be cooked. Ta-dah!:)
Was this helpful?
Ready to try one of healthy Instant Pot recipes that do not cause Burn?!:) Would love to hear what you try and like.
Instant Pot Recipes Without Burn 100%
Watch Olena Explain "Burn"
Did you know we have entire Youtube channel dedicated to healthy Instant Pot recipes and tips? My goal is to help you become confident with your Instant Pot by demonstrating each delicious foolproof recipe in step-by-step videos.
Make sure to subscribe and hit the Bell icon not to miss new videos.