Why Does My Instant Pot Say Burn and 10 ways how to prevent and fix Instant Pot Burn Message. I'm also sharing how to finish cooking food with Burn message without removing it from the pot.
New to pressure cooking? Start learning the basics with these best of beginner Instant Pot recipes. Also if you want to eat healthy, check out my collection of simple and easy healthy Instant Pot recipes.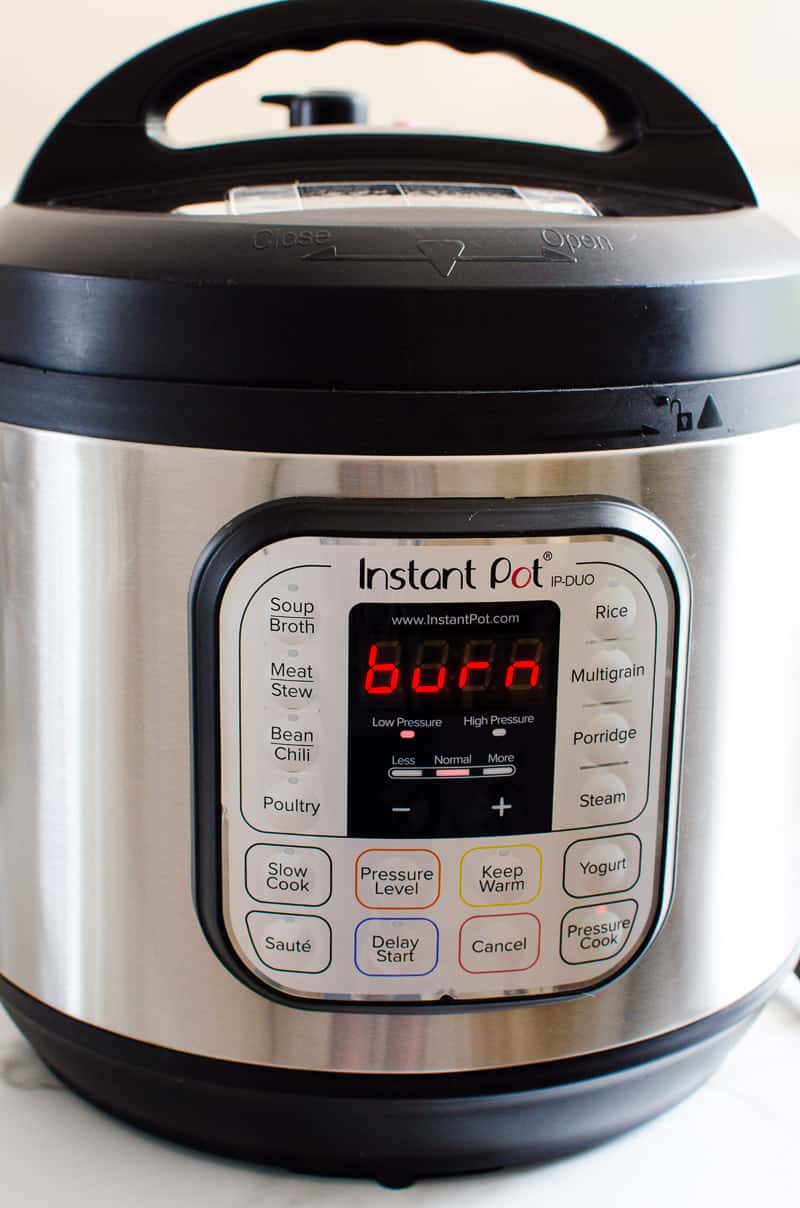 What Does Instant Pot Burn Message Mean?
If you ever used an Instant Pot, chances are you have encountered a Burn, Food Burn or Overheat message at least once. So, what is Instant Pot Food Burn? Let's quickly look at how Instant Pot works. Instant Pot is a pressure cooker with a heating element located at the bottom of the pot. It is an electronic device controlled my many mini computer elements inside.
Instant Pot Burn message means overheat error. It is one of 13 safety features of your electric pressure cooker. Food burn doesn't always mean your food is actually burning and it's time to order take out. When Instant Pot mechanism detects a high temperature (140°C or 284°F) at the bottom of the inner pot, the "burn-protection" mechanism suspends heating. This often means food at the bottom is getting dry and overcooked.
How Does Overheat Protection Work?
The thermal sensors in the Instant Pot automatically monitor and adjust the pressure cooker's temperature inside, earning the Instant Pot its popular "set it and forget it" reputation. It also allows the appliance to recognise when anything is about to burn and turn off the heat before it does.
The inner pot can reach temperatures much beyond the boiling point of water when under pressure, so it's critical that things don't become too hot. The goal of the Overheat Protection feature is to protect both your supper and the cooker itself. When the temperature sensor senses too hot temperature, it shuts down and Burn message appears. Once things cool down enough (which takes a while, so don't wait), the heating element will turn back on and try to complete the cooking cycle. If things get too hot again, Instant Pot will try 5 more times before shutting off for good.
10 Causes Why Food Burn Happens
Add at least 1 cup of liquid: In order for pressure to build up inside the pot, it has to be created. From what? From steam. From water or broth. There is a minimum amount of thin liquid that has to be added even when "roasting" a whole chicken. Rule of thumb is 1 cup.
Always add tomatoes on top: Because Instant Pot's heating element is located at the bottom and may cause sugars in tomato products caramelize and "burn". Therefore, we add diced tomatoes, tomato sauce and tomato paste on top and do not stir.
After you add tomatoes, do not stir: Again, you don't want to push tomatoes to the bottom. Generally it is completely unnecessary and better not to stir anything in Instant Pot.
If sauteing, make sure to deglaze: Little black bits that are left from sauteing stick to the pot. If they aren't removed, pressure cooker will make them more hot and "think" they are burning. If you deglaze with water and incorporate them into the recipe like I advise, you won't get the "burn" notice, promise.
Always pre-cook ground meat: Adding pieces of meat are fine. But if you add a blob of ground meat without pre-browning it first, it will stick to the bottom and start burning.
Forgot to turn venting valve to Sealing: If you don't turn venting valve to Sealing position, steam will keep coming out from it. Eventually causing complete loss of water and Burn message. Create a rule to turn valve to Sealing before setting cooking time.
Sealing ring is old, dislocated or missing: Silicone sealing ring wears out. It happened to mine after 1.5 years of 3-4 times a week use. Instant Pot has trouble coming to pressure because steam is leaking through the ring as it's not tight. Just buy new one and replace old one. Easy. It also could have been not placed back properly after a wash, for example. Or even not in place at all. After a wash. All of the above happened to me and I'm pretty organized.
New model: New Instant Pot models seem to be more sensitive to a Food Burn message, even to a coconut milk. Possibly their heating element is more sensitive and/or inner stainless steel pot is thinner and lighter. That will explain it all.
Add cream or milk after: You cannot add dairy like milk or cream to Instant Pot for pressure cooking cycle. It will scorch at the bottom and cause burn. Instead, add it after and thicken the sauce on Saute with a bit of cornstarch or flour if necessary.
Sauce is too thick: Not enough thin liquid will cause Instant Pot Food Burn. We are going back to at least 1 cup water fix.
What to Do If Your Instant Pot Says Burn
Don't panic. Remember it's just a safety feature to protect your dinner and the pot but doesn't mean it's time to order a take out.
Press Cancel and Quick Release the steam if any. What to do next depends on what you are cooking. If it's a quick cooking food like Instant Pot oatmeal or even chicken and rice and pot is under pressure, see next section "How to fix burn message without removing the food".
Open the lid and remove inner pot on a heat resistant surface (its bottom is hot). Inspect the cooker base and the bottom of the inner pot for any debris and nothing stuck to either. If so, wipe them down.
Inspect the lid. Make sure the sealing ring is in its place and tucked in tightly under the metal "railing". And steam release and float valve are in correct positions, properly assembled and clean.
Inspect the food. It should be badly burnt. Stir and see if there is some scorching on the bottom. If there is a little bit of burn food, stir it well. If there seems to be a lot of burnt food, transfer it to a large pot or bowl, wash the pot (scrubbing burnt bits) and return food to it.
Add more water or broth. You don't need to add a lot but just enough to thin out the food. Add 1 cup for 3 quart, 1 1/2 cups for 6 quart and 2 cups for 8 quart Instant Pot.
Cook as per recipe. Close the lid, set valve to Sealing and restart pressure cooking cycle as per recipe. Because your food is warm or hot now, it should take less time for Instant Pot to come to pressure. Your meal should cook just fine now.
How to Fix Food Burn Message without Removing the Food
Depending on what you are cooking, you might not have to go through the hassle of removing food, cleaning the pot and restarting the cooking cycle. This is not official solution but I found it works for me like a charm, so I am sharing it with you.
Usually Burn shows up when Instant Pot is almost or at pressure. Means the pressure pin is up. Great! Logically, if it is not a 45 minute pork carnitas or Instant Pot frozen chicken (they are on a trivet anyways so no Burn will show up), there is enough pressure built up to finish cooking your meal because it already started cooking while Instant Pot was coming to pressure.
Here is what to do:
Make sure the float valve (pressure pin) is up.
If pressure pin is not up, press on the lid and it more likely will pop up.
Ignore Burn for a few minutes and then press Cancel.
Time cooking time as it says on the recipe and then do Quick Release or Natural Release as per the recipe.
Your food should be cooked. Ta-dah! 🙂
FAQs
Can you ignore Burn message on Instant Pot?
Technically yes. Instant Pot will flash Burn 5 times before shutting off completely. However, by then more food will burn at the bottom. And sometimes it's less or more, depending on which food you are cooking.
Can you override Food Burn on Instant Pot?
No. You cannot press Cancel and restart cooking cycle because Burn message will show up again. However, please see my instructions above how to finish cooking food without removing it from the Instapot.
Can I turn Burn feature off?
Burn is one of 10 safety features of your Instant Pot and it cannot be turned off.
Is Burn, Food Burn and Overheat the same thing?
Yes. The warning message will read "Burn", "Ovht" or "Food Burn" depending on a model.
Still having trouble? Learn 16 common mistakes that can happen and how to troubleshoot them!
Did you know we have entire Youtube channel dedicated to healthy Instant Pot recipes and tips? My goal is to help you become confident with your Instant Pot by demonstrating each delicious foolproof recipe in step-by-step videos.
Make sure to subscribe and hit the Bell icon not to miss new videos.