Make Instant Pot Butter Chicken at home in 30 minutes! This Indian restaurant classic is delicious with tender chicken cooked in a fragrant, savory sauce.
This Instant Pot butter chicken is of Indian restaurant quality but ready in only 30 minutes! That's faster than takeout can be delivered to your door.
Chicken comes out tender and coconut milk sauce flavorful and authentic with a touch of butter. Serve over freshly cooked basmati rice sprinkled with cilantro and naan bread on a side. Delicious!
What Is Butter Chicken?
Butter chicken, known as murgh makhani in India, is an authentic Indian curry with a rich sauce and fragrant spices. I have simplified this recipe with ingredients you may already have on hand or are easy to find.
It's rich and luscious and made in your Instant Pot! Although, you could make crockpot butter chicken or yellow chicken curry if all you have is the stove!
Butter Chicken Ingredients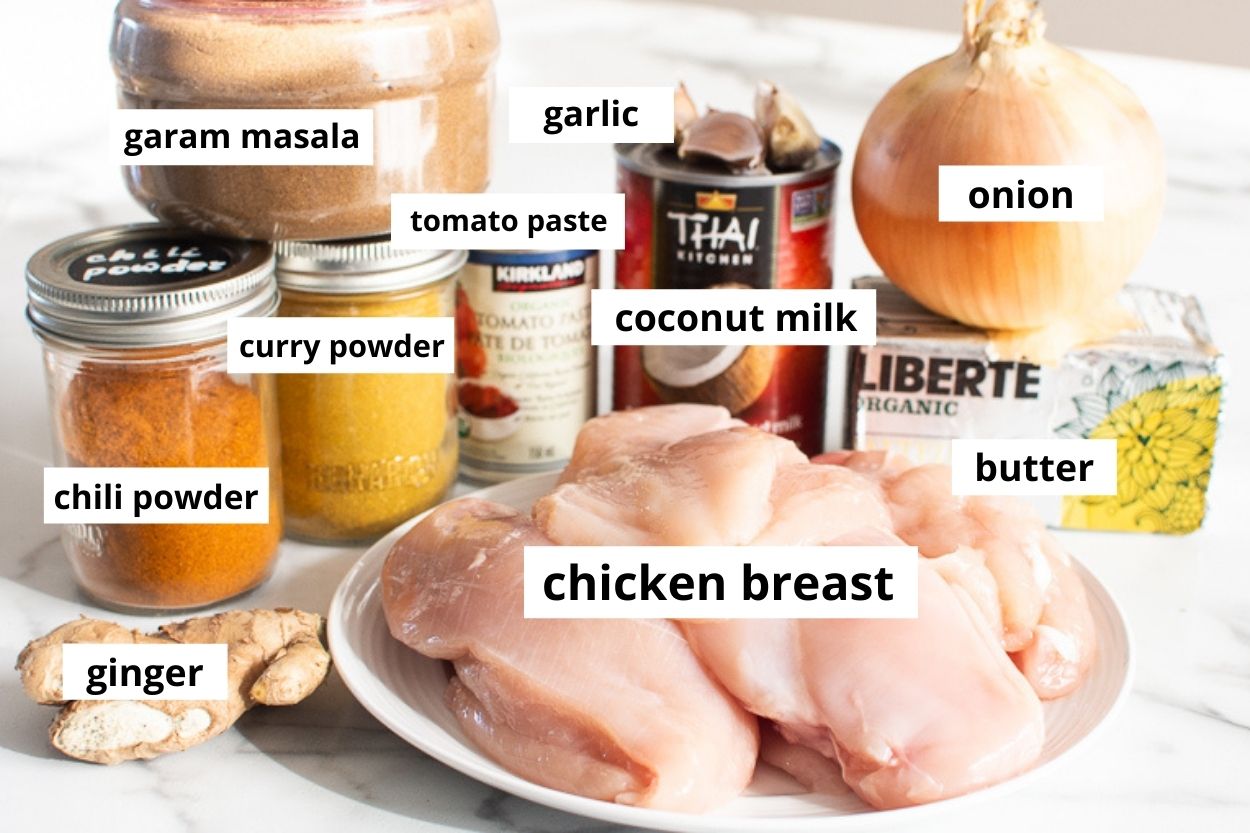 Coconut milk and tomato paste combine together for a rich sauce that is then topped off with butter, so luscious! This is a perfect Instant Pot recipe for beginners or novices.
Chicken: Boneless and skinless chicken breasts or thighs work.
Butter: Just two tablespoons add a richness to the sauce! To keep this Instant Pot butter chicken recipe dairy free, try a dairy free butter or omit.
Coconut milk: From a can, not from a carton. I used full fat coconut milk and my favourite brand is Thai Kitchen for its ingredients and consistency.
Tomato paste: Should be no salt added or low sodium. If not, reduce additional salt.
Cornstarch: To thicken the sauce.
Fresh garlic and ginger: I would not recommend to use dried ginger but you can.
Fragrant spices: Curry powder, garam masala and chili powder. This butter chicken is kid friendly but if you want it spicier, add more spices.
How to Make Instant Pot Butter Chicken
Once you learn how to cook butter chicken in Instant Pot, your takeout bill will drop dramatically! Only a few easy steps and electric pressure cooker butter chicken recipe is ready to eat.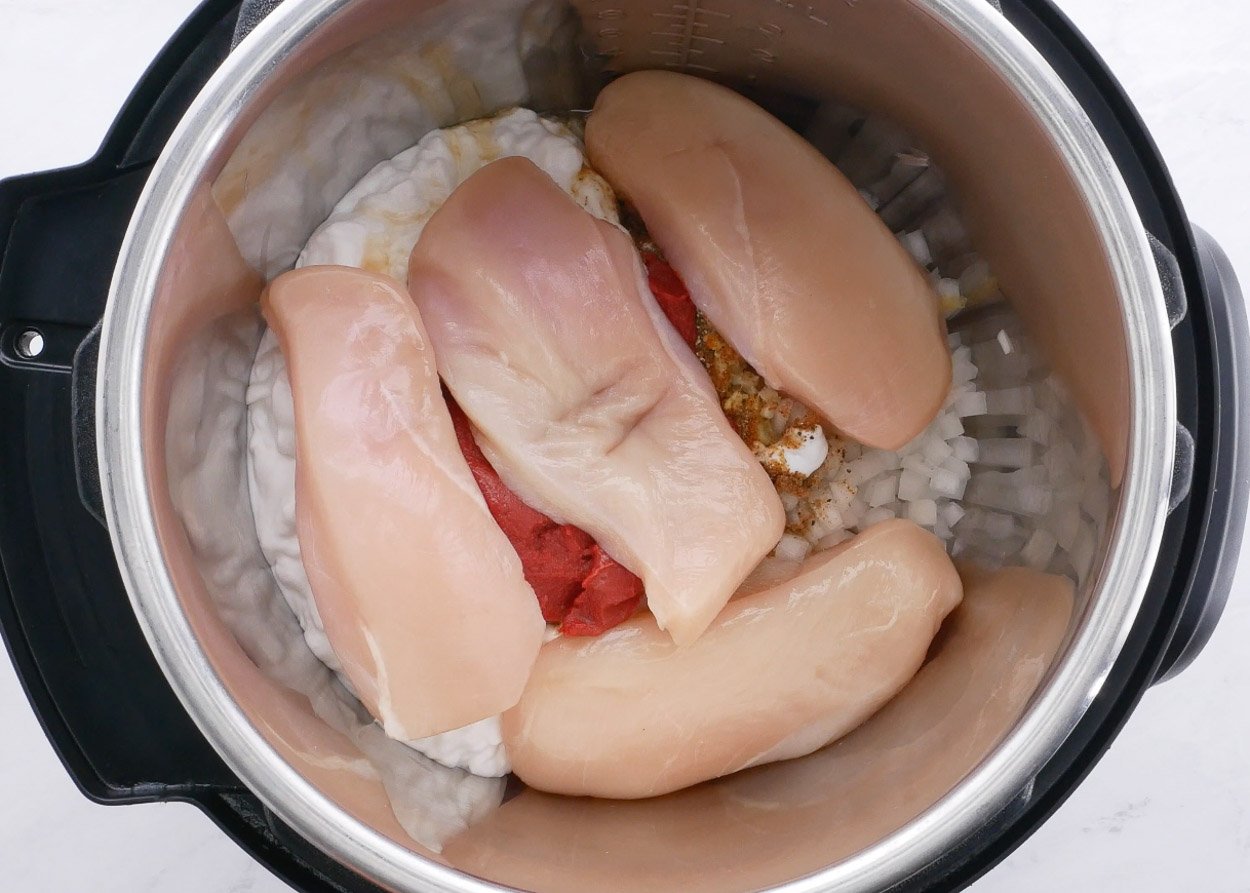 Add ingredients in exact order listed in the recipe: Onion, garlic, ginger, curry powder, garam masala, chili powder, salt, pepper, coconut milk, maple syrup, tomato paste and chicken.
Adding tomato products near top avoids Burn.
Cook on High Pressure for 12 minutes: Depending on the model, you will need to press Pressure Cook button and make sure Instant Pot is set to High pressure.
Or some models have Manual button only which equals to pressure cooking on High.
It will take about 15-20 minutes for pressure to build up.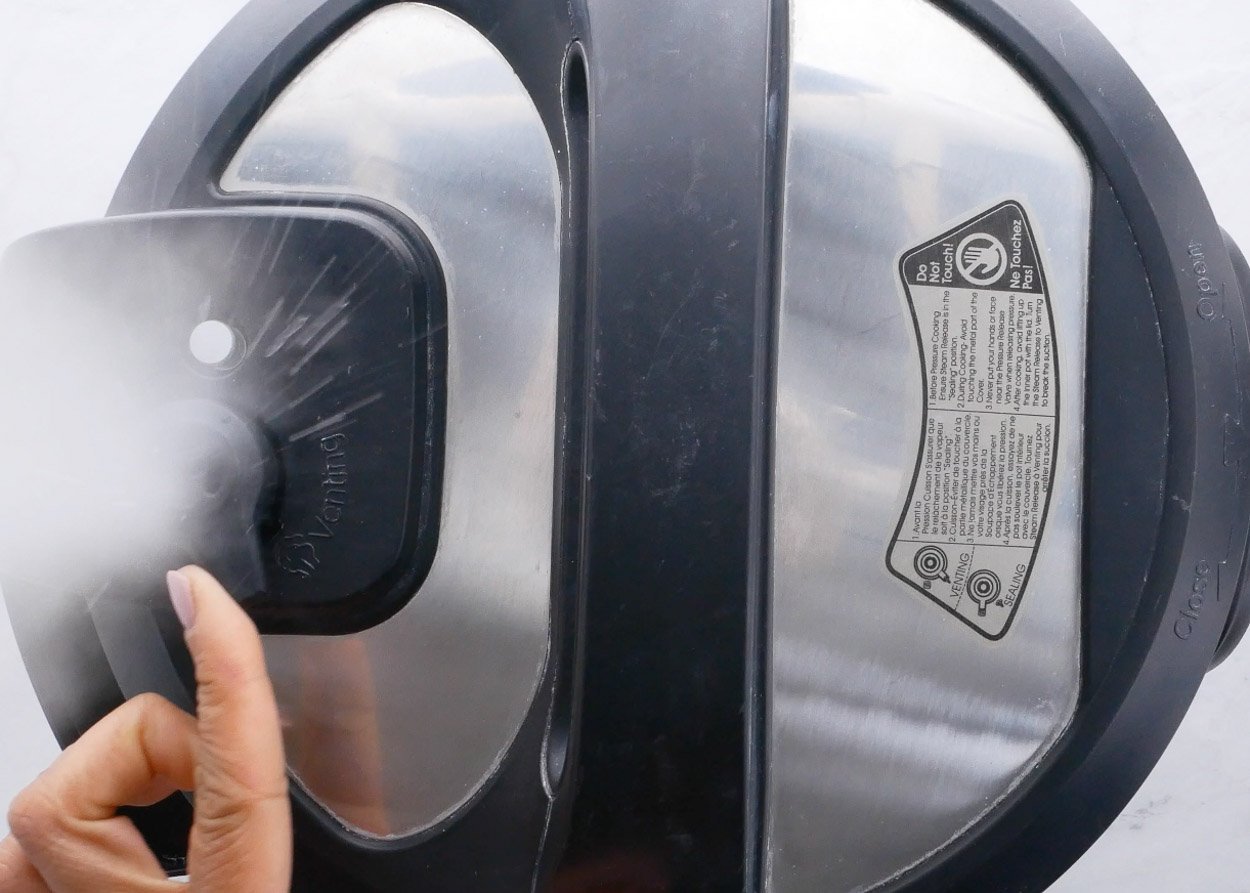 Release pressure: Wait for 3 or so minutes and do Quick Release by turning valve to Venting.
A few minutes of wait are to make sure bubbling comes down and strong pressure doesn't pull out moisture from meat.
You can also wait for pressure to subside on its own called Natural Release. Doesn't really matter for this recipe as pot will stay on Keep Warm.
Remove chicken and add butter: Add butter into sauce, stir and let melt. Meanwhile, cut up chicken on cutting board. Use forks to remove and hold meat as it's hot.
Thicken the sauce: Press Sauté. In a small bowl, whisk cold (!) water and cornstarch with a fork, then add to the pot, stir and cook until sauce has thickened, for a few minutes.
Cold water is important to prevent cornstarch from clumping.
Combine: Add back chicken, give a few stirs.
I like to add some chopped fresh cilantro into the pot and then some over butter chicken when serving with rice on individual plates.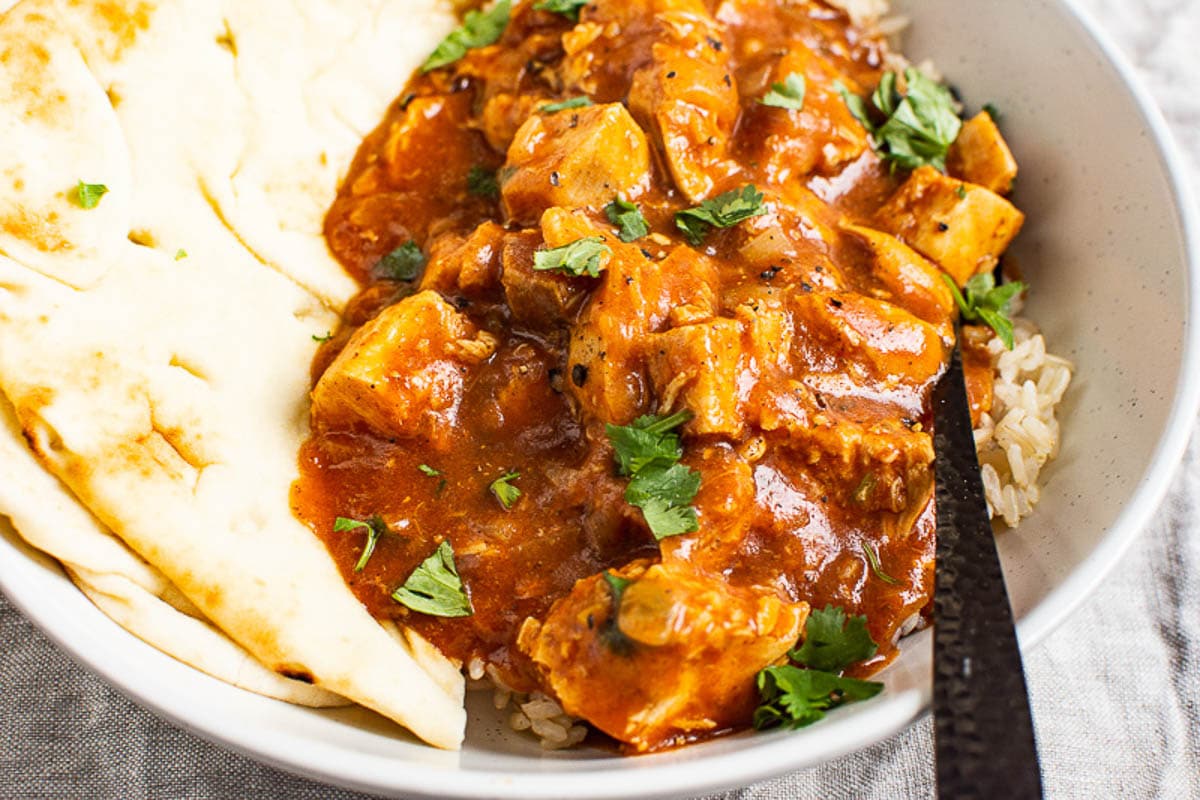 Tips for Best Results
Too acidic? Add additional 1 tsp of sugar or maple syrup to the sauce.
Dried ginger powder: I have not tried replacing fresh ginger with dried, but I recommend to start with 1 tsp. It is more concentrated than fresh. Easier to adjust after.
Garam masala substitute: Combine 2 tsp cumin with 1 tsp allspice. Or just replace with curry powder but taste will be different and not quite the authentic butter chicken recipe taste.
Cilantro garnish: Try parsley or mint.
Bone in chicken: I had this Indian butter chicken recipe originally posted with 3 lbs of chicken drumsticks. Feel free to use them or chicken thighs as well. Cook time will be 20 minutes.
Heavy cream (whipping cream): Or half and half can be used instead of dairy free coconut milk. Sauce will not be as savory or as light.
What To Serve With Butter Chicken?
Storage Tips
Storing: Refrigerate leftovers in an airtight container for up to 5 days. Or if you have room in the fridge, you can stick entire inner pot covered with glass or silicone fitting lid. Then reheat right in Instant Pot on Saute mode. Ha!
Freezing: You can freeze cooked leftovers for up to 3 months. Then thaw in the fridge overnight or on a counter for 6 hours.
Make ahead: Enjoy this Instant Pot butter chicken as a freezer meal! Add all ingredients to gallon Ziploc bag (minus butter, cornstarch, and cilantro). Cook from frozen with 1 cup of water for 30 minutes, then quickly release the pressure.
Check out all my healthy freezer meals for Instant Pot or slow cooker they make busy nights easier!
FAQs
Can I make this with tomato sauce vs. paste?
I have not tested that, but you could. Your sauce will not be as thick or flavorful.
Can I add vegetables to make healthy butter chicken recipe?
I suppose you could but you will want to do this after pressure cooking. Either steam veg separately and then add. Or add frozen peas, frozen peppers, or small fresh cauliflower florets after and they should thaw/cook from the heat.
Can I double the recipe?
Yes, in 6 or 8 quart Instant Pot.
Can I use a 3 quart Instant Pot?
Yes, it will fit, just follow the recipe.
What if I get a burn message?
Release pressure, add 1/2 cup water, don't stir and start again. Newer models are more sensitive. Could happen. Again it doesn't mean food is burning. It's the computer that sensors certain temperature above certain level.

I have 3 Instant Pots and it doesn't happen on any of them.
Can I use frozen chicken?
You can use frozen chicken breasts or thighs, just make sure they are separated. Cooking time should be 15 minutes, just in case. And your pot will take longer to come to pressure.
How can I make this less spicy?
This Instant Pot butter chicken recipe is 'warming'. If you are worried your kids will think it's too spicy, reduce chili powder and curry powder.
More Instant Pot Recipes
Also you have to check out 45 healthy Instant Pot recipes!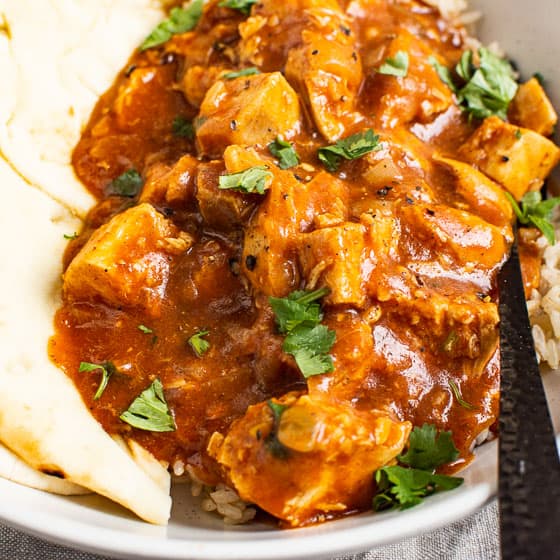 Instant Pot Butter Chicken Recipe
Instant Pot Butter Chicken in 30 minutes with fragrant spices, savory sauce and creamy butter.
Instructions
Close the lid, set pressure vent to Sealing and press Pressure Cook on High or Manual for 12 minutes.

After 12 minutes is up, wait 3 minutes or so, and release pressure using Quick Release by turning valve to Venting.

Open the lid, remove chicken onto a cutting board and cut into bite size pieces.

Press Sauté and add butter. In a small bowl, whisk cold water and cornstarch with a fork, pour into the pot and whisk. Cook for a few minutes until sauce has thickened a bit. Press Cancel.

Return chicken to the pot, stir and serve over brown rice garnished with cilantro.
Notes
Store: Refrigerate in an airtight container for up to 5 days.
Freeze: Fully cook, cool completely and freeze in an airtight container for up to 3 months. Thaw in a fridge or on a counter.
How to Make a Freezer Meal:
Instant Pot: In a gallon size Ziploc bag, add all ingredients (minus butter, water, cornstarch and cilantro). Make chicken breasts are separated with other ingredients. Let air out and reseal the bag.

Freeze for up to 3 months in an upright position, so frozen blob fits into Instant Pot. C

ook from frozen with 1 cup water for 30 minutes, Quick Release.

Slow cooker: Thaw in the fridge for 24 hours before cooking. Cook with 1 cup water on Low for 8 hours or on High for 4 hours.
After cooking: Open the lid, add butter and press Sauté (cancel Keep Warm if it's on). In a small bowl, whisk water and cornstarch with a fork. Pour over chicken and stir gently. Cook for a few minutes until sauce has thickened a bit.
Nutrition
Serving:
2
cups
|
Calories:
435
kcal
|
Carbohydrates:
21
g
|
Protein:
35
g
|
Fat:
24
g
|
Saturated Fat:
17
g
|
Cholesterol:
107
mg
|
Sodium:
532
mg
|
Fiber:
4
g
|
Sugar:
12
g