Instant Pot Pork Carnitas is a flavourful way of making juicy pulled pork with those signature crispy ends topped with quick pickled onions! This recipe makes having your favourite Mexican street food at home so quick and easy, perfect for tacos, burritos and salads!
Make all kinds of budget-friendly, healthy taco recipes so easily you'll never go back to ordering take-out – just check out my Instant Pot shredded chicken tacos, Instant Pot rice and beans and Instant Pot refried beans. These are just three of many ways to use the Instant Pot to create a Mexican-themed party!
Instant Pot Pork Carnitas Recipe
Typically carnitas are done through the low and slow method in a slow cooker like my healthy pulled pork except traditional carnitas are cooked in a large amount of lard. No thanks! Don't get me wrong, it's delicious, but if there's a way to get Instant Pot pork carnitas with the same results only faster and healthier, you bet I'm going to find it.
And I did! This Instant Pot carnitas recipe is made in 1 hour, cooked in a liquid of beer and citrus juices and a seasoning blend that gives it a delicious smoky heat. Once everything is in the pressure cooker, it's totally hands-off until you toss it in the broiler for the last few minutes to crisp up.
Why Make Instant Pot Carnitas?
Easy to make: Instant Pot cuts the cooking time to a little over 1 hour vs. traditional method where it takes hours.
Juicy and tender: Pressure cooker 'locks' in the juices and pork roast comes out very tender.
Full of flavor: You can taste citrusy-garlic-y-spicy juices with every crisp pork taco bite.
Meal prep friendly: And almost hands-off, which means you can make it ahead and keep it in the fridge until you're ready to cook and serve.
The crispy ends: Caramelizing the roast in the oven makes this shredded pork heavenly.
The quick and easy pickled onions: Add a whole other layer of fresh vinegar crunch! They're optional but honestly, are so good you'll be eating them with your fork.
Versatile: Use crispy pork carnitas filling for tacos, burritos, tostadas, and more! And for my Canadian friends, add it to your poutine!
Carnitas vs Pulled Pork
Carnitas and pulled pork are essentially the same thing, however, carnitas is a Mexican version of it. The signature browning at the end, giving the bits of meat that crispy finish, this is what sets this Mexican pulled pork in the Instant Pot apart from your everyday pulled pork. Both are traditionally made using a low and slow method, but both recipes can also easily be made in the Instant Pot!
Ingredients You Will Need
Pork roast: Pork shoulder aka pork butt roast – same thing and is part of the pig's shoulder. "Butt" goes back to the days when butchers in the Boston area packed the pork shoulder into barrels called "butts." You might also find it under another name, such as picnic shoulder, shoulder roast, Boston butt roast.
Orange: Orange juice from a very large orange or from a carton. About 1/2 cup.
Limes: 2 medium limes or even lemons. Please try not to use bottled juice. It's not the same citrus juice taste and contains preservatives.
Beer: If you absolutely want to make carnitas and don't have beer, use any broth or stock like chicken broth or Instant Pot chicken broth.
Spices: Chili powder, oregano, ground cumin, salt, and black pepper.
Garlic and onion: Aromatics for additional taste.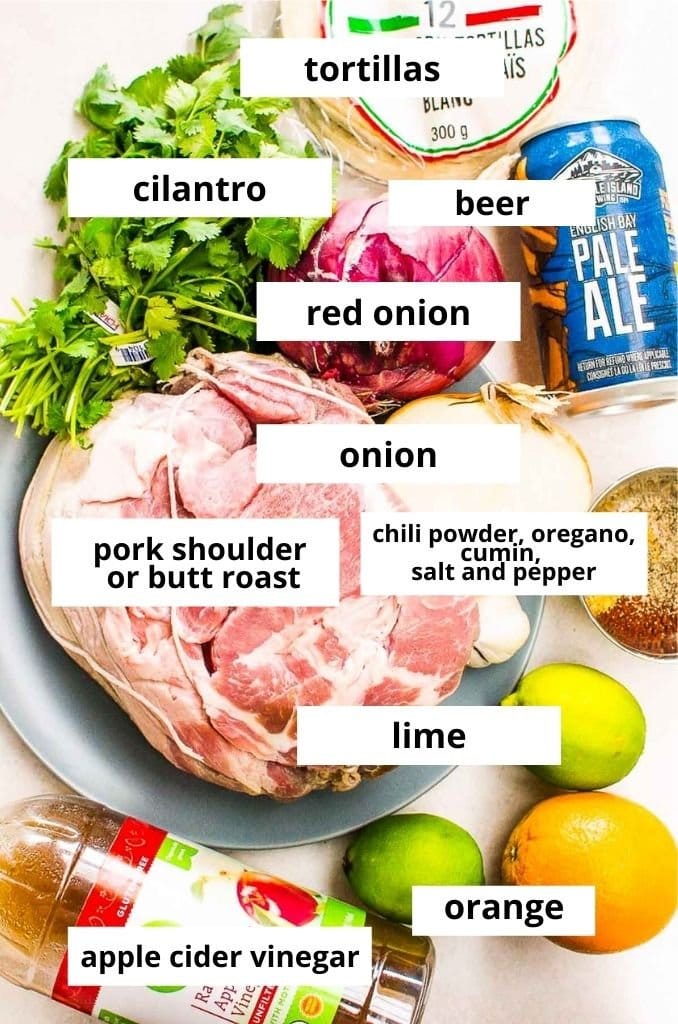 How to Make Instant Pot Pork Carnitas
Season meat by pouring beer, orange, and lime juice over it. Then rub with garlic and sprinkle with spices. Top with onions and citrus skins.
Pressure cook for 1 hour on High pressure. I tried to cook Instant Pot pork shoulder roast for 45 minutes and that wasn't enough. Meat wouldn't shred.
Make quick pickled onions while the roast is cooking by combining red onion, cilantro, water, vinegar, salt, and pepper. Refrigerate. If you have time, check out my friend's Katie from Healthy Seasonal Recipes pickled onions recipe.
Do a quick release, remove meat with slotted spoon and shred the meat. Usually, the Quick release pressure method pulls moisture from the meat but with carnitas, it doesn't matter because pork is fatty. We'll also pour the liquids back on top which keeps it moist.
Broil carnitas until crispy with 1 cup of juices on a large baking sheet. I actually like to save more and pour over meat later to rehydrate it.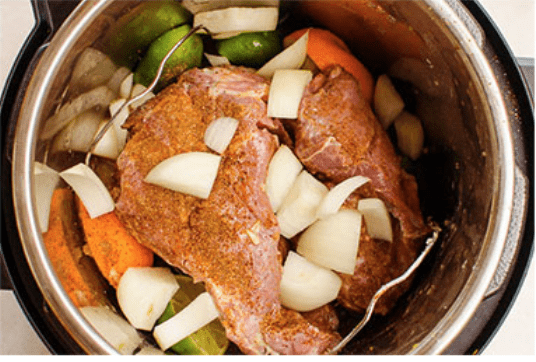 Optional Add-In's and Variations
Roast can be boneless or with bone-in. Pork tenderloin roast is not recommended because it is drier and harder to shred. Due to the health crisis in 2020, however, I ended up using it in the video and just needed extra muscles for shredding.
Coke: Yes, you're reading that right. IF you're indulging a bit and you don't have any beer, using a can of soda can also be used in this – making it a fun pressure cooker carnitas with coke recipe.
Smoky: For an additional smoky flavour, add 2 tsp of liquid smoke or rub some minced chipotle in adobo sauce over the roast.
Spicy: Add chopped jalapeno pepper to the broth. Leave in as many seeds as you can handle.
Chicken: You can totally use boneless and skinless chicken breasts in place of pork. In fact, beef works too!
Tips for Best Results
Fresh lime juice tastes better than from a bottle. Lemon juice would work as well.
Reserve extra juices to rehydrate meat later.
Extra robust flavor: After rubbing roast with spices and garlic, let sit for 30 minutes so spices can 'marinate'.
Authentic carnitas: You can shred and eat the pork immediately, but if you want street taco worthy carnitas, do the extra step and broil the pork to get those crispy ends! 
How to Serve Carnitas
Instant Pot carnitas is super convenient to serve a crowd. Making a big pot serves hungry guests in a totally satisfying way! It's perfect as part of your summer Instant Pot recipes for BBQs, office potlucks, baby showers, etc. Everyone loves Mexican!
I'm usually "lazy" and quick pickled onions add enough flavour anyway. I like carnitas "clean" – Mexican street food style made from scratch!
Mexican Menu Ideas
When thinking about what to serve with your pork pressure cooker carnitas, below are a list of other menu ideas that complement the Mexican theme nicely. They're all easy to follow, delicious recipes, celebrating the fresh, vibrant and healthy flavours of Mexico. Some with a twist!
FAQs
Can I use a skillet to brown the shredded pork?
Yes, you can. If you're not interested in turning on your oven, you can definitely finish your pressure cooker carnitas off in a skillet. You'll want to do this in batches as not to overcrowd the pan. Keep an eye on them because you want to crisp just the ends, leaving the juicy meat intact. You're just looking to sear all the sides, using some of the juices.
Do I need to broil it?
Technically no, but that really is what makes the entire dish! Ok, that's a slight exaggeration but it is definitely traditional carnitas to have crispy ends. So, I change my mind, yes you need to broil it 🙂
Can I make this recipe in the oven?
This versatile recipe can be made in the oven as well as a slow cooker and the Instant Pot. If using the oven, cook pork uncovered in the oven at 350 degrees for 3.5 hours. Turn the pork every once in a while and otherwise follow the recipe as directed.
Can I make this Instant Pot carnitas recipe in the slow cooker?
Definitely. It will shred easier if you leave it for 8-10 hours on low, however, if you have time constraints, 5-6 hours on high will work. You may just need to put more muscle into the shredding part.
What drinks go well with Mexican food?
When serving a crowd, whether at a Cinco de Mayo party, a game day party, or a summer BBQ it's always nice to have drinks available for people who enjoy a cocktail. Because carnitas is fatty, carbonated or acidic drinks are always a good idea. Of course, beer is a good option (organic is even better!) as it will complement the flavours in the meat. Red or white wine, margaritas, tequila, or any cocktail with a citrus kick will work.
Making Pressure Cooker Carnitas in Advance
Make ahead: This step is great for a party. Keep seasoned roast in the inner liner of the Instant Pot, covered with silicone lid in the fridge for up to 2 days. Just before you're ready to serve, cook as per recipe.
Store: Refrigerate shredded pressure cooker carnitas for up to 5 days or freeze for 3 months in an airtight container.
Reheat: Pan fry with a bit of oil, juices, water, or stock until warmed through. Using only oil will make carnitas crispier.
More Instant Pot Recipes
Looking for more dinner ideas plus healthy taco recipes? Check out my most popular collection of 40 healthy Instant Pot recipes.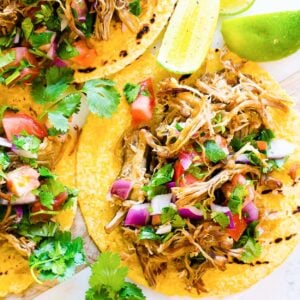 Instant Pot Pork Carnitas
Instant Pot Pork Carnitas is a flavourful way of making juicy pulled pork with those signature crispy ends topped with quick pickled onions! This recipe makes having your favourite Mexican street food at home so quick and easy, perfect for tacos, burritos and salads!
Ingredients
Instant Pot Pork Carnitas
Quick Pickled Onions
1/2

cup

red onion

thinly sliced

1

small bunch cilantro

chopped

1/2

cup

water

1/4

cup

white

white/red wine or apple cider vinegar

Pinch

of salt and pepper
Instructions
In

Instant Pot

, place trivet or

steamer basket

inside. Add pork roast and pour beer, orange and lime juice all over the meat.

In a small bowl, add chili powder, oregano, cumin, salt and pepper; stir to combine. Rub pork roast with garlic and then sprinkle with a mixture of spices all around. Top with onions and citrus skins.

Place the lid on top, venting valve to Sealing and cook for 1 hour on High pressure.

While roast is cooking, make quick pickled onions by combining red onion, cilantro, water, vinegar, salt and pepper in a medium bowl. Stir and refrigerate.

Transfer pork roast onto a baking sheet and shred with 2 forks.

Pour 1 cup of meat juice on top and broil on High at 550 degrees F for 5-10 minutes or until crispy. I would also reserve more juices to rehydrate meat later.

To make tacos, place some shredded pork on a corn tortilla and top with quick pickled onions. ALso can serve with

guacamole

or

pico de gallo

. Enjoy!
Notes
Store: 

Refrigerate shredded carnitas for up to 5 days. To reheat, pan fry with a bit of oil, juices, water, or stock until warmed through.

Freeze: Up to 3 months in an airtight container.
What cut of pork meat? In the video I used tenderloin roast because health crisis 2020. It is much harder to shred than butt or shoulder roast but possible. 🙂
Substitute beer with any stock.
Fresh lime juice tastes better than from a bottle. Lemon juice would work as well.
You can save the juice and use it as a soup or stew base. Just discard the onion.
Also reserve extra juices to rehydrate meat later.
Nutrition
Calories:
164
kcal
|
Carbohydrates:
16
g
|
Protein:
14
g
|
Fat:
5
g
|
Saturated Fat:
2
g
|
Cholesterol:
40
mg
|
Sodium:
394
mg
|
Fiber:
3
g
|
Sugar:
2
g