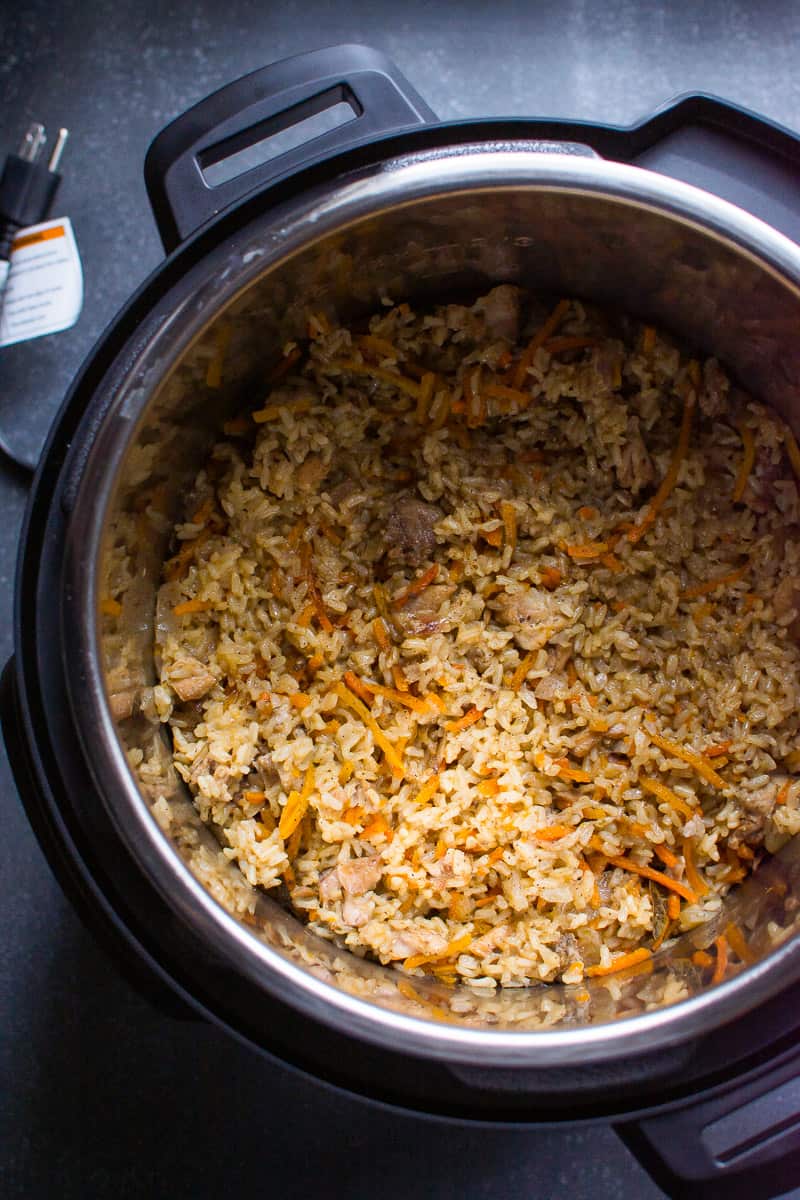 This Instant Pot chicken and rice is so darn good, don't you even think about cutting down the recipe. You will see once you make it, how fast it will disappear. Everyone will go for seconds, absolutely everyone, even though at first it might seem like you can't eat that much but you will. Oh, you will! I learnt my lesson with healthy chicken and rice casserole.
My recipe is simple. It's basically pressure cooker boneless chicken and rice with onion, garlic, carrots, cumin, thyme and oregano. That's it. Slavic countries are known for their outstanding plov (pilaf) dish and this is how we made ours in Ukraine, only we had to hover over it on a stove and wait for more than an hour. With Instant Pot chicken and rice you just throw everything in and forget about it – welcome back into my life.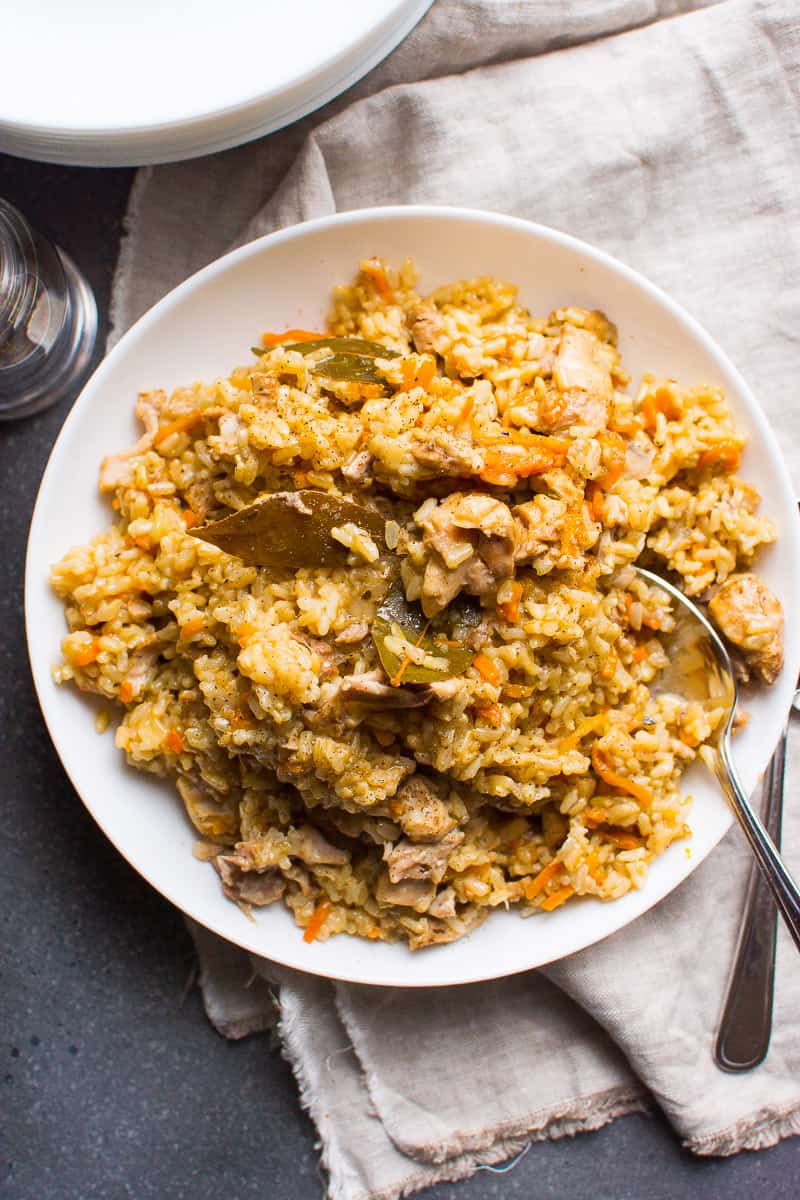 To reap the most health benefits I used brown rice. Each grain came out separate and overall this chicken and brown rice pressure cooker recipe isn't mushy. However, if you want absolutely each grain intact I recommend you use chicken breasts and do Natural Release.
How to Make Instant Pot Chicken and Rice
Instead of pictures, we have a step-by-step video for you today. Enjoy!
Print
Instant Pot Chicken and Rice
My Instant Pot Chicken and Rice is simple Ukrainian pilaf (plov) recipe with onion, carrot, boneless chicken and brown rice. Each grain is separate, kids love it and it's so good you could entertain with it.
Author:
Prep Time:

7 minutes

Cook Time:

26 minutes

Total Time:

33 minutes

Yield:

8 servings
Ingredients
2 lbs chicken boneless & skinless chicken thighs or breasts, cut into 1" pieces*
1 large onion, finely chopped
2 large garlic cloves, minced
3 large carrots, shredded
2 tbsp extra virgin olive oil
1 1/2 tsp thyme
1 1/2 tsp oregano
1 tsp cumin
1 1/4 tsp salt
3 bay leaves
3 cups long grain brown rice, rinsed & drained
3 3/4 cups water*
Instructions
On Instant Pot, press Sauté and let appliance preheat a few minutes until display says Hot. Add olive oil, onion and garlic; sauté for 3-4 minutes, stirring occasionally. Press Cancel and add thyme, oregano and cumin; cook another 30 seconds, stirring constantly.
Now add carrots, chicken, rice, water, salt, pepper and bay leaves. Stir, scrape rice off the walls and level with a spoon to make sure rice is simmering in liquid.
Close the lid, set pressure vent to Sealing and press Pressure Cooking on High for 22 minutes. Display will say ON, Instant Pot will take about 15-20 minutes to come to pressure, you will see a bit of steam coming out from a valve, then float valve will rise and countdown will begin.
After 22 minutes your chicken and rice is ready, Instant Pot will beep and now it needs to bring pressure down before you can open it, which will be indicated by a dropped down float valve. You can let it do it on its own which will take 20-30 minutes – Natural Release (recommended for this recipe). OR you can do Quick Release by turning pressure valve to Venting position, which takes 2-3 minutes. I recommend doing so outside to avoid smell and mess in the house.
Open the lid and serve hot. If you like corn and peas in your chicken and rice, add frozen now and stir.
Store: Refrigerate in an airtight container for up to 5 days.
Freeze: Fully cook, cool completely and freeze in an airtight container for up to 3 months. Thaw on a stovetop covered on low.
Notes
*If using chicken thighs, add a bit less water ( 3 2/3 cups total) because thighs are fattier and add to the liquid content during cooking.
★ Did you make this recipe? Please give it a star rating in the comments.