Zucchini Noodles with Chicken, cilantro and lime is a delicious 20 minute dinner idea that's light, healthy, and gluten-free.
For other zucchini noodle recipes check out this zoodle pad Thai!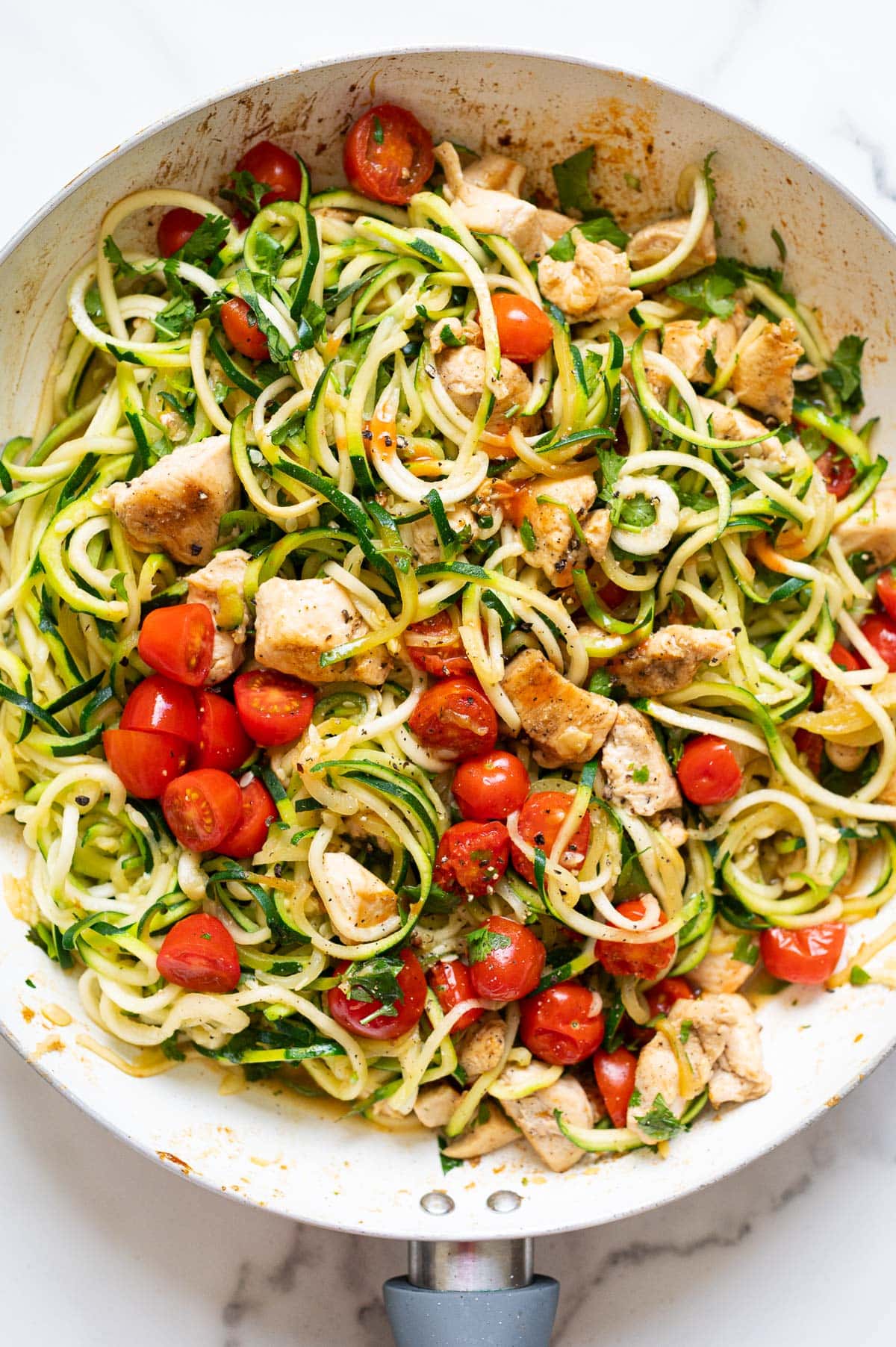 Why You Will Love This Recipe
Ingredients for Zucchini Noodles with Chicken
You'll need a small handful of main ingredients and simple seasonings to make zucchini noodles with chicken.
How to Make Chicken and Zucchini Noodles
Chicken and zucchini noodles are super easy to make. Here is a quick overview with step-by-step instructions, there is also a full recipe card below.
Tips for Best Results and Variations
Here are my secret tips for making the best zucchini noodles recipe!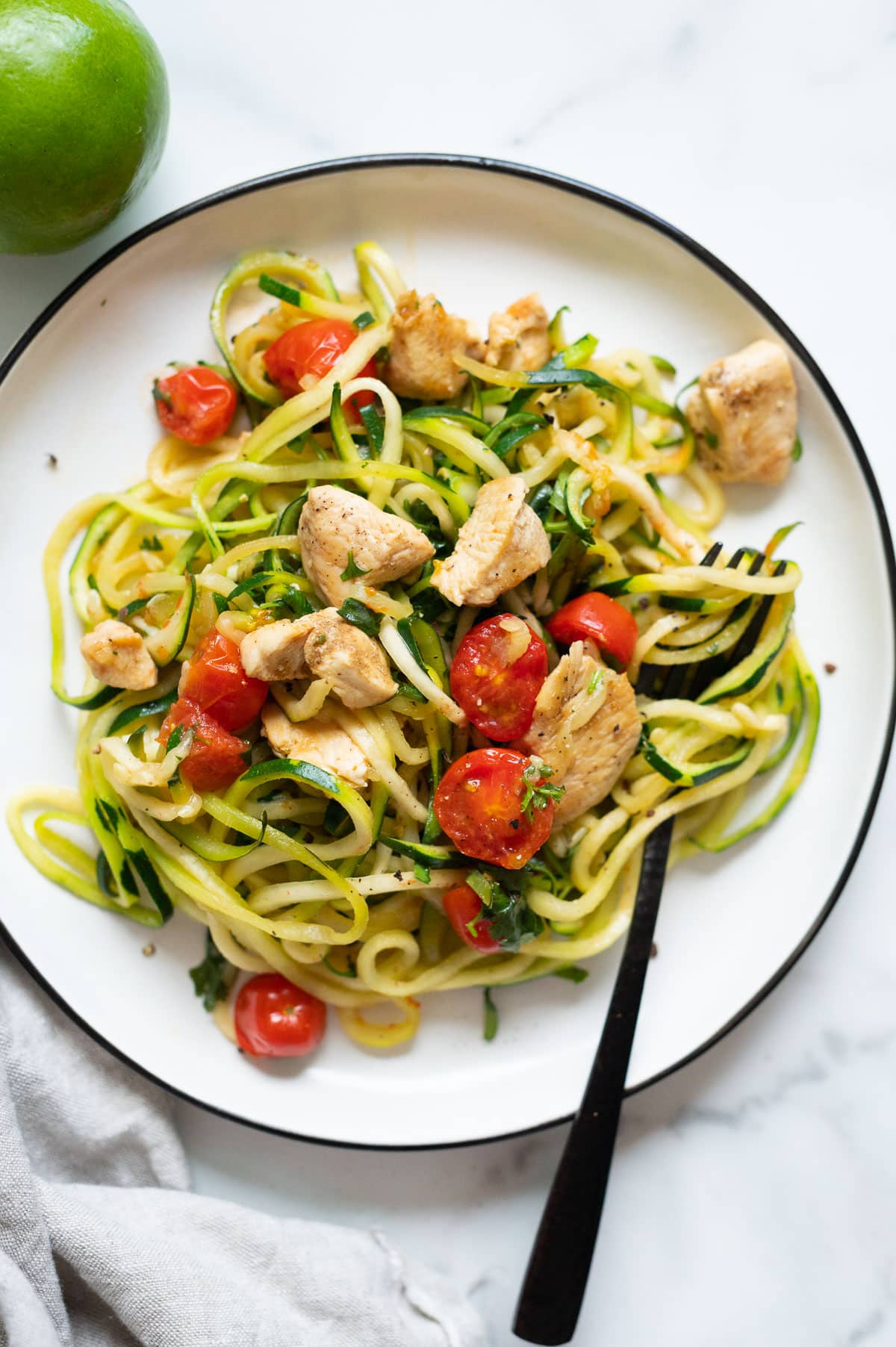 What to Serve Chicken Zucchini Noodles with?
Zucchini noodles with chicken is a low carb, filling meal on its own but you could pair it with a leafy green salad like simple spring mix salad or even a quinoa salad like Jennifer Aniston salad for a heartier meal. Then add a side of garlic bread as a special treat.
How to Store
Store: Place leftovers in an airtight container and store in the refrigerator for up to 2 days. Zucchini noodles were quite crisp and not soggy the next day as well.
Freeze: You can try and freeze leftovers for up to a month, I would remove the tomatoes first. I personally do not freeze them because the flavor and texture changes once thawed.
FAQs
How do you keep zucchini noodles from getting mushy and soggy?
Overcooked zucchini noodles will become mushy and soggy. You can also sprinkle the spiralized noodles with a bit of salt, let them sit in a colander for a few minutes to remove excess moisture, then cook.
Do zucchini noodles taste like pasta?
Zucchini noodles have a neutral taste like pasta. It will absorb the flavor of the sauces and spices you use.
How many calories in a cup of zucchini spaghetti?
One cup of zucchini spaghetti, or "zoodles", has 35 calories.
Should I dry out zucchini noodles?
You can but you don't have to. Just use paper towel to pat the zucchini noodles dry before cooking. Zucchini releases juices when it cooks and because we only sauté it for a few minutes, I don't find the need to dry it out for this recipe.
More Zucchini Recipes to Try
Browse this list of 45 healthy zucchini recipes!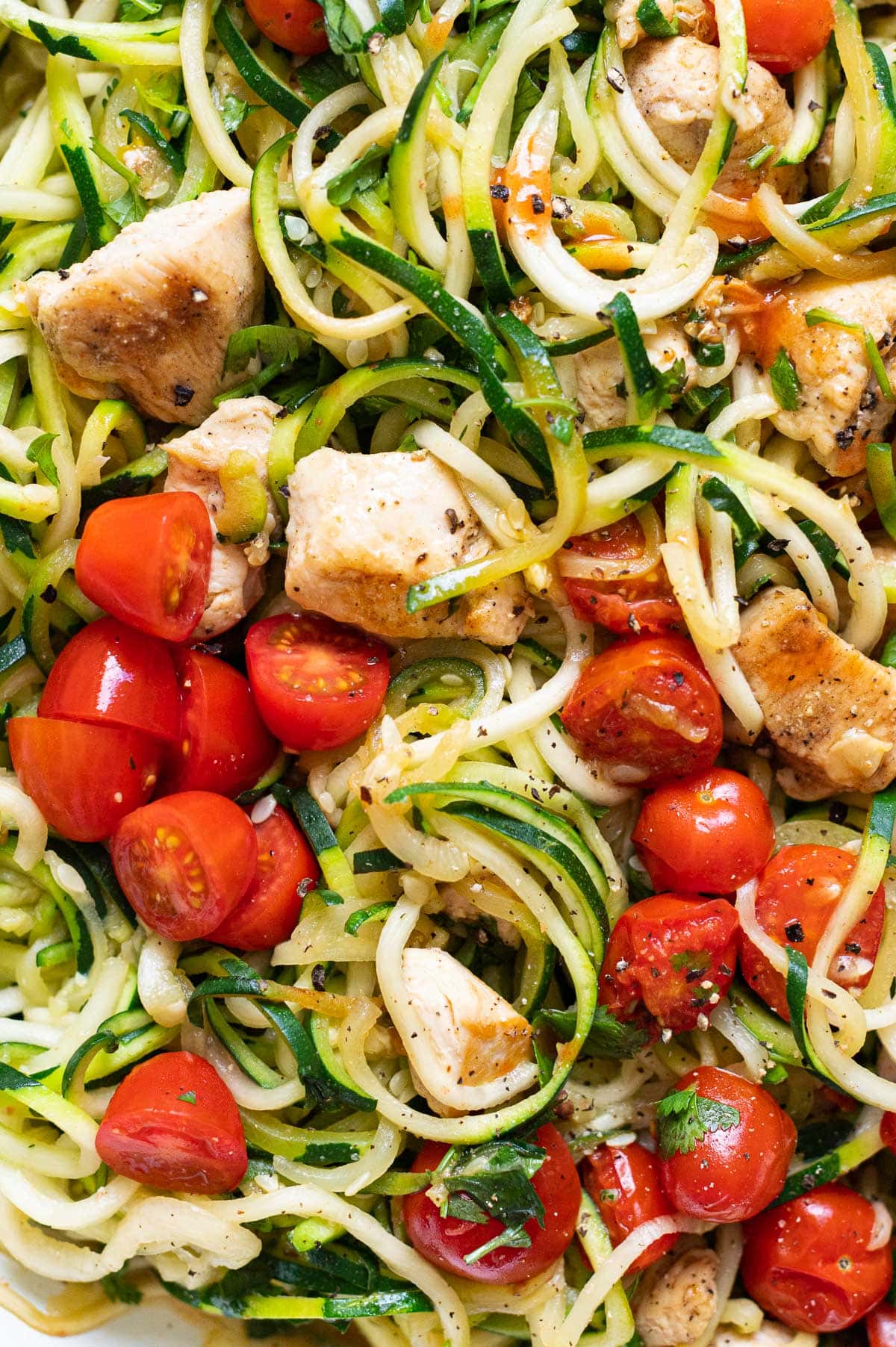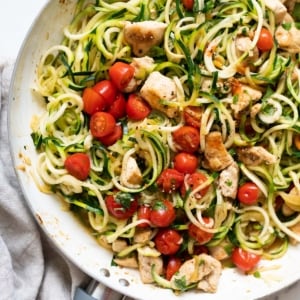 Zucchini Noodles with Chicken, Cilantro and Lime
Zucchini Noodles with Chicken, Cilantro and Lime is delicious 20 minute, healthy and gluten free dinner idea. If you don't have a spiralizer, just chop zucchini.
Instructions
Using a spiralizer, make zucchini noodles, transfer to a large bowl and set aside. You can also chop zucchini into any size pieces instead and cook a bit longer.

Preheat large non-stick skillet on medium-high heat and swirl 1 tablespoon of oil to coat. Add chicken and sprinkle it with cumin, 1/4 teaspoon salt and ground black pepper. Saute for 5 minutes or until golden brown, stirring just a few times and allowing crust to develop. Transfer to a plate and set aside.

Return skillet to the stove, add remaining tablespoon of oil and add zucchini noodles and tomatoes. Saute for 2 minutes, stirring frequently.

Remove from heat and add previously cooked chicken, remaining 1/4 teaspoon salt, lime juice, cilantro and hot sauce. Stir gently and serve hot.
Notes
Store: Refrigerate in an airtight container for up to 2 days.
Nutrition
Serving:
2
cups
|
Calories:
247
kcal
|
Carbohydrates:
12
g
|
Protein:
27
g
|
Fat:
11
g
|
Saturated Fat:
2
g
|
Trans Fat:
0.01
g
|
Cholesterol:
73
mg
|
Sodium:
443
mg
|
Fiber:
4
g
|
Sugar:
7
g