Over 30 Zucchini Recipes to make your favorites more healthy like zucchini bread, zucchini lasagna and even zucchini brownies.
Is it summer? Have you got more than you know what to do with zucchini?
I've collected 30 healthy zucchini recipes from my blog that are reader favorites.
Before we dive in, here are some tips for cooking with zucchini I have learnt over a decade making healthy meals for my family.
Cooking with Zucchini Tips
Types of zucchini – You can use green or yellow, long or round, squash or zucchini in recipes interchangeably.
Don't overcook – Zucchini consists of over 90% water by weight. Follow the recipe and stop cooking squash when it's still firm and might appear undercooked.
Large garden zucchini – If recipe is calling for small-medium cut in half zucchini, slice large garden zucchini into 2 inch rounds on the angle.
Freezing – Zucchini doesn't freeze well because of high water content. Only way I would recommend is to freeze cubed or grated and then use in soups and baking later on.
Health benefits – Zucchini is a superfood full of vitamins A (improves eye health) and C (boosts immune system and guards against asthma), fiber (lowers cholesterol) and potassium (lowers blood pressure).
So, enjoy these healthy zucchini recipes and let me know which ones you try by rating it in a comment section below.
Mexican Chicken and Zucchini cooked in one skillet with black beans, corn, fresh herbs, taco seasoning and melted cheese on top. One pan, low carb and 30 minutes dinner.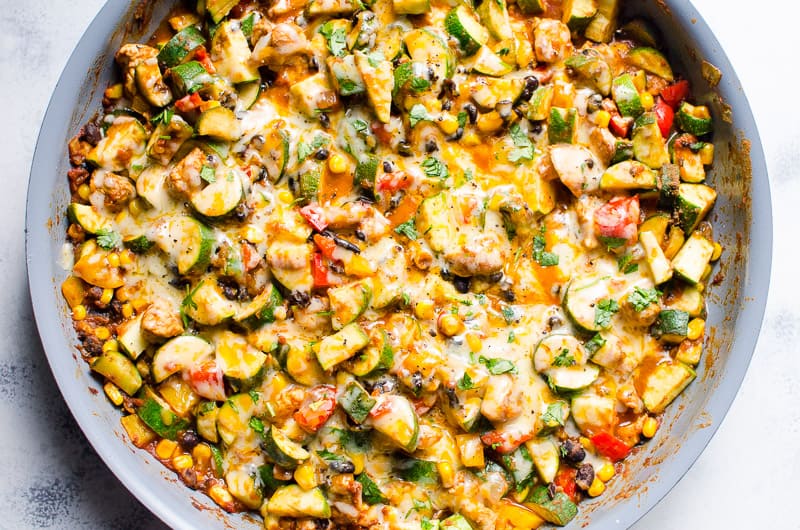 Parmesan Zucchini Sticks are big on flavor, low calorie and outrageously tasty. Slices of zucchini baked until crispy and cheese melted on top with simple spices.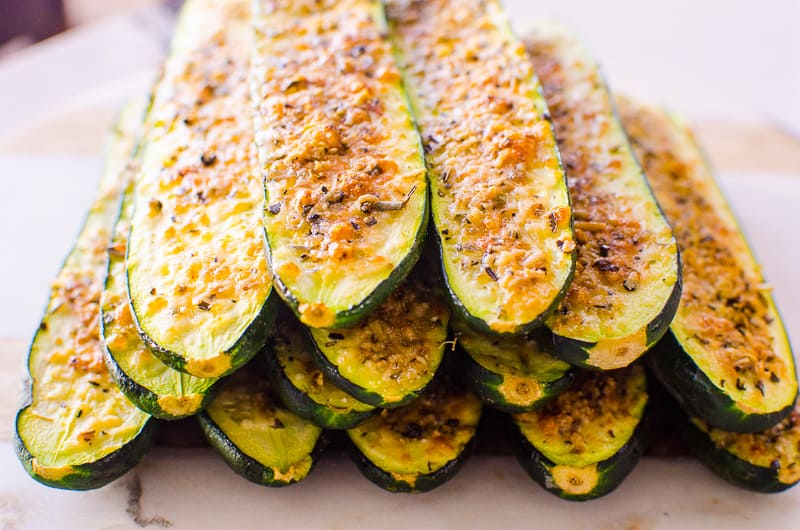 Zucchini Fritters with crispy outside, soft inside and only 5 ingredients. They are perfect for summer zucchini surplus and will disappear at the table.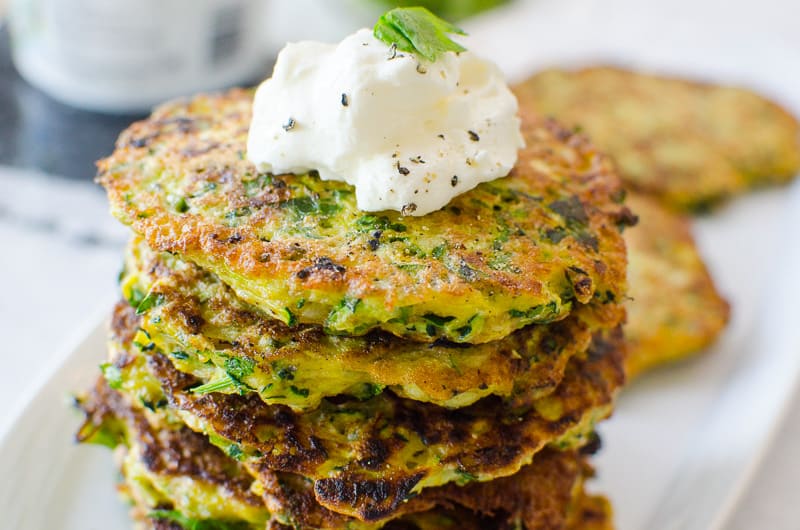 Cheesy Zucchini Casserole uses 3 lbs of zucchini and is so easy, quick and low carb. So much flavor from garlic, herbs and Parmesan cheese. Yum.
This 30 Minute Healthy Ground Turkey Zucchini Skillet with Pesto is delicious low carb one pot dinner recipe that will become your family's favourite! Minimum ingredients and effort with maximum flavour.
Zucchini Lasagna made low carb with layers of zucchini instead of pasta, flavorful turkey tomato sauce and gooey cheese. Classic comfort food experience at only 318 calories per huge slice.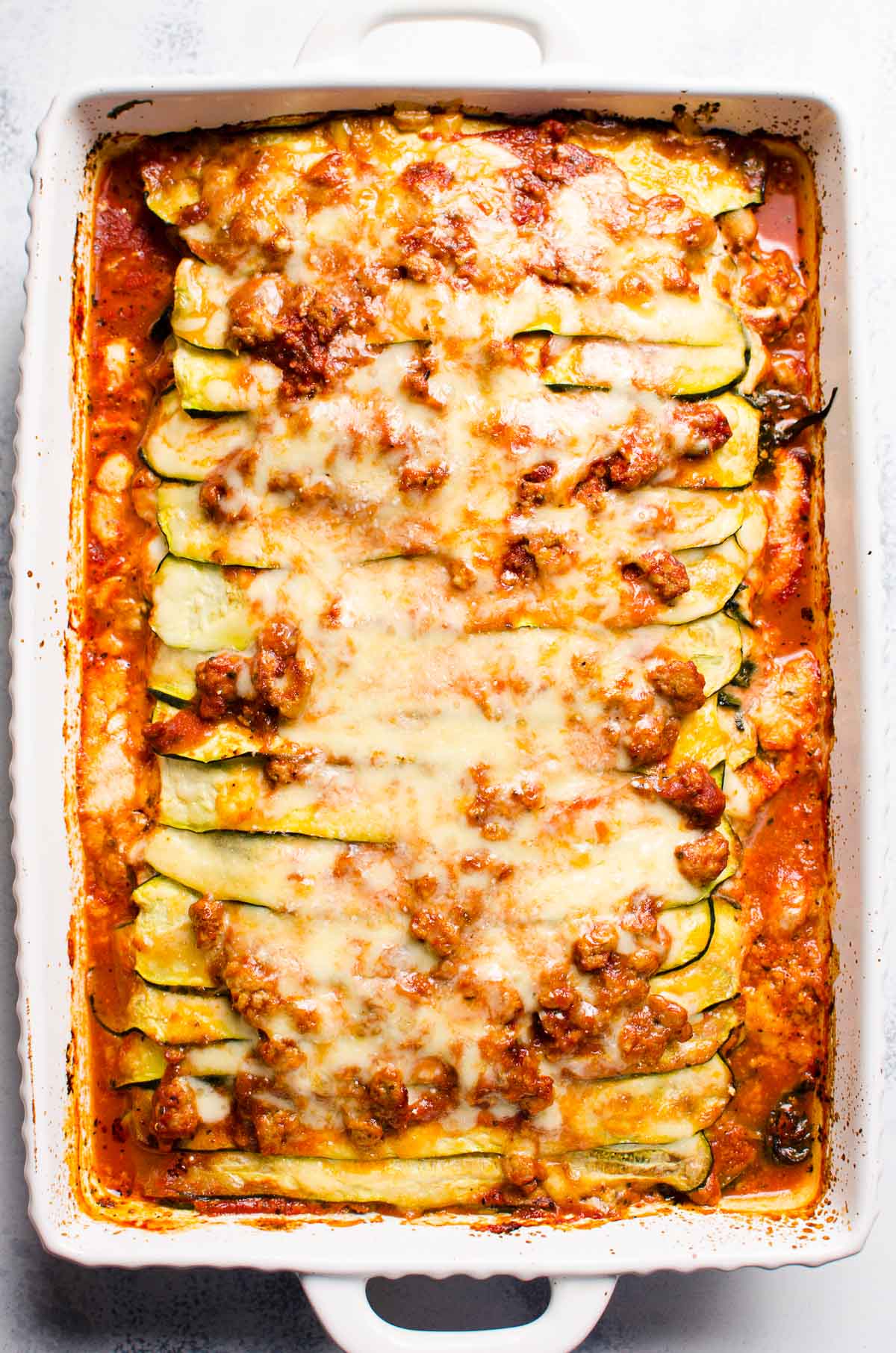 Healthy Zucchini Bread with applesauce, whole wheat flour and low sugar and low fat. Super delicious, easy and moist recipe.
Caprese Chicken and Zucchini cooked in fresh tomato sauce, with melted buffalo mozzarella cheese on top and garnished with basil. Serve on its own for easy low carb dinner or with spaghetti for a family meal. Buon appetito!
Cheesy Cauliflower Rice Recipe with riced cauliflower, garlic and shredded zucchini for an extra vegetable boost.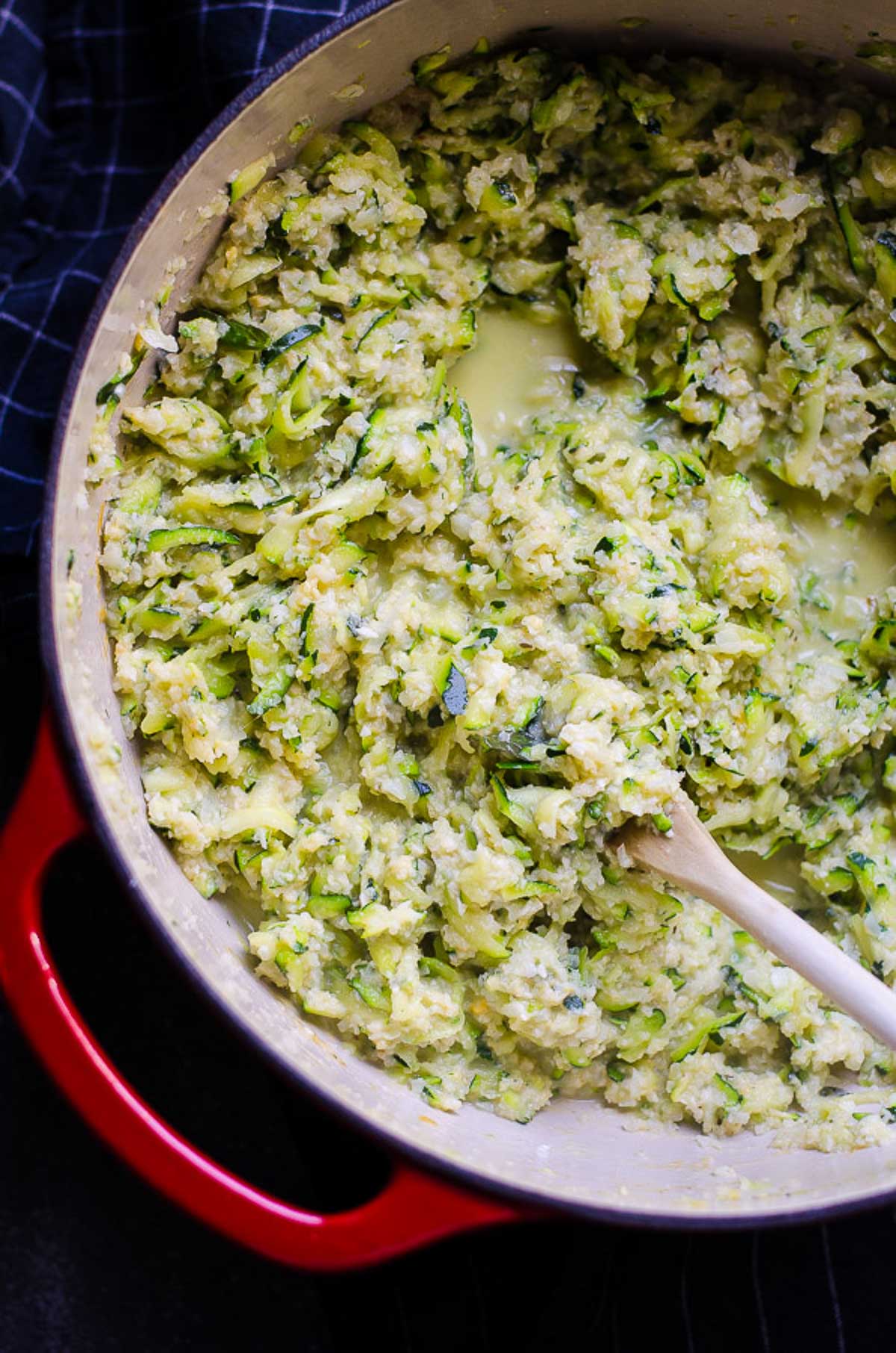 Healthy Zucchini Tomato Casserole with garlic and Parmesan in 5 minutes of prep. Serve as low carb side dish or add cooked chicken for a 30 minute dinner.
Banana Zucchini Muffins made healthy with whole wheat flour, maple syrup and chocolate bar chunks. Moist and tasty with very little oil.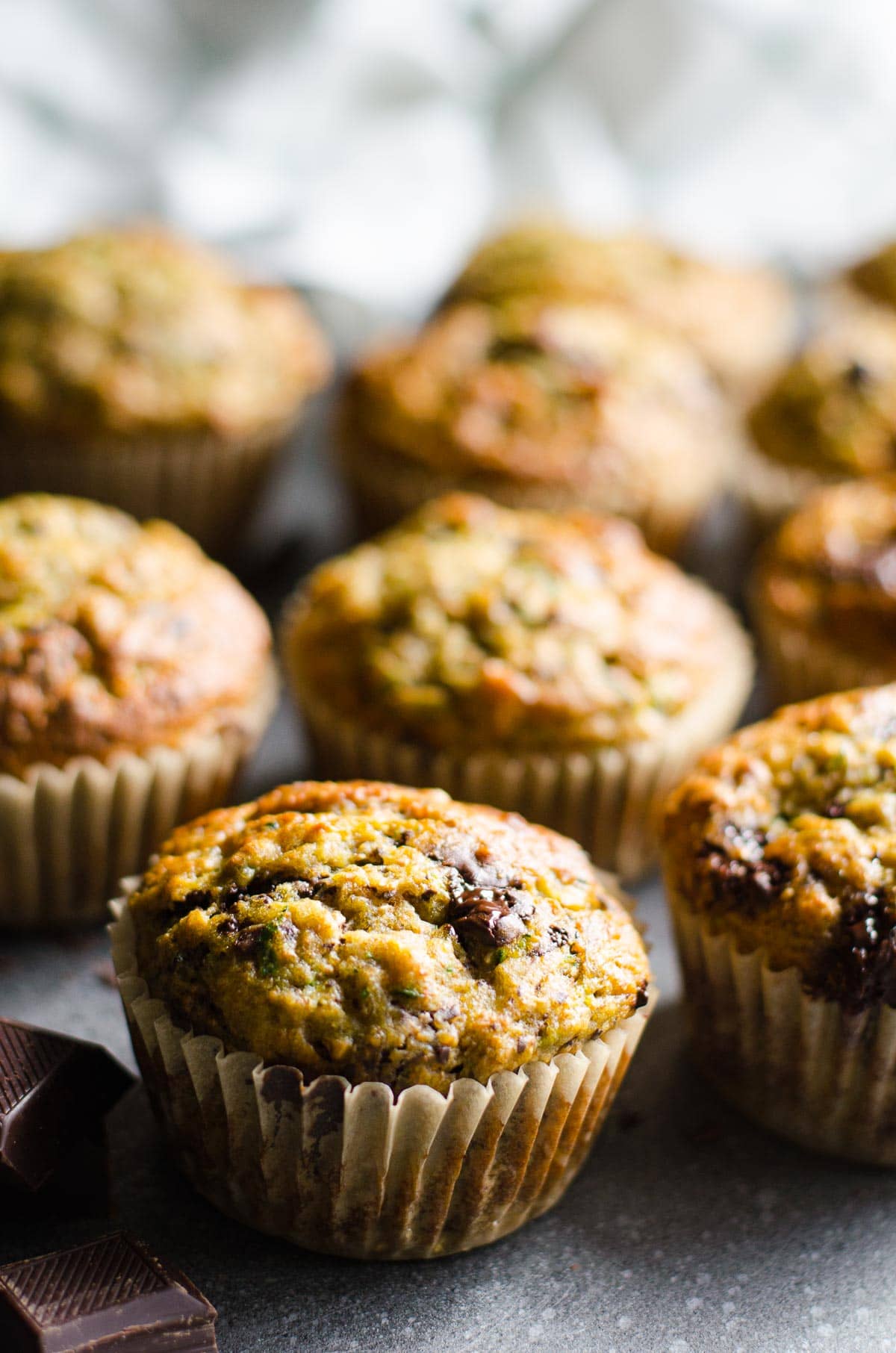 Tex Mex Rice and Beans Recipe is a 30 minute one pot easy and healthy Mexican rice with zucchini, brown rice, black beans, corn, diced tomatoes and spices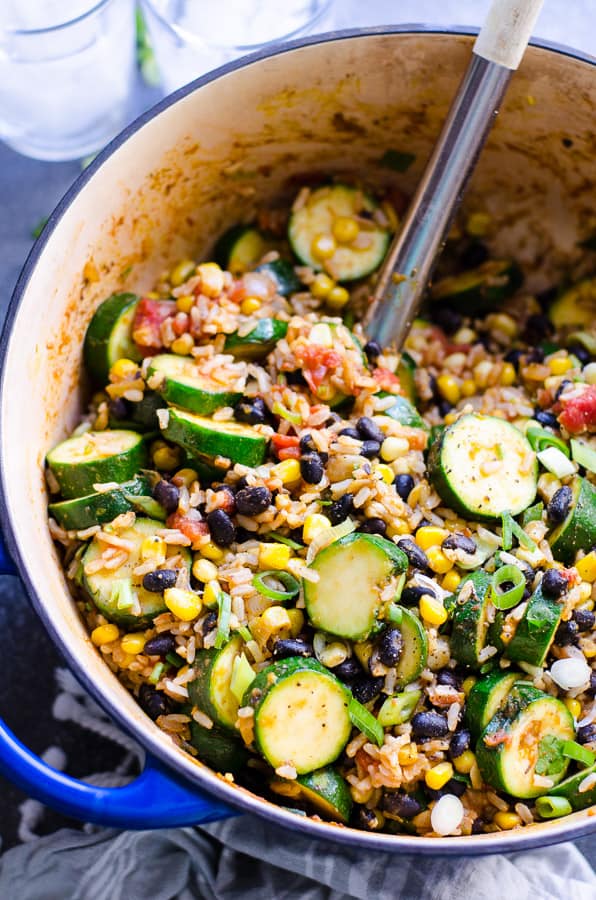 Healthy and low carb Grilled Zucchini Pizza, Bites or Boats, or whatever you name them. Will satisfy your pizza cravings with low calories in 15 minutes! Use any toppings you wish and that quick balsamic sauce is to die for!!!
Healthy Lemon Zucchini Bread that is super moist, lemon-y, sweet and so soft. It will blow your mind! Great for dessert and healthy enough for breakfast or snack.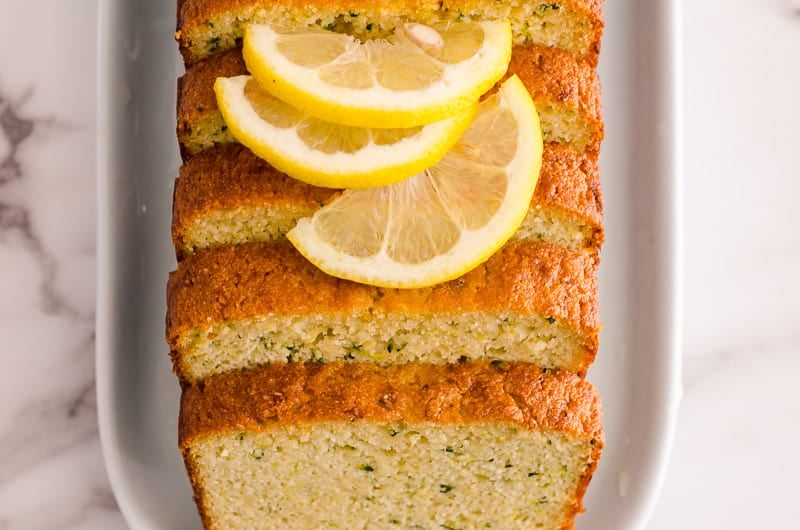 Tuna Zucchini Fritters for a 30 minute kid friendly healthy recipe with canned tuna, Parmesan cheese and a hefty dose of vegetables.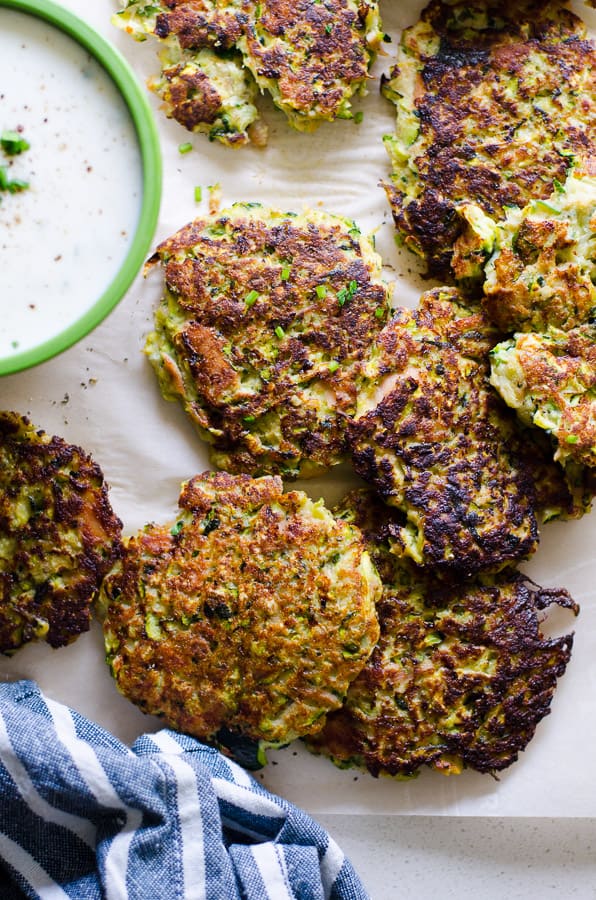 Healthy Chocolate Zucchini Bread with simple wholesome ingredients in one bowl. Easy, moist and double chocolate quick bread with sneaky veggies.
I could talk about this Sauteed Zucchini for days! How they take 5 minutes. How simple are the ingredients. How tasty it is. And healthy. But don't trust my words. Try for yourself!
Pasta with zucchini, tomatoes, garlic and basil is 20 minute healthy dinner that is a summertime must have.
Grilled Zucchini with garlic, oil, salt and pepper is our Ukrainian-Russian family recipe. We grill zucchini along with any meat all summer long.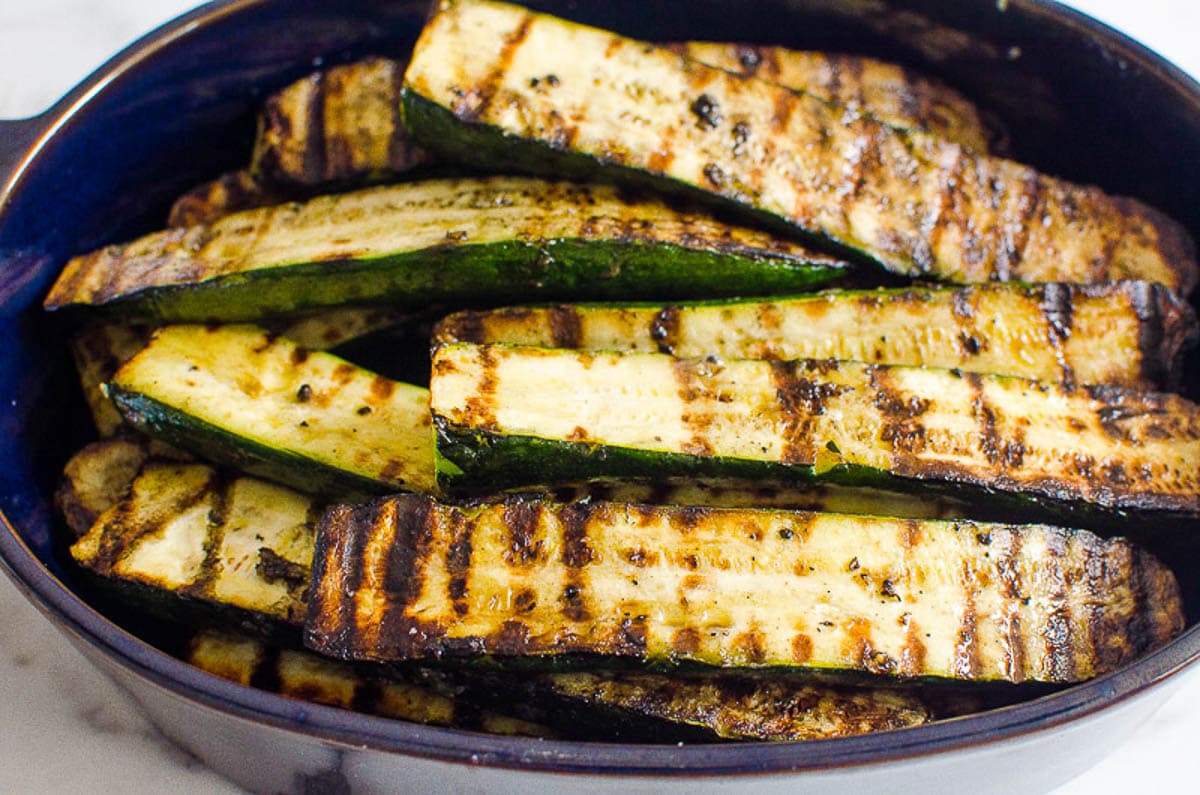 Lemon Dill Shrimp Recipe with crunchy zucchini and bursting peas, sautéed with lemon, garlic and dill and ready in 15 minutes.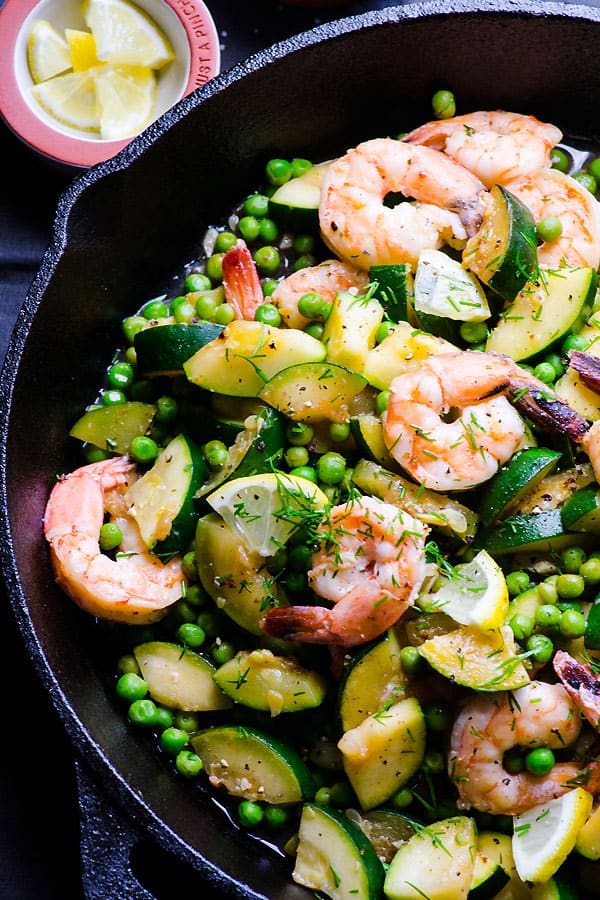 Low Carb Chicken Zucchini Casserole with layers of chicken, zucchini noodles and easy enchilada sauce. Lots of fiber, vegetables and protein.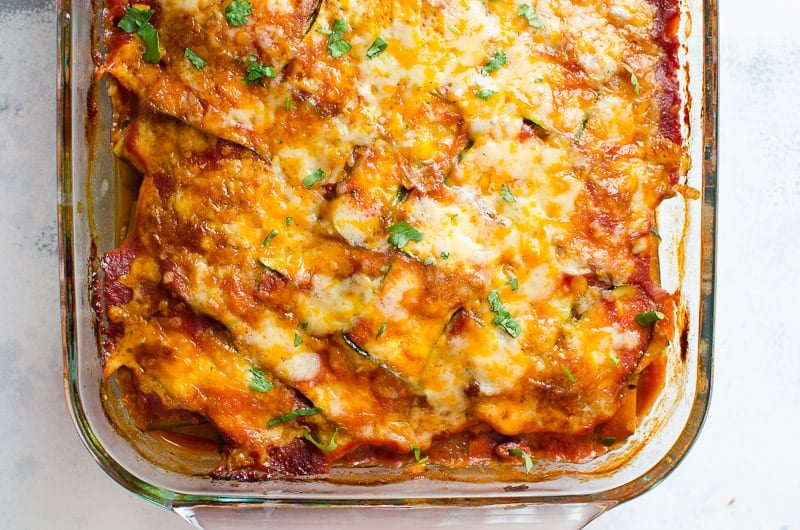 Lemon Zucchini Muffins made healthy with whole wheat flour, plain yogurt, zucchini and no refined sugar.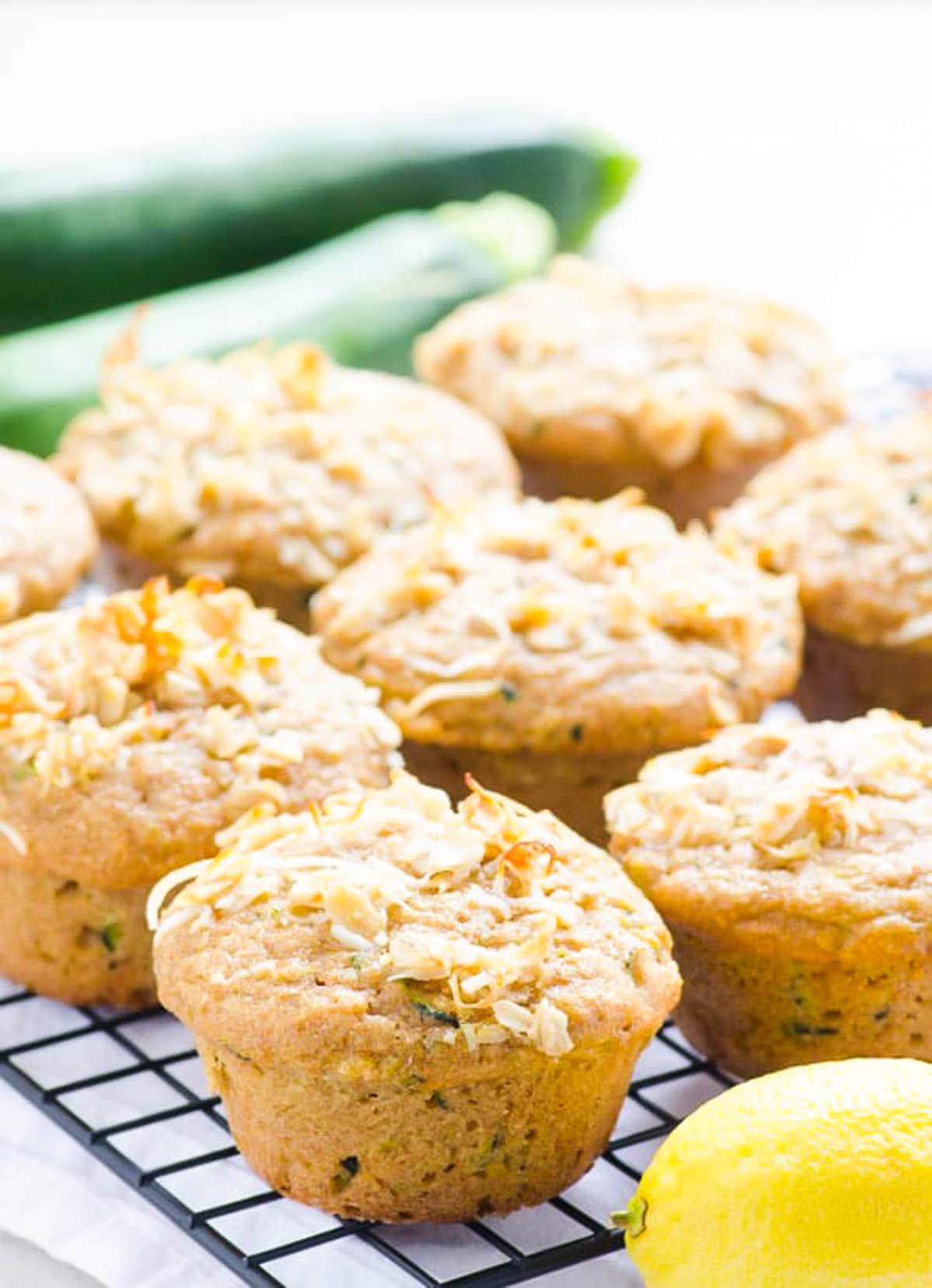 This healthy Zucchini Potato Bake is inspired by my Ukrainian upbringing. It is chock full of vegetables, contains no whipping cream and just the right amount of cheese and lots of flavour!
Zucchini Banana Bread is easy quick bread perfect for summer baking. Moistened and sweetened with fruit and veggies, it is a hybrid of two favorite breads with virtually no oil.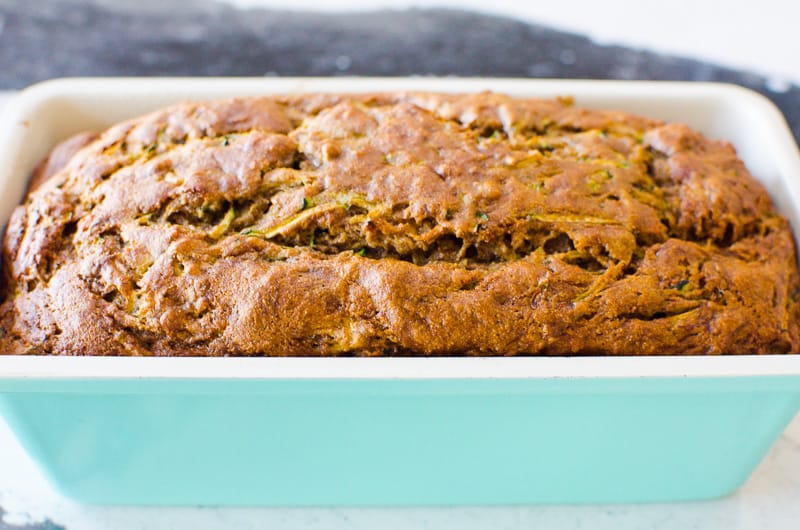 Healthy Zucchini Muffins with applesauce and 3 flour options. Whole wheat or spelt, gluten free and almond flour. Moist and fluffy.
This Garlic Chicken Zucchini and Corn Recipe is a 20 minute healthy weeknight dinner that was inspired by my Ukrainian roots. Low carb, easy and one pan deliciousness!
Zucchini Brownies are easy, fudgy and healthy. Kids will eat them up. Taste even better next day.
Zucchini Noodles with Chicken, Cilantro and Lime is delicious 20 minute, healthy and gluten free dinner idea. If you don't have a spiralizer, just chop zucchini.
Pad Thai Zucchini Noodles Salad Recipe with zucchini pasta, healthy peanut sauce, shrimp or tofu and half amount of calories in under 20 minutes.
Mediterranean Baked Zucchini Sticks Recipe is crunchy oven roasted zucchini with feta cheese, fresh parsley and no breading.
Melt in your mouth Zucchini Quiche without the crust. Tastes so good cold! Simple ingredients make it an easy quiche recipe to whip up any time life gives you zucchini.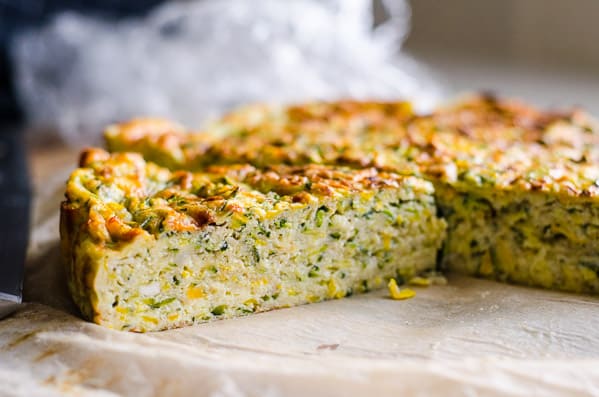 Juicy and flavorful Turkey Burger Recipe with 5 simple ingredients. And one secret ingredient holds turkey burgers together without the breadcrumbs.
Greek Chicken Kabobs Recipe flavoured in as little as 30 minutes marinade, then grilled on skewers with vegetables for the most delicious and healthy chicken souvlaki.
Quinoa Skillet Recipe with chicken breast and vegetables like zucchini, tomato and corn. Healthy chicken and quinoa dinner in less than 40 minutes with leftovers the whole family will love.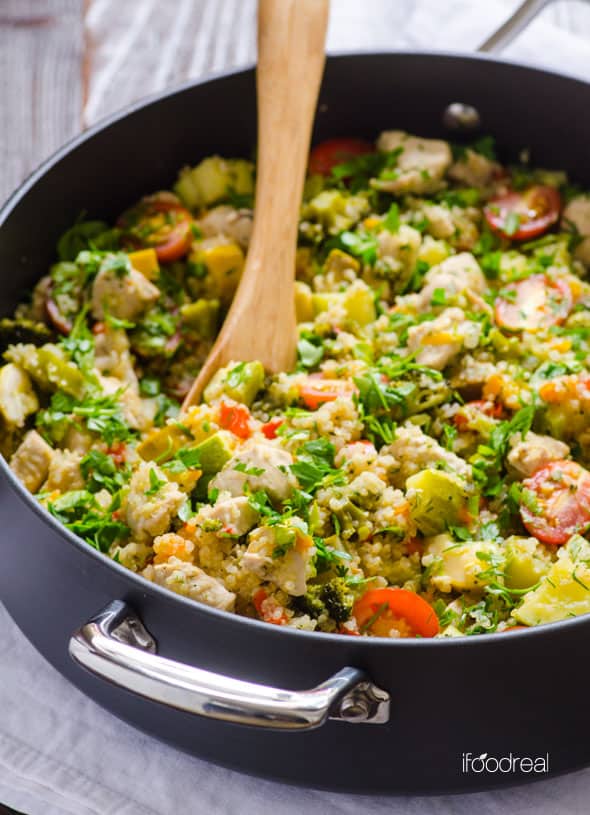 More Healthy Recipes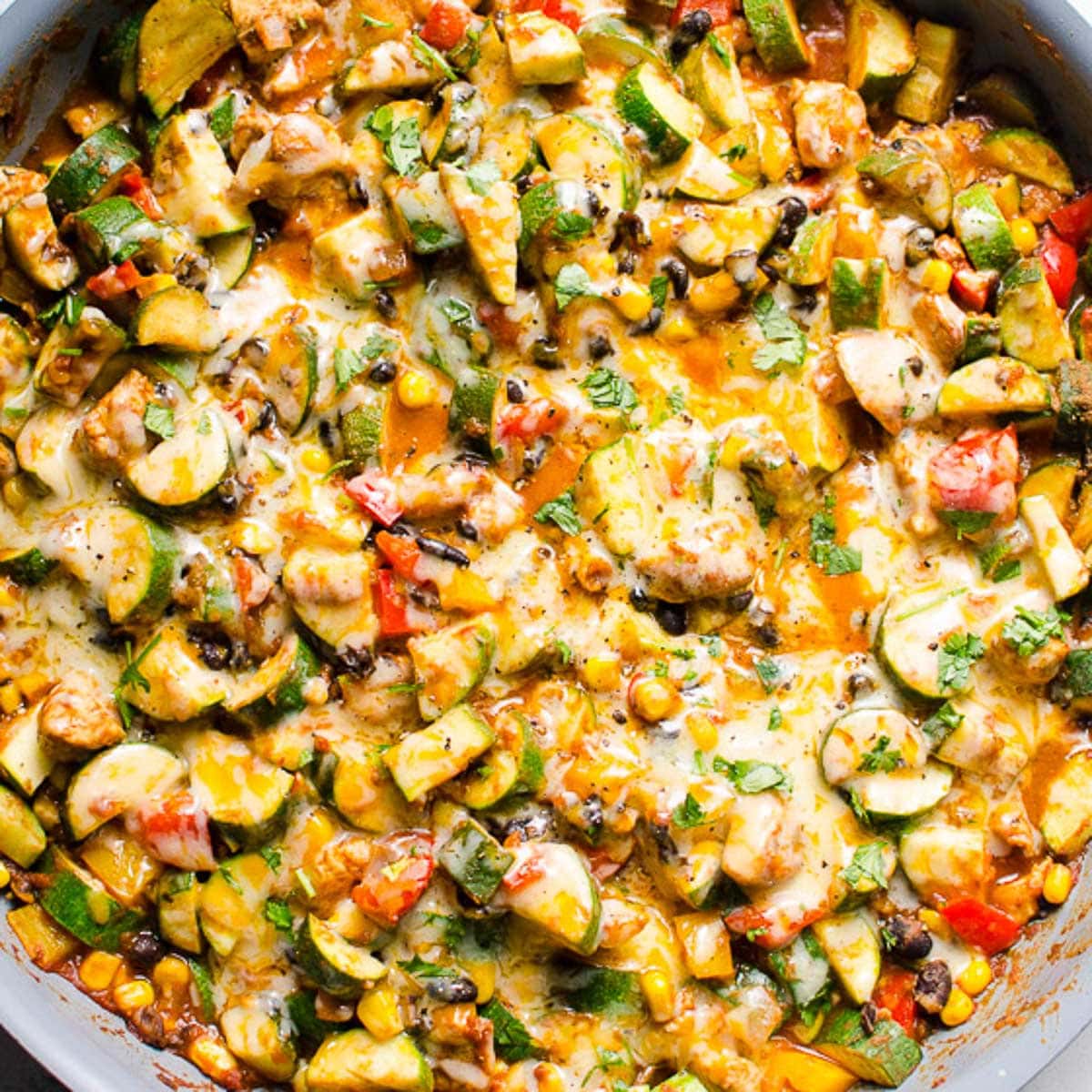 30 Healthy Zucchini Recipes: Tex Mex Chicken and Zucchini
One of our most popular zucchini recipes! Chicken, zucchini, black beans and corn seasoned with fresh herbs and taco seasoning and then cooked in one skillet under blanket of gooey cheese. Low carb 30 minute dinner.
Print
Save
Rate
Ingredients
1

tbsp

oil

avocado or coconut

1

onion

medium, finely chopped

3

garlic cloves

large, minced

3

bell peppers

medium, chopped

1

lb

boneless & skinless chicken breasts

cut into 1″ chunks

1

tbsp

cumin

divided

1

tsp

salt

Ground black pepper

to taste

1

cup

corn

fresh or frozen

14

oz

can low sodium black beans

drained & rinsed

14

oz

low sodium diced tomatoes

not drained

2

large zucchini

diced

1

tsp

taco seasoning

store bought or homemade taco seasoning

1

cup

Tex Mex or Colby Jack cheese

shredded

1/2

cup

green onions

chopped

1/2

cilantro

chopped
Instructions
Add onion, garlic and bell pepper and saute for 3 minutes, stirring occasionally.

Push vegetables to one side of the skillet. Add chicken and sprinkle with 1 tsp cumin, salt and pepper.  Cook for 5 minutes, stirring occasionally.

Add corn, black beans, tomatoes, zucchini, taco seasoning and remaining cumin. Stir well, cover with a lid and cook for 10 minutes on low-medium heat.

Sprinkle with shredded cheese, cover and cook until cheese has melted. Garnish with green onion and cilantro. Serve hot on its own; or with

quinoa

or

brown rice.

To Reheat: Simmer on low heat in covered skillet for 5 minutes. No additional water or oil is needed to reheat if you use a non-stick skillet.
Notes
Do not over cook the zucchini. Zucchini is comprised of 95% water. The longer you cook zucchini, the more water it releases. Follow the recipe and cooking times and do NOT cook until the zucchini appears soft and cooked (or your dinner will be mushy).
Nutrition
Calories:
342
kcal
|
Carbohydrates:
23
g
|
Protein:
25
g
|
Fat:
12
g
|
Saturated Fat:
5
g
|
Cholesterol:
68
mg
|
Sodium:
712
mg
|
Potassium:
724
mg
|
Fiber:
6
g
|
Sugar:
9
g
|
Vitamin A:
2380
IU
|
Vitamin C:
93
mg
|
Calcium:
176
mg
|
Iron:
2
mg
Join today and start saving your favorite recipes
Recipes and images are a copyright of ifoodreal.com. It is against the law to republish recipes anywhere including social media, print and all world wide web. Nutritional info is provided for informational purposes only and to the best knowledge.