This 30-minute Yellow Chicken Curry will be the best you have ever tried. Once you try the juicy pieces of chicken simmering in a robust and flavorful sauce made with coconut milk, yellow curry powder, and other aromatics, you'll see why!
We love any curry around here, whether it's lentil curry or Thai chicken curry.
In my world, everyone can and should make chicken curry at home because it's too easy not to and so darn delicious.
A dish that can feel so exotic to some is simple everyday comfort food to others, and this yellow chicken curry recipe will convince you that ordering chicken curry takeout is no longer necessary!
This chicken recipe comes together in 30 minutes with a few pantry staples and is loaded with flavor and rich spices. My family inhales this yellow chicken curry and when served with brown rice, it's one of healthy dinner ideas that has very little leftovers!
Why Make Healthy Yellow Curry Chicken Recipe?
Restaurant quality (but better): Home cooking will always win out especially when the authentic flavors of a traditional Indian dish are even better than anything you'd get at a restaurant.
Healthy comfort food: This yellow chicken curry is loaded with antioxidants, vitamins, minerals, good fats and is gluten free and refined-sugar free too!
So much flavor: Curry powder itself is incredibly aromatic, but so is turmeric, fresh ginger, onion, and garlic.
Can be served in different ways: On its own, with rice, naan bread, roti, or even on a bed of spring mix or spaghetti squash noodles.
Ingredients for Yellow Chicken Curry
To make yellow chicken curry, you will need only a few simple ingredients.
Chicken: Boneless skinless chicken breasts or chicken thighs, cut into bite-size pieces are the best. The breast is drier but the rich sauce helps with that. Dark meat is fattier and in itself more flavourful. You can't go wrong either way.
Coconut milk: Use coconut milk from a can and not a carton. I used full-fat coconut milk but low fat is fine too. Cream accumulation on top during colder months is normal. My favorite brand is Thai Kitchen because it is not gritty, non-GMO and I believe BPA free.
Coconut milk vs. coconut cream. They're both similar because they are both derived from the same part of the coconut which is the flesh. Coconut milk is made from coconut flesh and water but when it's chilled there is a creamy element that settles at the top. This cream contains more fat and less water.
Onion, garlic, and ginger: Onions make yellow chicken curry sweet and flavourful, and the fresh garlic and ginger give it a punch. If you don't have fresh ginger, use 1 teaspoon dried ginger instead.
Yellow curry powder and turmeric: Fresh and quality yellow curry powder is the key. You can use any other colour powder and add more if you like things spicy because yellow is the mildest! It is such a personal preference and an easy fix. Turmeric adds colour and flavor (and it is so good for you) but you can skip it if don't have any.
Maple syrup: A little bit of sweetness to mellow out the spices. It's not so much the heat, but more the intensity of it. It's also a great way to round out the flavours. You can use honey or your choice of sweetener (brown sugar, agave, sugar free) instead of maple syrup if preferred.
Salt & pepper: Just to taste!
Cornstarch & water: Needed to make a cornstarch slurry if you want to thicken your yellow chicken curry sauce.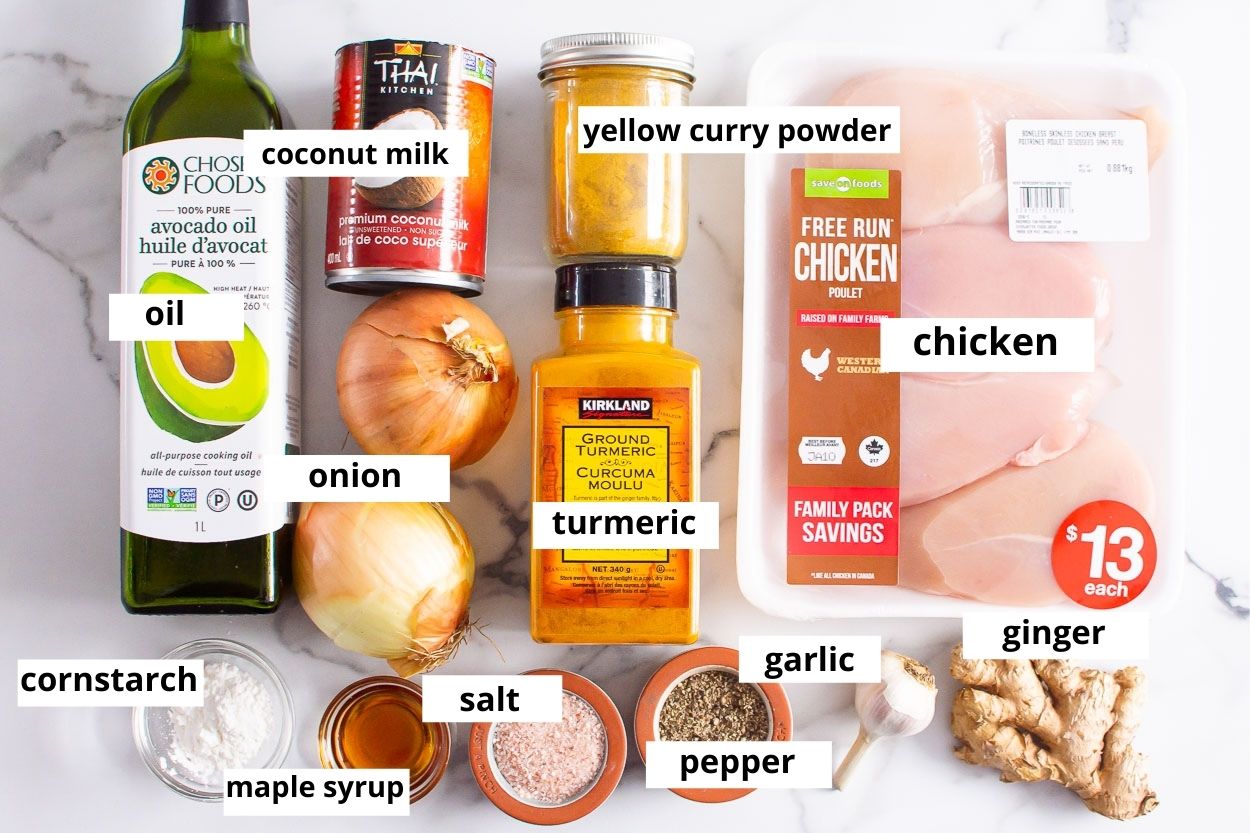 How to Make Yellow Chicken Curry
I make yellow curry chicken recipe in a 12 inch ceramic non-stick skillet in 30 minutes while the brown rice cooks in the Instant Pot. A healthy weeknight dinner just couldn't be easier!
Saute onion, garlic and ginger in a generous amount of oil for about 5 minutes or until veggies are translucent and fragrant. Then, add curry powder and turmeric and cook for 30 seconds. Mixture will appear dry and you want to stir constantly, but this step will enhance curry flavor drastically.
Add coconut milk and maple syrup, stir and bring to a boil. Watch the coconut cream melt making it so rich and creamy while the syrup or sweetener of choice makes the sauce sweeter.
Cook chicken for 15 minutes by adding it raw to a boiling curry sauce. Distribute evenly and make sure it is submerged in the sauce. Boneless chicken releases juices, so no broth is necessary. Keep the skillet uncovered.
Thicken the sauce (optional) by adding a slurry of cold water and cornstarch, then let it boil until thickened in a few minutes.
Variations
Here are my top tips to make this yellow chicken curry how you like it!
Thicker sauce: Traditional chicken curry sauce isn't as thick as we see in restaurants. If you prefer yours that way, you can use the cornstarch slurry method as mentioned above, but if not, leave it out and enjoy it as is.
Other protein: This delicious yellow curry sauce recipe works for other kinds of protein as well. Curried goat, lamb, shrimp, and beef are all delicious meats that pair well with a curry sauce.
Vegan yellow curry: Learn how to cook tofu on the stove for a meatless option. My preference is to add cooked chickpeas or cauliflower instead of chicken. Cauliflower will release water, so you might want to consider thickening up the sauce. Totally up to you!
Added veggies: Toss in some diced potatoes, red bell peppers, peas, or carrots for added vegetables in this yellow curry chicken recipe. Use one or a combination of all. The tenderness of the veggies that absorb the flavors of the sauce is just ridiculous.
Tips for Best Results
Here are my tops tips for the best yellow chicken curry from the first try!
Use fresh good quality yellow curry powder: It is key to achieving the most robust flavours. If you're going to make a dish as delicious as curry, you're going to want to use the best ingredients. A way to tell is by smelling the package as you open it up. If its aroma is so mouthwatering that it makes you want to jump into the spice, it's probably good!
It's good practice to go through your spice rack on occasion: Spices tend to have a long shelf life, but if you go long enough without using them, they may lose their freshness.
Coconut milk (not cream): Although we talk about coconut milk and coconut cream being similar, for this yellow chicken curry recipe be sure to use the coconut milk even if it has cream accumulated on top. You can buy cream on its own, but don't do that.
Curry stains! Not so much the powder on its own (although be careful with that too) but once you've made this curry dish, you might not want to wear your best and brightest whites.
FAQs
Can I make yellow chicken curry recipe in my slow cooker?
You can! Follow the directions as listed in yellow curry chicken recipe up until you add the chicken. Transfer the sauce mixture you've prepared on the stovetop into the slow cooker, add the chicken, then set it to cook on high for 4 hours or low for 6-8 hours.
What makes curry yellow?
It's the turmeric that makes the curry powder yellow. This yellow chicken curry recipe calls for added turmeric because we want a bit more for added flavor, however, it is optional. Technically you'll still have partial turmeric flavor within the curry.
Is yellow chicken curry spicy?
Not yellow curry, no. Most curries aren't as they're made up of a combination of warm earthy spices. Depending on who is making it, where the dish comes from, what spices are added, and the ratio of certain spices, then you can go from mild to spicy curry.
Can I use Thai yellow curry paste instead of curry powder?
No, I don't recommend that for Indian curry dishes. Curry paste is a stronger, more concentrated curry. It's used a lot in East Asian and Thai cuisine, which is a different (albeit also delicious) take on curry dishes. If you were interested in a Thai yellow chicken curry dish, then by all means use the paste, but you'll need to adjust some of the other ingredients as well.
What to Serve with Yellow Chicken Curry?
How to Store It
Refrigerate yellow chicken curry leftovers for up to 5 days in a glass container with a lid.
Freeze: In an airtight container for up to 3 months.
Reheat chicken curry by simmering on low in a skillet and stirring occasionally. So easy!!!
More Curry Recipes to Try
I hope you enjoy this chicken curry recipe and be healthy. You may also enjoy these 65 healthy chicken recipes!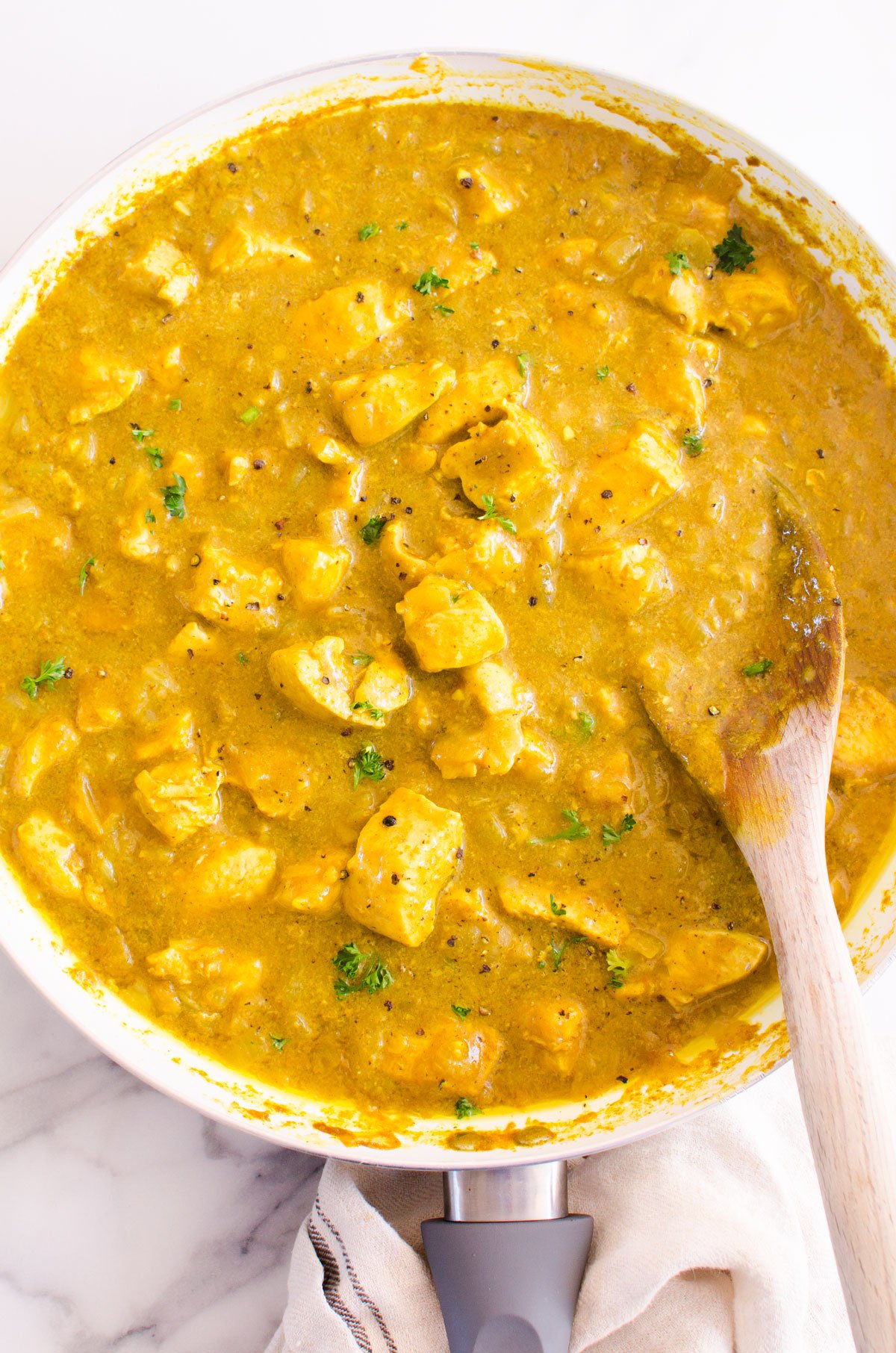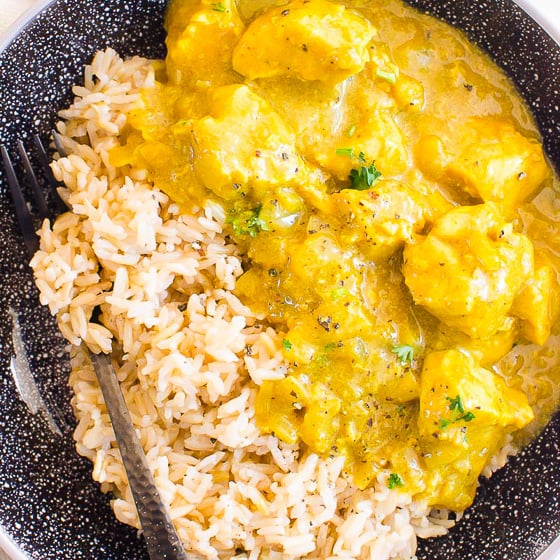 Yellow Chicken Curry
This 30-minute Yellow Chicken Curry will be the best you have ever tried. Once you try the juicy pieces of chicken simmering in a robust and flavorful sauce made with coconut milk, yellow curry powder, and other aromatics, you'll see why!
Instructions
Cook brown rice or quinoa as per package instructions.

Preheat

large skillet

on medium heat and swirl oil to coat. Add onion, garlic and ginger and cook for 5 minutes, stirring occasionally.

Add yellow curry powder and turmeric; saute for 30 seconds, stirring often.

Add coconut milk, maple syrup, salt and stir until incorporated and bring to boil.

Add chicken, stir, reduce heat to low and cook uncovered for 15 minutes, stirring occasionally.

In a small bowl, whisk cold water with cornstarch and pour over sauce. Stir and cook for a few minutes until sauce has thickened.

Season with pepper to taste and serve over brown rice or quinoa. So good!
Notes
Store: Refrigerate in an airtight container for 5 days. Reheat by simmering chicken curry on low in a skillet stirring occasionally.
Freeze: In an airtight container up to 3 months.
If you would like to add veggies: Sometimes I add 1 lb of finely chopped cauliflower or a bag of cauliflower rice towards the end and simmer for a few more minutes.
Chicken: Boneless and skinless chicken breasts or thighs are the best.
Other protein: Goat, lamb, shrimp, and beef are all delicious meats that pair well with a curry sauce.
Coconut milk: Use coconut milk from a can and not carton.
Onion, garlic and ginger: A lot of onion makes curry sweet and flavorful along with fresh garlic and ginger. You could use 1 tsp dried ginger instead.
Yellow curry powder and turmeric: Fresh and quality yellow curry powder is key! Turmeric adds colour and flavor but you can skip if don't have any.
See recipe post for more tips and FAQs.
Nutrition
Serving:
1
cup
|
Calories:
406
kcal
|
Carbohydrates:
13
g
|
Protein:
34
g
|
Fat:
25
g
|
Saturated Fat:
15
g
|
Cholesterol:
97
mg
|
Sodium:
480
mg
|
Fiber:
3
g
|
Sugar:
6
g