Butter Chicken Spaghetti Squash gives you all the rich, creamy flavors of the classic Indian dish with a lighter twist and extra vegetables.
We also love chicken alfredo spaghetti squash boats and tex mex spaghetti squash boats for delicious low carb dinners.
If my Ukrainian grandma could make a yellow chicken curry with sour cream, onions and curry powder back in the 90's, why can't I make some butter chicken and spaghetti squash pretending squash is pasta?!
I still think spaghetti squash doesn't replace spaghetti, but tastes very good indeed!
If you are craving the traditional recipe, check out this Instant Pot butter chicken or slow cooker butter chicken and serve it with delicious Instant Pot basmati rice.
Why You'll Love This Recipe
Healthy: The simple pasta alternative makes chicken spaghetti squash lower in carbs and gluten free.
Full of flavor: Tender chicken and creamy coconut sauce, you'll be amazed by how much flavor is packed into this delicious dish!
Everyone loves: Family friendly, crowd pleaser, and kid-approved, these squash boats will disappear fast.
Versatile and make ahead: You can bake spaghetti squash halves or cook spaghetti squash in air fryer ahead of time, and even make the butter chicken as well. Then assemble, heat in the oven, and dinner will be on the table in no time.
Leftovers for easy dinner or special occasion meal: Heat up your leftovers on a busy weeknight or enjoy a super cozy meal that's fun to eat for date night or special gatherings.
Ingredients for Butter Chicken Spaghetti Squash
Chicken spaghetti squash is an easy dinner idea with a short list of simple ingredients.
Spaghetti squash: This recipe calls for 4 small spaghetti squash roughly 1.5 pounds each. If you can't find small ones then 3 medium ones around 2 pounds each will work.
Boneless skinless chicken breasts: Dice chicken into small bite size pieces.
Aromatics: Onion and freshly minced garlic cloves add deep flavor to the sauce. You can use white onion or yellow onion.
Oil: I recommend olive oil or avocado oil for sautéing the onion and garlic.
Spices: Easy to find spices for butter chicken include garam masala, dried ginger, curry powder, salt, and pepper.
Tomato paste: I like to go with low sodium or no salt added tomato paste to control saltiness. If you have regular tomato paste, I recommend decreasing salt.
Coconut milk: Use full-fat coconut milk from the can, it yields a more rich and creamy sauce.
How to Cut Spaghetti Squash
Prep time! Before you cut the spaghetti squash preheat your oven to 375 F.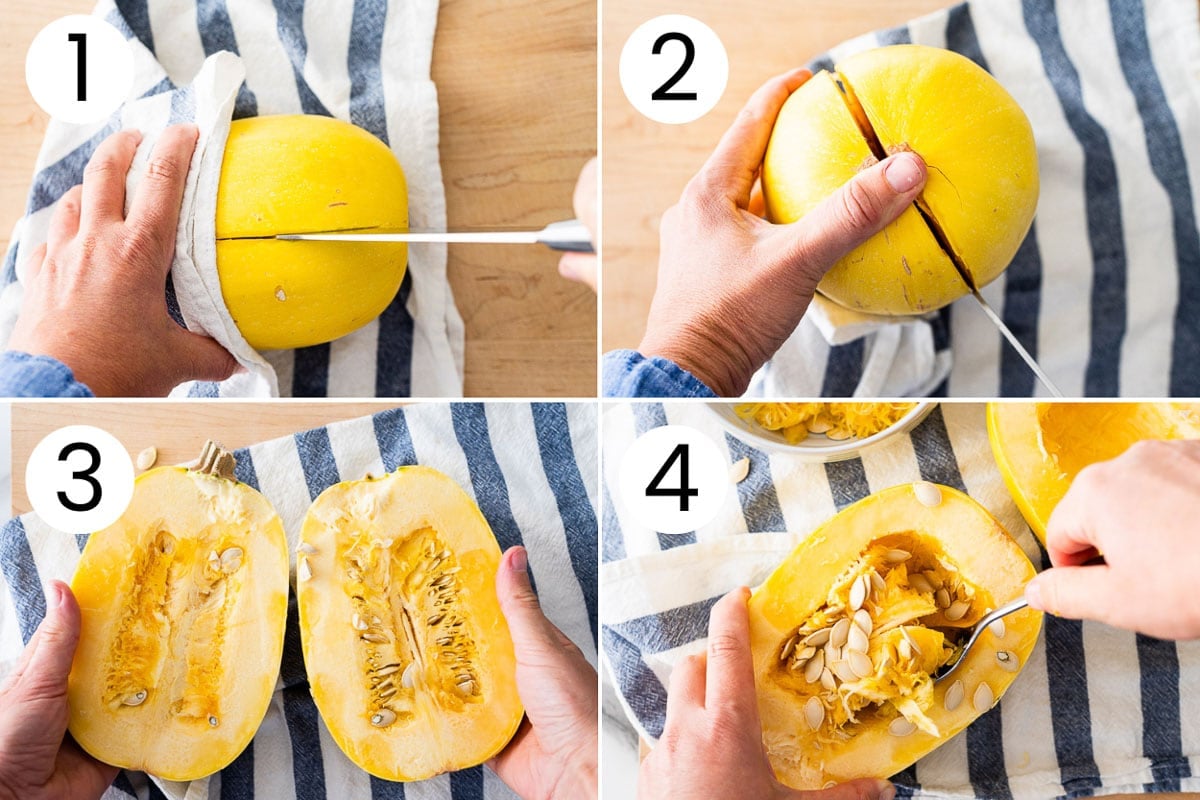 Cut spaghetti squash: Grip one end of the squash with a kitchen towel to prevent slipping, then use a sharp knife to cut it in half lengthwise. Here's a full step-by-step guide on how to cut spaghetti squash easily and safely.
Remove seeds: Scoop out the seeds using a big spoon, tablespoon, ice cream scoop, or a cookie scoop.
How to Make Butter Chicken Spaghetti Squash
Now that you've prepped your squash, here's a quick overview of how to make spaghetti squash with chicken.
You can find a full recipe card below.
Cook spaghetti squash: Set each spaghetti squash half cut side down on a parchment lined baking sheet. Use a fork and randomly pierce the skin. Bake for 30 minutes.
Make the sauce: Meanwhile, add oil to a hot skillet and swirl to coat. Sauté garlic and onion for 3 minutes, then add garam masala, ginger, curry powder, salt and pepper. Stir frequently and sauté for 30 seconds. Mix tomato paste with onion and spices, then add coconut milk and stir to combine.
Cook chicken: Add diced chicken to the pan, gently stir so chicken is coated with sauce, cover and cook for 15 minutes. Turn off heat and set aside.
Shred spaghetti squash: Remove cooked squash from the oven, flip it and let cool for 10 minutes. To make spaghetti squash noodles you'll need an oven mitt and a fork, hold one half and separate the flesh into strands.
Assemble boats: Divide butter chicken mixture between squash halves, bake for another 10 minutes and serve warm.
Tips for Best Results
Here are my tried and true tips on how to get chicken and spaghetti squash on the table with beautiful presentation and loads of flavor.
Don't cook spaghetti squash whole: I don't recommend to cook spaghetti squash whole or make Instant Pot spaghetti squash when making squash boats. They'll turn out too watery and be harder to cut.
Don't over bake the squash: I cook small ones for 30 minutes, medium ones might need 35-40 minutes. Remove when the skin is glossy and flesh is not watery inside.
Roast spaghetti squash in advance: You can speed up this dinner by roasting the spaghetti squash up to 1 day ahead, shred strands, and reheat when ready.
Swap for other winter squash: Butternut squash and acorn squash are a bit sweeter but would be great for this recipe. Here's how to roast butternut squash halves or make acorn squash halves, then add the same filling.
Make a skillet meal instead: If you'd like to skip the boats and serve it like a plate of pasta simply scoop the spaghetti strands out, add them to the skillet with butter chicken, and gently stir to combine.
Use rotisserie chicken: Add shredded rotisserie chicken to the skillet and cook it in sauce for less time, about 5-7 minutes.
What to Serve with Chicken and Spaghetti Squash?
A lot of times I'll serve this chicken spaghetti squash recipe on its own and garnish with fresh parsley, a small or medium sized squash makes the perfect individual serving that's quite filling.
For a complete meal for those who want more carbs, I like to serve with Instant Pot brown rice, Instant Pot jasmine rice or Instant Pot long grain white rice, with a side of naan bread of course.
Our favorite low carb side dishes are cauliflower rice, air fryer cauliflower, or air fryer broccoli topped with grated parmesan cheese.
How to Store
Store: Leftovers can be stored in the refrigerator for 3-5 days in an airtight container.
Freeze: In my experience spaghetti squash doesn't freeze well so I don't recommend freezing.
FAQs
Can I make it vegetarian or vegan?
Yes, use tofu or paneer instead of chicken.
How do I know roasted spaghetti squash is done?
Roasted spaghetti squash is done when the outside skin is glossy, separates easily with a fork inside but doesn't look heavy with water.
Why is my baked spaghetti squash watery?
Most likely cooked for too long or baked whole.
Does spaghetti squash taste like pasta?
No, it has a mild squash taste but makes the perfect healthy alternative to pasta thanks to the long spaghetti-like strands, similar texture, and it will take on the other flavors in the dish.
More Spaghetti Squash Recipes to Try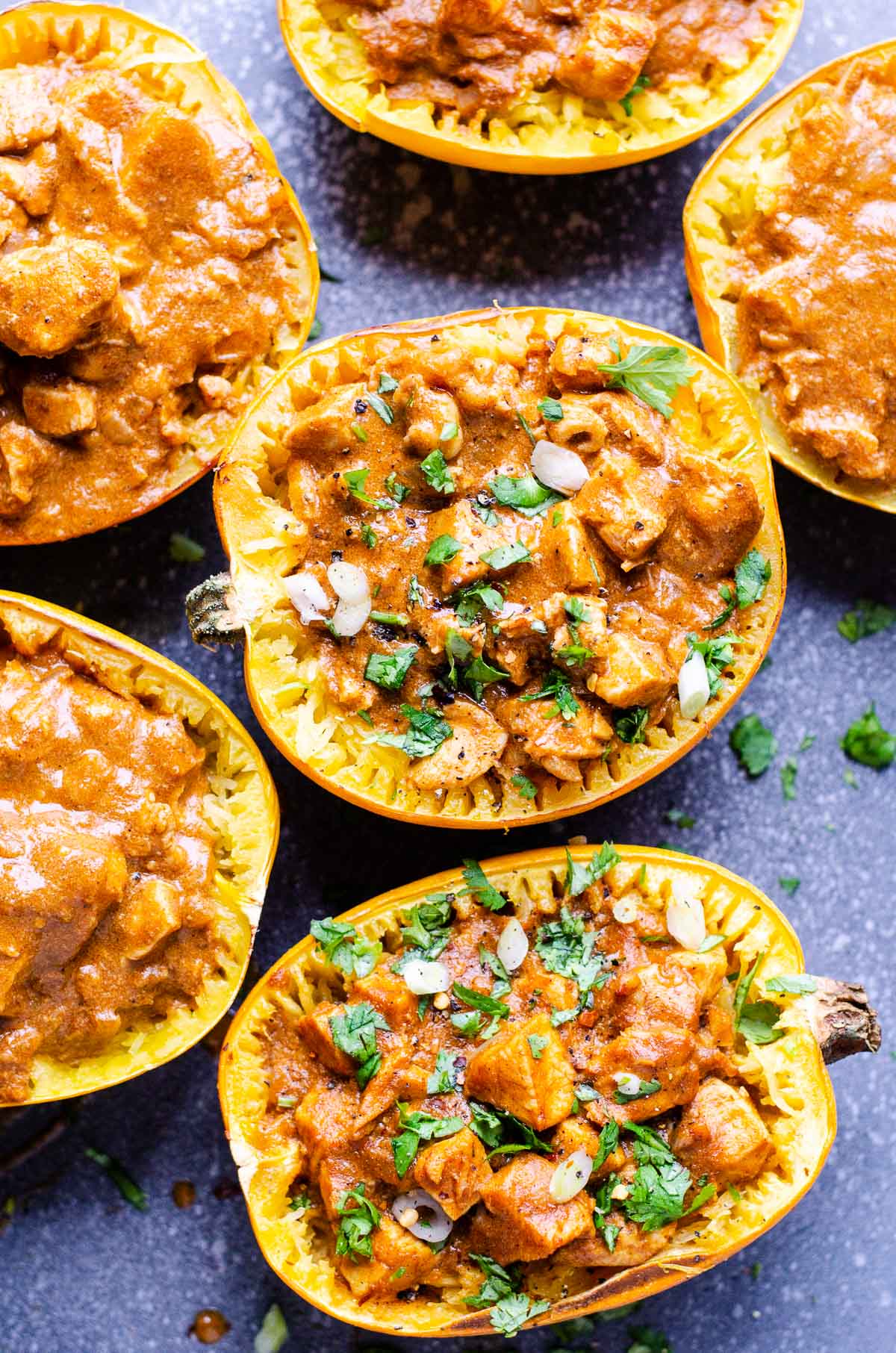 Butter Chicken Spaghetti Squash
Butter Chicken Spaghetti Squash gives you all the rich, creamy flavors of the classic Indian dish with a lighter twist and extra vegetables.
Instructions
Preheat oven to 375 degrees F. Cut squash in half, scoop out the seeds and place cut side down on a baking sheet lined with parchment paper. Poke skin randomly with a fork and bake for 30 minutes.

Meanwhile, preheat large skillet on medium heat and swirl oil to coat. Add garlic and onion; sauté for 3 minutes, stirring occasionally. Add garam masala, ginger, curry powder, salt and pepper; sauté for 30 seconds, stirring frequently.

Add tomato paste and mix it well with onion and spices. Add coconut milk and stir until combined. Now add chicken, stir, cover and cook for 15 minutes. Turn off heat and set aside.

Remove cooked squash from the oven, its skin should be shiny and strands easily separate with a fork. Flip it and let cool for about 10 minutes. To make "spaghetti", hold one squash half at a time, wearing an oven mitt, and separate the flesh into strands with a fork.

Divide butter chicken mixture evenly among the squash halves, return to the oven and bake for another 10 minutes.

Serve warm with a salad or veggies of choice.
Notes
Store: Refrigerate in an airtight container for up to 3-5 days. Do not freeze.
You can use 3 medium squash about 2 lbs each as I understand small spaghetti squash is hard to come across. I bought mine at the farmers market.
I didn't have fresh ginger on hand but you can definitely replace dried ginger with about 1-2" piece of grated fresh ginger.
Nutrition
Serving:
1
squash (2 halves)
|
Calories:
496
kcal
|
Carbohydrates:
44
g
|
Protein:
41
g
|
Fat:
18
g
|
Saturated Fat:
9
g
|
Trans Fat:
0.02
g
|
Cholesterol:
109
mg
|
Sodium:
676
mg
|
Fiber:
9
g
|
Sugar:
17
g