Instant Pot Basmati Rice cooks up light and fluffy every time! It takes only 1 minute of prep time and 20 minutes of total cook time.
Eat a lot of rice? Learn how to make Instant Pot long grain white rice and Instant Pot jasmine rice.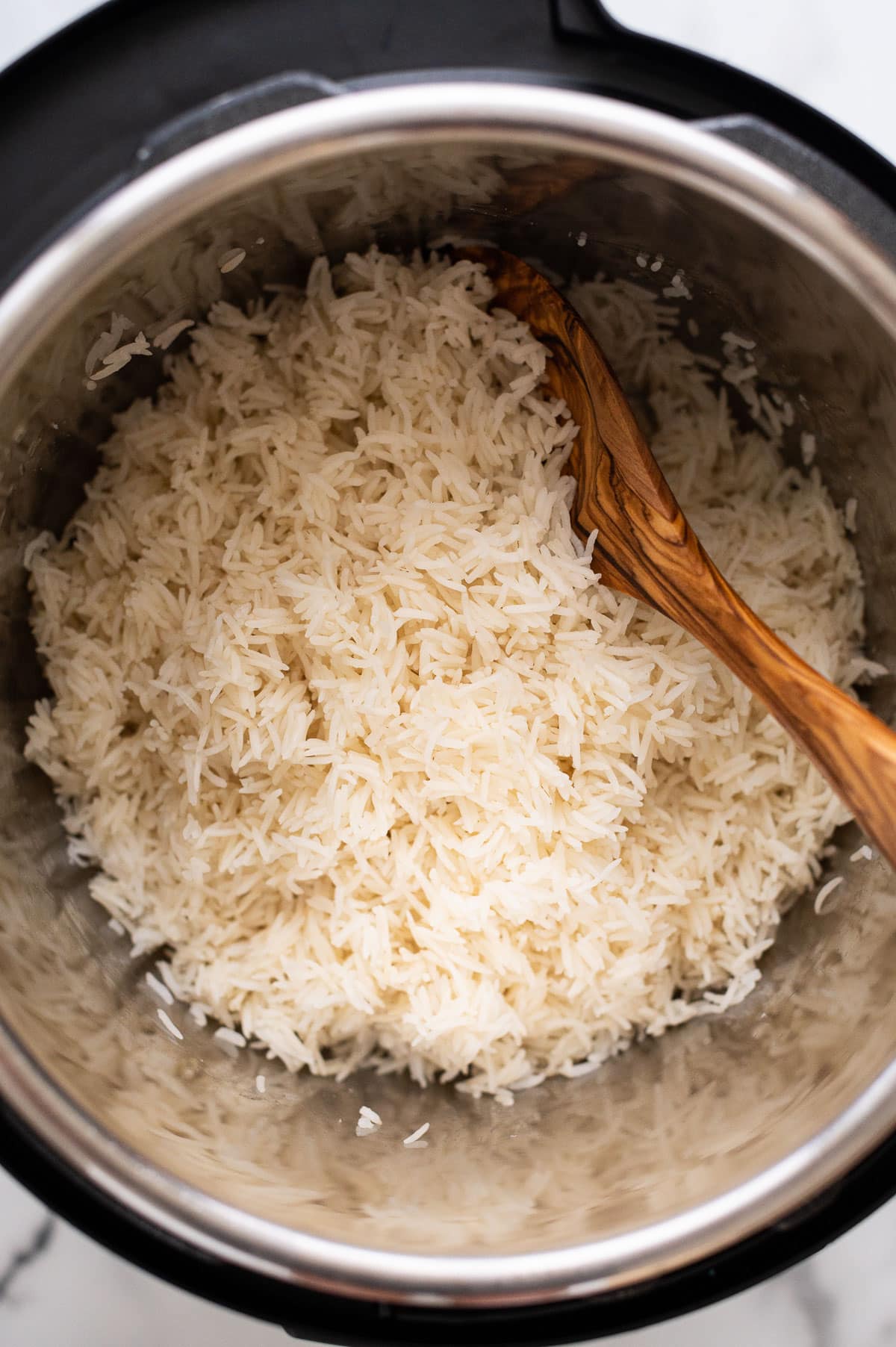 When my boys were young I could get them to eat anything as long as it was mixed with rice, and I have to say basmati crept its way to the top.
The aroma and nutty flavor set it apart from any other long grain white rice and when paired with a main dish like crockpot butter chicken or Mediterranean chicken skillet those long, slender grains are perfect for soaking up the savory sauce.
Once I realized rice was going to be a staple, I ditched the stovetop and make quick and easy Instant Pot basmati rice instead.
Why You'll Love This Recipe
Quick: Thanks to the Instant Pot, cooking basmati rice is easy, hands-off, and faster than rice cooker or stovetop methods.
Perfect every time: Without fail the texture is tender and fluffy, and each grain is separate.
Convenient: No need to wait for it to boil or watch it. This is one of the easiest Instant Pot recipes that saves time and is hands-free.
Recipe specific for this type of rice: All rice differs a bit. Use this recipe for white basmati rice so it comes out perfect!
No mess: Sometimes cooking rice on the stove can splatter but clean up is easy with pressure cooker basmati rice.
Ingredients for Instant Pot Basmati Rice
The ingredients for Instant Pot basmati rice are so simple. All you need is rice, water, and salt.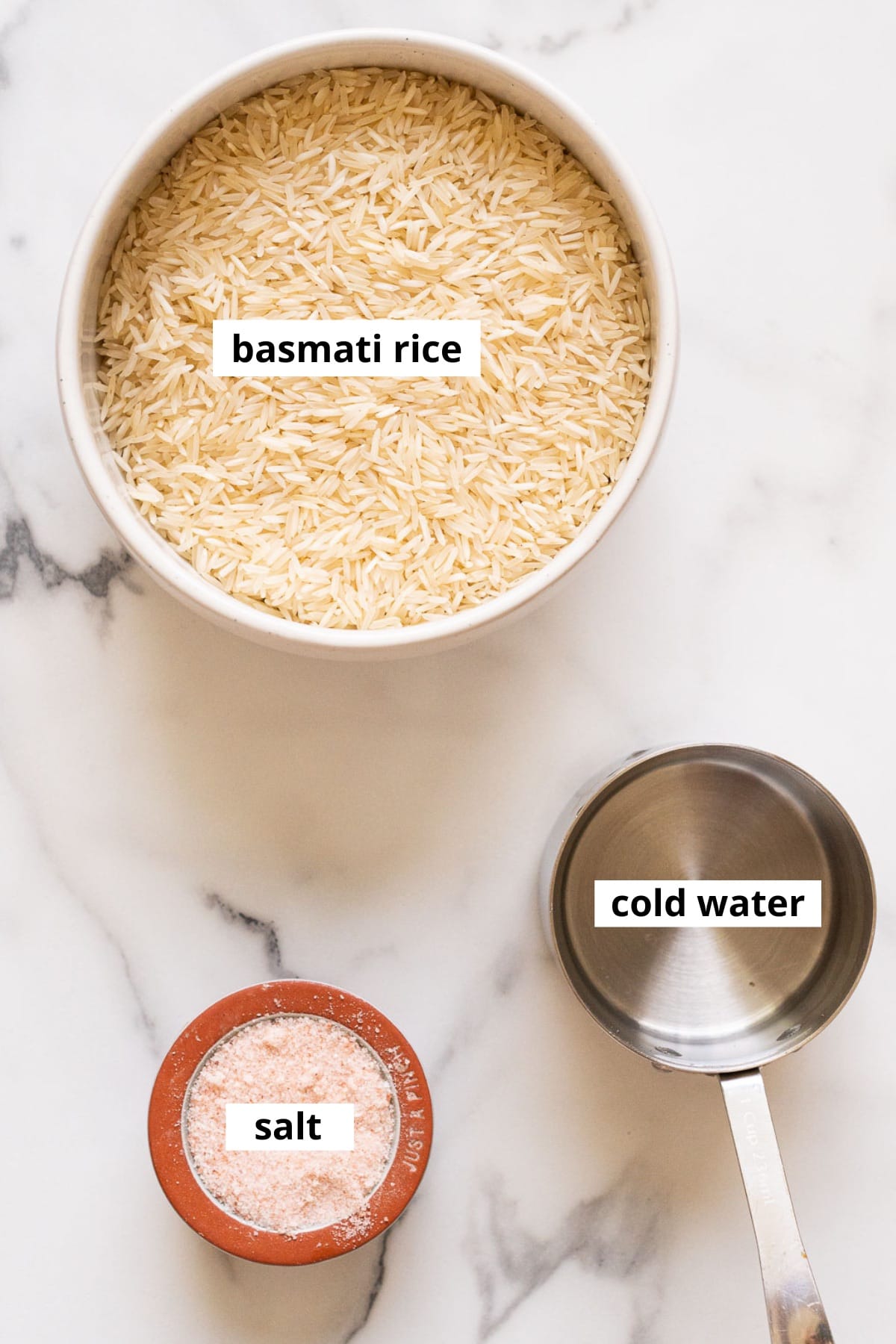 Basmati rice: Be sure to only use white basmati rice for this recipe, you'll be able to find many brands in your local grocery store.
Cold water: Absorbs into the rice leaving it soft and fluffy. It must be cold water!
Salt: We'll add a touch of salt to enhance the natural flavor.
How to Cook Basmati Rice in the Instant Pot
Here's a quick overview of how to cook white basmati rice in Instant Pot. It's ready in 20 minutes and your Instant Pot does all the work!
Rinse and drain: Using a fine mesh strainer, rinse rice thoroughly with cold water until the water runs clear. Then drain well so there is no excess water.
Combine ingredients: Add rice then cold water to the Instant Pot, then sprinkle with salt. Give it a gentle stir so the rice is submerged in water and close the lid.
Cook: Set pressure vent to Sealing and cook on High pressure or Manual for 4 minutes.
Release pressure: Let it release pressure naturally for 10 minutes. Avoid Quick Release when making rice, Natural Release allows the rice to absorb any remaining liquid as it sits. Once the natural pressure release is done, turn valve to Venting.
Fluff and serve: Open the pot, fluff with a fork, and serve perfect basmati rice hot or let it cool while you meal prep.
Tips for Best Results
Whether you are seasoned or new to pressure cooking, you'll be making basmati rice like a pro with these top tips.
Any pressure cooker works: Use any electric pressure cooker that has the High pressure setting. For cooking rice on Low pressure, please see notes section below.
Rinse the rice: Washing the rice first gets rid of any extra starch and prevents the rice from clumping together as it cooks. It's also important to drain well, any extra water will skew the cook time and ultimately change the results.
Use cold water to cook it: Rice will be overcooked if you use warm or hot water, it's important to use cold water for both rinsing and cooking.
Stir before pressure cooking: Unlike most of my healthy Instant Pot recipes where I recommend not to stir the ingredients, this recipe is different! To ensure your basmati rice is properly cooked the rice needs to be fully submerged in water.
Add salt before cooking: If you're worried about making your rice salty, don't. A touch of salt enhances its delicious nutty flavor and prevents bland rice.
Use broth instead of water: If you'd like to add more flavor you can swap with chicken broth, Instant Pot chicken broth, vegetable broth or beef broth. Make sure the broth is cold and I highly recommend low sodium broth, or reduce the amount of salt.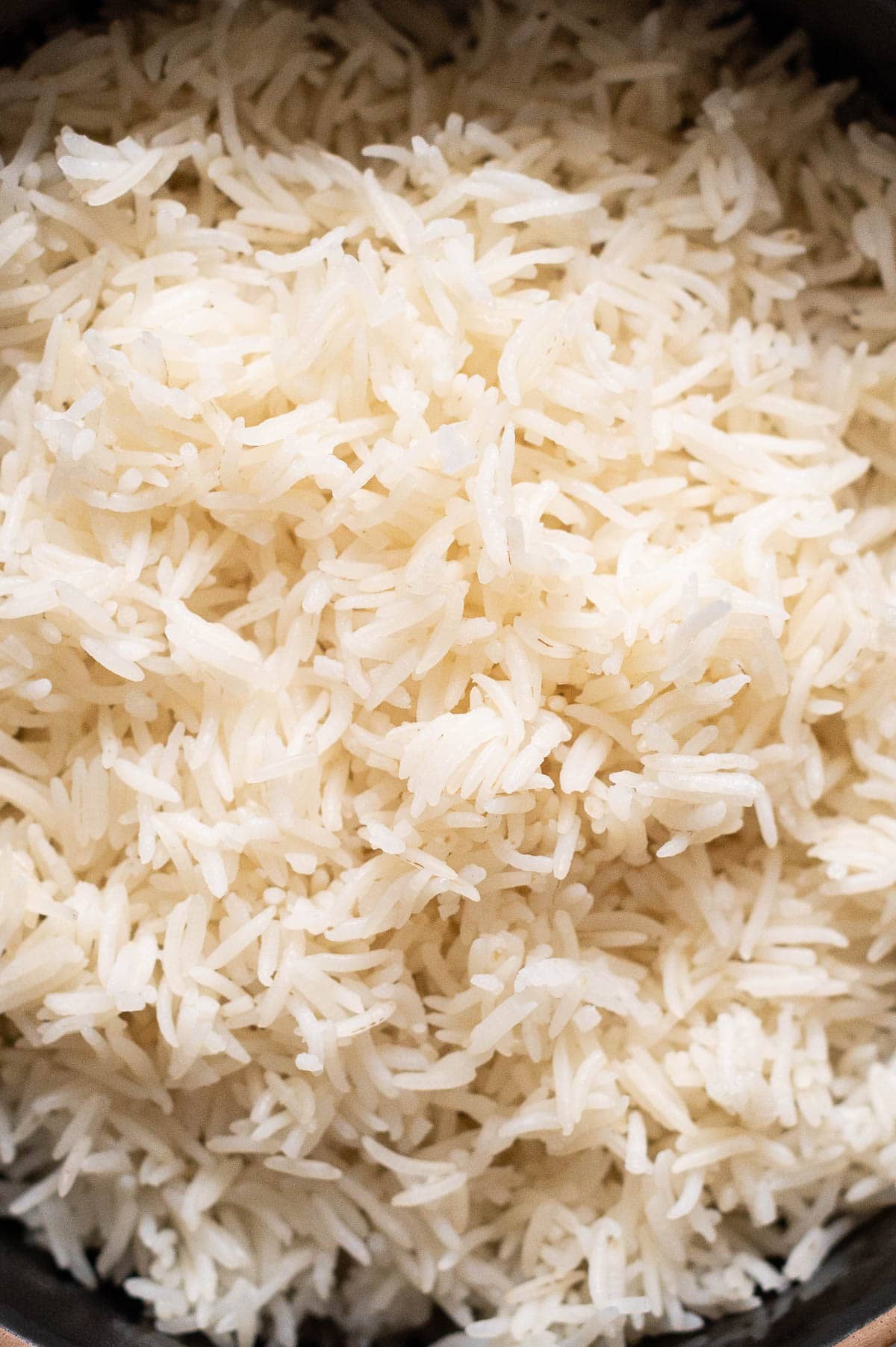 Troubleshooting Tips
If your Instant Pot basmati rice didn't come out as well as you hoped, here are some troubleshooting tips for next time.
Rice is hard: If water to rice ratio is off, meaning not enough water or too much rice, your rice may be hard. You could try adding a splash of water, give it a stir, and let it sit covered for 3-5 minutes to let it soften. And next time use 1 1/4 cups water.
Rice is burnt: Burn notice can be the result of not enough water. If the vent was accidentally left on the Venting position before Instant Pot came to pressure, then you might also see that Burn notice. And lastly, it may be time to replace the lid's silicone ring.
Rice is mushy: Mushy or soggy rice is usually caused by too much water or broth absorbed into the rice, cooked for too long, or overcooked because warm or hot water was used instead of cold water.
Rice is sticky: Sticky rice is also caused by adding too much water or you skipped rinsing, don't skip!
Rice is bland: Even though basmati rice has more flavor than regular white rice, that little bit of salt makes it taste so much better, trust me!
Recipe Tip
After making many pots of rice I have learned that the key to perfect Instant Pot rice is measuring ingredients properly. When measuring both water and rice make sure the measuring cup is leveled at the top. And it's very important to rinse and drain your rice well so there's no extra water, for best results use a fine mesh sieve, not a bowl.
Can I Use Rice Button on my Instant Pot?
If what you have is an Instant Pot Duo with low pressure then yes, you can use the Rice button. I actually choose that method often when cooking any white rice in Instant Pot. In my opinion it comes out more perfect because with the Rice button the rice cooks on Low heat for 12 minutes.
However, some models like the Instant Pot LUX does not have the low pressure option and their Rice button is preset to 10 minutes of High pressure cooking, which is too aggressive for rice. That's why when using my LUX model I always cook for 3 minutes on High pressure and do the Natural Release for 10 minutes.
I have tested this recipe many ways with both models, let me know what model you have and how it works for you.
Recipe Tip
Remember all rice is different. Brown basmati rice, brown rice, wild rice, and arborio rice need different cook times in the Instant Pot. The Rice button is only good for cooking variations of white rice.
What Can I Serve with Instant Pot Basmati Rice?
Our top choice would be an entree with lots of sauce to pour over the basmati rice, but honestly it pairs well alongside anything, makes a tasty rice pilaf, and delicious on its own.
How to Store
Store: Leftover basmati rice can be kept in the refrigerator for up to 5 days, be sure it's stored in an airtight container.
You can eat cold rice, as long as it has been cooled and stored correctly, but to me cold rice tastes hard, so I prefer to reheat it.
Microwaving is best to get a soft and fluffy texture but you can also reheat it on the stove by adding cold rice to a small pot, add a splash of water, cover, and simmer slowly until warmed through and softened.
Freeze: Allow fully cooked rice to cool, transfer to an airtight container and store in the freezer for up to 3 months. You can thaw at room temperature for a few hours or overnight in the fridge.
FAQs
Why do I have to rinse the rice?
Rinsing the rice removes the excess starch, without rinsing your rice will be sticky. It also prevents the rice from clumping together.
Do I have to soak basmati rice before cooking?
No, basmati rice does not need to soak before cooking. You can if you like, I find a good rinse is all it needs.
Why is my Instant Pot basmati rice so sticky?
Sticky rice is the result of too much water. Remember to measure correctly and drain well after rinsing.
What is the ratio of basmati rice to water in Instant Pot?
The basmati rice to water ratio in Instant Pot is 1:1. This ratio has worked perfectly for me time and time again, if you find the rice a bit hard you could do 1 cup basmati rice to 1.25 cup water.
Can I double or triple the recipe?
Yes, you can easily double or triple the recipe as long as you don't go over the Max fill line. Make sure to double or triple both rice and water amounts and follow same cook time.
How much does 1 cup of basmati white rice make?
You'll have roughly 3 cups of basmati rice after cooking 1 cup dry rice.
Can I cook brown basmati rice using this recipe?
No, this recipe does not work for brown basmati rice. Instead, cook it how you would cook brown rice in Instant Pot.
More Instant Pot Rice Recipes to Try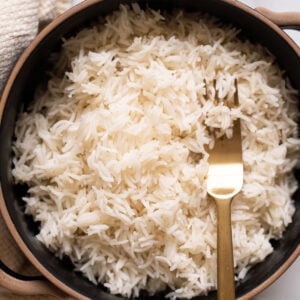 Instant Pot Basmati Rice
Instant Pot Basmati Rice cooks up light and fluffy every time! It takes only 1 minute of prep time and 20 minutes of total cook time.
Ingredients
1

cup

white basmati rice

1

cup

cold water

Pinch

of salt
Instructions
Rinse rice with cold water in a fine mesh sieve thoroughly until water runs clear. Drain really well.

In Instant Pot, add rice, cold water and a pinch of salt. Stir to make sure rice is submerged in water. Close the lid, set pressure vent to Sealing and press Pressure Cook on High pressure or Manual for 4 minutes.

After, do Natural Release by allowing pressure come down on its own for 10 minutes and then turn valve to Venting to release remaining pressure.

Open the lid, fluff rice with a fork and serve as you like.
Notes
Store: Refrigerate in an airtight container for up to 5 days.
Freeze: Fully cook, cool completely and freeze rice in an airtight container for up to 3 months. Thaw in the fridge overnight or on a counter for a few hours.
Using the Rice button: You can use Rice button with Instant Pot Duo or if you have electric pressure cooker that can cook on Low pressure. Cook for 12 minutes on low pressure and release pressure after right away.
Nutrition
Serving:
1
cup
|
Calories:
228
kcal
|
Carbohydrates:
50
g
|
Protein:
4
g
|
Fat:
0.4
g
|
Saturated Fat:
0.1
g
|
Sodium:
7
mg
|
Fiber:
1
g
|
Sugar:
0.1
g