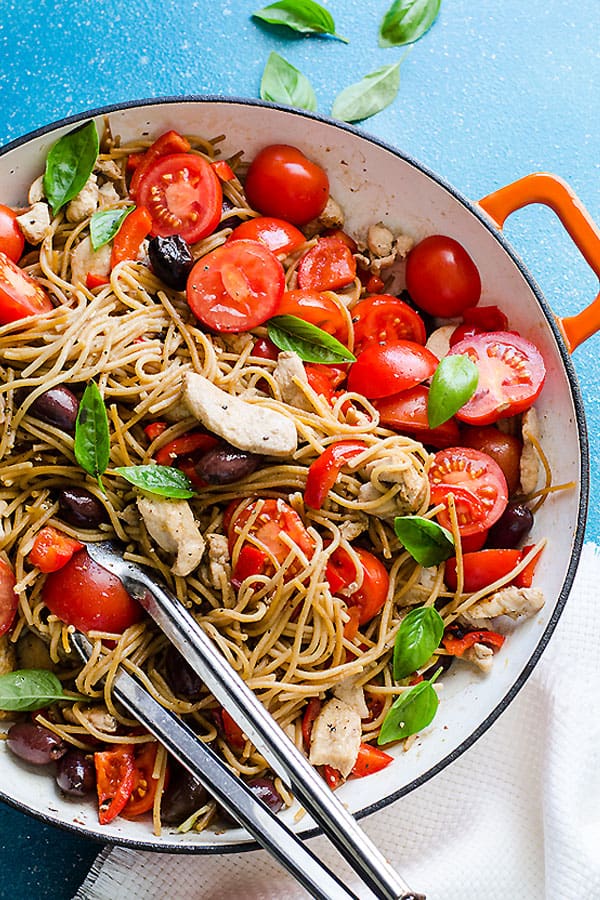 This 30 minute one pot healthy pasta recipe is sponsored by Texture.
Whole wheat spaghetti is the most cooked type of pasta in my kitchen. For two good reasons. Reason #1 – Costco. It sells the largest most affordable giant box of organic noodles. Reason #2 – kids. They particularly love spaghetti. I don't think they even know what white pasta tastes like so we have no problem with more nutritious whole wheat.
So, on Wednesday was whole wheat spaghetti recipe turn…after lentils, brown rice and quinoa it was definitely time to give kids pasta before they start to rebel.
On Wednesday, I was browsing Texture, particularly Clean Eating Magazine (my favourite ever) and came across a Creamy Chicken Pasta recipe which inspired this dish. I never follow a recipe but rather my fridge and pantry's ingredients and my schedule. I definitely, like any other mom, run out of clean eating dinner ideas occasionally.
That's when magazines and Texture come in.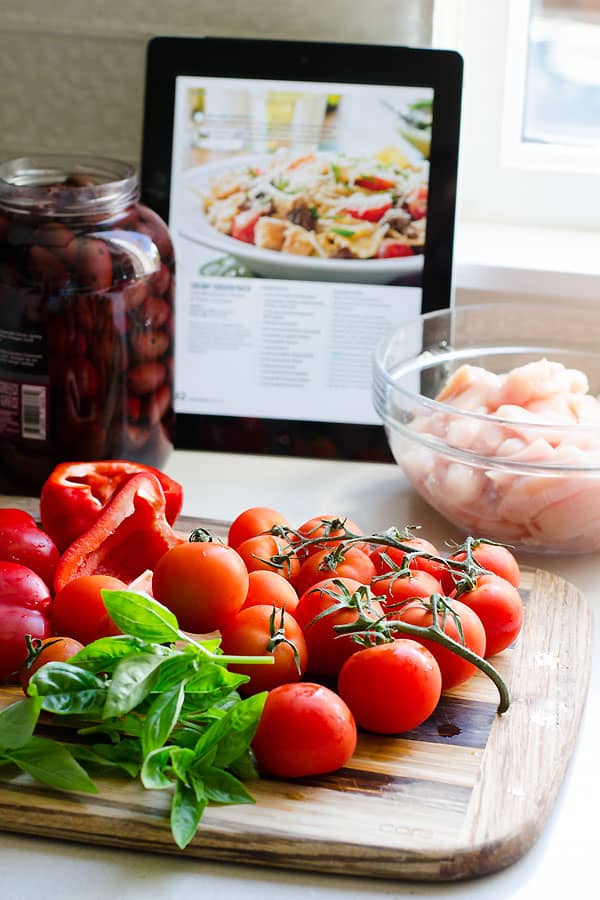 Texture is an app that let's you browse over 150 magazines, 26 in food and cooking, for a subscription of $9.99 a month. That is like a price for one magazine but you get access to all of them. And first 30 days are free and after that cancel anytime. I think it is a pretty sweet deal.
The app is very simple to use without too many functions but with the ones you need. Browse magazines and Add to Favourites the ones you like. Go through the entire list or use the Search function.
Then browse and save articles into collections. Move them around and add notes.
You can download entire issue on your device. Anything you would do with a print magazine you can do the same with Texture. But nothing to throw away or recycle. Use on up to 5 devices and without WiFi. Perfect for summer reading!
Alex got also hooked on the app as you can tell. He was sitting on the patio after work browsing muscles and Macs like a mad man.
So, after being convinced about chicken and spaghetti for dinner I drove to get a free range chicken from my farmer. Eating clean is definitely work because I can't simply walk into one store and stock up on all necessities anymore. As I was driving to get chicken I thought I should get cheaper gas, which is sold near the chicken farmer.
As I was pumping gas I thought of a no spray orchard nearby "hmmm, I wonder if they have tomatoes for my recipe and maybe blueberries?!".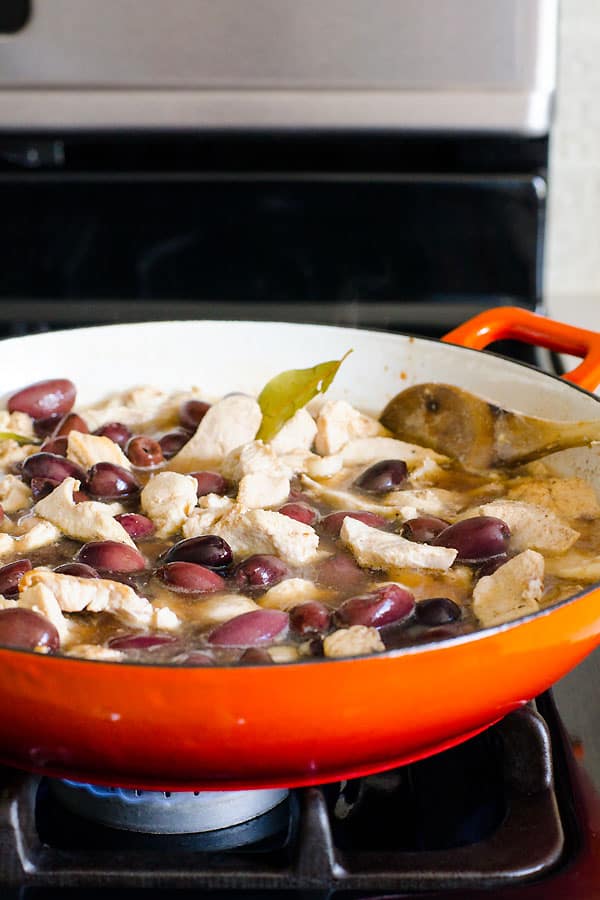 Entire trip took me about 1.5 hours but was well worth it. These cherry tomatoes were out of the world. Nothing beats local sustainable food. Nothing! I tasted commercially grown food on our recent trip to Mount Baker and there is a difference. Huge difference. So, sometimes I can do it and sometimes I can't. I do not beat myself up about it anymore. It is real life.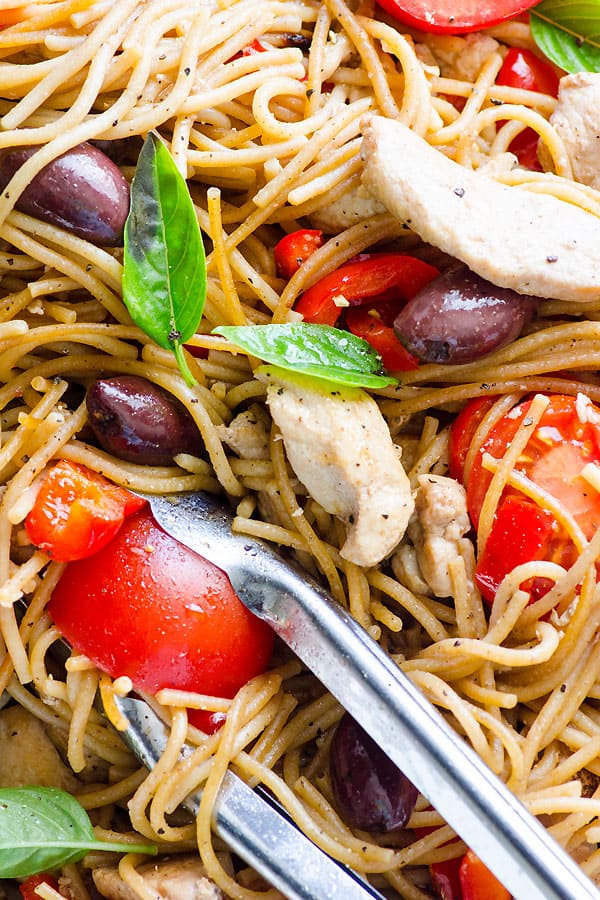 This whole wheat spaghetti recipe was one of my best ones so far! It is never the same though as I suck at following even my own recipes. Salty Kalamata olives, sweet chicken pieces, al dente noodles, popping cherry tomatoes and fresh garden basil – amazing 30 minute one pot chicken spaghetti recipe your hungry kids will gobble up.
Mine were sitting at the kitchen's island colouring and anxiously waiting for dinner. Then screaming "you are the best cooking mommy ever". Summer breathe was coming from the backyard, top 40 playing on my phone and 3 of us laughing and slurping spaghetti – I love summertime with my children which I will take with me forever! I hope you are having a great great time too!
Enjoy!
Print
Chicken and Whole Wheat Spaghetti Recipe
Chicken and Whole Wheat Spaghetti – healthy whole wheat pasta recipe with chicken, olives, grape tomatoes and basil.
Author:
Prep Time:

7 minutes

Cook Time:

23 minutes

Total Time:

30 minutes

Yield:

8 servings
Ingredients
1 lb grape or cherry tomatoes, cut in halves
2 medium bell peppers, coarsely chopped
2 tbsp avocado or coconut oil
2 lbs boneless & skinless chicken breasts, thinly sliced
2 1/2 cups water or chicken stock
2 cups Kalamata olives, pitted
1 1/4 tsp salt
Ground black pepper, to taste
2 bay leaves
12 oz whole wheat spaghetti (use GF and adjust cooking time if necessary)
Handful of basil, chopped
Instructions
Preheat large deep skillet or a dutch oven on medium heat and swirl oil to coat. Add peppers an cook for 3-4 minutes, stirring occasionally. Transfer to a bowl with sliced tomatoes.
Return skillet to the stove on medium-high heat and add chicken. Cook for 5-7 minutes or until opaque, stirring occasionally. If any juices appear do not drain. Add water (I usually boil a kettle to speed up cooking) or stock, olives, salt, pepper, bay leaves and gently stir. Take a bunch of spaghetti and snap in 3 adding to the skillet. Give a gentle stir to mix ingredients.
Cover and cook for 10 minutes. Remove lid, stir well softened spaghetti with the rest of ingredients, cover and cook for 5 more minutes. Turn off heat and add previously cooked peppers, tomatoes and basil. Stir and serve hot.
Store: Refrigerate in an airtight container for up to 3 days.
★ Did you make this recipe? Please give it a star rating in the comments.
This is a sponsored conversation written by me on behalf of Texture. The opinions and text are all mine.