Instant Pot Spaghetti is healthy one pot dinner ready in 20 minutes. Pasta, meat and sauce – all cook in one pot. It is true Italian meal with a lot of flavor and little effort. So hearty!
This Easy Instant Pot spaghetti and meat sauce is a cross of my spaghetti with tomato sauce and homemade meat sauce. You can use any ground meat, pasta or sauce. Kids will love it!
Instant Pot Spaghetti and Meat Sauce
Instant Pot spaghetti is one of those dinners that saves the busy weeknight. Or who am I kidding, most weekends with kids are just as busy.
That's when me or Alex throw meat, pasta and sauce in our pressure cooker and healthy dinner is on the table in 20 minutes. Also try my lasagna without the springform pan. One pot, your mind will be blown once again haha.
All year round, friends. Even in summer because Instant Pot doesn't warm up your kitchen.
Don't have an Instant Pot yet? Check out which one you should buy. And you should very soon. Life changing magic pot! You are welcome.
Ingredients for Instant Pot Spaghetti Recipe
What I love about this Instant Pot spaghetti and meat sauce is that you can use ingredients you have on hand. And most of us always stock sauce, pasta and meat. Fresh or frozen.
My next experiment will be with frozen meat and I will report back.
You need 5 simple ingredients:
Pasta
Ground meat
Tomato sauce
Spices
Water
And you see how I didn't specify exactly ground beef or turkey because options are endless. Let's go over them!
What Pasta Works?
You can use white, whole wheat or gluten free spaghetti. I would reduce cooking time from 5 minutes to 3 minutes for gluten free pasta. Worst case scenario, if it's a bit crunchy, you let it sit a few extra minutes after cooking. It's pasta, it cooks fast and is better to undercook.
As for shape, you can use spaghetti, linguine or fettuccine. See I used whole wheat fettuccine. Because that's all I had that day. And we absolutely loved the outcome.
You can use any shape pasta. Penne, bow ties, fusilli, elbow macaroni etc.
Always good idea to keep in mind that whole wheat or gluten free pasta offers more nutrition than white pasta. More fiber, vitamins and nutrients. Up to you. Not judging.
What Ground Meat Can I Use?
Ground turkey, ground beef, ground chicken, ground lamb or even ground venison.
I used ground beef because that is what I felt like that day. We just ate a lot of ground turkey days prior. And I like to balance things out. I grew up on beef, love its taste and eating red meat 1-2 times a month is fine in my books.
Poultry will make Instant Pot spaghetti more lean and therefore a healthier choice. It is a personal preference.
Should I Drain the Meat?
If it is beef or lamb, I would drain it mid way sauteing. Grab the inner pot with a towel and drain into the bowl. Discard into compost or garbage when solid. Apparently, fat is bad for sewer and drain pipes. Just a tip.
Draining any ground meat half way will also speed up the cooking process. As meat will not be "boiling" in liquid. Instant Pot doesn't really brown-brown the meat, so it's especially helpful.
Which Tomato Sauce is OK?
Option #1 – Plain canned tomato sauce. All you have to do with it is to add simple spices, salt and a bit of sugar to reduce acidity. I buy cases of low sodium organic tomato sauce at Costco because it is cheap. That is what I used because I always have it on hand.
Option #2 – Jarred seasoned sauce like spaghetti or marinara. This sauce already has spices, salt and sugar added to it. And costs more accordingly. You can use 25-28 oz jar and reduce spices, salt and eliminate the maple syrup.
How to Make Instant Pot Spaghetti
If you are new to cooking with Instant Pot, check out my Instant Pot guide. 15 basic things that will answer many of your questions. K, now let's cook.
Brown meat on Saute.
Add water + seasonings and scrape the bottom of the pot stirring everything.
Lay broken in half pasta noodles criss cross in 6 layers.
Pour tomato sauce on top and do not stir. Remember me saying "I'll slap your hands if you stir".Prevents Burn.
Cook on high pressure for 5 minutes and do a Quick Release with pressure after.
Stir and let sit for 3 minutes to soak up the juices.
Do not worry about water and sauce not covering the noodles. There is enough steam inside the pot to soften them under pressure.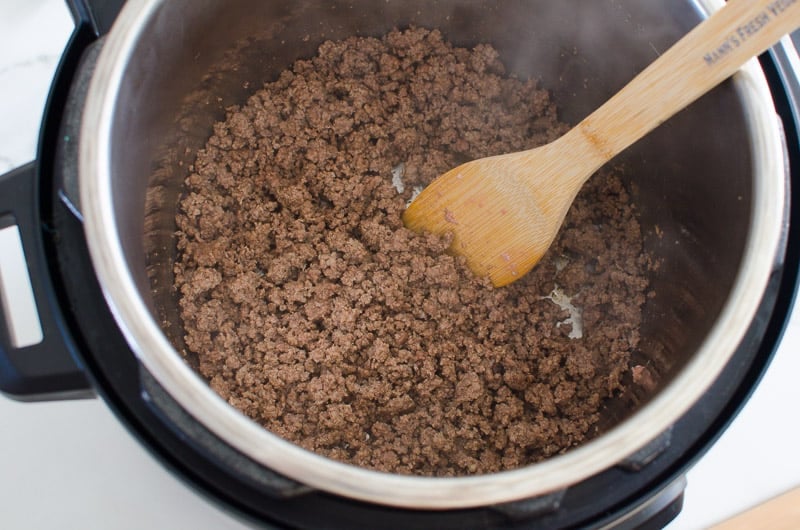 Below is a photo with 8 oz of spaghetti. It was too heavy on meat to my taste. I added 2 more ounces of pasta, closed the lid and let pressure cooker spaghetti "cook" pasta while just resting.
What if I Got Burn?
You should not. I tested and tested this recipe. But in 1% case you did ("lucky" you), it could be for the following reason:
You have a very brand new model of Instant Pot that is a bit more sensitive.
Little black bits that are left from sauteing stick to the pot. If they aren't removed, pressure cooker will make them more hot and "think" they are burning. If you deglaze with water and incorporate them into the recipe like I advise, you won't get the "burn" notice, promise.
You stirred by accident. Remember, slapping hands?:)
Check out my full post on 10 ways to avoid "Burn" message.
More Easy Instant Pot Dinners (One Pot)
Did you know we have entire Youtube channel dedicated to healthy Instant Pot recipes and tips? My goal is to help you become confident with your Instant Pot by demonstrating each delicious foolproof recipe in step-by-step videos.
Make sure to subscribe and hit the Bell icon not to miss new videos.
I hope you enjoy this Instant Pot spaghetti recipe, come back and tell me how you liked it in the comments below.
Print
Instant Pot Spaghetti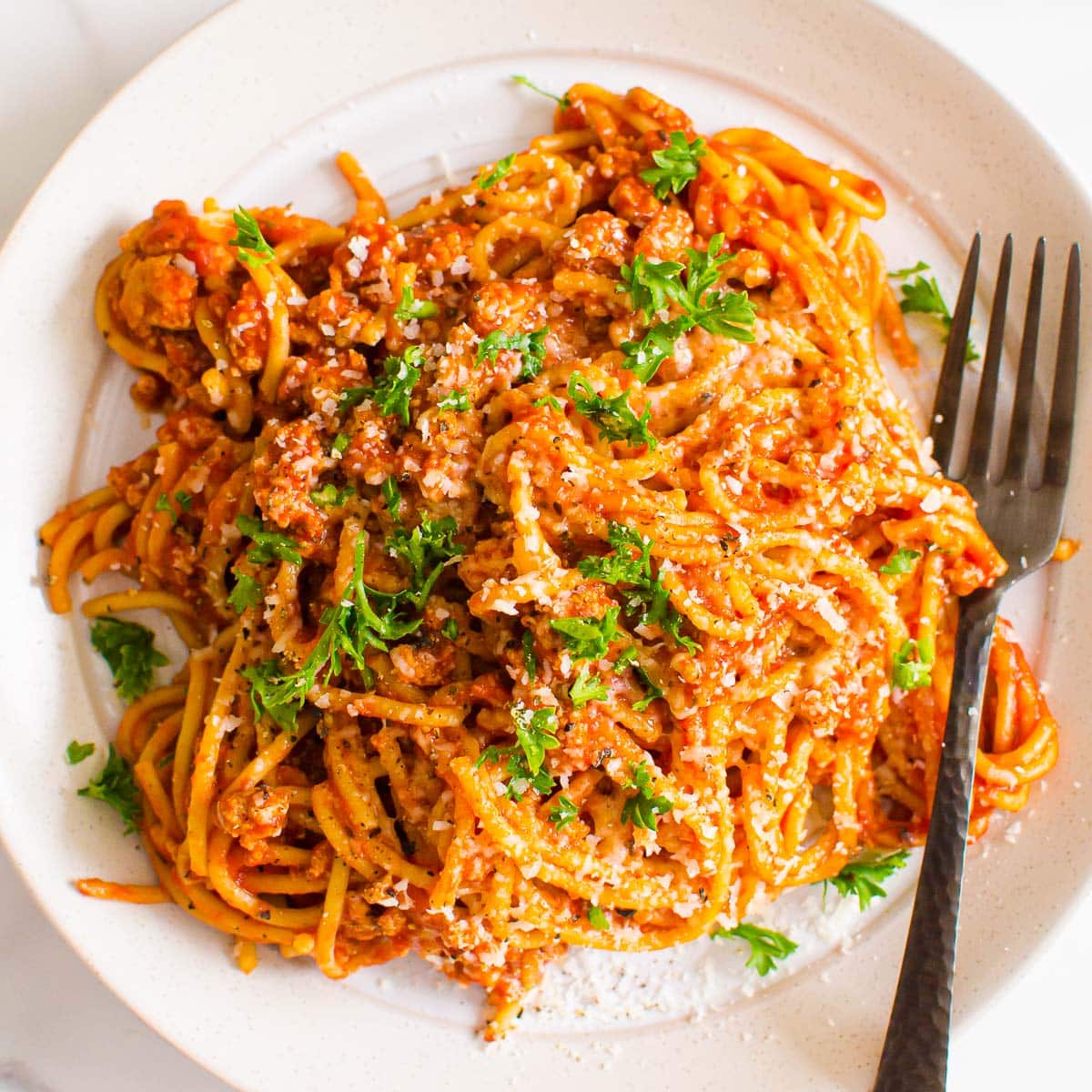 Instant Pot Spaghetti is healthy one pot dinner ready in 20 minutes. Pasta, meat and sauce – all cook in one pot.
Author:
Prep Time:

10 minutes

Cook Time:

10 minutes

Total Time:

20 minutes

Yield:

6

servings

1

x
Category:

Dinner

Method:

Instant Pot

Cuisine:

Italian
Scale
Ingredients
1

lb extra lean ground beef, turkey or chicken

2 cups

water

1 tsp

oregano, dried

1 tsp

basil, dried

1 tsp

thyme, dried

1 tsp

salt
Ground black pepper, to taste

1 tbsp

maple syrup

10 oz

whole wheat spaghetti

28 oz

tomato sauce, low sodium
Instructions
On Instant Pot, press Saute and wait until display says Hot. Add meat and cook until brown in colour, breaking into pieces constantly. Instant Pot doesn't really brown the meat and it doesn't have to be cooked through.
If cooking beef, I drain the fat in the middle of cooking. Up to you. Healthier.
Add water, oregano, basil, thyme, salt and pepper. Scrape the bits off of the bottom of the pot with spatula while stirring everything. Helps to avoid Burn message. Press Cancel.
Break noodles in half and add criss cross in about 6 layers. It helps to prevent noodles from sticking.
Pour tomato sauce and maple syrup on top. Do not stir.
Close the lid, turn pressure vent to Sealing and press Pressure Cooking on High for 5 minutes.
After Instant Pot has finished cooking, release pressure using Quick Release method by turning valve to Venting and open the lid.
Spaghetti will look watery. Don't worry. Stir gently and let sit for 3 minutes.
Serve hot garnished with basil and Parmesan cheese. Or however you like spaghetti. Enjoy!
Store: Refrigerate leftovers in an airtight container for up to 2 days. Do not freeze.
Notes
You can use white, whole wheat or gluten free spaghetti. Or even fettuccine like I did. Cook gluten free pasta for 3 minutes, others no change. Worst case scenario, if it's a bit crunchy, you let it sit a few extra minutes after cooking. It's pasta, it cooks fast and is better to undercook.
For more meat and sauce, use 8 oz of noodles. I liked 10 oz because feeds more and less meat.
Replace thyme, basil and oregano with 1 tbsp of Italian seasoning.
You can replace tomato sauce with a jar of your favorite sauce! If you do so, reduce dried herbs to only 1 tsp and salt to 1/2 tsp, and eliminate maple syrup. Jarred sauce contains sugar already.:)
★ Did you make this recipe? Please give it a star rating in the comments.