Traditional Greek Salad with juicy tomatoes, fresh vegetables, olives, and feta cheese is colorful with authentic salty and savory taste! Easy to make with only 6 ingredients, plus a simple olive oil and vinegar dressing.

Other salads that are on our frequent rotation include cucumber and tomato salad, cucumber tomato feta salad and lettuce salad. They are easy to make and full of veggies!
I absolutely love this easy Greek salad! Where I live we have Greek restaurant fast food chain, OPA. My order always includes lamb pita wrap and a traditional Greek salad.
I swear it is the best salad I ever tried and have now recreated at home!
It is the perfect salad for a Mediterranean inspired dinner when paired with Greek chicken and quinoa tabbouleh salad, amazing!
First of all, everyone loves it. Secondly, it takes 15 minutes to make and is so flavorful, juicy and crispy.
Plus it contains my two favorite salad ingredients, cucumber and tomatoes, which I use in just about every salad I make including Mediterranean quinoa salad and avocado corn salad.
Eating healthy and fresh has so many healthy benefits. Let's do it!
Why You'll Love This Salad Recipe
This is one of my favorite healthy lunch ideas and dinner sides during the summertime!
Flavorful: Full of fresh ingredients that taste amazing with minimal dressing it's both lower in calories and filling.
Affordable: We are so blessed to live in North America and have access to fresh produce year round.
Nutritious: Veggie loaded this Mediterranean salad is brimming with healthy vitamins that are good for you!
Easy to make: 15 minutes is all you need to bring this salad to fruition.
What is Greek Salad?
Authentic Greek salad, Horiatiki or Greek village salad as it's called in Greece, is a simple salad consisting of fresh seasonal ingredients typically grown during the warmer months of spring into summer.
The classic combination of this salad includes cucumbers, tomatoes, green bell pepper, red onion, olives, and feta cheese tossed with a light vinaigrette. So simple but so fresh and flavorful!
Ingredients You Will Need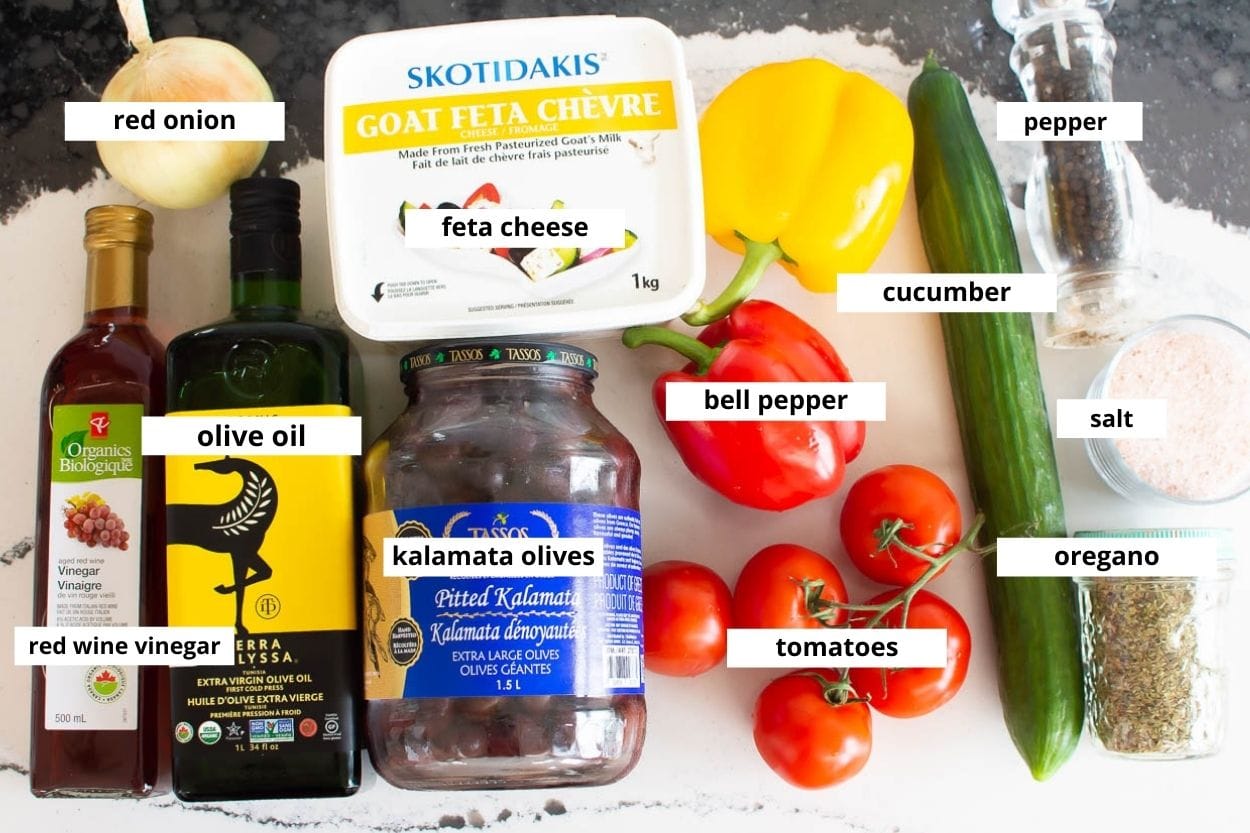 Although we might be located far from the Mediterranean, that doesn't stop me from making this salad on repeat! These ingredients can be enjoyed in any season and in any locale.
Tomatoes: In season, tomatoes are sweet, juicy and so tasty. Other months, I buy tomatoes on the vine. The extra cost and better taste is worth it to me.
Cucumber: "Regular" English long cucumber works. No need to peel or seed but you can.
Bell pepper: My personal preference is green bell peppers because they are less sweet. Red bell pepper is another favorite. Any color works, though!
Red onions and olives: Kalamata olives are traditional in Greek feta salad. Be sure to buy pitted kalamata olives to save time!
Feta cheese: Choose feta cheese in a block. Pre-packaged crumbled feta has anti-caking agents to prevent lumps, and we don't need those food additives.
Olive oil and red wine vinegar: Extra virgin olive oil is the best. Also, red wine vinegar makes a world of difference. Fresh lemon juice could be substituted in a pinch!
Dried oregano, salt & fresh ground black pepper: Simple pantry spices that add bold flavor.
How to Make Traditional Greek Salad
Making this salad is so easy in only 4 simple steps!
Make dressing: Combine olive oil, red wine vinegar, dried oregano, salt, pepper and whisk. Sometimes I like to add grated garlic.
Chop: Chop veggies coarse into same size chunks for ultimate experience.
Crumble feta and slice olives in halves: I find whole olives too scarce and salty. Same with the feta cheese. Small salty crumbles will distribute evenly throughout.
Combine: Pour dressing on top and stir gently with a large spoon until combined well.
Serve immediately: Best served within 1 hour of combining.
Tips for Best Results
Cut vegetables into similar sizes: Aim for one inch cubes so you can enjoy all the flavors in one bite.
Eat sooner rather than later: Salad tastes best when eaten within one hour of combining.
Kalamata vs. black olives: Kalamata olives are preferred here because of their salty, briny flavor profile. Black olives just don't make the cut.
Block of feta: Traditionally a block of feta is served on top of the salad vs. fresh crumbles.
Optional add-ins: Capers for additional briny flavor or chickpeas for plant based protein.
Serving Recommendations
This versatile salad pairs well with so many mains. While amazing year round, I find that it's perfect for summertime grilling season.
FAQs
Is Greek salad recipe healthy?
This low calorie salad is nutrient dense and full of vitamins A and C from the vegetables, antioxidant lycopene from tomatoes, and healthy fats from olive oil. With all these nutritional benefits, it's no wonder that this Greece specialty has become such a beloved salad all over the world.
What kind of homemade Greek salad dressing should I use?
This recipe calls for a simple dressing made with red wine vinegar. It really only takes minutes to whisk together!

If you still aren't sure you will have time to make the dressing, meal prep it ahead of time. Homemade salad dressing will stay fresh in the fridge for 5 – 7 days.
Does traditional Greek salad contain lettuce?
Classic horiatiki (Greek) salad does not contain lettuce. That being said, if you want to add your own spin to this salad, go ahead and add a sturdy lettuce, like romaine.
Make Ahead and Storage
Make ahead tip: Add homemade dressing in your serving bowl. Then add salad ingredients on top but don't toss until serving time. Everything stays crisp. Or refrigerate salad and dressing separately for up to 2 days, then combine before serving.
Travel tip: This classic Greek salad travels well to picnics and potlucks. Cover bowl with plastic and bring salad dressing in a jar with tight fitting lid. Easy!
Leftovers: Keep well in the fridge for up to 12 hours. There is no greens to get soggy, so salad has some longevity. But I find after 12 hours tomatoes start to go.
More Healthy Salad Recipes
Also, be sure to check out over 50 other healthy salad recipes. You will not be disappointed!
Traditional Greek Salad
Traditional Greek Salad with tomatoes, vegetables, olives and feta cheese, plus olive oil and vinegar dressing! Authentic and flavorful taste.
Instructions
In a small bowl, combine olive oil, red wine vinegar, oregano, salt and pepper. Whisk and set side.

In a large bowl, add tomatoes, bell peppers, cucumber, onion, olives and feta cheese.

Pour dressing on top and stir gently with a large spoon until combined well.

Best served within 1 hour of combining.
Notes
Make ahead: Refrigerate salad and dressing separately for up to 2 days, then combine before serving.
Store: Refrigerate leftovers for up to 12 hours. Salad stays crispy for the evening, after – less.
Tomatoes: I prefer tomatoes on the vine as they taste good even in winter months.
Feta block: Crumbled feta has caking agents, so it's best to buy a chunk and crumble yourself.
Nutrition
Serving:
1
cup
|
Calories:
143
kcal
|
Carbohydrates:
8
g
|
Protein:
3
g
|
Fat:
12
g
|
Saturated Fat:
3
g
|
Cholesterol:
8
mg
|
Sodium:
447
mg
|
Fiber:
3
g
|
Sugar:
5
g