These Chocolate Coconut Flour Muffins are dense, fudgy, and packed with chocolate and cherry flavor! Best of all they're naturally gluten free and dairy free!
I love to use healthy alternative ingredients in my baking like this coconut flour banana bread!
If you're looking for a rich, indulgent, and deliciously fudgy chocolate-y muffin that just happens to be healthy, I am happy to help!
I'm sharing with you the best muffin recipe that caters to the chocolate lover in you and to those that are looking for healthy snack ideas!
They might remind you of my healthy chocolate muffins and healthy chocolate bread that are similarly fudgy.
These muffins are super moist, flavorful and can be kept frozen for months, so I suggest doubling the batch.
Unlike almond flour, which creates super moist baked goods like almond flour banana muffins, coconut flour is very absorbent. For this reason, learning to bake with it can be tricky and it definitely shouldn't be used to substitute other flours without other ingredient tweaks.
Ingredients You'll Need
The list may look long, but every ingredient plays an important role when baking with coconut flour. If necessary, see below for some ingredient substitutions.
Large eggs: When using gluten free flour, especially, it's important to use eggs for binding. They will also help to add moisture, which coconut flour doesn't provide.
Applesauce: Replaces the oil or butter in baking which allows us to use less fat even if we still do use either one. Can also use yogurt or mashed bananas.
Milk: You can use whatever milk you have on hand. I usually have unsweetened almond milk.
Maple syrup: Use any liquid sweetener you want, including any sugar free substitutes. Just as long as you're not altering the wet to dry ingredient ratio.
Coconut oil: Can use melted butter or any mild tasting oil instead.
Pure vanilla extract: A flavor enhancer!
Cacao powder: Not to be confused with cocoa powder. Cacao powder is made from unroasted beans which means it is slightly less processed than cocoa powder. Either can be used.
Baking soda & baking powder: Leavening agents that will work hard to get your muffins to a light and fluffy texture.
Cinnamon: Just another layer of flavor that pairs well with chocolate.
Coconut flour: Absorbs liquid easily, so follow directions carefully!
Dark chocolate chips: The second type of chocolate in these muffins.
Cherries: Fresh or frozen pitted cherries.
Cooking spray: Don't skip this! You'll need to make sure your muffins don't stick to the tin once baked.
How to Make Chocolate Coconut Flour Muffins
This is a one bowl recipe that produces warm chocolate-y muffins in 30 minutes, so even if you don't have some frozen on hand, they're just as easy to whip up in a hurry!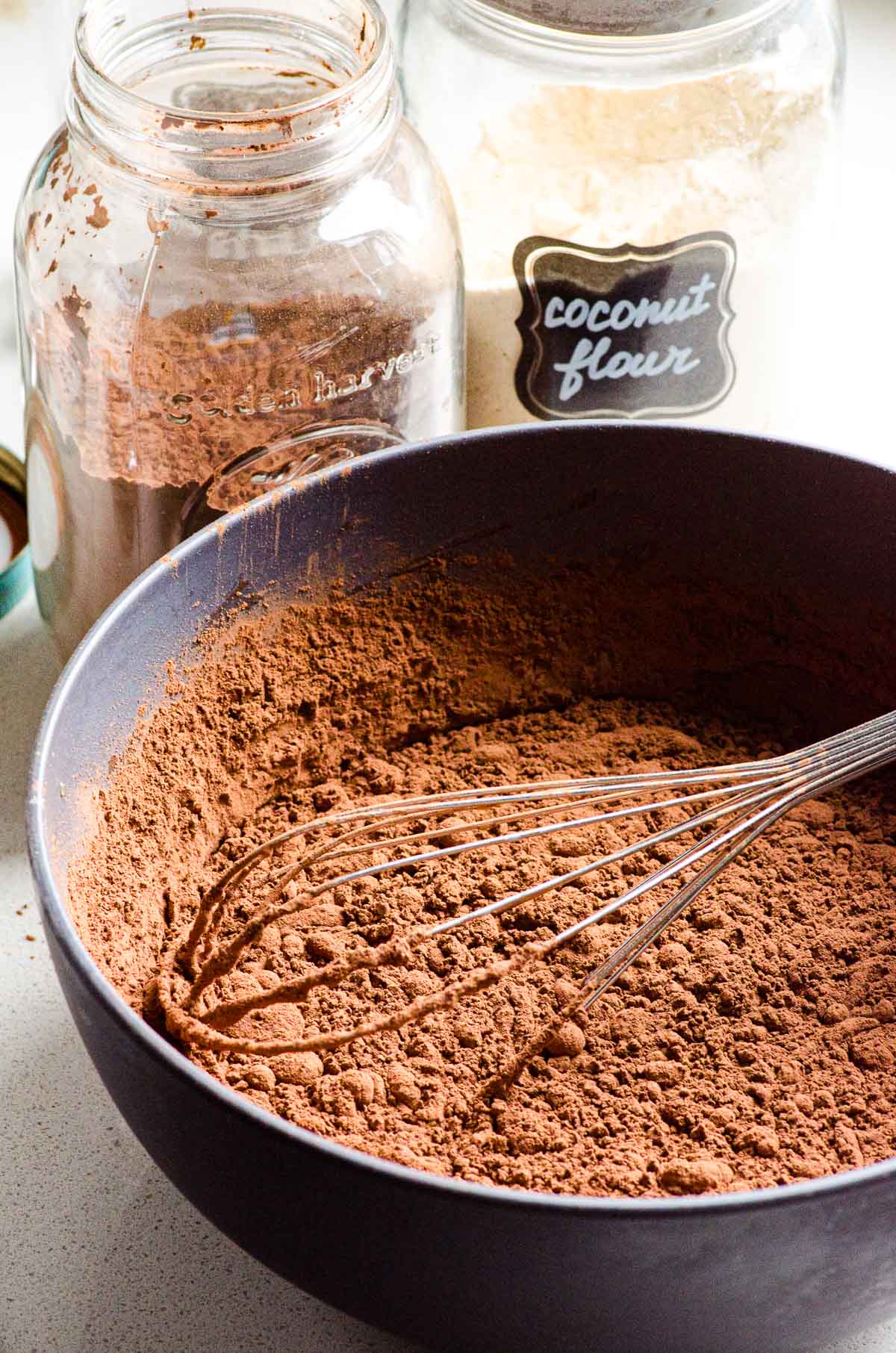 First, you'll grab a medium bowl and mix the wet ingredients, followed by all of the dry ingredients except the flour.
Then, you'll add the coconut flour to the batter and stir it well. Toss in the cherries and chocolate chips and fold in to combine and voila!
Divide the batter into the tin and bake for 25 minutes. Don't forget to allow them to cool first!
Enjoy!
Variations
Here's a list of a few easy swaps:
Dried cherries. A few readers have reported using dried cherries successfully. If you try this, you'll probably need around half the amount of fresh cherries.
A different extract. Swap out the vanilla extract for almond extract instead. Consider using a little less to ensure it doesn't overpower the taste.
Milk. As mentioned above, use any milk. Coconut milk might be a nice way to play up the coconut flavor. The higher fat content will lead to richer textures.
Dark chocolate bar chopped instead of chocolate chips can work. If you're OK with the slightly bitter flavor, you could also use cacao nibs.
Expert Tips and FAQs
Use paper liners. Baked goods using coconut flour tend to be delicate. Muffin liners will help keep them together.
Ice cream scoop. Divide the batter evenly by using an ice cream scoop. This helps to make sure each one is the same size, for even baking.
Can I substitute coconut flour?
Nope!
Can I use an egg replacer?
No. I don't recommend it. Not only are we using eggs in this recipe but we're using 3 large ones! They are needed for structure when using coconut flour.
What can I use instead of cherries?
Any fresh or frozen berries will work. Think blueberries, raspberries, blackberries etc. Also dried fruit is OK but use half amount.
What is the best way to enjoy these muffins?
They work as a breakfast, snack, or even dessert! Slice it in half and spread some nut butter or butter on each half. You could dust it with a little powdered sugar for a treat. If you want to get ridiculous, top it with a dollop of healthy chocolate frosting!
Storing Leftovers
These don't need to be kept in the fridge, just a spot on the counter will do. Enjoy them for a few days.
If you've made a double batch or want to freeze what hasn't been eaten, you can store them in the freezer for up to 3 months in an airtight container. Then, when you're ready to take one or two out, allow them to thaw overnight. Enjoy them at room temperature or warmed up a bit!
More Healthy Chocolate Recipes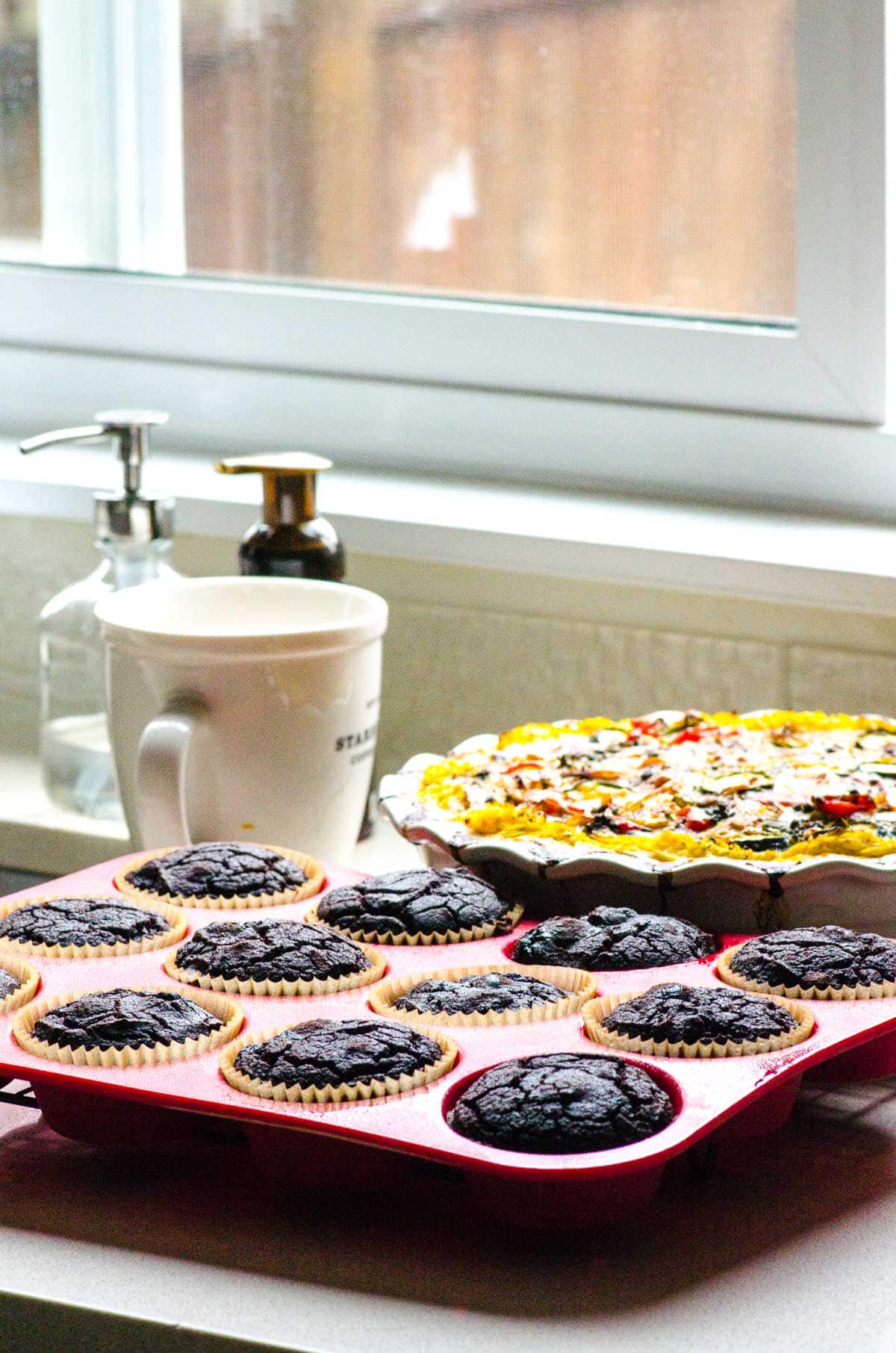 Double Chocolate Coconut Flour Muffins
These Chocolate Coconut Flour Muffins are dense, fudgy, and packed with chocolate and cherry flavor!
Instructions
Preheat oven to 350 degrees F. Line muffin tin with liners and spray with cooking spray. Set aside.

In a large mixing bowl, whisk the eggs. Add applesauce, milk, maple syrup, coconut oil, vanilla and whisk well to combine. Add cacao powder, baking soda, baking powder, cinnamon and whisk until combined.

Add coconut flour and stir well. Add chocolate chips and cherries; give a few gentle stirs to incorporate.

Using large ice cream scoop, divide batter between 12 openings. Bake for 25 minutes or until toothpick inserted in the middle comes out sort of clean.

Remove from the oven and let cool for 10-15 minutes. Transfer to a cooling rack and let muffins cool off another 15 minutes to firm up.
Notes
Store: Store in a cool dry place for up to 3 – 4 days
Freeze: Airtight container up to 3 months.
Cherries: A few readers have reported using dried cherries successfully. Probably around half amount of fresh.
Liners: I highly recommend to use liners as coconut flour muffins are delicate.
Nutrition
Serving:
1
muffin
|
Calories:
122
kcal
|
Carbohydrates:
17
g
|
Protein:
3
g
|
Fat:
6
g
|
Saturated Fat:
4
g
|
Cholesterol:
41
mg
|
Sodium:
190
mg
|
Fiber:
3
g
|
Sugar:
11
g