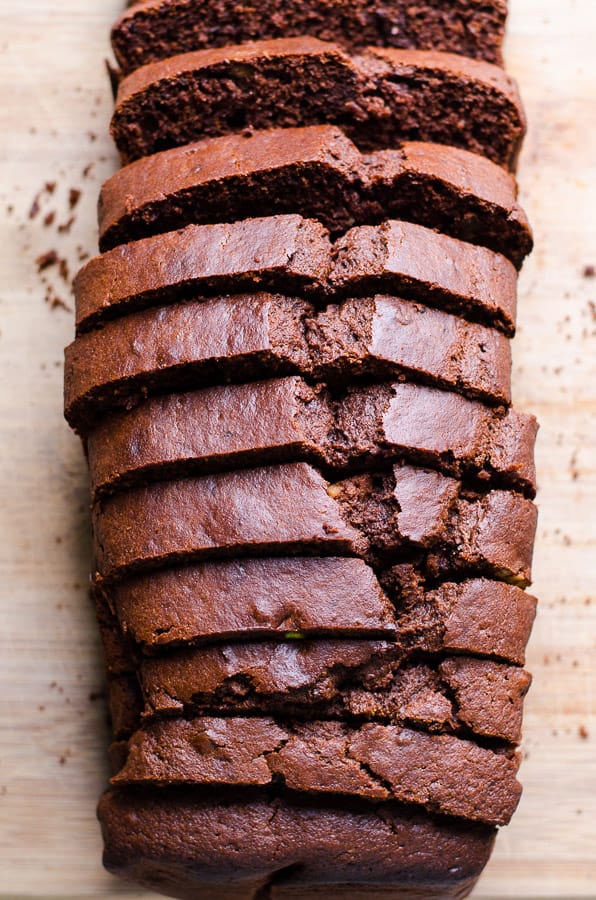 Since we are leaving on a month long tropical adventure in a few days, I'm trying not to grocery shop and use up everything I have. In a very long list of draft recipes (about 100) I had this chocolate coconut bread I tested a few years back and since have abandoned. I remember it turned out very moist but texture needed work.
Kids have busy week of sports, so I needed fuel snacks, desperately. Healthy chocolate bread made with a can of coconut milk to the rescue, yep.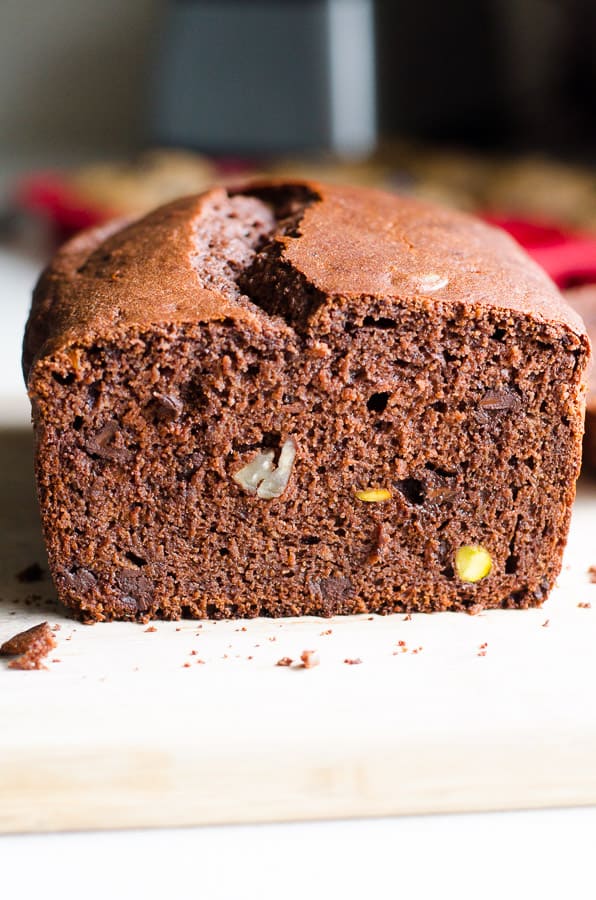 It turned out fantastic! No, let me rephrase – after my healthy chocolate muffins, this chocolate bread with spelt flour is the second best thing chocolate I ever made.
I also made my healthy banana muffins (which are always a huge hit) with frozen blueberries. This way, I ended up using everything that has to be used in the freezer before summer arrives (it will, right?!): blueberries, applesauce and bananas.
This is what my ideal snack station looks like, which doesn't nearly happen every week – fruit and homemade wholesome baked goods: good carbs that provide energy. Going back to our conversation on how to make kids eat healthy, one of my suggestions is to reduce snacks, I mean junk. If my kids ate 3 full wholesome meals that day (which they do every single day), no problem with snacks. However, there isn't mindless snacking happening in my house – it means kids didn't eat properly.
So, this week, after school if boys ate their healthy lunch, they eat these snacks before taking off to hockey or swimming. If not, then first finish lunch and then eat snacks. We are not wasting lunch food here and I'm not finishing it either, not my food to eat. I always make sure boys stop eating about an hour or so before their activity because have you ever tried to skate or swim with a full belly?! Exactly.
The only fridge item you need to make this healthy chocolate bread is eggs, everything else comes from the pantry. Not sure why is this worth mentioning but I thought it was pretty cool anyways. Like I'm not trying to sell you on a sensation factor beside that this chocolate loaf is sensationally tasty, just like my healthy pumpkin bread and healthy banana bread.
Why coconut milk? Truth is I was going after a coconut heavy flavoured bread but stopped at adding coconut flakes step, since I remembered my oldest one doesn't like coconut flakes. See, I'm not a moron-mom, I consider my child's food aversions, maximum 5 each bahaha. After 5, eat what I gave you. So, I skipped coconut flakes but still used coconut milk which resulted in moist bread without use of oil or applesauce. Again, not sure how is it cool or better, just different. Let's put it this way – easier to open 1 can than pull out 2 ingredients.
And to answer the question – no, you can't taste coconut milk at all.
The crack – a sign of success.
Salted shelled pistachios – amazing. I buy mine shelled at Costco. I ran out of them and bought a small bag at Save on Foods, just to come home on Sunday, after a day out, to all 3 boys cracking my nuts. That is why you see pecans too. But salted pistachios are the best in this coconut chocolate loaf.
Why spelt flour? Because it is a must buy item on my Costco shopping list. Spelt flour is whole grain and is substituted for whole wheat flour, I just find spelt flour baked goods lighter and nuttier. Like this healthy chocolate bread's end pieces came out with a light crust, almost biscotti like texture and taste. SO GOOD!
And butter, a bit of salted organic butter, with a cup of black tea. Mmm, so European. And with this bread I'm saying good bye to my baking for at least a month because chances of me baking in the tropics at +30C are slim to none.
Enjoy!
Print
Healthy Chocolate Bread
Healthy Chocolate Bread Recipe with a can of coconut milk, cacao powder, honey and spelt flour, without refined sugar and no oil. Delicious, fluffy and moist.
Author:
Prep Time:

8 minutes

Cook Time:

70 minutes

Total Time:

1 hour 18 minutes

Yield:

12

slices

1

x
Scale
Ingredients
Wet Ingredients:
Dry Ingredients:
1/3 cup

cacao powder

1/2 tsp

baking soda

1/4 tsp

salt

1 3/4 cups

spelt flour

1/2 cup

chocolate chips (I used Enjoy Life)

1/2 cup

pistachios (salted are best)**

1 cup

coconut flakes (optional)**
Other:
Cooking spray (I use Misto)
Instructions
Preheat oven to 350 degrees F, line 9 x 5 loaf pan with unbleached parchment paper and spray with cooking spray. Set aside.
In a large mixing bowl, whisk eggs for 10 seconds. Add coconut milk and maple syrup or honey; whisk until combined. Add cacao powder, baking powder, baking soda and salt; whisk well until mixture is smooth and no visible lumps.
Add spelt flour and mix gently with a spatula just enough to combine, be careful not to over mix. Add chocolate chips, pistachios and coconut flakes (if using); give a few more gentle stirs to combine. Pour batter into prepared loaf pan and level gently with spatula. Bake for 70 minutes or until the toothpick inserted in the middle comes out clean.
Remove from the oven and transfer to a cooling rack to cool off for 10 minutes. Holding onto the flaps of parchment paper remove healthy chocolate bread from a loaf pan and let it cool off completely before slicing. Cut with serrated bread knife.
Store: Store covered in a cool dry place for up to 5 days. Freeze in an airtight container for up to 3 months.
Notes
*Do not use canned light or carton coconut milk. **Pecans would be great too. I didn't use coconut flakes this time.
★ Did you make this recipe? Please give it a star rating in the comments.