The whole wheat strawberry banana protein muffins are moist and fluffy, with no added sugar yet 7g protein per portion!
These make a wonderful addition to your high-protein snack arsenal along with these protein cookies, homemade protein bars, and coconut protein balls!
I have no idea why I have been putting off baking these yellow bundles of joy bursting with fresh strawberries?! Made with only whole wheat flour, protein powder, and no added sugar, you get a strawberry flavour with every muffin's bite.
I know why. If you are a baker you know how hard it is to get goods made with only whole wheat flour to rise. And secondly, whey protein could make muffins dry and rubbery.
OK, you know how Lululemon bags say "Face one fear a day"?! Last Monday I faced some Whole Wheat Strawberry Banana Protein Muffins and baked them 3 times until I (mother-in-law) was happy!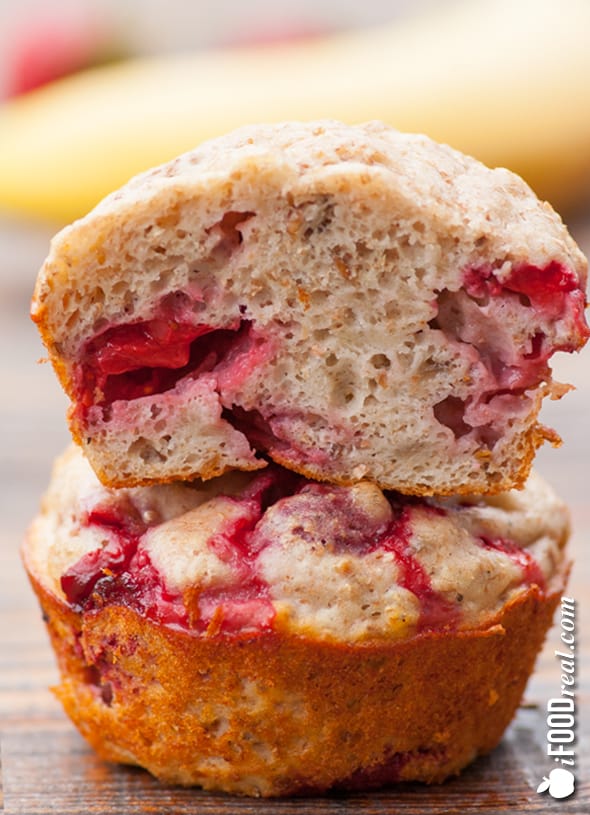 Moist, fluffy, bursting with strawberry flavour muffins! You want to taste the strawberries with every bite and not just "It's a good healthy banana protein muffin, honey". And these deliver just that!
As much as I love making healthy versions of banana-based baked goodies like almond flour banana muffins, banana bread (also with coconut flour, zucchini, almond flour), and banana oat bars – I also love to have high-protein snacks to turn to, and now I can finally combine the two.
And as for the fear of baking with whey protein powder, the trick is to incorporate a moisturizing ingredient like Greek yogurt or cottage cheese into the batter and not over-bake. Just insert a toothpick in the middle of a muffin at 18 minutes of baking time as ovens vary. If it comes out clean, it's ready. You know the drill.
Very important: do not use muffin liners with this recipe as the batter contains no fat. They will stick to the muffins and you will have to eat them because you will have no choice! I promise you will want to eat this moist healthy muffin even with a red#40 dye on a $1 paper muffin liner hugging it snuggly. Instead, spray the sides and the bottom of each muffin "hole" with cooking spray and dust with flour.
The strawberry season is in full bloom in Vancouver.  This means, along with these protein muffins, we have been enjoying these local red gems full of vitamin C, fiber, and potassium raw, baked into a healthy cobbler, over a spinach salad, chopped into blueberry strawberry salsa, and chucked into strawberry smoothies and yogurt bowl. So versatile!
You can use any other berries that are available in your part of the world to make these protein muffins. Raspberries, blackberries or blueberries (which also taste amazing in this breakfast blueberry cake!) will work great. Heck, mango would taste good in these too.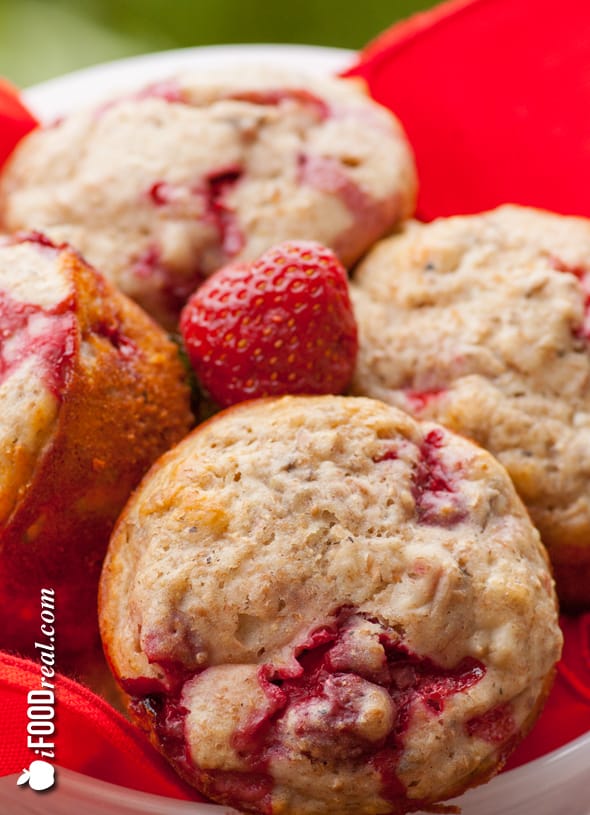 Oh, bananas. The best fruit ever! Delicious, affordable and already pre-packaged. Tell me, isn't it the best fruit ever?! Bananas are full of potassium, fiber and iron providing energy, improving digestion and brain functioning. Check out my 10 healthy banana snacks.
A tip of the day: don't bother buying organic bananas since their skin is so thick. Rather spend saved money on organic leafy greens that are directly exposed to pesticides.
Other Healthy Muffin Recipes
Feel free to peruse through my entire healthy dessert collection too, for more inspiration, or check out more high-protein snacks!
Whole Wheat Strawberry Banana Protein Muffins
Whole Wheat Banana Strawberry Protein Muffins Recipe - no added sugar, moist and not rubbery at all. Made only with whole wheat flour, whey protein powder and fresh strawberries.
Print
Rate
Ingredients
2

ripe bananas

mashed

1

egg

large

1/2

cup

Greek Yogurt

plain & 0%

1/4

cup

almond milk

unsweetened & vanilla (plain)

2

tsp

pure vanilla extract

1 1/4

cup

whole wheat flour

1/2

cup

whey protein powder

naturally sweetened, plain or vanilla

2

tbsp

flax seeds

whole, roasted or raw

2

tsp

baking powder

1/8

tsp

salt

1

cup

fresh strawberries

sliced or diced depending on strawberries size

Cooking spray
Instructions
Preheat oven to 350 F, spray regular size 12 muffin baking pan with cooking spray and dust with flour. Set aside. Make sure to cover the sides and bottom of each muffin "hole" completely. Do not use muffin liners.

In a medium bowl mash 2 bananas with a fork until smooth. Add egg, Greek yogurt, almond milk and pure vanilla extract. Mix with a fork until smooth and all wet ingredients are combined.

In another medium bowl add all dry ingredients: whole wheat flour, protein powder, flax seeds, baking powder and salt. Mix with a spoon or spatula to combine all ingredients. No need to sift the flour.

Add dry ingredients to the bowl with wet ingredients and mix just enough to combine. Do not overmix! You don't want the gluten starting to form and make the muffins rubbery. Add strawberries and give a couple of stirs just enough to incorporate the berries into the dough.

Using 1/4 cup measuring spoon distribute the batter evenly among the 12 muffin forms. Bake for 20 minutes or until the toothpick inserted in the middle comes out clean. I recommend checking the muffins for readiness at minute 18 of baking time as ovens vary. Cool completely before serving.
Store: Store in an air tight container in the fridge for up to 3 days or in a freezer for up to a month. To defrost, just thaw on a counter for at least 20 minutes.
Nutrition
Serving:
1
muffin
|
Calories:
104
kcal
|
Carbohydrates:
16
g
|
Protein:
7
g
|
Fat:
2
g
|
Saturated Fat:
1
g
|
Cholesterol:
22
mg
|
Sodium:
128
mg
|
Potassium:
178
mg
|
Fiber:
3
g
|
Sugar:
4
g
|
Vitamin A:
44
IU
|
Vitamin C:
9
mg
|
Calcium:
89
mg
|
Iron:
1
mg
Join today and start saving your favorite recipes
Recipes and images are a copyright of ifoodreal.com. It is against the law to republish recipes anywhere including social media, print and all world wide web. Nutritional info is provided for informational purposes only and to the best knowledge.