Downtown Cabo San Lucas
On Sunday, we ventured out to explore downtown Cabo San Lucas, visit Medano Beach and go for dinner. The main mall, Puerto Paraiso, was just a mall, very Americanized with nothing special we haven't seen before. We bought kids overpriced ice cream and went for a very warm walk by the marina, where we saw the cutest "show" ever: seal begging for fish carcasses as fishermen were  dealing with their catch of the day.
We quickly got tired of intoxicated almost naked spring breakers, pushy sales people and overpriced restaurants. I am really past the stage of being taken advantage off knowingly.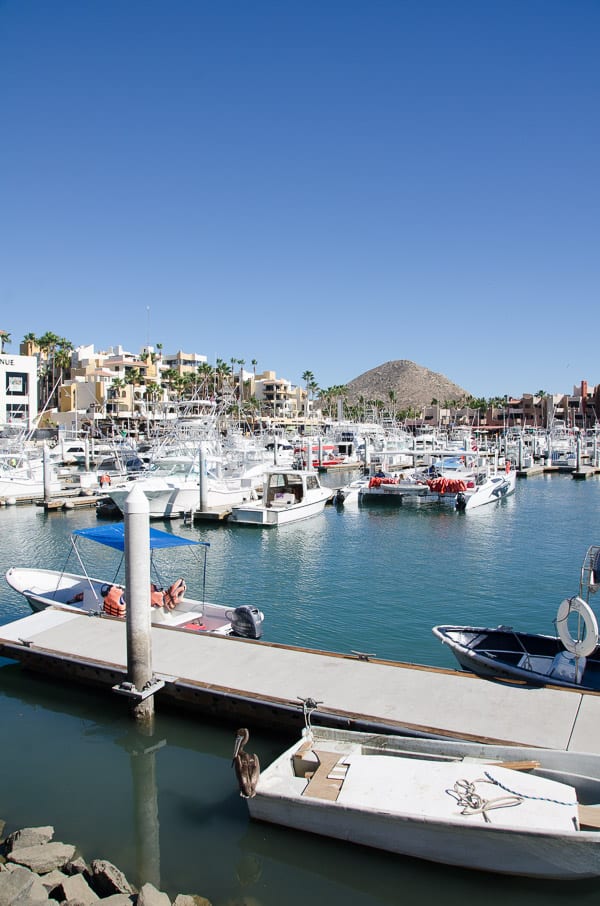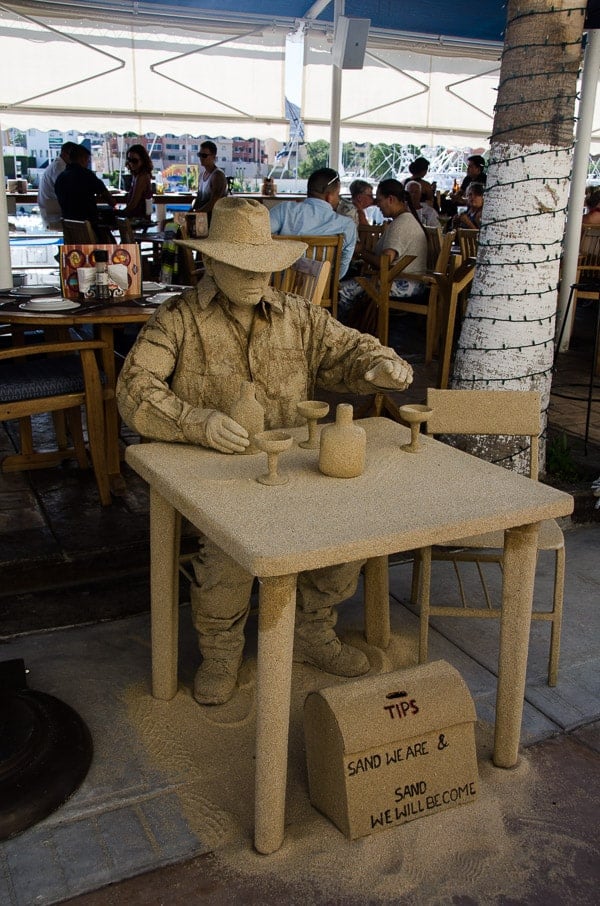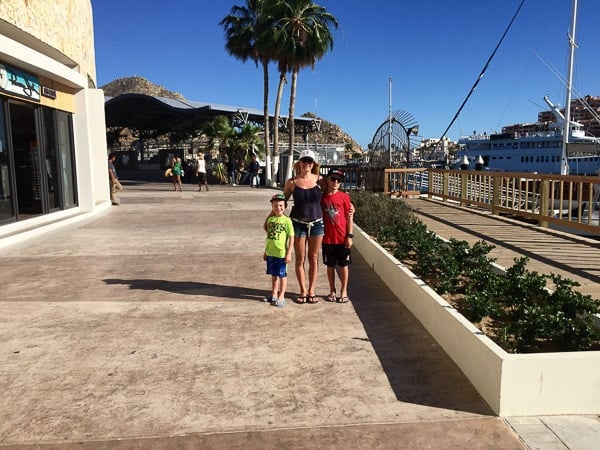 Medano Beach
Medano Beach is main hotel zone beach where I stayed at Riu Santa Fe when went to Mexico by myself 5 years ago. While back then it seemed beautiful, now I do agree that the water is beautiful but the amount of people is overwhelming. However, I went in June vs. now being March – high season.
I still don't know if we will take a taxi to visit the Lover's Beach because I simply can't justify the price vs. time vs. people. I would much rather soak in the pool, relax at a private beach and watch sunsets.
"On the Other Side"
I did my research before and found this post on 10 best cheap places to eat in Cabo. I quickly understood that if we want authentic Mexican food at Mexican prices, we have to go where locals live. So off we went, to "the other side", literally steps across from the mall that sells $8 Haagen Daaz ice cream, where you truly see why Mexico is a third world country. The side where Americans and Canadians have not invested their money or do not reside 6 months our of the year.
Me and Alex know exactly how this world operates because we lived this life before – knock off $15 Skechers, street food without a health inspection, an elderly woman selling a gum, homeless dogs, smelly public transit and people who are genuinely poor. I have to admit I was genuinely curious to see it all again, with a different perspective at life now, from "this side". I wanted to see how it feels and looks, knowing I am going home on April 1st to my safe Canada. Many of you won't understand but for years I have been on that side looking at American and Canadian tourists as aliens.
My kids, on the other hand, were in complete shock, specifically a 10 year old. He was totally floored by this "other side" and refused to eat churros and had tears in his eyes. Good! A 6 year old couldn't understand why there are wondering dogs instead of deer, bears and bunnies LOL. We will go back, even though I got completely ripped off at a wheel barrel "candy store" and paid $4 for what costs $1 in a dollar store. But I happily gave in for the experience and the seller.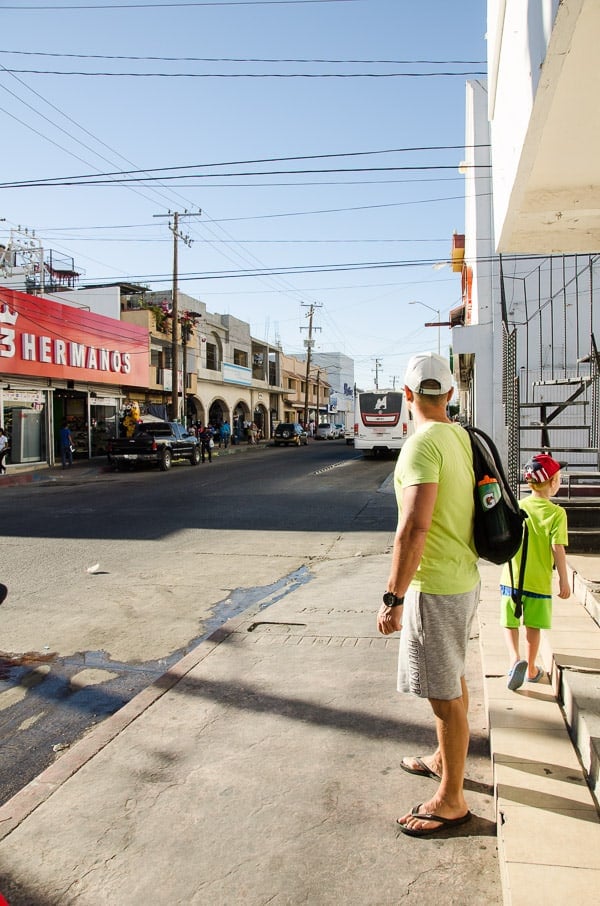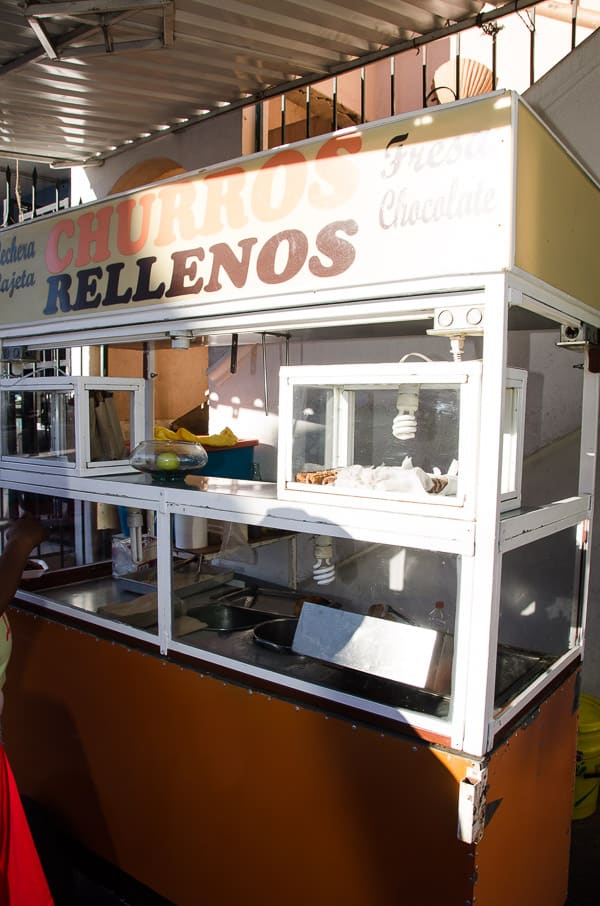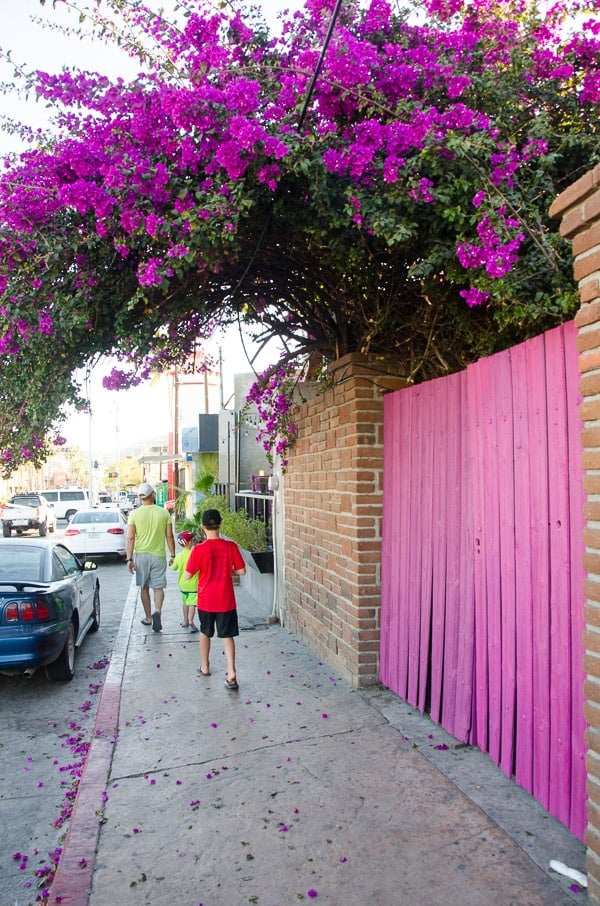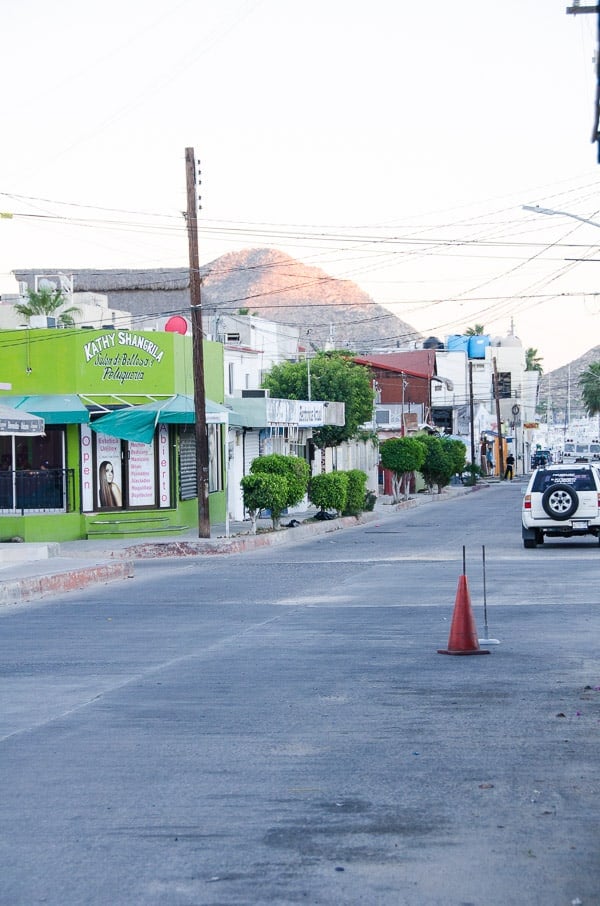 Tacos Los Claros
Los Claros is one of the best spots to eat tacos in Cabo, that is what they say. I have to say that eating authentic local food was one of the reasons we all got immunized for hepatitis, which was neither cheap or painless. I'm not a flu shot gal but I do immunize my kids and was not willing to risk this whole hepatitis thing while living in Mexico for a month. Again, being raised in Ukraine, I know exactly how things are done in third world countries. Rules are almost non-existent, however this fact has built my great immune system.:)
Los Claros tacos were good. It was really our first time eating real tacos, in Mexico. We tried smoked marlin, surf and turf, scallops and carne asada. Me and Alex also had a Michelada, which was basically beer and lime juice, so good. Ad for tacos, you basically get a tortilla with the filling and then go load up on fixings.
The thing I have to say is that we definitely stood out in that part of town. I really experienced what it feels like to be "on the other side" – everyone stares at you. I can't say I felt completely safe, whether it was because it was our first time really submerging into another society (so different fro mCanada – home) or because we know how things truly are "on the other side". I don't think I will ever get to the point like many North Americans "Oh, it's all totally safe out there" simply because I know that human life doesn't matter much when you gotta eat. But tacos were great! Honestly, nothing I can't do at home but still tasty and the total bill was US$28.
Until next time!