Mediterranean Ground Turkey Stew made simply with cannellini beans, kale, olives and fresh herbs in a savory tomato broth. Delicious light stew recipe without potatoes!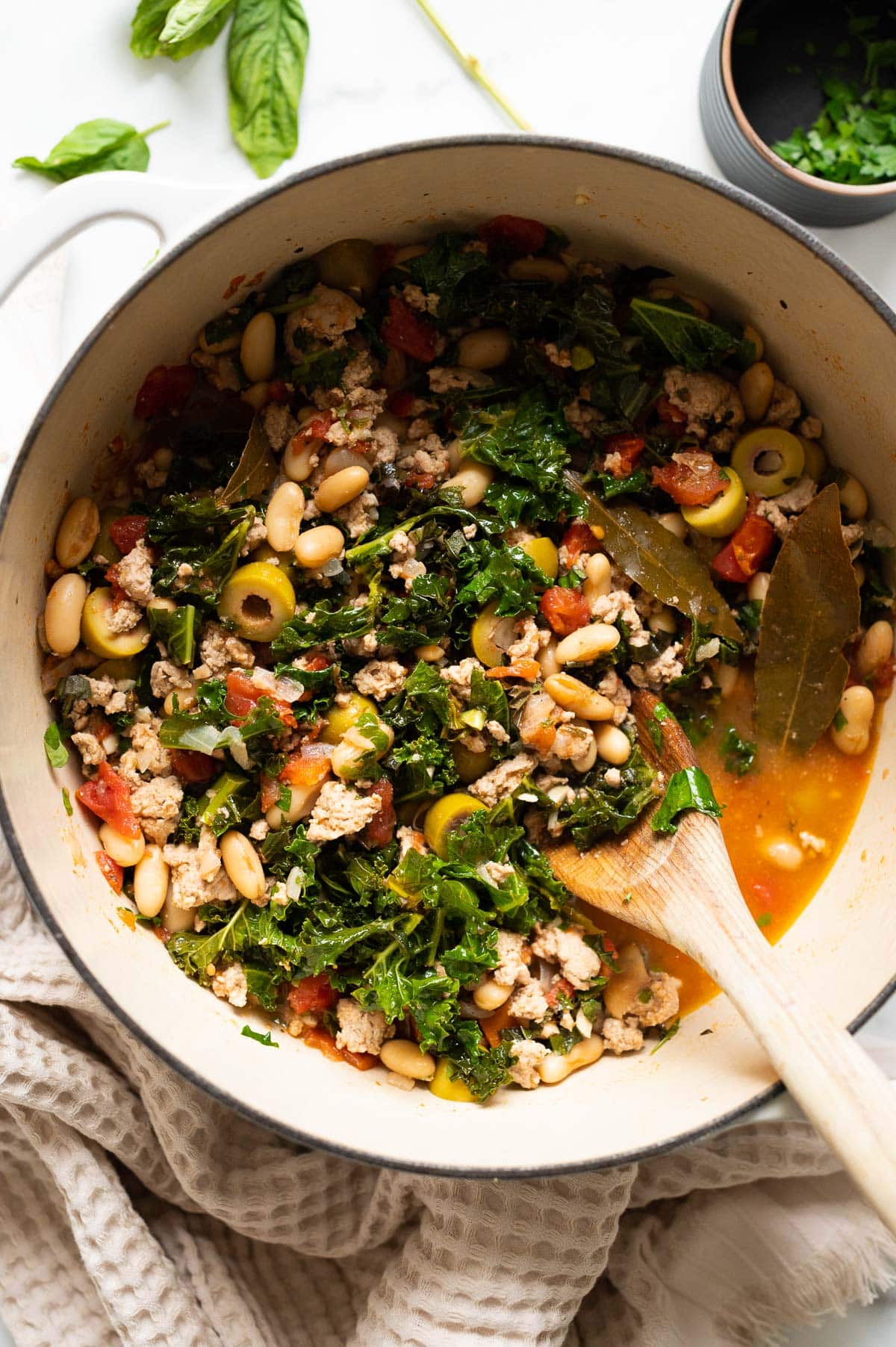 A big bowl of ground turkey stew always hits the spot on a chilly day. And while most traditional stews use plenty of potatoes, I left them out to create a lighter version with tender cannellini beans. It's unique but so good!
It's one of our favorite ground turkey recipes I've been making since 2014. I took some new photos, added a bit more beans, kept the flavors pretty much the same, and we still love it!
Why You'll Love This Recipe
Lighter: All the comfort without the extra carbs, ground turkey and no potatoes make this dish light, delicious, and nourishing.
Scrumptious flavors: Sweet pieces of turkey meat, soft white beans, chewy kale, tangy olives in a savory tomato broth. It's a unique stew!
Quick and easy: This one pot meal is ready in just 40 minutes and cleaning is a breeze.
Perfect for meal prep: Stew with ground turkey continues to taste delicious days after you make it. The older it is, the better it gets. Just like wine!
Versatile: Make it stovetop or in your slow cooker, pop it in the freezer for a quick dinner, and you can add almost anything to the pot. All that and you've got a healthy dinner recipe that's easy, versatile, and budget friendly.
Ingredients for Ground Turkey Stew
This ground turkey stew recipe is filled with Mediterranean flavors and made with wholesome, simple ingredients.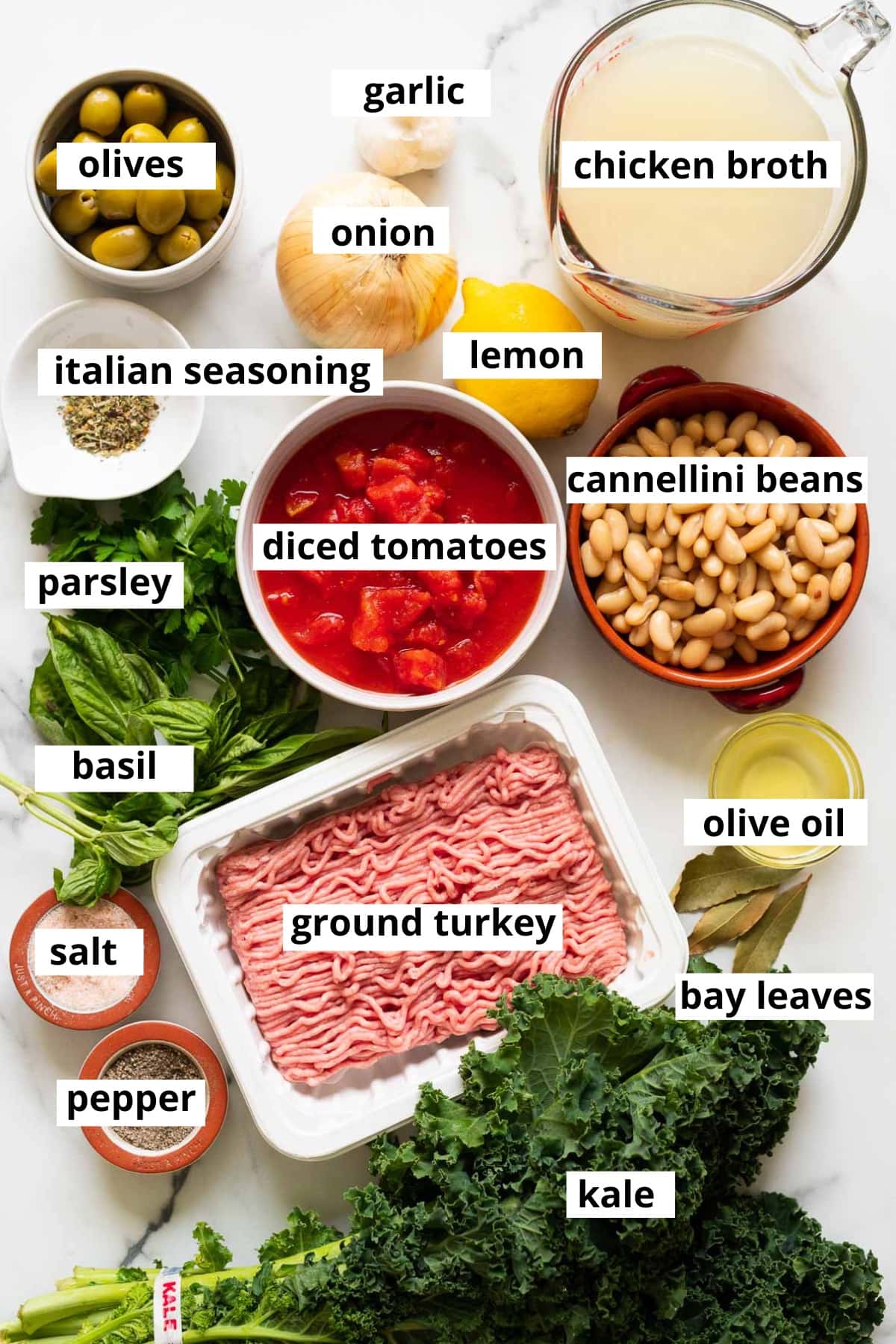 Onion and garlic: Finely chopped onion and freshly minced garlic add aromatics and flavor.
Oil: Extra virgin olive oil for sautéing.
Ground turkey: Extra lean ground turkey is a lighter, tasty replacement for ground beef.
Diced tomatoes: They add chunks of tomato and flavor. I am using a can of low sodium tomatoes, if yours is not low sodium then use less salt.
Cannellini beans: This creamy white bean adds protein, flavor, and texture. You'll need 2 cans of low sodium cannellini beans, rinsed and drained. Also cooking dried beans at home is very easy and saves money.
Chicken broth: Choose low sodium chicken broth to prevent a salty stew.
Kale: I prefer to use green kale because it adds more volume, but dinosaur (lacinato) kale works.
Olives: Any pitted olives. I use stuffed with garlic green olives because that's what I had on hand.
Italian seasoning: You can make your own or use a store-bought package.
Other seasoning: Salt, pepper, and bay leaves.
Lemon juice: A splash of lemon juice adds bright flavor.
Fresh herbs: I used equal parts of fresh basil and fresh parsley.
How to Make Stew with Ground Turkey
Here's an overview of how to make the easiest stovetop ground turkey stew, it practically cooks itself.
There is a full recipe card below.
Sauté onion and garlic: Start by preheating a large Dutch oven on medium heat. Add oil, onion, and garlic then sauté until onions are translucent, about 5 minutes.
Cook ground turkey: In the same pot, cook ground turkey for 4-5 minutes. Use a spatula or wooden spoon to stir and break the meat into small pieces.
Season turkey: Add Italian seasoning and cook for 30 seconds.
Make the broth: Pour in the diced tomatoes, beans, and chicken broth. Sprinkle with salt and pepper, add bay leaves, then stir and bring to a boil.
Simmer: Once the stew comes to a boil, reduce heat to low, cover, and let it simmer for 20 minutes.
Add remaining ingredients: Turn off heat and add kale, olives and lemon juice. Give it a stir, cover, and allow it to rest until the kale is wilted.
Garnish: Add basil and parsley, stir again and let it stand for 5-10 minutes to let flavors "marry" each other.
Serve: Remove bay leaves and snuggle up with a hot bowl of stew.
Tips for Best Results
Follow these easy tips and everyone will rave how great this unique stew is.
Be sure to remove kale stems: The stems are tough and chewy, it's best to de-stem the leaves or buy pre-chopped kale.
Rinse and drain the beans: Too much liquid will thin your stew, and both flavor and texture improves when canned beans are rinsed and drained.
Break ground turkey into small pieces: Smaller chunks of ground turkey will incorporate evenly throughout the dish.
If you don't have a Dutch oven: Use a heavy bottom pot with a tight fitting lid.
Variations
Here are some optional variations and add-ins you could try:
Use different ground meat: Tweak the recipe by using ground chicken or ground pork. You could also try ground beef.
Try other beans: Substitute cannellini beans with white navy beans, Great Northern beans, or butter beans. If you're out of white beans, red kidney beans would also work.
Swap the broth: Use vegetable broth instead of chicken broth, or beef broth if trying ground beef.
Change up the tomatoes: Fire roasted tomatoes would give the stew a smoky taste.
Use leftover holiday turkey: Toss in some shredded turkey at the same time as adding the kale and olives.
Add tomato paste: This will add another layer of flavor. Add 3 tablespoons of tomato paste, and mix with cooked ground turkey.
Play around with consistency: Add some other veggies for a thicker stew. For a looser stew, add more broth and fewer beans.
Can I Make This Stew Vegetarian?
Yes, just omit ground turkey. There are already two cans of beans, but you can always add tofu crumbles or any vegetarian meat substitute and sauté it with onions.
Be sure to use vegetable broth as well.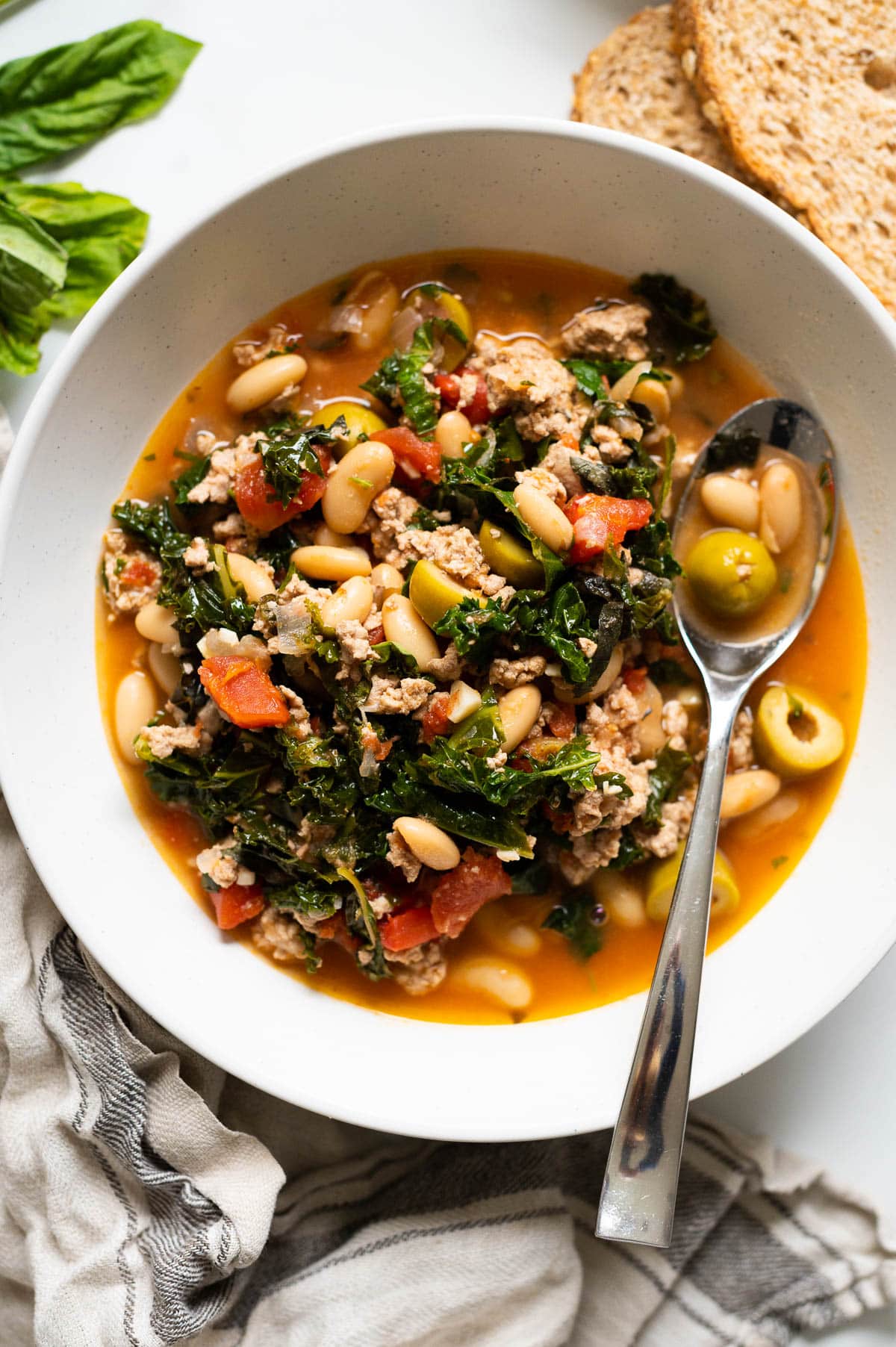 How Do I Serve Mediterranean Turkey Stew?
I enjoyed it with chopped fresh tomatoes on top and a slice of toasted sourdough bread spread with butter. Any crusty bread like a baguette would be great to soak up the juices. I even say it's a must!
You can also sprinkle crumbled feta cheese or goat cheese, and freshly grated Parmesan cheese on top of stew in each individual bowl.
Could also serve with a simple spring mix salad or butter lettuce salad for a soup and salad combo.
How to Store and Reheat
Store: Leftovers can be stored in an airtight container and refrigerated for 5 days.
Freeze: You can freeze it for up to 3 months in an airtight container. Kale might be a bit more limpy once thawed but it's not that bad.
Reheat: The best way to reheat your turkey stew is on the stove on low heat while covered.
FAQs
Can I replace kale with spinach?
You can use spinach instead of kale. I recommend to stir it in and not let it stew and sit covered for 10 minutes like with kale because spinach will become wilted like in wilted spinach salad, unless you love that texture in a stew. Stir and serve.
Can I make this stew in slow cooker?
Yes, you can make this stew in a crockpot. Sauté onion and veggies and transfer to a large slow cooker with remaining ingredients. Cook on low heat for 4 to 5 hours or on high heat for 2 to 3 hours.
What else can I add?
You can also add sun-dried tomatoes, sautéed brown mushrooms, celery, carrots, peas, green beans, or eggplant to this ground turkey stew.
More Stew Recipes to Try
More Ground Turkey Recipes to Try
Ground Turkey Stew
Mediterranean Ground Turkey Stew with cannellini beans, kale, olives and fresh herbs in a savory tomato broth. Delicious light stew!
Instructions
Preheat dutch oven or large heavy bottom pot on medium heat and add olive oil. Add onion and garlic, saute for 5 minutes or until translucent, stirring occasionally.

Add ground turkey and cook for 4-5 minutes, breaking into pieces and constantly stirring with a spatula. Add Italian seasoning and cook for 30 more seconds.

Add diced tomatoes, beans, chicken broth, salt, pepper and bay leaves, then stir and bring to a boil. Reduce heat to low, cover and simmer for 20 minutes.

Turn off the heat and add kale, olives and lemon juice, then stir. Cover and let stew stand for a few minutes or until kale is wilted.

Add basil and parsley, stir again and it's best to let the flavors "marry" each other for 5-10 minutes. Discard the bay leaves and serve stew hot.
Notes
Store: Refrigerate in an airtight container for up to 5 days.
Freeze: Fully cook, cool completely and freeze in an airtight container for up to 3 months. Reheat on a stovetop covered on low.
Nutrition
Serving:
1.5
cups
|
Calories:
182
kcal
|
Carbohydrates:
10
g
|
Protein:
21
g
|
Fat:
8
g
|
Saturated Fat:
1
g
|
Trans Fat:
0.01
g
|
Cholesterol:
42
mg
|
Sodium:
547
mg
|
Fiber:
4
g
|
Sugar:
3
g