Simple Butter Lettuce Salad tossed in an oil and vinegar dressing and layered with green onion and fresh dill. This very simple side dish is fresh, crisp, and goes with anything!
We also love this 10-minute simple spring mix salad!
Why You'll Love This Recipe
Very simple recipe: This quick and easy butter lettuce salad recipe is a variation of my lettuce salad with cucumber and tomatoes, but I wanted to keep this one simple and the dressing very heavy on vinegar with lots and lots of fresh herbs. I love those!
Healthy and delicious: Butter lettuce is brimming with vitamins making it very nutritious, and fresh herbs are both healthy and add tons of flavor.
Versatile: You can make this delicious side with any green leaf lettuce like romaine lettuce, green lettuce or iceberg lettuce and it will be perfect year round for any occasion.
What Is Butter Lettuce?
Butter lettuce is named for its soft, tender texture and large delicate leaves. Also called Bibb lettuce, Boston lettuce, or butterhead lettuce, this variety of green leaf lettuce is bright green with a mild floral flavor that's sweet to taste.
It's great for salads and the outer leaves make perfect lettuce wraps.
Ingredients for Simple Butter Lettuce Salad
Butter lettuce salad is made with bright green lettuce, fresh herbs, and a tangy homemade healthy salad dressing.
Butter lettuce: I used one head, which gave me 7 cups once chopped. You can use any lettuce you like, and remember a salad spinner is the quickest way to wash and dry your greens.
Fresh dill: I love the citrus-like taste of dill, it's always my go-to for simple healthy salad recipes, especially those dressed in a vinaigrette.
Green onion: This small veggie adds a punch of flavor. If you want a less oniony taste omit the white bulbs, the green part has a milder flavor.
Salad dressing: An easy and healthy mixture of extra-virgin olive oil, vinegar, salt and pepper.
How to Make Butter Lettuce Salad
4 easy steps and 10 minutes is all it takes to make butter lettuce salad. You can make it any time and pair it with any main dish.
There is also a full recipe card below.
Combine vegetables and herbs: Add chopped lettuce, green onion, and dill to a large mixing bowl.
Dress the salad: You don't need to whisk the dressing separately, just drizzle the oil and vinegar on top, then sprinkle with salt and pepper.
Mix: Gently toss salad until combined. I find salad serving spoons are easiest to use for mixing.
Serve: This delicious salad is best served immediately and goes well with any meat, chicken or seafood.
Tips for Best Results
Here are 5 tips for making the perfect salad with butter lettuce.
Add a lot of fresh herbs: Large handfuls of herbs add so much flavor and keep the salad light and fresh.
Make and serve it right away: Lettuce salads are best served within the first hour after tossing. Even with a small amount of dressing, the leaves wilt quickly.
Treat it as a simple side dish: This simple green salad is a delicious co-star to your favorite main dish.
Reduce vinegar: I wanted a dressing that was heavy on vinegar but a little goes a long way for flavor, so feel free to reduce it. If you'd like to add a citrus kick, then adding some lemon juice or lime juice would work well.
Season more to taste: Measure with your heart, herbs and spices really up the flavor. Try a variation of herbs like fresh parsley, mint, basil, or chives. Garlic is another easy way to add more taste.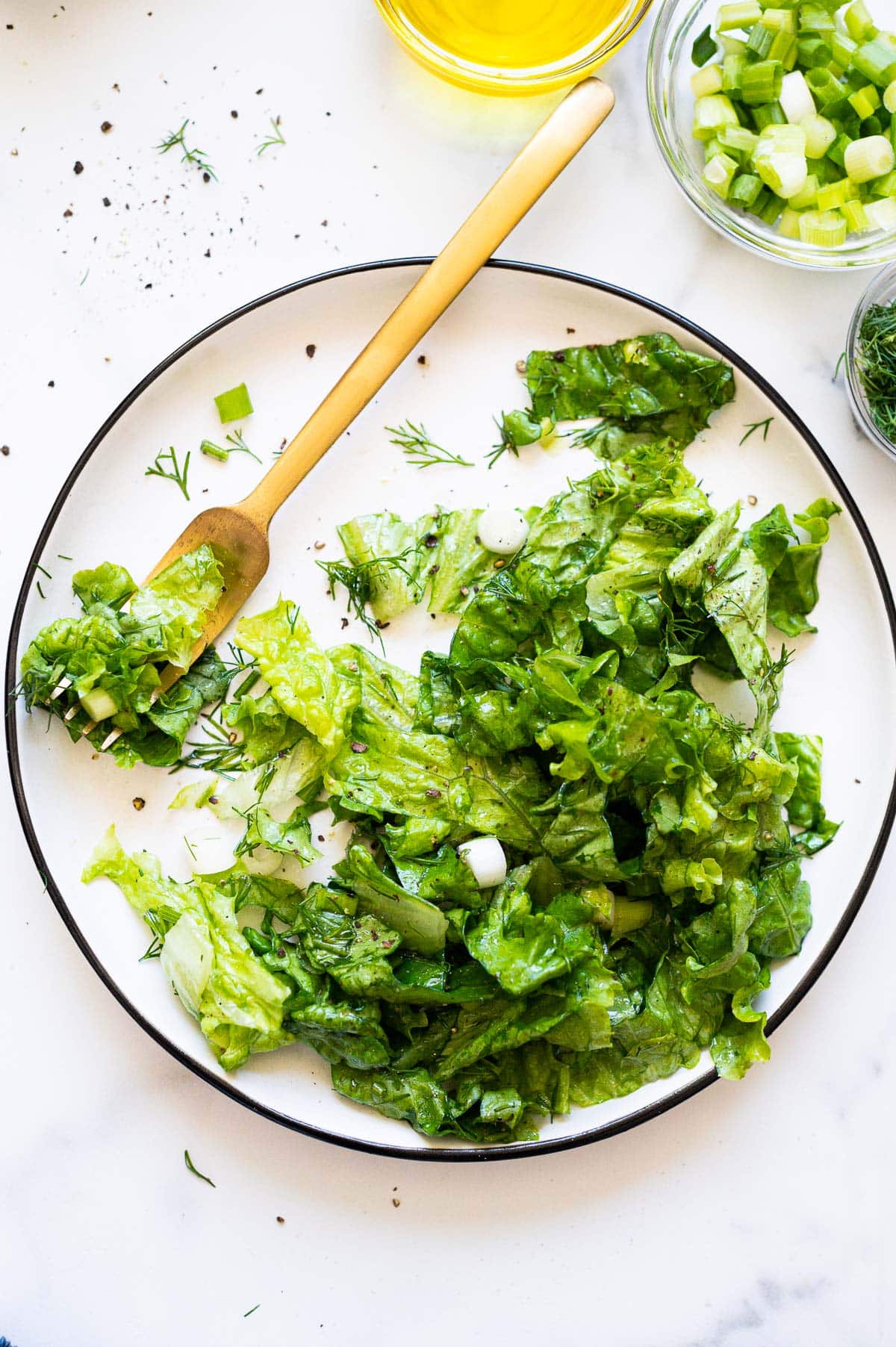 Variations
Make it creamy: If you're in the mood for a creamier salad, add a few spoonfuls of Greek yogurt or my personal preference, sour cream. A dash of Dijon mustard also makes the dressing creamy with a touch of heat.
Add crunch: My boys will always top their salads with sourdough croutons. You could also add some toasted nuts such as almonds, walnuts, cashews, or pecans. Sunflower seeds and pumpkin seeds also add crunch while keeping it nut-free. And sometimes I'll even sprinkle some panko breadcrumbs on top.
Crunchy vegetables you can add: Cucumbers, carrots, radishes, and bell peppers cut into bite-sized pieces are great for adding crunch, color, and flavor. Apples are great too for a sweeter crunch.
Play with lettuce: I love tender butter lettuce leaves but any green leaf lettuce would work for this recipe.
Other ingredients that would go well: Parmesan cheese is always a go-to garnish. Add olives, banana peppers, artichokes or sun-dried tomatoes. And if you're a huge dill fan, you could also chop up some pickles.
What Do You Serve This Salad with?
This very simple green salad goes with literally anything from cozy weeknight dinners like easy spaghetti recipe, cauliflower shepherd's pie or a delicious sirloin tip roast, to grilling season must-haves, and lunch time favorites grilled cheese and healthy tuna melt.
How to Store
Store: You can refrigerate any leftovers in an airtight container, make sure to use up within 24 hours for best results.
Freeze: Do not freeze, because of the high water content lettuce will turn to mush and salad will be soggy.
FAQs
Is butter lettuce healthier than iceberg lettuce?
Yes. Butter lettuce is actually one of the healthiest options because it is loaded with iron, potassium, and all essential minerals.
How do you cut butter lettuce for salad?
Butter lettuce leaves are tender and easy to tear by hand but I prefer to chop the leaves. To do this, place the leaves down on a cutting board so the stem is facing up. Use a sharp knife at an angle and spin the lettuce until you've cut out the stem. Discard the stem, stack the leaves and chop into bite size pieces.
What vinegar is best for this salad?
White vinegar is the best in this recipe! The only other replacement could be white wine vinegar or red wine vinegar but the taste won't be the same.
Can I make it ahead of time?
Yes, you can make this salad ahead of time. Chop the lettuce and herbs, add them to a bowl, cover, and refrigerate for up to 24 hours. Right before serving add in oil, vinegar, salt, pepper, and toss.
More Lettuce Recipes to Try
More Salad Recipes to Try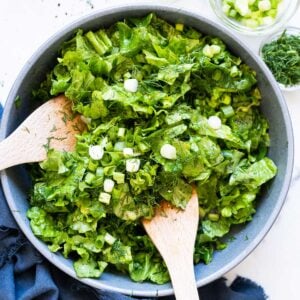 Butter Lettuce Salad
Simple Butter Lettuce Salad tossed in oil and vinegar and layered with green onion and dill. 10 minute side dish that goes with anything!
Instructions
In a large bowl, add lettuce, dill and green onion.

Drizzle with oil and vinegar, then sprinkle with salt and pepper.

Using salad serving spoons, toss salad gently until combined.

Serve immediately as a simple side dish with any meat, chicken or seafood.
Notes
Store: Refrigerate leftovers in an airtight container for up to 24 hours.
To make ahead: Refrigerate lettuce and herbs covered in a bowl for up to 24 hours. Add oil, salt and pepper right before serving.
Nutrition
Calories:
76
kcal
|
Carbohydrates:
3
g
|
Protein:
1
g
|
Fat:
7
g
|
Saturated Fat:
1
g
|
Sodium:
137
mg
|
Fiber:
1
g
|
Sugar:
1
g