As 2013 comes to an end tomorrow, me, Alex and little rascals, want to wish you Happy 2014! All the best to you and your families!
P.S. This is not my house!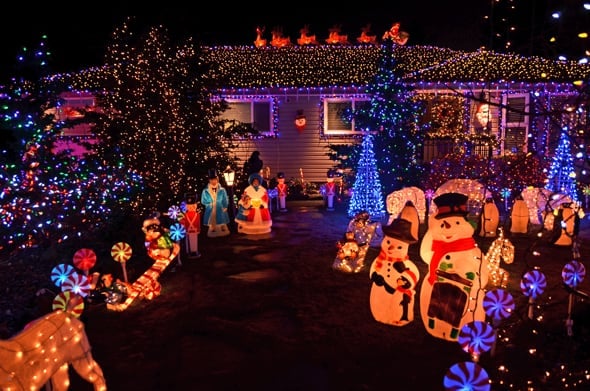 I, personally, want to wish you Happy You Self in 2014! To find your happiness within you, in whatever you like to do – fitness, cooking, sewing, painting, crafting. Do something for YOURSELF! Something that makes YOU happy! Something for YOU!
Having said that, I want to THANK YOU, all my readers – my real life friends, friends I met online, Alex's 103 co-workers, readers that read every post and do not comment, readers that make my recipes, all fellow awesome bloggers! Everyone, THANK YOU!
THANK YOU for following, pinning, sharing, liking, commenting, tweeting my recipes on Pinterest, Instagram, Facebook and Twitter.
THANK YOU for letting me do what I love to do most – recipe development, food photography and blogging.
THANK YOU for making iDOODreal a business – taking it from $33 to almost $1000 last month, to publishing 30 Quick Clean Dinner Recipes on January 5!
Nothing of this would have been possible without you! So, really, THANK YOU!
As for me, personally, 2013 has been a great year! A year I found my passion, my strength, my peace! Of course, it wasn't all roses. I always struggle to find balance between work and family. I struggled a lot with no help, except amazing Alex, managing my toddler's terrible twos and educating the 7 year old.
My life is full of diapers, dishes, laundry, kitchen mess, house cleaning, grocery shopping, soccer practices, homework. All that "glamorous" mommy's chores stuff.
But it's life and it's good! Means I'm alive and healthy, and have shelter and food. Really, we got it all here! But it's important not to get lost in everyday busy life. And that's why I have a wish for you to find something happy and fun for yourself in 2014.
I have this plaque sitting on my kitchen window, where I spend majority of my time. It sums it all up – good and bad. I love it! It makes me appreciate every day! One time, my 7 year old asked the meaning of the words. I said "Well, son, it means an airplane could fall on our house any minute, so appreciate your life". Needless to say, there was a lot of screaming and crying. Duh, Olena…
And last but not least…Clean eating. My clean food, I love you! In a year, I went from considering Renee's salad dressing clean to making my own with orange juice. I also went to Mexico by myself (it was awesome!) and shared my all-inclusive buffet survival guide.
In a year, I felt confident to wear a bikini again. I never ever thought that was in store for me after 2 pregnancies! I also can wear Hollister jean shorts & skirts. I'm only 32, for goodness sake!
I made clean eating and fitness my lifestyle and not a temporary change. First time ever, Christmas is gone and I do not feel bloated or have any regrets. First time in the last 7 years, my New Year's Resolution is not weight loss!
I posted this photo on Instagram a few days ago. I wanted to share my progress as I couldn't believe my eyes. Top left hand corner is me, back in January 2011, 3 days after giving birth to 10.5 lb baby. There is no baby in that belly. I am not one of those lucky women leaving the hospital with a flat tummy. I was devastated!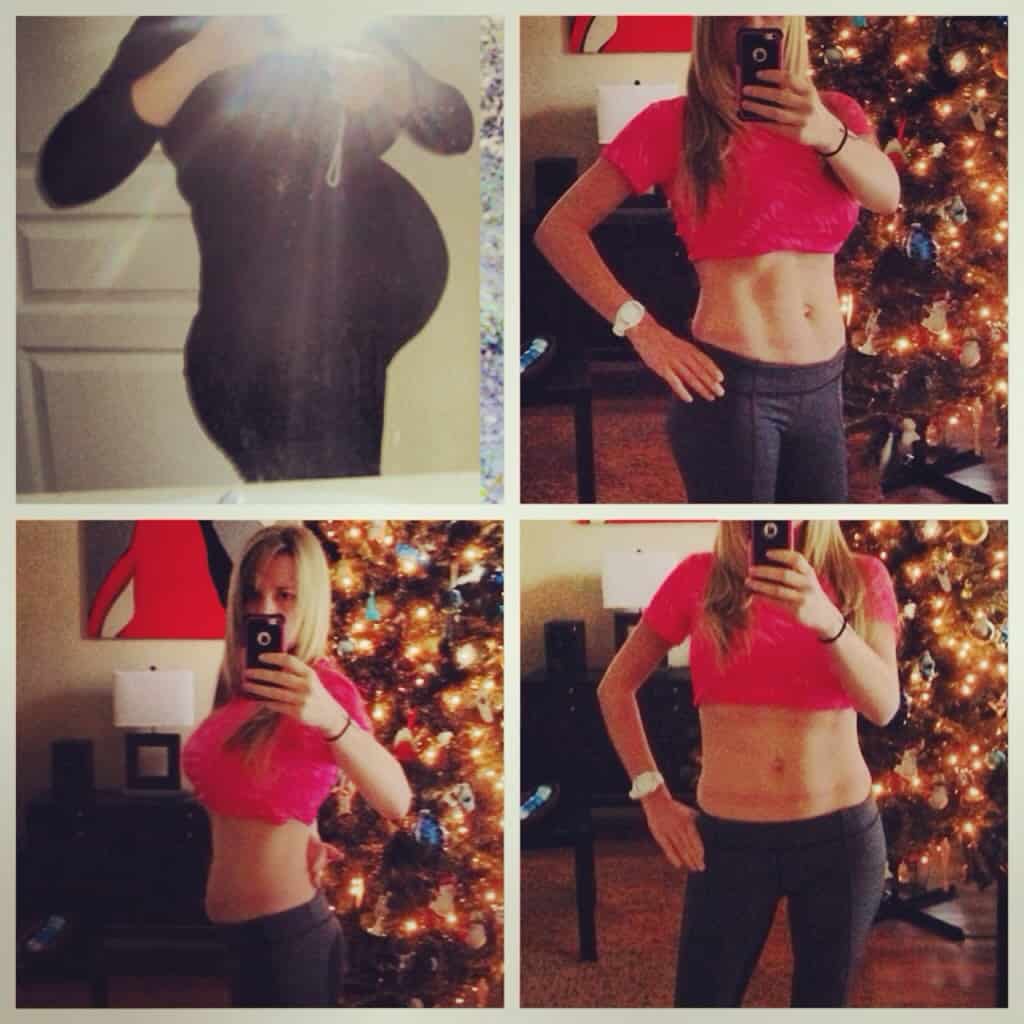 Next 3 photos are me now, December 2013. This is a result of clean eating lifestyle – 90% clean meals, occasional wine and 3 workouts a week on average. No suffering, no sacrifices, just hard work. Trust me, I'm not missing out on anything!
If your New Year's Resolution is weight loss, I hope my story could be an inspiration for you, even a tiny bit. You can do it, if you set your mind on it! Small steps and consistency is a key to success!
Before you ask, my favourite workouts are Turbofire and Chalean Extreme. And my absolute favourite role models are Chalene Johnson and Maria Kang. By the way, Maria just launched No Excuse Mom website and is looking for amazing mom transformations and coaches for different locations. And I can't wait for Chalene's new workout program!!!
Happy New Year!
Olena, Alex, Kyle & Adam
xxx