This Healthy Gingerbread Loaf recipe is moist and fluffy, made with warming spices, applesauce and whole wheat flour. The result is a wholesome gingerbread based on a holiday classic!
More healthy holiday desserts we love are these healthy gingerbread cookies and healthy gingersnap cookies.
Healthy gingerbread loaf is a holiday quick bread that makes your house smell like Christmas!
It's perfect for satisfying your sweet tooth while curled up with a mug of healthy hot chocolate or frantically wrapping Christmas presents.
Why You'll Love This Recipe
Less "empty calories": Instead, there is applesauce, less sugar, natural sweeteners, whole grain flour and avocado or coconut oil.
Traditional flavor: An impressive healthier gingerbread that tastes like the classic. And much better than the Starbucks gingerbread loaf!
Soft and fluffy: Rather than hard gingerbread cookies, this quick bread is soft, moist, and slightly sticky.
Super simple: Made primarily of pantry staples and in under an hour.
Ingredients for Healthy Gingerbread Loaf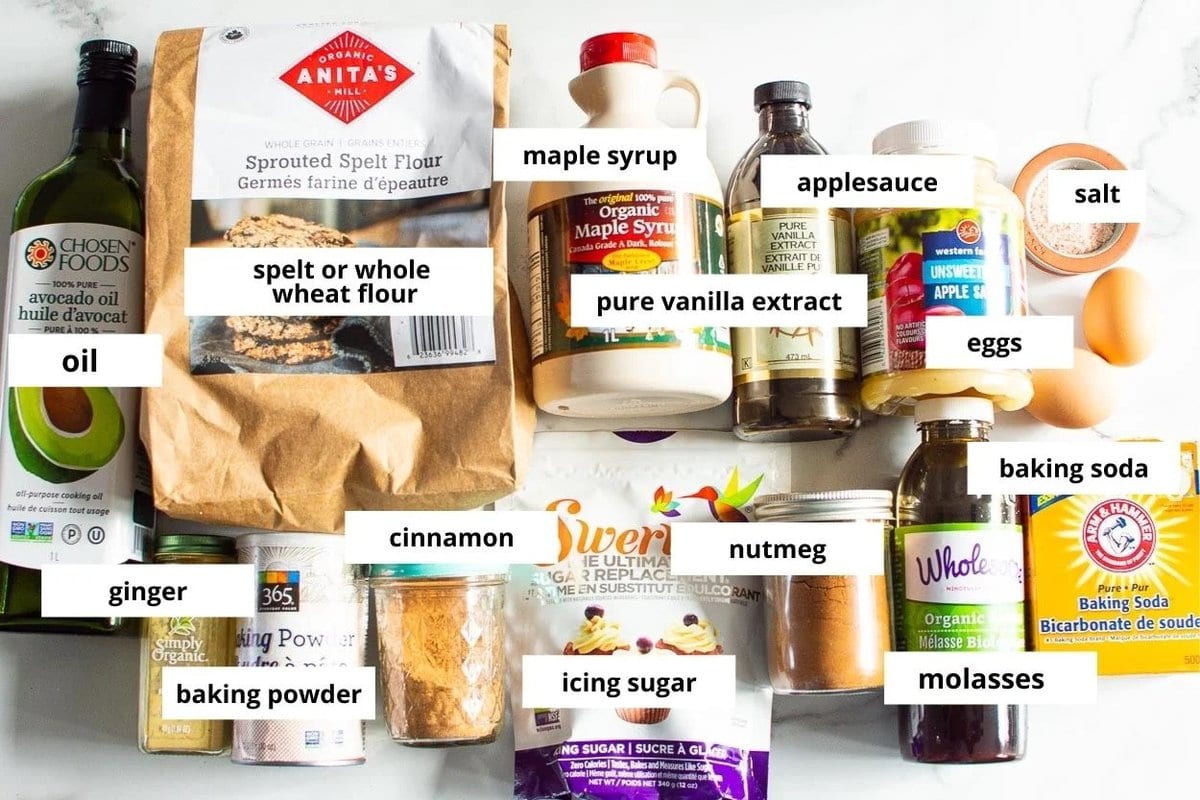 Applesauce: Unsweetened store-bought applesauce or Instant Pot applesauce. It replaces some of the fat and yields a moist gingerbread. I don't recommend to replace it with yogurt or Greek yogurt because bread will not be sweet.
Molasses: This will provide the classic gingerbread flavor. Use unsulphured blackstrap molasses or dark molasses rather than light molasses.
Sweetener: I like to use maple syrup or honey. Agave or date syrup would also work.
Eggs: You need just two large eggs.
Flour: Use whole wheat flour or spelt flour. Recipe may work with white whole wheat flour or whole wheat pastry flour but I haven't tried.
Oil: Avocado oil, coconut oil, or another neutral cooking oil will work best. Melted butter would also work.
Spices: Ground ginger, cinnamon, nutmeg, and a pinch of salt.
Vanilla: Pure vanilla extract will yield the best flavor.
Leavening agents: This quick bread relies on both baking powder and baking soda to provide lift and texture.
Glaze (optional): You will need orange juice (or water) and powdered sugar.
How to Make Healthy Gingerbread Loaf
This healthy gingerbread recipe requires just a few simple steps, including mixing the wet and dry ingredients separately, then combining and baking.
There is also a full recipe card below.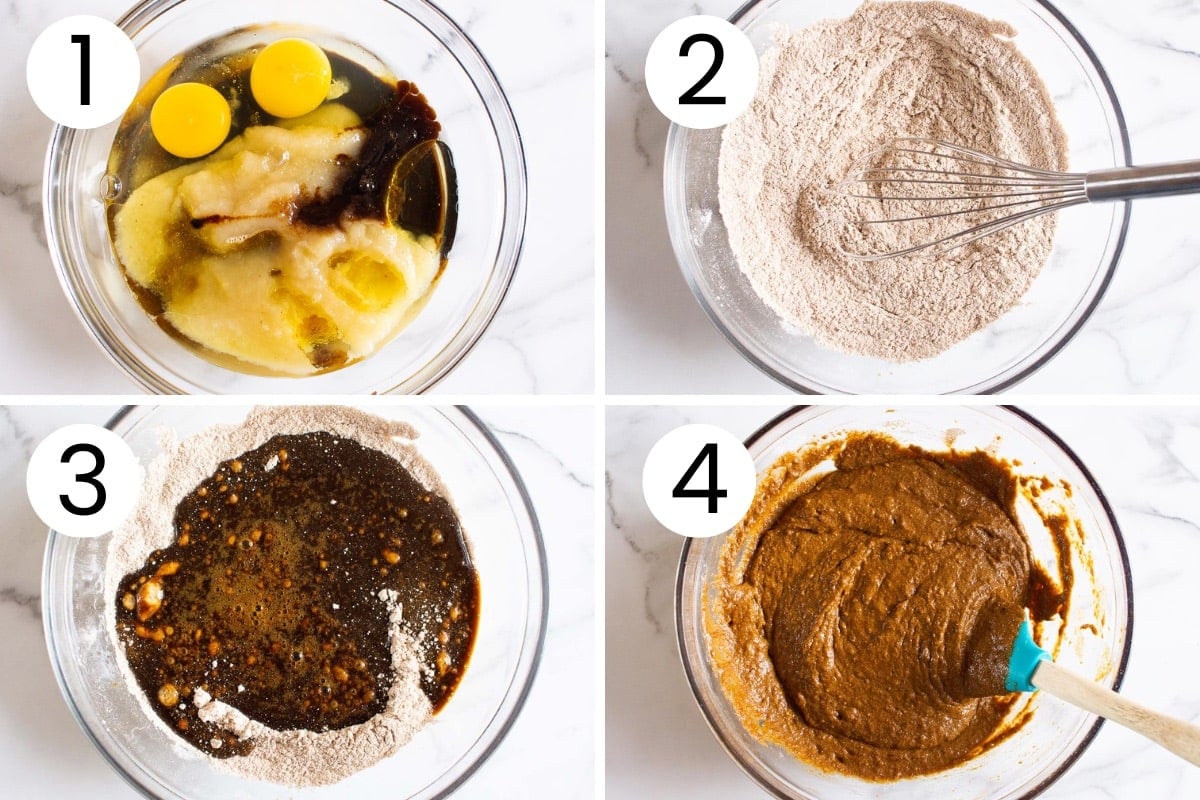 Mix the dry ingredients: In a large bowl, add flour and combine with all the spices, baking powder, baking soda and salt. Whisk until lump free, then set aside.
Mix the wet ingredients: In a separate medium bowl, whisk the eggs for ten seconds. Then add the applesauce, molasses, maple syrup, oil, and vanilla. Whisk until well combined.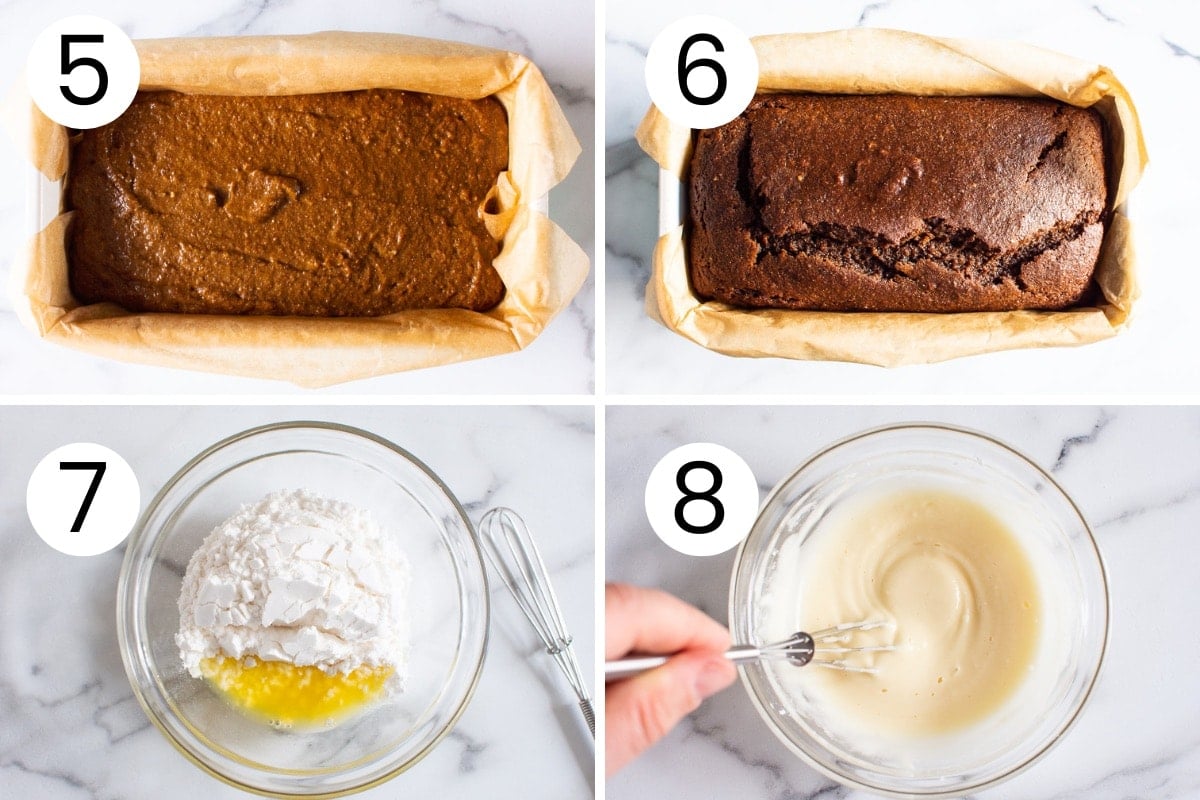 Combine the two: Pour the wet ingredients into the bowl with dry ingredients and mix gently with a spatula until just combined and you no longer see large flour pockets.
Bake: Pour the gingerbread batter into the loaf pan and bake for 45-50 minutes or until a toothpick inserted into the center comes out clean. Then, allow it to cool for 5 minutes before transferring to a cooling rack for an additional hour (or longer to completely cool if you want to use the glaze).
Gingerbread Glaze Options
To glaze the healthy gingerbread loaf after it cools, you can either brush some honey or maple syrup on top or combine icing sugar and orange juice in a small bowl and drizzle it over the top of the loaf.
Instead of the glaze listed above, you could also top it with healthy cream cheese frosting or healthy buttercream.
Or make an apricot glaze, like lebkuchen stuffed with apricot, by heating apricot jam with a little water or orange liqueur.
Once glazed, allow it to set, and then use a serrated knife to slice into 12 slices. Enjoy!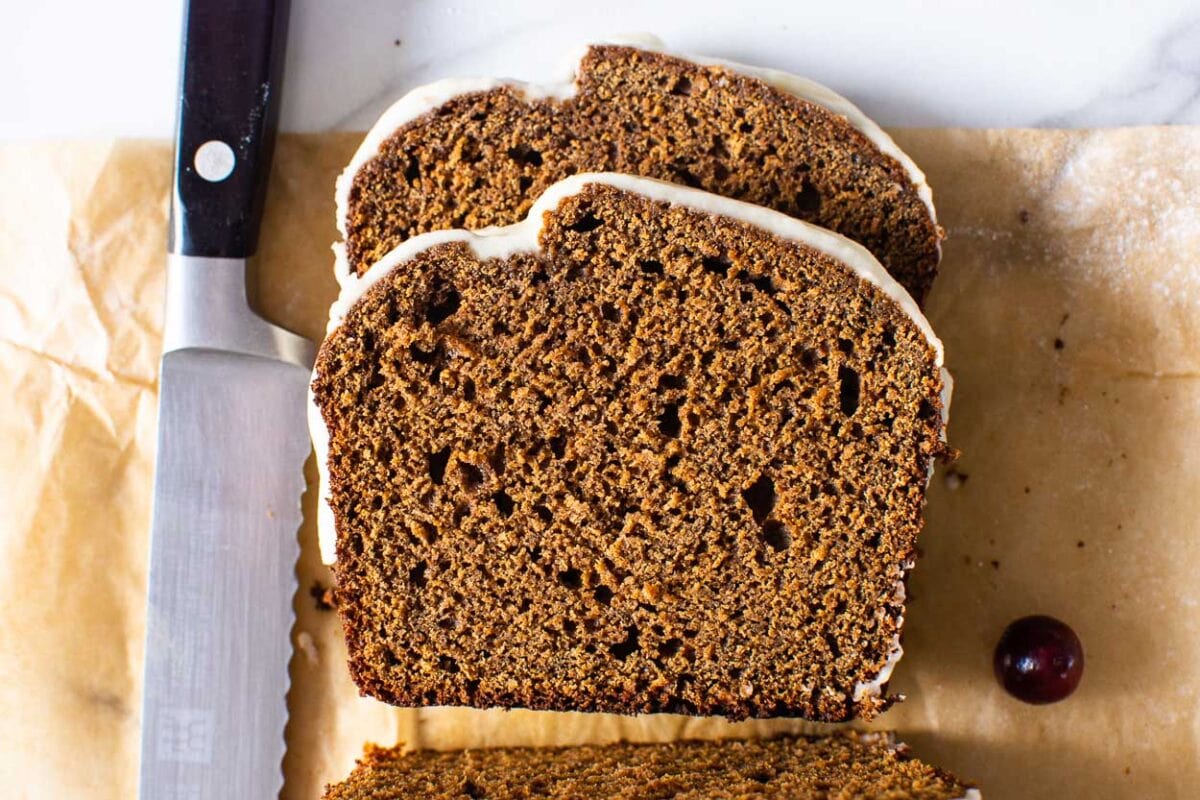 Tips for Best Results
To help release molasses: Spray inside of your measuring cup with cooking spray before measuring out any sticky ingredients like molasses. That way, they'll slide right out!
Do not overmix the batter: It's important not to overwork the gluten, as it will impact the texture and rise of the gingerbread bread. In fact, I recommend allowing the mixture to sit for 1-2 minutes halfway, then continuing.
For mini gingerbread loaves: Divide the batter between smaller loaf pans and reduce the baking time. I recommend monitoring them after 20 minutes, using a toothpick to check for doneness.
Cool the cake entirely before glazing: Otherwise, you'll end up with a drippy, sticky mess.
Use the spoon and level method to measure the flour: Spoon the flour into your measuring cup, then use the back of a knife to level it off rather than scooping the cup into your bag of flour.
Variations
I recommend using up to 1/2 cup of any of the below larger add-ins for a healthy gingerbread loaf with a twist:
Dried fruit: Cranberries or raisins will add little pockets of sweetness.
Nuts and seeds: Chopped walnuts, pecans, pistachios, or pumpkin seeds would work.
Chocolate chips: Use your favorite dark chocolate chips, semi-sweet chocolate chips or white chocolate chips.
Crystallized ginger: A few tablespoons of candied ginger will add extra heat and ginger flavor but also contains a lot of sugar, so don't add too much.
Zest: 1-2 teaspoons of orange zest add more depth to the gingerbread.
Black pepper: A pinch of black pepper will further enhance bread's warmth and spice.
Cloves: Add 1/4 teaspoon ground cloves.
How to Serve Gingerbread Cake
You can enjoy a slice of homemade gingerbread loaf either chilled, at room temperature, or warm with:
A dollop of yogurt or whipped cream
A scoop of ice cream like this vegan vanilla ice cream
A drizzle of additional maple syrup or honey
Serve with a spread of apricot jam, like lebkuchen
A sprinkle of chopped nuts, usually combined with yogurt, cream or ice cream
A poached pear or poached apple would also pair wonderfully with a warm slice of this gingerbread
And, personally, I love enjoying a slice with either a warm mug of tea, coffee, or hot chocolate!
How to Store and Freeze
Store: Allow the gingerbread loaf to cool entirely, then store in an airtight container at room temperature for up to 5 days. It tastes even better on day two or three, so I fully endorse baking it in advance when possible!
Freeze: You can freeze whole or pre-sliced gingerbread loaf although it will stay more moist if left unsliced. If sliced, either place parchment paper between the slices or flash-freeze them first. Store wrapped in plastic and then in an airtight Ziplock bag and freeze for between 3-4 months.
You can either leave it to thaw in the fridge, at room temperature, or defrost from frozen in a microwave or toaster oven.
Reheat: You can warm the pieces in a toaster oven (if not iced) or in the microwave.
FAQs
Can I make gingerbread loaf with fresh ginger?
I haven't tried this recipe using fresh ginger in place of ginger powder. However, you could experiment with using around 4 tablespoons of freshly grated ginger.
Can I substitute the molasses?
I find that molasses are key to achieving the traditional gingerbread flavor. However, readers have noted several substitutes in the comments, including date syrup, extra maple syrup, or coconut sugar syrup. Brown sugar could also work but you need to reduce the amount slightly, 3/4 cup brown sugar per 1 cup molasses.
Can I make this recipe egg free?
You may be able to bake this recipe using flax eggs although I haven't tried, so I can't guarantee results. It will be more dense without as much rise but it should work.
Can I make it a gluten free gingerbread loaf?
I haven't tested this recipe with gluten-free flour but one reader reported in the comments she successfully used a gluten free all-purpose flour blend.
Can I make it into muffins?
Sure. To make gingerbread muffins, bake them in preheated to 375 F oven for 25 minutes.
More Holiday Recipes to Try
You might also like to browse through my collection of healthy quick breads and my holiday recipes!
Healthy Gingerbread Loaf
Healthy Gingerbread Loaf is moist and slightly sticky, made with warming spices, maple syrup, applesauce and whole wheat or spelt flour.
Ingredients
For Glaze (optional):
1/2

cup

icing sugar or powdered erythritol

1 1/2 – 2

tablespoons

orange juice or water
Instructions
Preheat oven to 350 degrees F, line 9 x 5 loaf pan with unbleached parchment paper and spray with cooking spray.

In a medium bowl, add flour, ginger, cinnamon, nutmeg, baking powder, baking soda, and salt; whisk well until no lumps. Set aside.

In another medium bowl, add eggs, applesauce, molasses, maple syrup, oil and vanilla extract; whisk well until combined.

Pour into the bowl with dry ingredients and mix gently with spatula, just enough to combine or until you see no more white flour pockets. Do not stir vigorously or over mix. Also good idea let mixture sit for a 1-2 minutes and then stir again.

Pour into prepared loaf pan and bake for 45-50 minutes or until toothpick inserted comes out clean.

Remove from the oven, let cool for 5 minutes and transfer to a cooling rack to cool off for 1 hour or completely if using icing.

You can coat gingerbread loaf in honey glaze by drizzling small amounts of honey or maple syrup on a pastry brush and brushing on top. Or in a small bowl, whisk icing sugar and orange juice until smooth and drizzle on top.

Cut gingerbread loaf into 12 slices using serrated knife.
Notes
Store: Store in an airtight container for up to 5 days. Reheat pieces in a toaster oven (if not iced/glazed) or in the microwave.
Freeze: Sliced or unsliced up to 3-4 months.
Cool the cake entirely before glazing: Otherwise, you'll end up with a drippy, sticky mess.
Flour tips: This recipe has only been tested with whole wheat and spelt flour. I do not recommend any other flour. Use the spoon and level method to measure the flour!
Nutrition
Serving:
1
slice
|
Calories:
194
kcal
|
Carbohydrates:
34
g
|
Protein:
4
g
|
Fat:
5
g
|
Saturated Fat:
1
g
|
Trans Fat:
1
g
|
Cholesterol:
27
mg
|
Sodium:
195
mg
|
Fiber:
3
g
|
Sugar:
18
g