These Healthy Gingerbread Cookies are soft, moist, and taste exactly like traditional gingerbread men but without all of the added sugar. Make ahead and freezer friendly, these delicious cookies are the perfect addition to your holiday baking list!
We also love these healthy gingersnaps and almond flour sugar cookies. Also my whole wheat cinnamon rolls are always requested by kids for Christmas morning!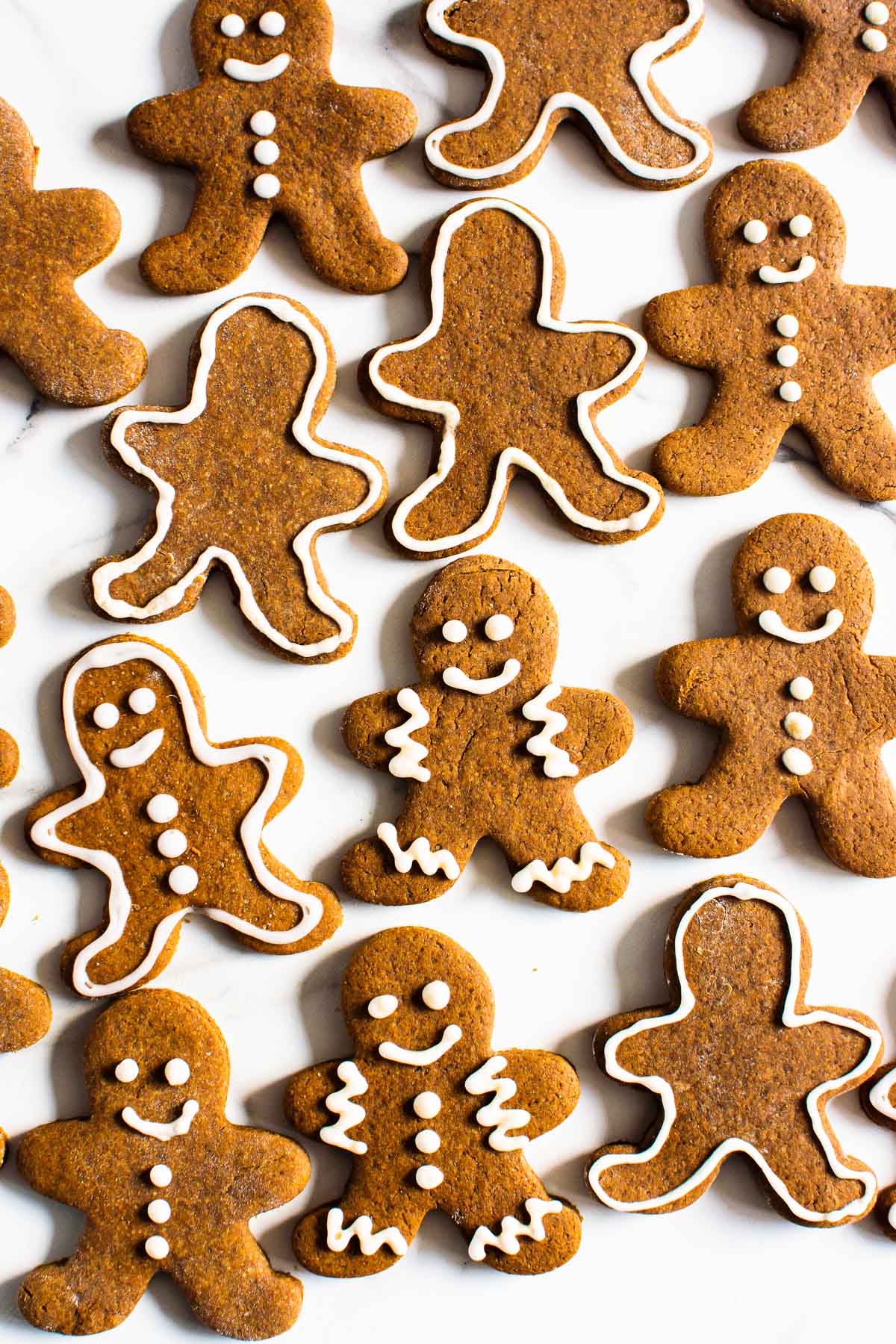 These healthy gingerbread cookies taste like everyone's favorite healthy Christmas cookies but are made with much less sugar than the original recipe.
The kids will never know they're naturally sweetened, made with whole wheat flour and coconut oil!
Healthier soft gingerbread cookies are infused with the signature flavour of molasses and ginger and are the perfect vessel for topping with any decoration you like!
Keep it healthy with chopped nuts and seeds or go the traditional route with delicious icing.
Why You Will Love This Recipe
Healthier: Using healthier ingredients means you can eat more of them.
Flavour: There's no skimping on taste. These are amazing!
Texture: Soft moist gingerbread cookies are great to sink your teeth into.
Simple: There's nothing complicated with this recipe that uses basic pantry staples.
Festive: Similar to healthy gingerbread loaf which we also love, but these are so much cuter!
Ingredients for Healthy Gingerbread Cookies
Although the list might seem long, but you only need simple ingredients to make these healthy gingerbread cookies. I bet you have most of them on hand right now.
Flour: You can use whole wheat flour or spelt flour which is less refined than regular flour. You will however need a bit of all-purpose flour which will help give the cookies structure.
Spices: Ginger, cinnamon, nutmeg, and cloves combine to give these cookies that delicious signature spice flavour.
Baking soda: This will help the cookies to rise and give them that soft moist consistency.
Salt: Needed to bring out the flavours of all of the other ingredients and bring everything together.
Butter: A much needed fat that will help get you those chewy cookies.
Sweetener: Depending on how healthy you want your gingerbread men cookies, you can opt for regular granulated sugar or go the less refined route of using coconut sugar.
Egg: Needed for binding, otherwise it would all fall apart!
Molasses: If you can find molasses without sulfur, use that! This will give your cookies that deep flavour as well as the dark colour.
How to Make Healthy Gingerbread Cookies
This healthy gingerbread cookies recipe is super easy because you have to chill the dough only for 30 minutes.
Combine dry ingredients: In a large bowl, whisk together flour, spices, baking soda, and salt until there are no more lumps. Set the bowl aside.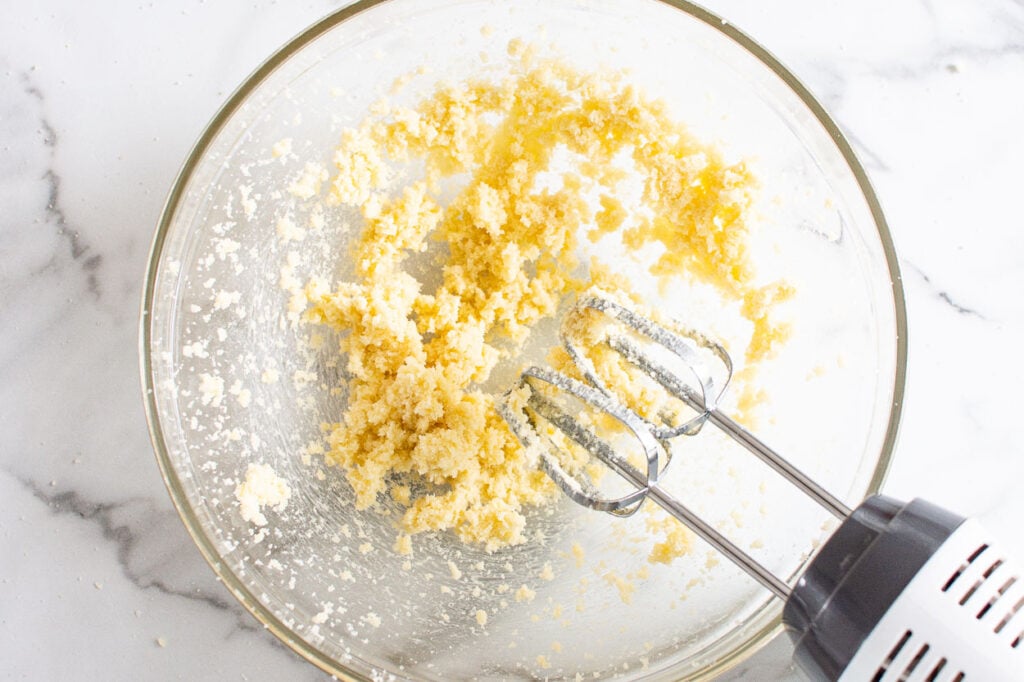 Combine butter and sugar: In a separate bowl, beat butter and sugar together until creamy.
Add egg and molasses: To the cream and sugar, beat in the egg and molasses until just combined. Do not overmix! Once the egg and molasses have been incorporated, stop beating. Overmixing can cause the butter to separate and no longer be creamy.
Add dry ingredients to the wet ingredients: Pour in the dry ingredients to the wet ingredients and combine, using a spatula or wooden spoon, into a ball of dough. You may find using your hands after a while easier.
Divide and chill the dough: Once you have formed a ball of dough and everything is well blended, divide the cookie dough in two and form into disks. Wrap in plastic wrap and chill for 30 minutes.
Why chill? Doing this will help solidify the butter which means once it starts to bake it won't melt and spread too easily but instead leave you with thick soft cookies. Try no chill healthy gingersnap cookies if you are in a hurry!
Roll out the dough: Take the dough out of the fridge and allow it to sit at room temperature for 5 minutes. It will become much easier to work with. Remove the dough from the plastic and place it on a floured surface. Roll it out to a 1/4 inch thick.
Cut out cookies: Using your favourite cookie cutters (Christmas gingerbread men or otherwise) start cutting out your shapes and transferring the cookies to the prepared baking sheet. Leave 1/2″ in between each one. They won't spread much. Roll up the remaining dough into a ball, and roll it out again for more cutouts.
Bake the cookies: Depending on whether you like your gingerbread cookies soft or crunchy, that will determine how long you bake them. 8 minutes for soft, 12 for crunchy.
Remove and let cool: Take the cookies out of the oven and let them rest on the baking sheet for 15 minutes before placing them on a wire rack to cool completely.
How to Measure Flour Correctly
We know that baking is a science and because it is so precise making sure you measure your ingredients (especially flour) correctly is so important. It really can make or break a recipe, and even when it doesn't, you can still tell the difference in texture when something wasn't done quite right.
First off, spoon and level the flour. This means, instead of using your measuring cup and using it as a scoop to scoop up the amount of flour you need, you'll use a spoon and drop a spoonful of flour at a time. This way, the flour is nice and light and not packed down.
When you scoop out the flour with the cup, you are packing in the flour leaving less room for air but also adding way more flour than you need.
Second, leveling the flour means once you have enough flour to cover the entire cup and then some, using the back of the knife to scrape off any excess flour.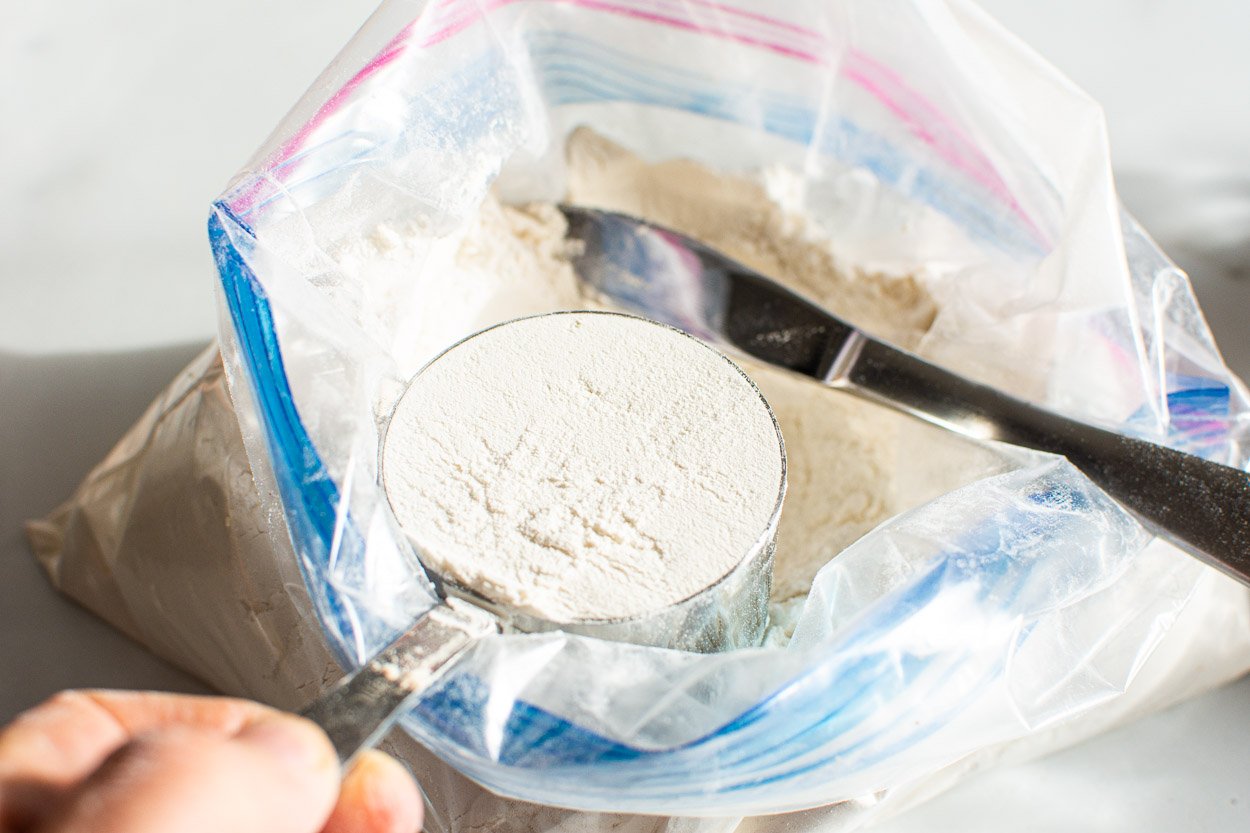 Icing for Gingerbread Cookies
To make easy icing sugar, all you need is icing sugar and water. Mix until smooth.
Add icing to a Ziploc bag and push the icing to one corner. You can also use a piping bag if you're fancy. Cut the corner tip ever so slightly.
Cutting the tip. It's impossible to make the corner cut smaller, so it's always a good idea to start small and make it bigger if necessary. If the hole is too big, the icing will pour out.
Decorate the cookies as you wish. Giving the little guys a border, maybe some buttons, perhaps a face. It's up to you! They will harden and set within a couple of hours. Do not stack your healthy gingerbread cookies until they are all completely dry.
Tips for Best Results
Do not confuse softened butter with melted butter. Soft butter is room temperature butter that is easily spreadable and will mix, cream, and blend easily. Melted butter will not work.
How to soften butter: If you've forgotten to take it out in advance, grab a long glass (one that will fit an entire stick of butter) and fill the glass with water. Microwave it for 2 minutes. Place the stick of butter standing upright on a small plate. Dump the water from the glass and put the glass right overtop the butter. Transfer the plate, the butter, and the glass that's covering it into the microwave (do not turn it on). Leave the entire thing in there for 10 minutes. Your butter will be soft at this point.
Chilling the dough is a must! If you don't, the cookies will spread too much.
Keep a close watch. Overbaking them will result in burnt cookies. Remove them from the oven before visible browning.
The best way to accurately measure sticky baking ingredients: Coat the measuring cup with a nonstick coating of either oil, butter, or cooking spray. I use Misto spray, the same one I use to spray anytime I need a nonstick coating. Use this method for maple syrup, honey, molasses and any other sticky liquid baking ingredients.
Variations
Flour substitutions: You can use 3 cups of whole wheat pastry flour but I don't recommend using all whole wheat flour. Your dough will end up hard and crumbly, which is why I use a combination. I also don't recommend using gluten-free flour.
Sugar-free: You can replace the sugar with erythritol or monk fruit extract in both the cookies and the icing but it has to be dry, not liquid. I have tried both and the cookies were amazing. To get the essence of a classic gingerbread cookie you will need to use molasses which is a sugar byproduct. So, sugar-free is a stretch.
Coconut oil: You can use coconut oil if preferred, but keep in mind your cookies may end up crispier rather than soft. It becomes harder than butter when cooled.
No liquid sweetener: Unfortunately maple syrup or honey won't work for this recipe, no matter how delicious those flavours would be!
FAQs
How can I ship healthier gingerbread cookies?
Once your cookies have completely cooled and the icing has hardened, you can package them up. Place two cookies back to back and wrap in plastic wrap. Keeping them this way allows them to support each other but also keeps them separate enough to not stick together and get all clumpy.

This may be a little more difficult in the summer heat, so this may work better if you're living in colder climates. Then, add the plastic-wrapped cookie pairs to a decorated box, and voila!
Can I make these cookies gluten free?
Unfortunately, if you are looking for a gluten free cookie recipe, this is not the one for you.
Should gingerbread man cookies be hard or soft?
That's a personal preference. There's no right answer. Some people enjoy sinking their teeth into a soft chewy cookie, while others prefer the crispy crunch.
Can I substitute molasses?
Technically you could substitute honey and maple syrup for the molasses (not the dry sugar needed for the dough), but I prefer not to. At that point, it's no longer a true gingerbread. The molasses flavor is as classic as is the dark color.
What kind of icing should I use on gingerbread cookies?
Simple icing sugar works well but you could also use royal icing (made with meringue powder or eggs). If you're not interested in decorating but would rather slater frosting across all of it in one go, you can use any cookie frosting, like healthy cream cheese frosting, marshmallow frosting, or otherwise.
Serving Recommendations
The holidays: Serve these cookies alongside some of your other favourites on a beautiful cookie tray. Bring them as part of a party platter or a treat for the host.
Dessert: Enjoy a batch at home with a hot cup of tea, coffee or hot chocolate to top off a meal.
Snack: Kids will love these whole wheat gingerbread cookies in their lunch box or the smell of them in the kitchen as they come home from school.
Share them: Friends, family, and neighbours will love receiving these whether in the mail or hand delivery!
How to Store
Make Ahead: You can make the dough in advance and freeze it rather than chill it. Form them into disks, and wrap tightly in plastic wrap followed by foil. Store in a freezer-friendly bag for up to 1 month and thaw when you're ready to use the dough.
Store: Once cookies are completely cooled, transfer them to an airtight container and keep them at room temperature for up to 1 week.
Freeze: Once cooled, and the icing has solidified, transfer them to a freezer-friendly Ziploc or container. Separate the cookies with parchment paper. You can freeze them for up to 6 months.
More Holiday Cookies Recipes to Try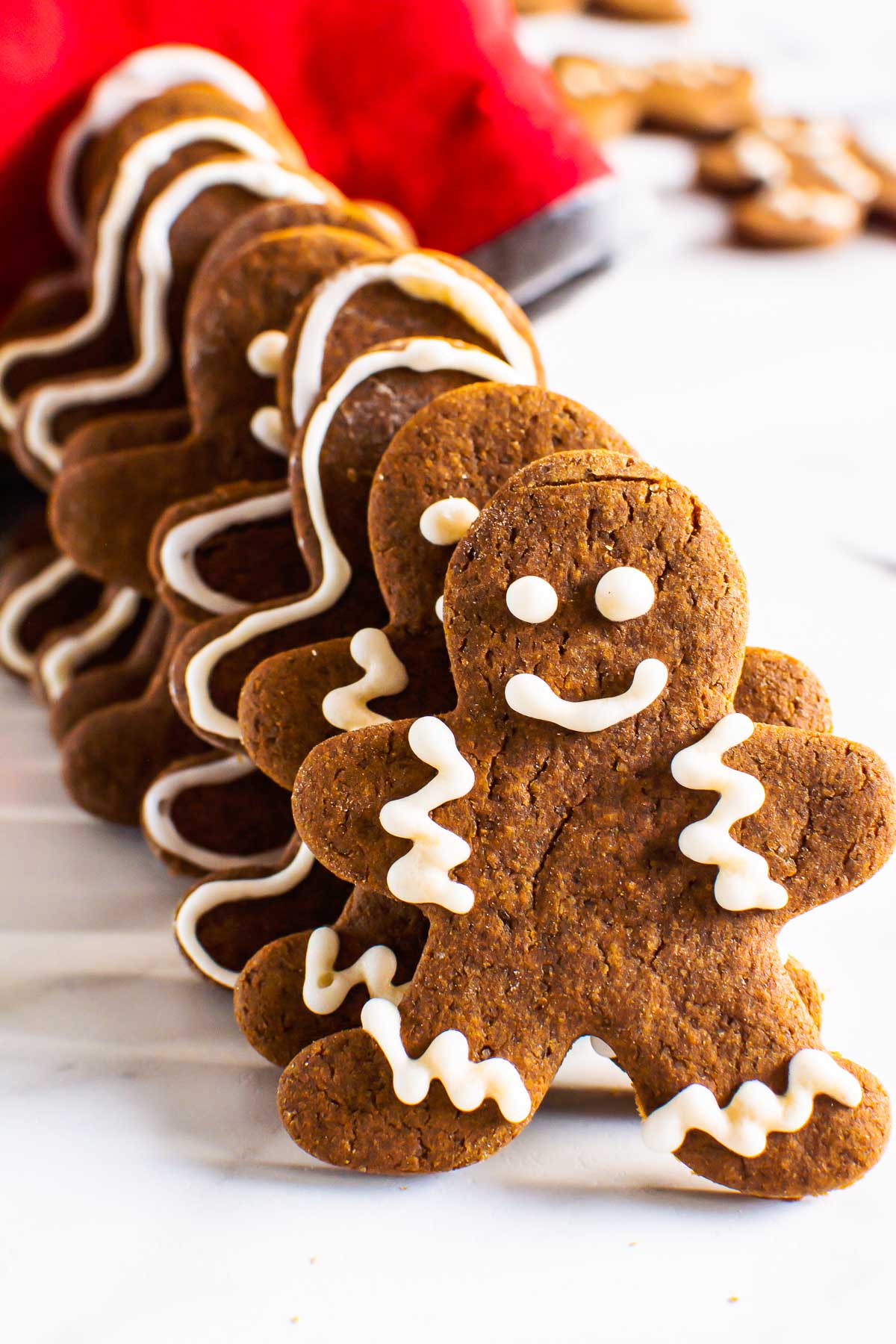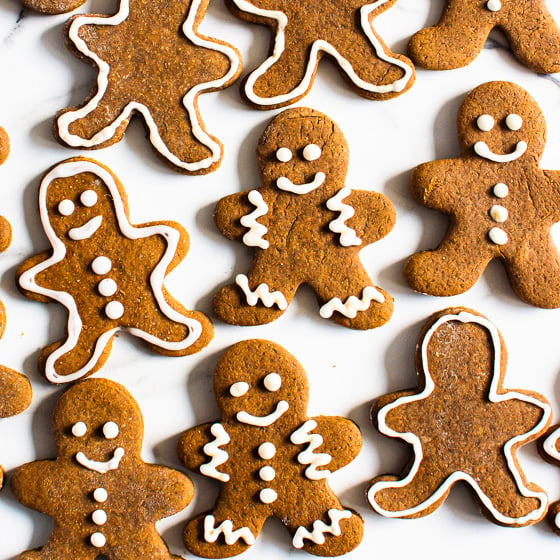 Healthy Gingerbread Cookies
These Healthy Gingerbread Cookies are soft, moist, and taste exactly like traditional gingerbread men but without all of the added sugar. Make ahead and freezer friendly, these delicious cookies are the perfect addition to your holiday baking list!
Instructions
In a large bowl, add whole wheat flour, all-purpose flour, ginger, cinnamon, nutmeg, cloves, baking soda and salt. Whisk until no lumps and set aside.

In another large bowl, add butter and sugar. Beat with an electric mixer until combined and creamy.

Add egg and molasses. Beat until combined well (don't overbeat to prevent butter separation).

Add flour mixture, first stir with spatula and then mix with your hands until a ball of dough forms.

Divide it into two balls, place on two separate sheets of plastic wrap, flatten into discs, wrap and refrigerate for 30 minutes.

Preheat oven to 350 degrees F and line two large baking sheets with unbleached parchment paper or silicone baking mats. Set aside.

Remove chilled dough from the fridge, let warm up on the counter for 5 minutes, and unwrap from plastic. Dust the surface and rolling pin with flour and roll the dough 1/4 inch thick. If dough is hard and crumbly, roll it out as best as you can, let warm up a few minutes and roll more until 1/4 inch thick.

Using your favorite cookie cutters, cut out cookies and transfer to previously prepared baking sheet (loosening with small spatula if necessary), leaving just 1/2 inch in between. These cookies do not spread much. Combine the dough scraps into a ball, roll it out, cut out cookies and repeat until you run out of dough. Repeat the same step with the second disc of dough.

Bake for 8 minutes for soft cookies and 12 minutes for crunchy cookies. Do not overbake as cookies will harden during resting. Remove from the oven and let gingerbread cookies first cool off on a baking tray for 15 minutes, then transfer onto a cooling rack to cool off completely.
To decorate cookies (optional)
In a small bowl, add icing sugar and water; whisk until smooth and no lumps.

Transfer to a sandwich size resealable bag, push to one corner, twist bag on top and cut a tiny hole at the tip. The smaller the better as you can always make the hole bigger but not smaller.

Decorate cookies as you wish by pushing icing through the hole. Let icing dry and it will harden and set within a couple of hours. Do not stack them until then.
Notes
Make ahead: You can make the dough in advance and freeze it rather than chill it. Form them into disks, and wrap tightly in plastic wrap followed by foil. Store in a freezer-friendly bag for up to 1 month and thaw when you're ready to use the dough.
Store: Store baked cookies in an airtight container for up to 1 week.
Freeze: Wrap cookies or store in airtight container for up to 6 months.
Nutrition
Serving:
1
cookie
|
Calories:
87
kcal
|
Carbohydrates:
14
g
|
Protein:
1
g
|
Fat:
3
g
|
Saturated Fat:
2
g
|
Trans Fat:
1
g
|
Cholesterol:
12
mg
|
Sodium:
83
mg
|
Fiber:
1
g
|
Sugar:
5
g