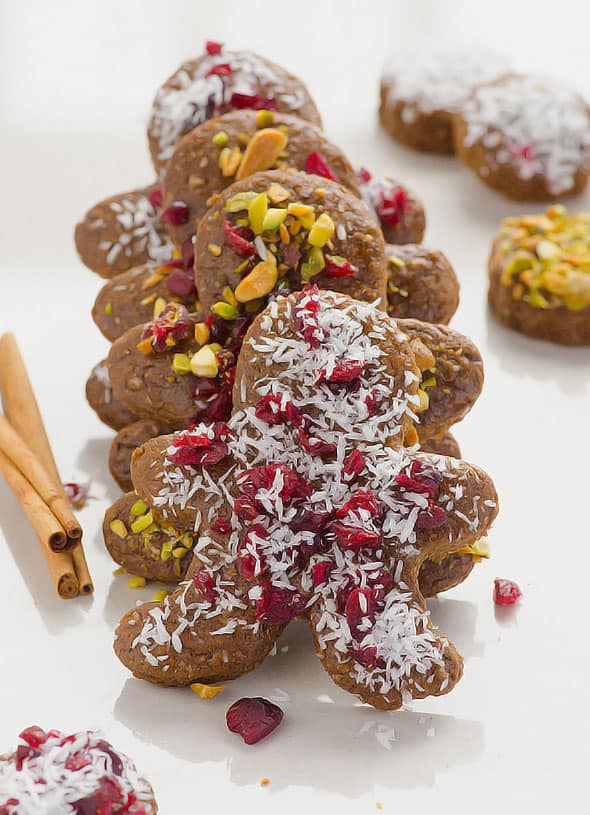 Last year I attempted my first healthy gingerbread cookies but they were nothing spectacular. This year kids were on my case about making gingerbread men cookies for Santa. Just like with healthy gingerbread loaf and healthy gingerbread fudge, gingerbread men cookies are a new concept to me. Heck, most North American staple dishes are new to me. I first have to taste the original and then come up with a clean version of it.
Before we started eating clean I never made gingerbreads because I didn't have kids, like I say "all there", to realize cookies for Santa have to be made. Plus they were sold in stores, why bother?!
Past Sunday I poured myself a glass of wine and off we went into a land of sprinkles, molasses and an awesome kitchen mess it took me all night to clean up. It was fun and these healthy gingerbread cookies came out extremely soft with a nice touch of molasses and ginger. Not overly sweet taking into consideration the toppings.
This year I gave in and bought my kids a jar of Christmas sprinkles. Remember, balance 80/20… As I was scratching my head the next day whether to post the recipe or not because of sprinkles, I found these dye-free sprinkles but no Christmas colours.
The next dilemma was how to make sprinkles stick without using sugary icing?! I really wanted to keep these cookies clean and still pretty. Then a light bulb went off – maple syrup!!! And then I thought of pistachios, cranberries, coconut flakes and pecans.
And gingerbread cookies came out low sugar, naturally sweetened, made with whole wheat flour and coconut oil. You could use butter or half and half, all I had on hand was coconut oil.

I also haven't used cloves, cinnamon and nutmeg did the job for me. Cloves are expensive and I find I don't use it often. We gave a few cookies to our friends that happened to visit and to our sweet daycare lady, and everyone loved the cookies. They mentioned how they loved the softness of gingerbread.
So, here you go! Hope you have fun making these healthy gingerbread cookies with your kids! And maybe we can help Santa lose some weight with clean eating cookies as my 8 year old suggested. He might be not getting a present under the tree.:)
Looking for more healthy baking recipes for the Holidays? Check out almond flour thumbprint cookies, healthy gingersnap cookies, and healthy cranberry orange bread.
Print
Healthy Gingerbread Cookies
Healthy gingerbread cookies are soft and not overly sweet cookies with whole wheat flour, coconut oil, maple syrup, molasses and real food topping ideas.
Prep Time:

20 minutes

Cook Time:

12 minutes

Total Time:

32 minutes

Yield:

20

cookies

1

x
Scale
Ingredients
Toppings:
1/8 cup

pecans, finely chopped*

1/8 cup

unsweetened coconut flakes

1/8 cup

pistachios, finely chopped*

1/8 cup

dried cranberries, finely chopped
Instructions
Preheat oven to 350 degrees F and line jelly roll sheet with unbleached parchment paper.
In a large mixing bowl, lightly beat the egg. Add coconut oil through salt and whisk until well combined. Add flour, mixing first with spatula and then using your hands. Dough should be quite thick. Transfer onto lightly floured surface and if necessary add more flour so you can roll it out.
Lightly flour the rolling pin and roll the dough to 1/4 inch thick. Using various shapes cutouts (I like to use these comfort grip cookie cutters and plastic biscuit cutters) make cookies and place on prepared baking tray. Bake for 12 minutes, remove from the oven and let cool completely.
Get toppings ready. Brush each cookie generously with maple syrup, sprinkle with a topping of choice and lay flat to dry completely.
Store: Store in a cool dry place for a few weeks or freeze in an airtight container for up to 6 months.
Notes
*I like toasted nuts. To quickly toast, place nuts in a small skillet and toast on low until fragrant, stirring occasionally.
★ Did you make this recipe? Please give it a star rating in the comments.