Healthy Snowball Cookies are a nutrient dense version of the classic holiday cookies we know and love! Subtly sweet, soft, and buttery cookies that melt in your mouth are the perfect bite-sized cookie to add to your dessert table this year!
Almond flour is one of my favourite flours to use for gluten free baking. Check out more healthy cookies made with almond flour like healthy sugar cookies, shortbread cookies and you must try my healthy cookie dough recipe!
Healthy snowball cookies (aka Mexican wedding cakes aka many other things!) are made with a couple of simple swaps to the classic recipe, while keeping the same amazing buttery, nutty, and melt in your mouth flavours and textures that make these traditional Christmas cookies so popular.
We're swapping regular flour for almond flour, and you can decide whether to stick with powdered sugar or replace it with powdered erythritol instead! These delicious, soft, tender cookies hold their structure in the oven and when coated in that extra bit of powder, look exactly like little snowballs!
Why Make Walnut Snowball Cookies Recipe?
Texture: These cookies quite literally fall apart in your mouth they are that soft and buttery. 
Taste: Sweet, nutty, and buttery flavours make these classic cookies irresistible and slightly addicting.
Easy: With just 6 ingredients, 1 bowl, and 12 minutes of bake time you've got an entire batch ready in just 45 minutes!
Almond flour: Using almond flour keeps these cookies gluten free and high in protein with good fat while still maintaining the signature structure of the ball.
Erythritol: A natural sugar substitute that gets absorbed so quickly by the body that it isn't given a chance to spike your blood sugar or turn into energy.
Traditional: This is a classic Christmas cookie that everyone loves, so it'll be a hit for parties, dessert tables, and as gifts.
Ingredients for Russian Tea Cookies (aka Snowballs!)
Butter: Softened butter in this recipe is the fat these cookies need to create moisture and buttery flavour and texture.
Vegan snowball cookies? The buttery flavour and texture of these Italian wedding cookies (or Mexican wedding cookies depending on who you ask) are part of its charm. You can switch it up to coconut oil or vegan butter instead but keep in mind they may not turn out as soft.
Icing sugar: If you're ok with using regular powdered sugar, go ahead and stick with the confectioner's sugar. If not, replace it with erythritol.
Pure vanilla extract: A warming flavour that compliments the almond flour and walnuts nicely and always enhances a recipe. Swap for an almond extract for a deeper almond flavour.
Almond flour: Ground up blanched almonds make a light, soft flour great for using in all kinds of gluten free baking.
Warm water or milk: The liquid component that brings everything together into workable cookie dough.
Walnuts: Chopped finely. Walnuts are classic but you can absolutely use a different nut if you prefer. Hazelnuts, almonds, pistachios, pecans, whatever you've got.
If you have the time quickly toast your walnuts (or nut of choice) in the oven for a few minutes before adding them to the dough! This adds another layer of flavor to these gluten free snowball cookies!
How to Make Healthy Snowball Cookies
Prep: Preheat the oven to 325 degrees F and line a large baking sheet with unbleached parchment paper or a silicone baking mat.
Cream butter and sugar: In a large bowl, using an electric mixer, beat the butter and powdered sugar together until smooth. Add in vanilla extract and beat just until combined.
Add almond flour and walnuts: Using a spatula, mix in the almond flour and continue mixing by hand. Soon enough you'll have a big ball of dough forming. Once the dough is the right consistency, fold in the walnuts.
Trouble forming your dough? You might need a little more water or milk to help the dough bind. If so, start with 1 Tbsp of either.
Scoop cookie dough: Using a cookie scoop if you have one, scoop out 1 Tbsp of dough, roll it into a ball with the palms of your hands and place it on a prepared baking sheet. Do this with the remaining dough making sure to keep them about 1" apart. These cookies will not spread.
Bake: Transfer cookie trays into the oven and bake for 12 minutes. You want to remove them before they start to brown, so keep an eye on them.
Cool and coat: Allow the cookies to cool for no more than 5 minutes. Place sugar in a small bowl and roll each ball of cookie around in the sugar while they're still warm. Make sure it's entirely coated. Place them on a cooling rack to cool completely.
Why cool for only 5 minutes? The initial cooling is just so that they are cool enough to handle. You want them to still be warm so that the sugar sticks to the dough balls almost like glue. The cooler the cookies, the more the powdered sugar falls off!
When to Use Silicone Baking Mat vs. Parchment Paper for Baking?
Overall, this is going to come down to personal choice. Parchment paper is lined with silicone, so in the end, the appearance and texture of whatever it is you're baking will be almost, if not exactly, the same.
The deciding factors are choosing between parchment paper that is disposable, and good for one time use or a more expensive silicone baking sheet that is reusable, but needs cleaning (no matter how easy).
One of the other benefits of parchment paper is that you can cut it to any shape needed for any particular sized pan. Silicone baking sheets, while they come in different sizes, they're not great at fitting odd shapes.
My suggestion would be to use both! Invest in some silicone baking sheets for the long term and overall create less waste. Then, have some parchment paper on hand, for those times when you need it.  
Optional Add-In's and Variations
There are endless ways to enhance the flavor and ingredients of these healthy snowball cookies! As for whether or not they'll remain healthy…well, that depends on what you decide to add in 🙂
Add a little cocoa powder for some chocolate snowball cookies. The contrast between the white confectioners' sugar on the chocolate cookies is nice! If you're up to adding some red food colouring in there, you could make yourself some red velvet cookies!
Use coconut flour instead of almond flour for a hint of coconut flavour. Toasted coconut would be nice as well.
Gluten free flours are finicky, and almond flour is not easily replaced. Watch for consistency issues in the dough.
Some creamy peanut butter will only enhance the nuttiness in a peanut butter snowball cookie recipe!
Tossing in some mini chocolate chips is also something people like to do. Me, I'm people.
Sprinkle some crushed candy cane or peppermint candies on top of the powdered sugar for a minty finish.
Adding some lemon extract or lemon zest would be a nice bright version!
Tips for Best Results
Nonstick: Make sure to prepare nonstick cookie sheets. If not, there's a chance your cookies will fall apart as you try and lift them. Even if you can lift them, there's a higher chance of them turning brown too quickly. 
Soft butter: Remember to take the butter out of the fridge ahead of time. It'll make creaming the butter way faster and easier.
You want a cohesive dough: If it's not, add a bit of warm milk or water until it's formed into one whole ball.
Icing sugar in the dough: Don't use any other type of sugar – granulated, liquid etc. Powdered sugar is what makes these melt in your mouth.
Roll twice: Once when out of the oven and once after they cool for the best sugary meltaway cookie taste in each bite!
FAQs
Are snowball cookies also called 'mothball' cookies?

Mothball cookies are New Zealand's version of snowball cookies. Christmas happens during their summer season without a snowflake in sight, so they've named theirs (often used with coconut flakes instead of powdered sugar) mothball cookies!
Why are my snowball cookies dry?

This can happen when your dough doesn't start as cohesive and as moist as it needs to be. Next time try adding a bit more milk or water to form the dough until it's all nice and smooth.
Why did my snowball cookies flatten?

This can happen if you don't use enough powdered sugar in the actual cookie dough. It helps it to keep its shape since there are no eggs or leavening agents used.
Are snowball cookies keto friendly?

You bet! As long as you use erythritol instead of powdered sugar it is keto friendly.
Can I make this recipe vegan?

Possibly. I never have made these without butter, but that's not to say you couldn't try. Let me know how they turn out if you do. I know some people have had success with coconut oil instead, but if you use something like vegan butter, I want to hear your experience.
Why are snowball cookies called so many different names?

You mean, why are Russian tea cakes called so many different names? Or did you mean Mexican wedding cakes? Ohh, you mean those delicious Italian wedding cakes, or Swedish heirlooms? or Kiflins or Polvorones? Depending on where you are located in the world, you may be familiar with these cookies under several different names! Essentially they're all the same. Some places may prefer to use almonds over walnuts, or vice versa, some will use eggs, some won't, and some may even shape them into something other than a ball.

In the end, they have so many names because a cookie as simple as this one with so few ingredients, there's no way to say for sure where it originated! So, we call it whatever we want 🙂
Can I use coconut oil instead of butter?

You can. People have used it and have had success, however, you may find it changes the consistency a bit. It's a great vegan option and it does come with a lot of antimicrobial properties and antioxidants, so for health benefits alone, it's a great choice. I love coconut oil for healthy chocolate coconut balls.
Can I use other flours beside almond flour ?

Again, this is one of those times where you'd have to try and see for yourself. I use almond flour because to me, it's the one closest to how all-purpose flour behaves. It's hard to replace. Coconut flour has been used, but more often than not, it's used in conjunction with another flour, whether almond or all-purpose.
Do I put powdered sugar on before or after baking meltaway cookies?

You want to wait until after they've baked, have had a chance to cool a bit, and while they're still warm. If you do it beforehand, the sugar will bake and change flavor and texture and possibly burn.
Can I use other nuts in these cookie snowballs with walnuts?

Sure thing! Pecans or almonds would be great.
How to Gift Meltaway Cookies?
Meltaway cookies are so good freshly baked when they're warm and soft, however, like most healthy Christmas cookies you want them to be at least 1 day old for shipping. If you're packing them up for family and friends close by, then add them to a little plastic baggie and tie them with a cute festive bow.
To ship them, you want to play it safe and stick to the rule about waiting at least a day. This way they'll hold their shape a little better. Wrap a few at a time in plastic wrap then place them in an airtight container. Pack enough in there that they don't bounce around too much, but not enough that they'll be squished. Ship to somewhere where there's no more than 5 days travel time.
You can also 'pad them' in the box with tissue paper as I did when shipping gingerbread, sugar and gingersnap cookies!
How to Store Gluten Free Snowball Cookies?
To store: These look stunning on display in a glass cookie jar or canister. They'll keep fresh for up to 5 days on the counter. To maintain the freshness you can add a piece of bread in there to absorb excess moisture. Although, it's not the prettiest. If the cookies start to dry out transfer them to an airtight container and keep them in the fridge.
To freeze: Keep stored in an airtight container for up to 3 months. When you're ready to eat them, thaw them on the counter for a few hours.
More Almond Flour Recipes to Try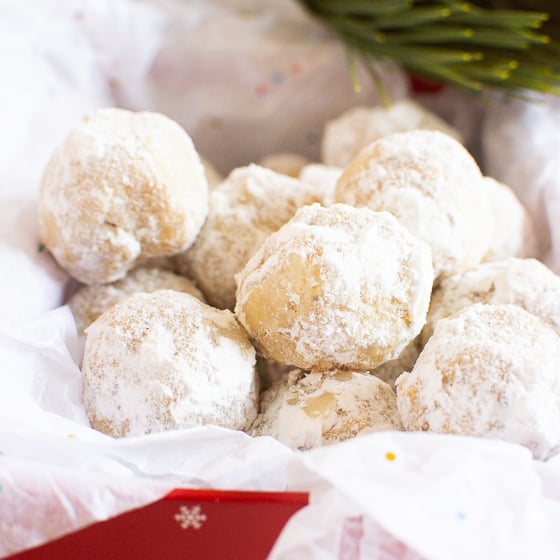 Healthy Snowball Cookies
Healthy Snowball Cookies are a nutrient dense version of the classic holiday cookies we know and love! Subtly sweet, soft, and buttery cookies that melt in your mouth are the perfect bite-sized cookie to add to your dessert table this year!
Instructions
Preheat oven to 325 degrees F and line large baking sheet with unbleached parchment paper or silicone baking mat.

In a large bowl, add softened butter and icing sugar. Beat with an electric mixer until smooth and combined. Add vanilla extract and beat just until incorporated.

Add almond flour; mix with spatula and finish mixing by hand, until cohesive dough forms. You might need to add 1 tbsp warm water or milk to help the dough bind.

Add walnuts and stir until combined.

Scoop 1 tbsp of dough, roll into a ball, place on previously prepared baking sheet, leaving about 1 inch in between (cookies do not spread). Repeat with remaining dough.

Bake for 12 minutes (before cookies start browning), remove from the oven and cool cookies only for 5 minutes.

In a small bowl, add 2 tbsp icing sugar or erythritol and while snowball cookies are still warm, roll each one in an icing sugar.

As they are rolled, place on the cooling rack to cool off more.
Notes
Store: In a cookie jar for up to 5 days. You can add a slice of bread to help absorb moisture from the air. If you find your cookies start to dry out, place them in an airtight container.
Freeze: In an airtight container for up to 3 months. Thaw on the counter for a few hours.
Coconut oil: I have not tried using it to make snowball cookies but in my experience, it results in more crunchy cookies.
Any other flour: Gluten free flours are very finicky, all flours are. I have not tested this recipe with any other flour and do not recommend to do so. Almond flour is very unique and can't be easily replaced.
Extract: Swap the vanilla extract for an almond extract for additional almond flavors.
Nuts: You can also use finely chopped pecans or almonds.
Vegan: Make this dairy free by using vegan butter, texture and taste may be different.
Nonstick: Make sure to prepare nonstick cookie sheets. If not, there's a chance your cookies will fall apart as you try and lift them. Even if you can lift them, there's a higher chance of them turning brown too quickly. 
See recipe post for more tips and FAQs.
Nutrition
Serving:
1
cookie
|
Calories:
109
kcal
|
Carbohydrates:
3
g
|
Protein:
3
g
|
Fat:
10
g
|
Saturated Fat:
2
g
|
Trans Fat:
1
g
|
Cholesterol:
7
mg
|
Sodium:
25
mg
|
Fiber:
1
g
|
Sugar:
1
g