This Healthy Cookie Dough recipe is the answer to all your raw cookie dough cravings! Completely edible, vegan, gluten free, dairy free, and refined sugar free dough loaded with chocolate chips and tastes exactly like the sweet tempting stuff you weren't allowed to eat as a kid!
This recipe isn't meant to be baked without baking soda and is not meant to be eaten with baking soda! If you're looking for a fantastic chocolate chip cookie recipe for baking check out my healthy chocolate chip cookies, almond flour chocolate chip cookies or almond flour skillet cookie.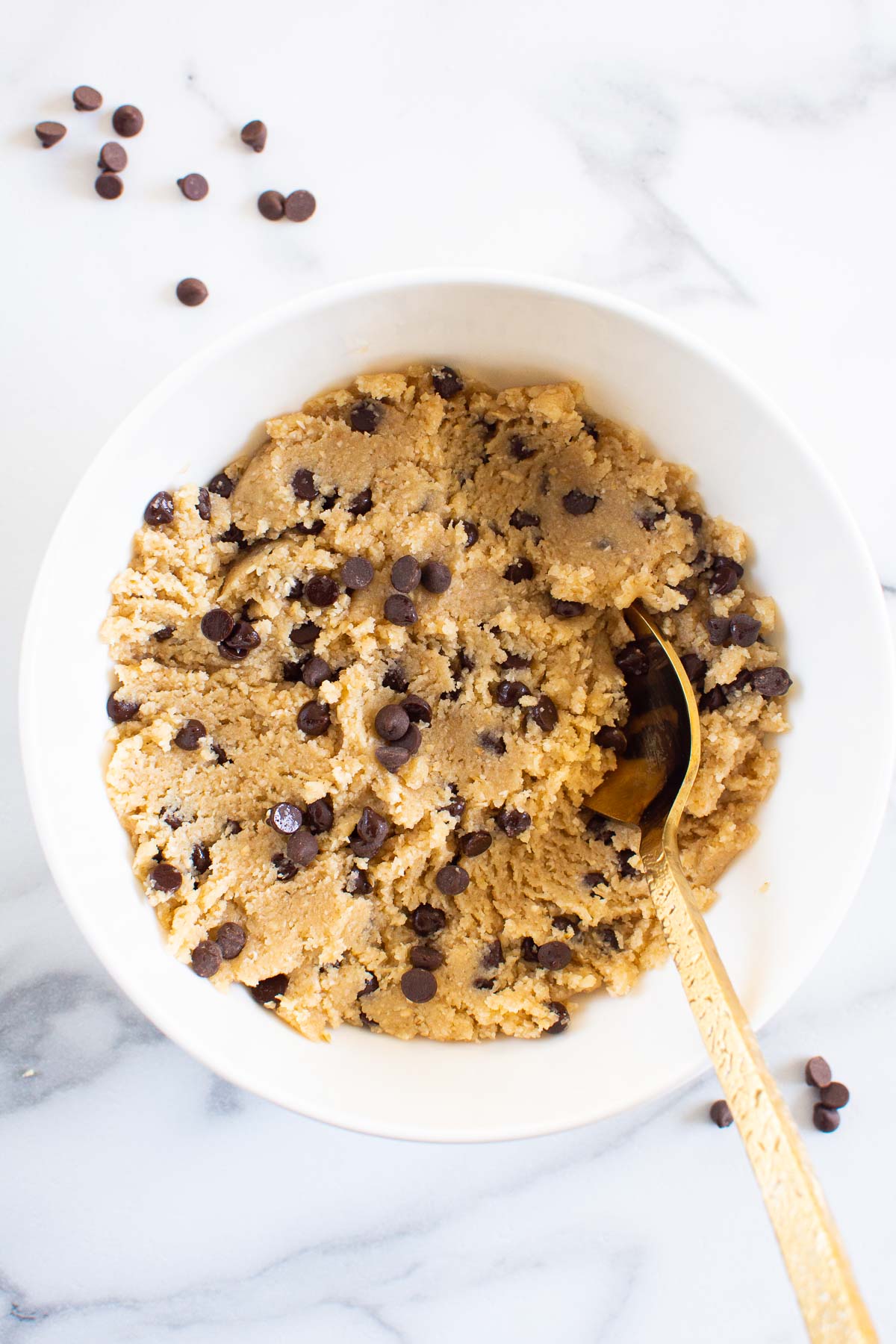 Healthy raw cookie dough is one of my favorite parts…ahem, I mean my kids' favourite part about making cookies! We've all been warned about the risks of eating raw cookie dough, so some genius invented what might be the greatest dessert on the planet, edible cookie dough.
So naturally, this genius (yours truly) had to come up with a healthy version that includes edible flour, is dairy free, gluten free, contains no bacteria, no raw eggs, and no refined sugar. I'm sharing a super easy recipe for sweet dough, loaded with mini chocolate chips, that is just irresistibly good!
Why Make Chocolate Chip Cookie Dough?
Quick and easy: It takes just 7 ingredients and 5 minutes of prep time. The hardest part is waiting for it to chill to dig in!
Gluten free flour: This recipe uses almond flour and oat flour which are gluten free and do not need to be heat-treated to kill bacteria.
Vegan: No eggs, no butter, no animal bi-products at all are included in this recipe.
Coconut oil: Instead of butter, we use coconut oil which in moderation has antimicrobial properties as well as antioxidants.
Maple syrup: Maple syrup is a natural sweetener that also has vitamins and minerals. No refined sugar here!
Nostalgic: Remember back in the day when you knew you weren't supposed to lick the bowl? Well, now you can! 
Delicious: It tastes just like a delicious chocolate chip cookie before they go into the oven to bake.
Customizable: Add any additional flavors or add-ins to your liking.
Ingredients for Healthy Cookie Dough
Almond flour: Made from ground blanched almonds which means it's a raw flour that is completely safe to eat.
Oat flour: We eat raw oats, and oat flour is just ground oats, so the same rule applies.
Coconut oil: When melted it acts the way that butter would in cookie dough. Adds the necessary fat and moisture.
Maple syrup: A natural sweetener that will help give it that "brown sugar" look and feel of the cookie dough.
Pure vanilla extract: A lovely flavor that enhances the other ingredients and brings everything together.
Salt: A sprinkling of salt to balance out the sweet and also enhance the other ingredients maximizing flavour potential.
Mini chocolate chips: I like using mini chocolate chips just because I find that they disperse more evenly throughout the dough and you get more in every bite.
How to Make Healthy Edible Cookie Dough
Combine ingredients: In a medium bowl mix flours first, followed by the remaining ingredients (minus the chocolate chips). Stir to combine.
Stir in chocolate chips: Gently fold in the chocolate chips making sure it's all incorporated and the chips are spread evenly throughout.
Chill the dough: For a thicker, more typical consistency, chill the dough in the fridge for 30 minutes until it's set.
Coconut flour swap. If you use to decide to use coconut flour instead of oat flour, you'll be using much less. Start with half the amount and adjust as necessary. You might find you need to add a splash of milk if the cookie dough is too thick.
Enjoy!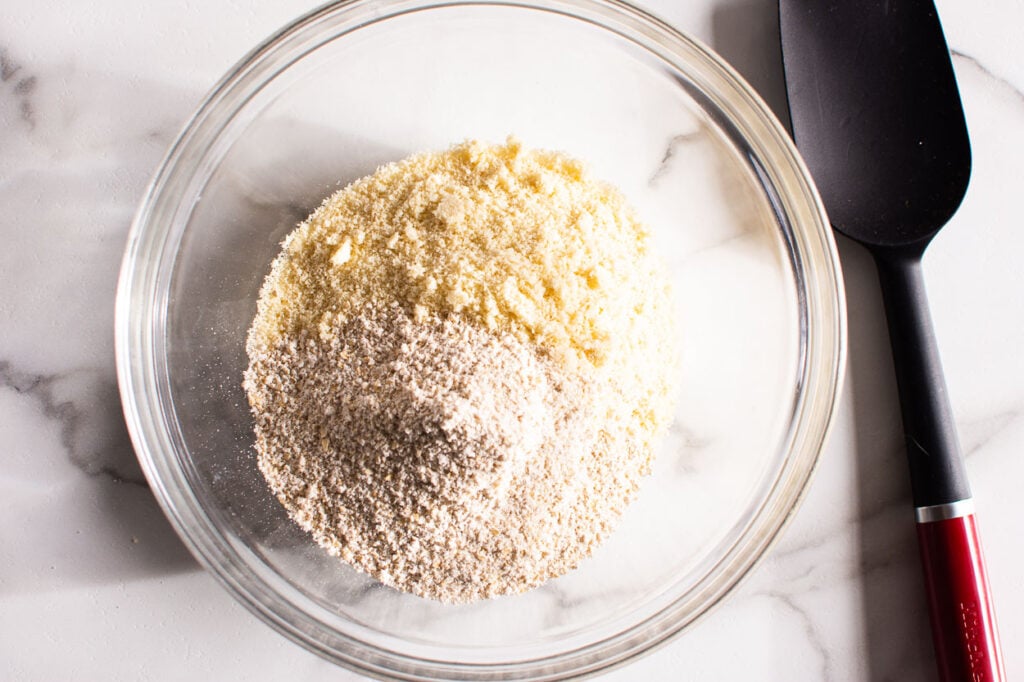 Optional Add-In's and Variations
The great thing about cookie dough is you can essentially add in what you would normally add to your cookies!
Nuts: Almonds, peanuts, walnuts, cashews, or pistachios.
Seed or nut butter: Such as cashew butter, almond butter, pumpkin seed butter, or peanut butter for that bit of nuttiness that goes so well with chocolate.
Puréed chickpeas: Are a great addition to cookie dough. They have a lovely nutty hint and add a creamy texture, make chickpeas in your Instant Pot to always have some on hand.
Sprinkle in a bit of protein powder: To make it even more nutrient rich and high in protein, like in protein cookies.
Oil substitute: This is a vegan cookie dough recipe, but feel free to use butter instead of coconut oil if preferred.
Any chocolate chips: Use regular-sized chocolate chips if that's what you have on hand. For an extra bit of sweetness, use milk chocolate, white chocolate, butterscotch chips or my favorite dark chocolate chips, like I use in chocolate chip oatmeal cookies!
Birthday Party Fun! Set up a DIY cookie dough station with lots of sprinkles, chocolate chips, mini marshmallows, and whatever other sugar loaded treats you can think of, and have the kids mix their own! Use festive coloured sprinkles depending on the occasion!
Tips for Best Results
Make mini dessert:  Instead of chilling the entire bowl, you could use a cookie scoop and form cookie dough balls and chill them on a parchment paper-lined cookie sheet. This way they become handheld cookie dough bites you can present on a platter with other healthy dessert recipes.
Freezer friendly: Portioning it out to freeze is a great idea. This way when the cravings hit down the road you'll have them ready for the taking.
Don't skip the chill time: If you can't wait 30 minutes, no one would blame you. It's still completely edible. The chill time is there to give it that added assurance that it's going to look and feel like the classic cookie dough recipe.
FAQs
Is raw cookie dough healthy?
Regular raw cookie dough? No. Regular edible raw cookie dough? Also, no. BUT this healthy raw and edible cookie dough? YES! Almond flour is high in protein and is loaded with good fat, as is coconut oil. The fact that there is no refined sugar is a complete win because although maple syrup also raises blood sugar, it also comes with a ton of nutrients that refined processed sugar just doesn't have.
Is this a gluten free cookie dough recipe?
As long as you make sure your oat flour is certified gluten-free, it is. To keep it gluten free you'll also want to make sure you're using a gluten free flour if you're making any swaps.
Can you make cookies with this dough?
Technically, you could put them in the oven and see what happens, but without any eggs, baking soda or baking powder, they'll fall flat. What you could do, if you wanted to bake them into cookies, is add a leavening agent back in there. Although, just know it would change the flavor and no longer be edible raw.
Is this cookie dough vegan?
It is as long as you don't use any eggs or coconut flour needing to be thinned out by milk, it will remain vegan. All ingredients listed are vegan. Try my other favorite vegan treat, healthy peanut butter cookies!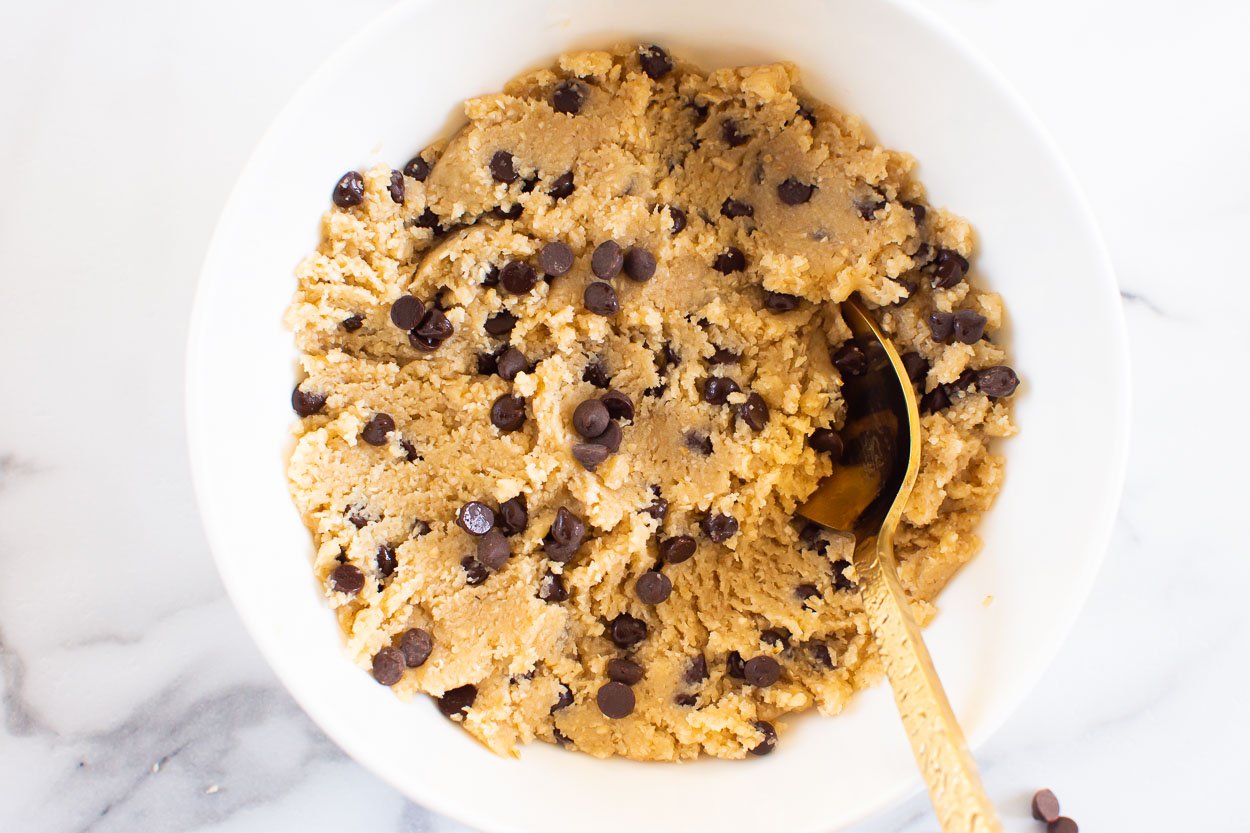 How to Eat Gluten Free Cookie Dough?
How to Store Healthy Cookie Dough?
Store: Keep stored in an airtight container in the fridge for up to 1 week.
Freeze: This cookie dough recipe is freezable. Store cookie dough in the freezer for up to 3 months. Again, if you want to just take some out when the mood strikes, portion them out before freezing.
Thaw: These will thaw quite quickly. Just place them on the counter for a few hours and you're good to go!
More Healthy Cookies to Try
You might also love to browse these healthy almond flour recipes!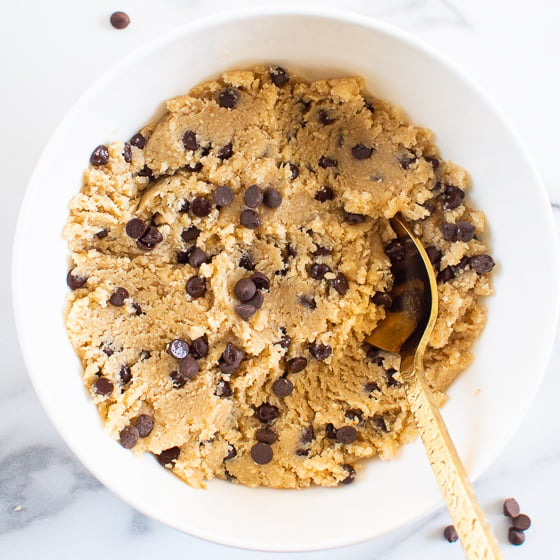 Healthy Cookie Dough
This Healthy Cookie Dough recipe is the answer to all your raw cookie dough cravings! Completely edible, vegan, gluten free, dairy free, and refined sugar free dough loaded with chocolate chips and tastes exactly like the sweet tempting stuff you weren't allowed to eat as a kid!
Instructions
In a medium bowl, add almond flour and oat flour; stir to combine

Add coconut oil, maple syrup, vanilla extract and salt; stir well until combined.

Add chocolate chips and give a few stirs to incorporate.

Chill for about 30 minutes to give cookie dough a better consistency and dig in.
Notes
Store: Refrigerate in an airtight container for up 1 week.
Freeze: In an airtight container for up to 3 months. Thaw on the counter for a few hours.
Oat flour substitution: All there is to an oat flour is ground in a food processor or blender quick cooking or rolled oats. You could use coconut flour instead of oat flour but the amount will be significantly less as it is very "thirsty". Start with half and adjust as necessary, even add a splash of milk if cookie dough gets too thick.
Coconut oil substitution: You can use melted butter instead.
Regular chocolate chips: I like to use mini chocolate chips for even distribution and "less is more" concept. But regular size will work, you will just have less of them in each bite.
Other chips: For an extra bit of sweetness, use milk chocolate, white chocolate, butterscotch chips or my favorite dark chocolate chips.
See recipe post for more tips and FAQs.
Nutrition
Serving:
0.25
cup
|
Calories:
239
kcal
|
Carbohydrates:
16
g
|
Protein:
5
g
|
Fat:
18
g
|
Saturated Fat:
8
g
|
Cholesterol:
1
mg
|
Sodium:
7
mg
|
Fiber:
3
g
|
Sugar:
6
g